Stay-home order creates chances to bond
COVID-19 has caused devastating harm, but it's also given families a chance to reconnect
Ava Medina, Charlie Partheymuller, Jolie Gabriel, Megan McHorse, Noah Lawrence, Anna Nagle, Evie Barnard, Anna Garcia, Dave Winter, Lily Prather, Josie Bradsby, Lily Wilson, Lily Brode, Dylan Neal, Maggie Provost, Theo Roe, Reagan Dias, and Camille Wilson
April 21, 2020
The photojournalism classes had just started a project called WRKxFMLY (or work and family) just before spring break and the COVID-19 pandemic that came with it. It's the fourth year that McCallum photojournalism students have participated in the project (sponsored by the California-based Working Assumptions) that solicits student-created images from all across the country. The project's lofty goal is to create a cultural archive of how Americans deal with the intersection of work and family in their lives.
The COVID-19 pandemic made the work of this project all the more vital because it has fundamentally changed the dynamic of work and family in American life. As the photojournalism students shared images last week with each other and with their professional mentor and facilitating photojournalist, Brandon Thibodeaux, some central themes emerged in their collective work. In today's Tuesday Top 10 photo essay, we explore one of those themes, namely how the pandemic and the resulting stay-home order has affected family life often in positive ways.
The pandemic has caused create harm in our society: the loss of human life, the economic hardships and the upheaval of cultural traditions. While these outcomes have been devastating, the everyday images of life during the pandemic also reveal at least one positive outcome: an increase in amount of time we spend with our families. That extra time can be stressful, dangerous even, in cases where family life is stressed or dysfunctional. But as these pictures reveal, it can also be downright wonderful to have the time (more time than we would normally have) to be with the ones we love the most (even if they sometimes have to be six feet away).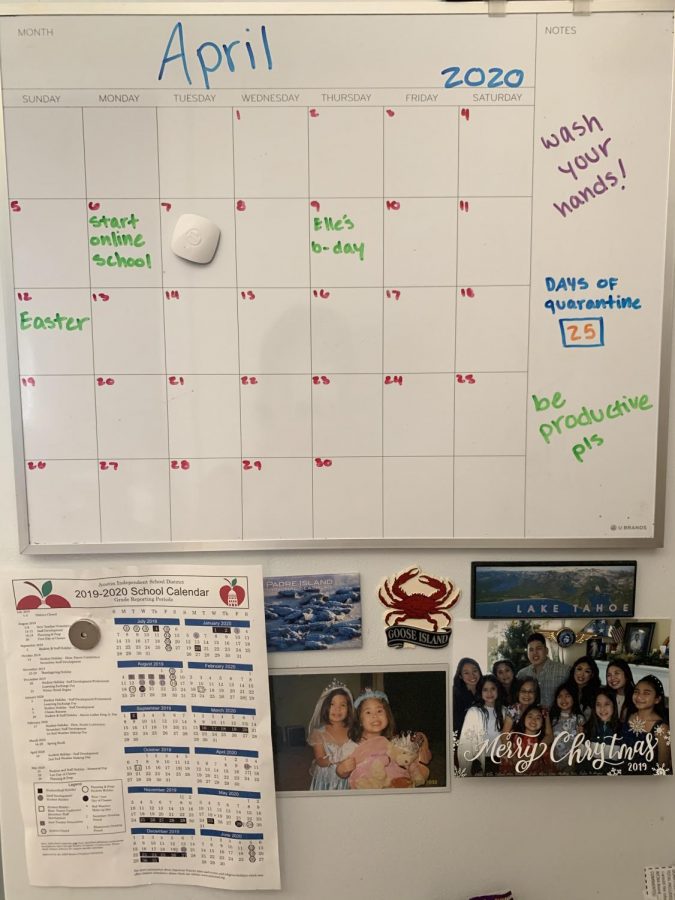 EMPTY CALENDAR: Having a family of six means it's very rare to see our calendar this empty. With four kids and three different schools and two full-time working parents, usually it's filled with after-school practices, family outings, parents work schedules and our games. But the coronavirus has left us with an empty calendar, uneventful days, and no need to check the calendar. Photo by Ava Medina.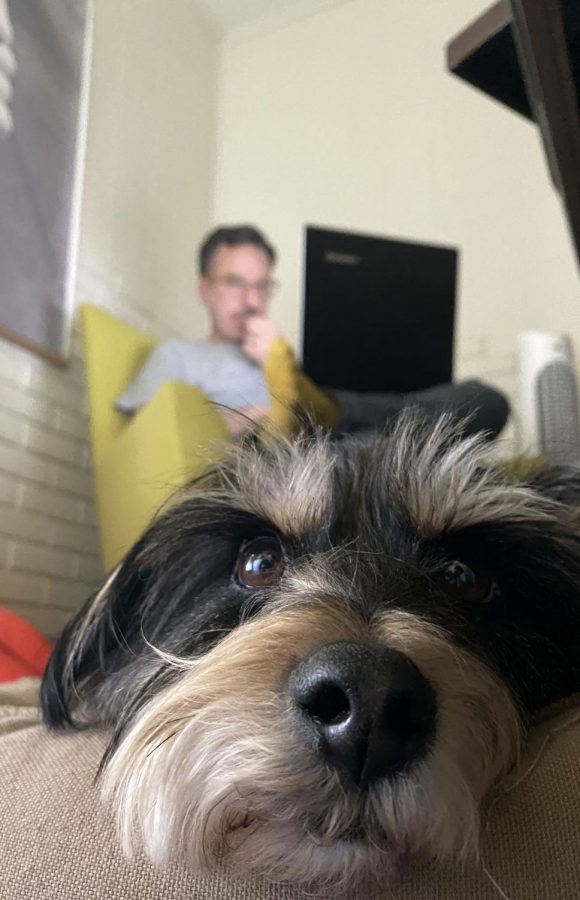 A DOG'S VIEW: As my whole family is home all the time now, my parents need different places to work to take calls and such. My dad has chosen to work from our garage and our dog Leo has become his work buddy. Photo by Charlie Partheymuller.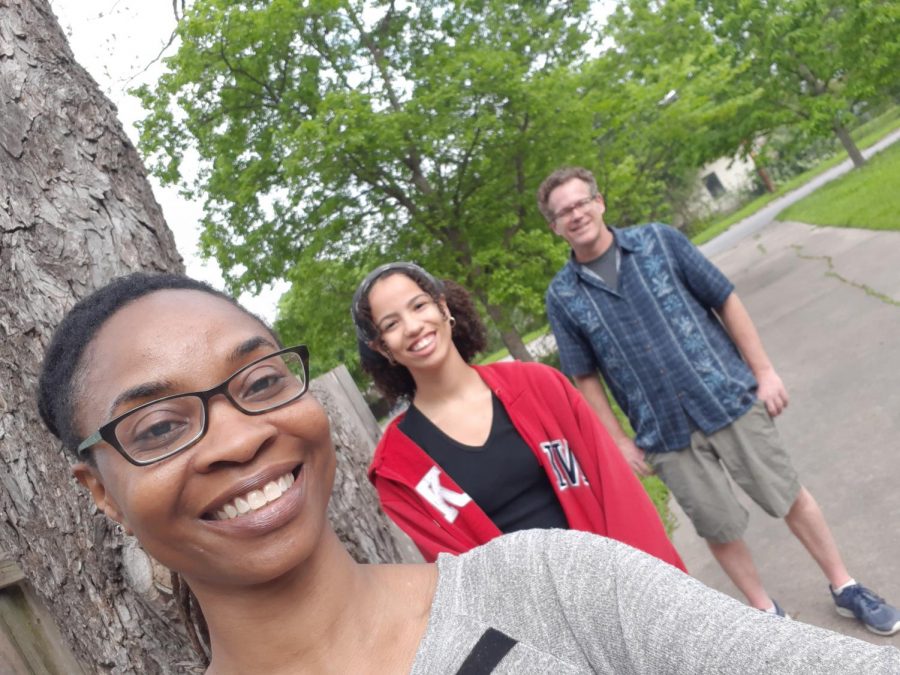 FAMILY DISTANCING: Because my dad started quarantining a different time than my mom and me, we have decided that when we see him we stay 6 feet apart. This picture was taken on my birthday, and it shows how we can all be together without being right next to each other. Photo by Jolie Gabriel.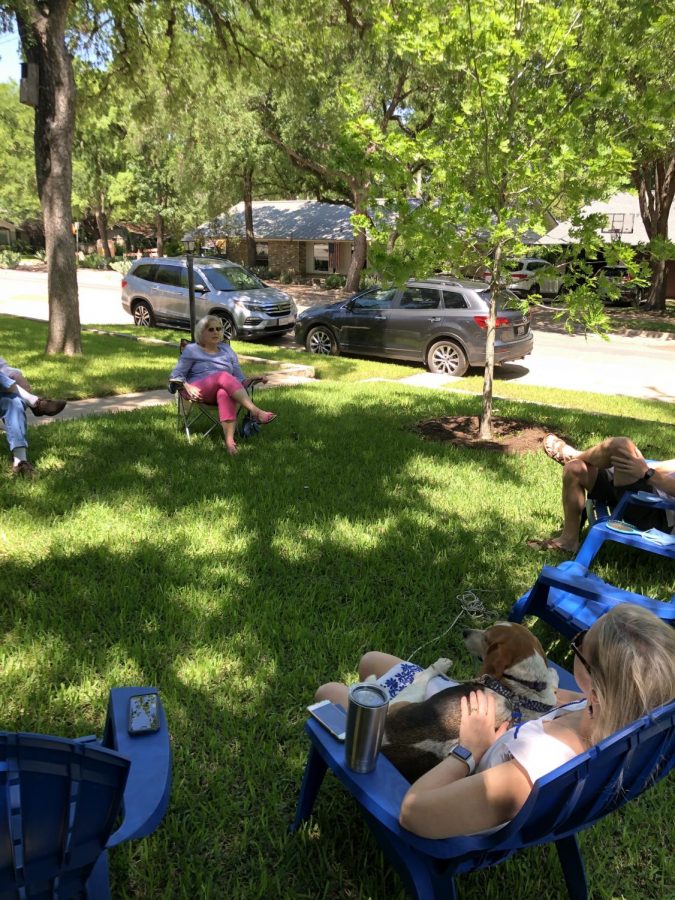 EASTER SOCIAL DISTANCING: This photo captures the importance of family at all times. Due to COVID-19, we are not able to see my grandparents as we normally would for holidays like Easter. We decided that because family time is valued so much in our house, we would get together with my grandparents while safely social distancing. Photo by Megan McHorse.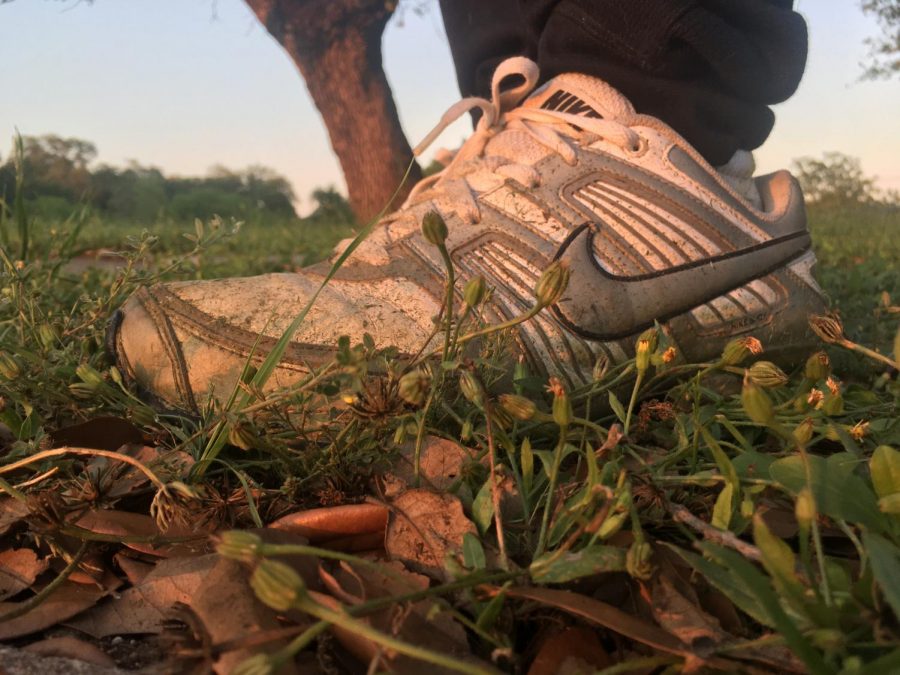 TRIED-AND-TRUE TENNIS SHOES: More time at home means more time to cut the grass according to the neighborhood Home Owners' Association. Even if the mundane chore is accompanied by the incessant nagging from the HOA, it still gives my dad a chance to wear a pair of sneakers that have great sentimental value to them. When my older brother headed off to college almost 10 years ago, he had to leave a few of his possessions behind, which included this very pair of shoes. "I fear no grass," he said in typical "dad" fashion. "It makes the mowing the grass a bit easier. I mean, shoes would do that for you," he added humorously. So even when he has to begrudgingly completes the tedious and tiresome tasks of mowing and weed-wacking, he gets a biweekly reminder of his son who now lives over 1,000 miles away in Iowa. Photo by Noah Lawrence.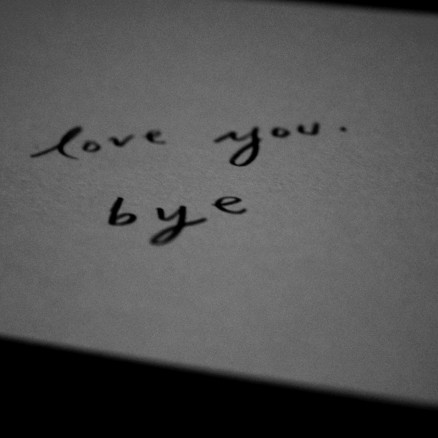 OF NOTE: My mom left me a little note the other night telling me to make sure and get all my online work done. I think her handwriting has always been beautiful. Photo by Anna Nagle.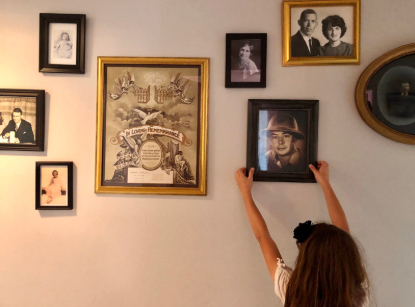 WALL OF FAM: Social isolation has been especially hard for my youngest sister. To help occupy her time, my mother has begun assigning her chores to do. The most recent one involved redecoration of our family wall. Here my sister is hanging a photo of my grandfather. Photo by Evie Bernard.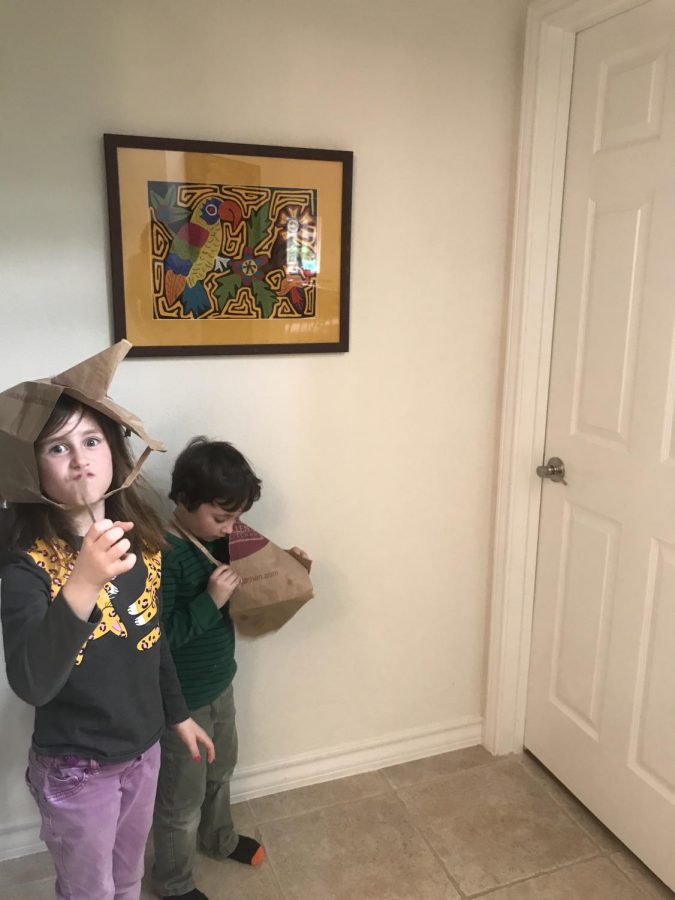 GETTING CREATIVE: Since the coronavirus has taken place, my little siblings have started to get more creative with their toys as the days go on. They wait by the office door to scare my dad who was on a call. Photo by Anna Garcia.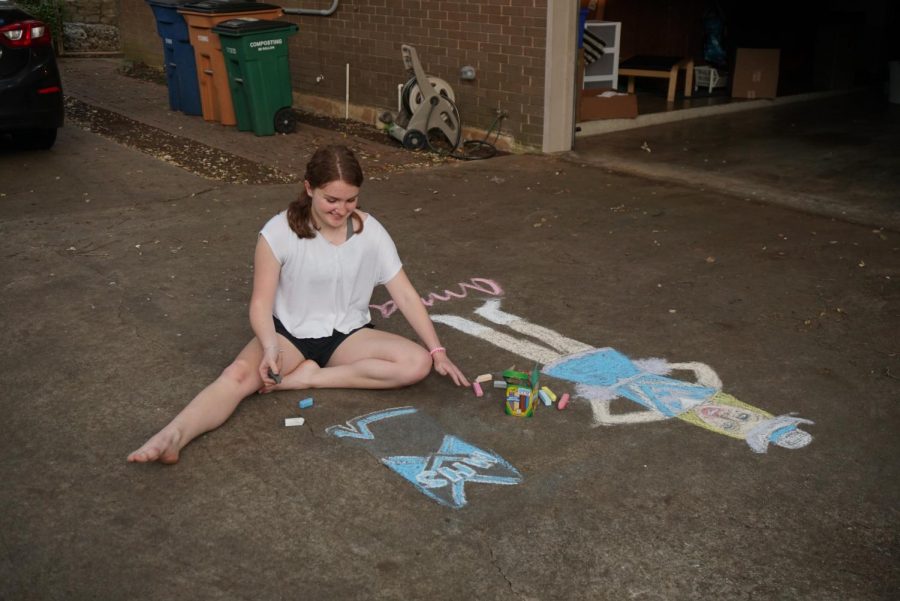 VIRTUAL PLAY DATE: I was kind of impressed that my daughter, a high school sophomore, has sought activities that get her away from electronic devices. Honestly, it's been one of the absolute best aspects of the stay-home order. She has taken up cooking, sewing and even an old favorite: sidewalk chalk. There is a certain sadness here because she is drawing her friends who she misses dearly. Eventually, the electronic device returns but only to look up what she is drawing and then to send her friends their likeness in chalk. Photo by Dave Winter.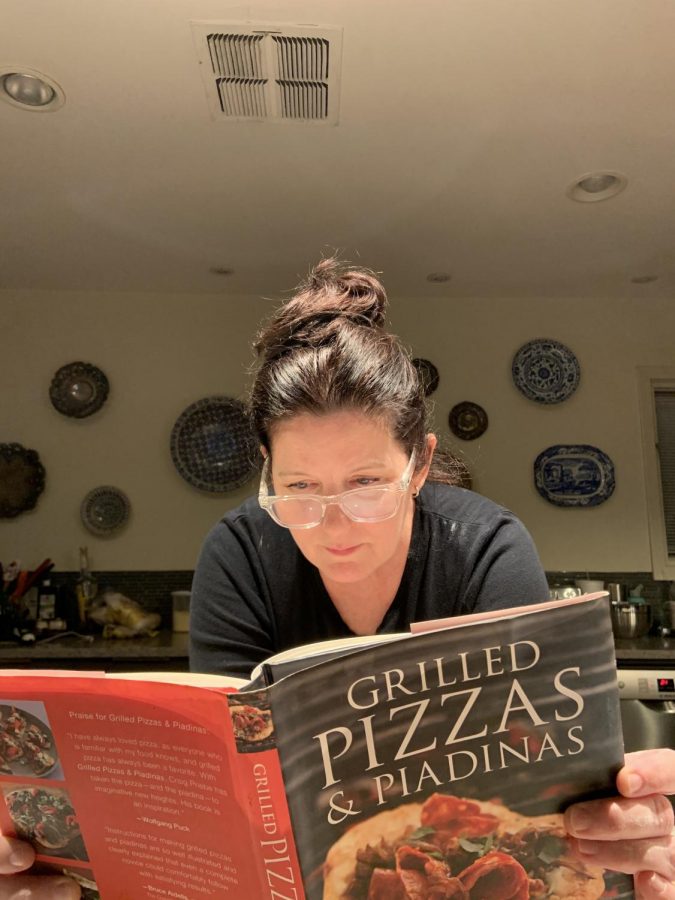 BY THE BOOK: One way my family likes to keep busy is cooking, we look for new recipes and try old ones again, too. Here, my mom is looking through one of our many cook books. This one we bought a couple summers ago when we were in a pizza kick. We almost bought a brick oven too, but thought that was a little too much. The night ended with some very fun, very good pizza. Photo by Lily Prather.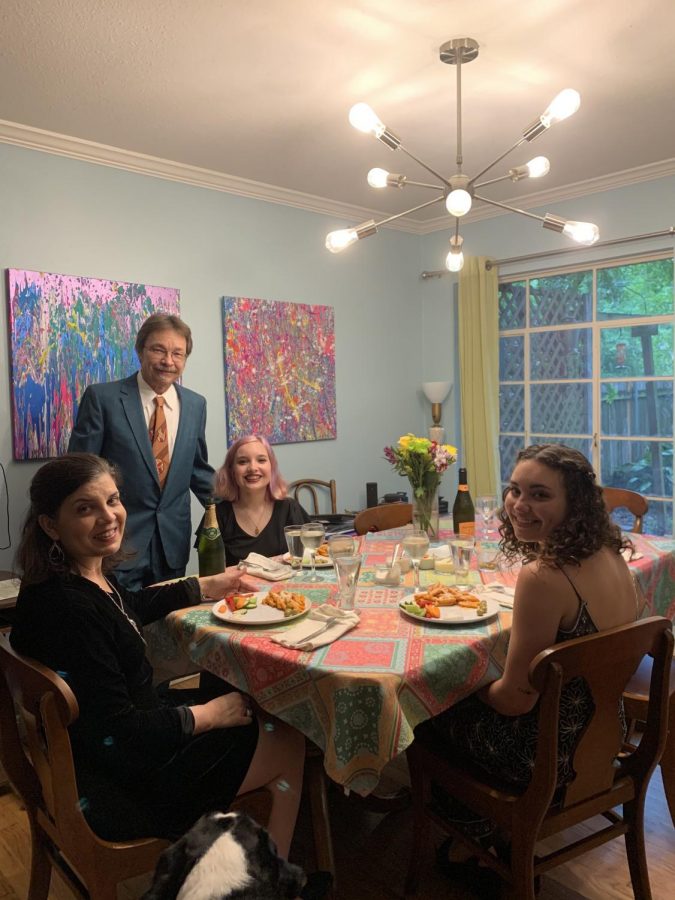 FANCY NIGHT: To pass time and to cure our boredom, my family and I decided to have a "fancy night," where we cooked a three-course meal and dressed up. This occasion helped our family join together and get out of our individual cycles we had all adapted. By creating an event to look forward to, it made our isolation/quarantine more enjoyable. Photo by Josie Bradsby.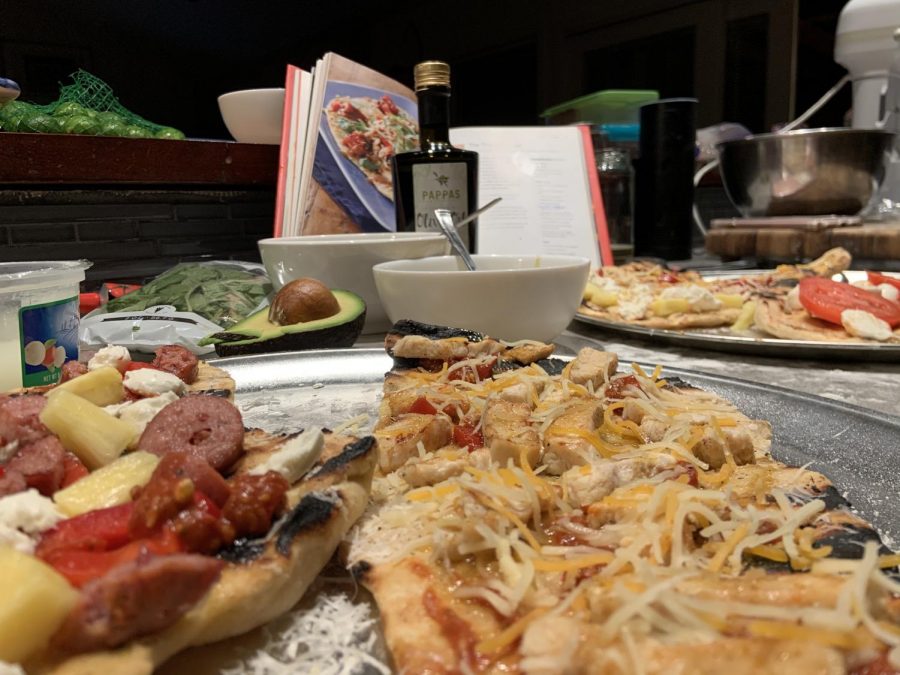 PIZZA PAPARAZZI: Whenever my family and I make something new in the kitchen my dad, always tells me "Take pictures! Take pictures!" He's not so great with cameras himself so he relies on me to do it. I love taking photos of food, especially up close so you get a feel of how messy our kitchen gets. This time was it pizza night, and we were busy making up fun combinations on our blank pizza canvases. Photo by Lily Prather.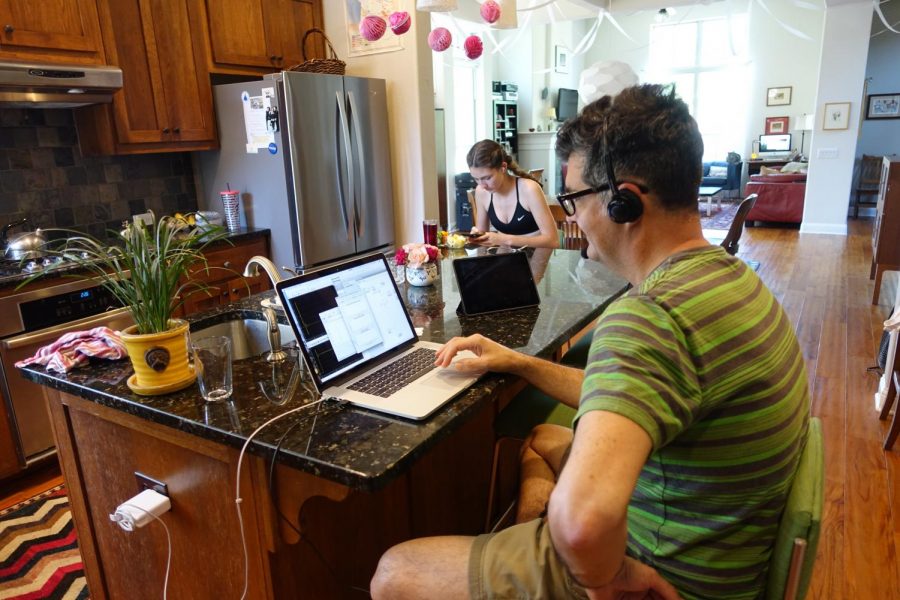 SHARED SPACE: My dad and sister sit at the kitchen counter in our house. My dad works from home a lot and likes to set up in the kitchen. When he's working, everyone basically goes on with normal life around him. Photo by Lily Wilson.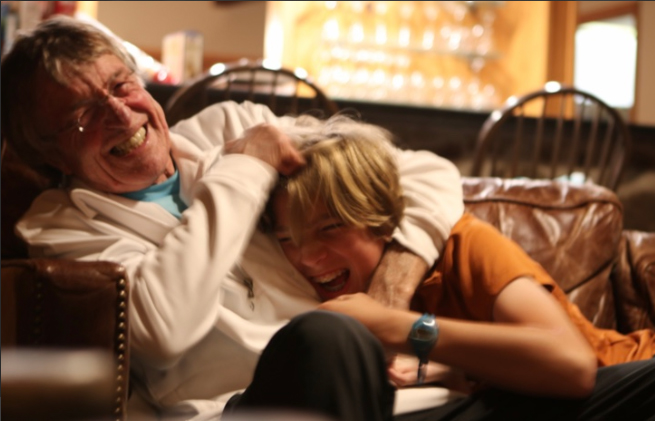 PLAY FIGHTING: My grandpa and my brother are a lot a like, so they get along really well. Sometimes though, they like to start play fighting for no reason. Photo by Lily Brode.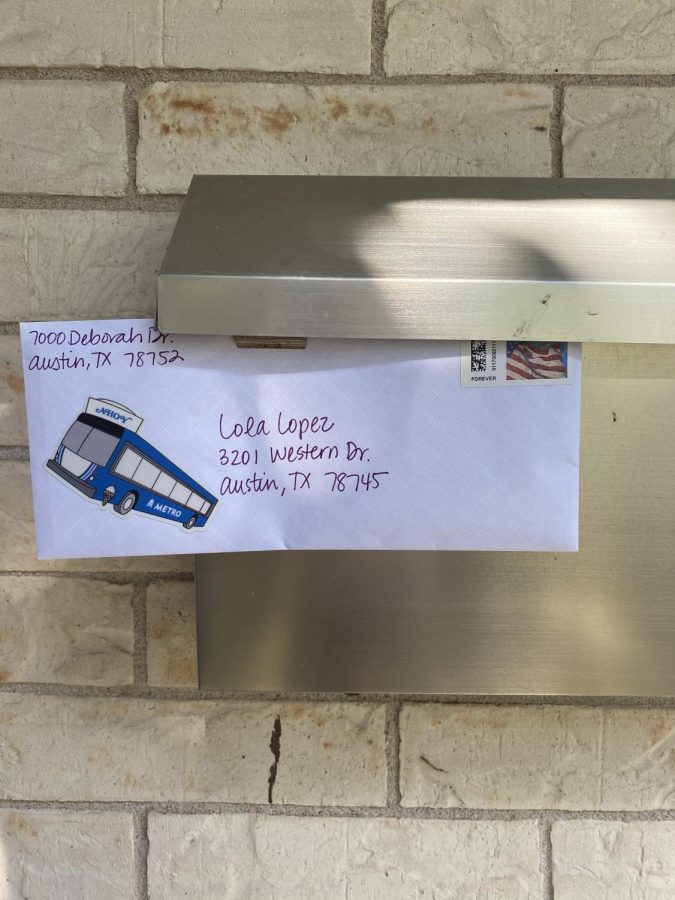 DEAR NANA: Me and my great grandma, who I call Nana, share the same birthday and many other things in common such as liking the color gold and lemon cake. My mom and I both wrote her letters to keep in touch as we can't visit her in quarantine and let's just say she isn't the best with the phone. Photo by Charlie Partheymuller.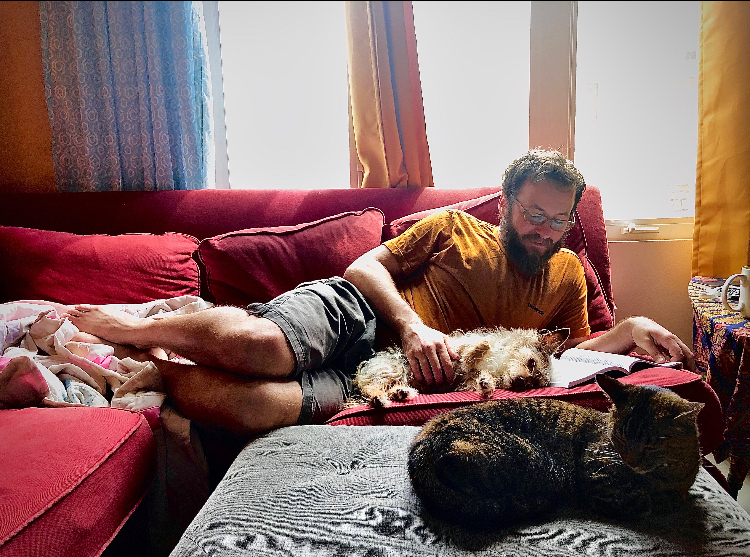 FURRY FAMILY: In our house, we believe that the pets are just as much a part of the family as the humans. "Family time" can really just be chilling out with the pets, as Travis demonstrates here. Photo by Dylan Neal.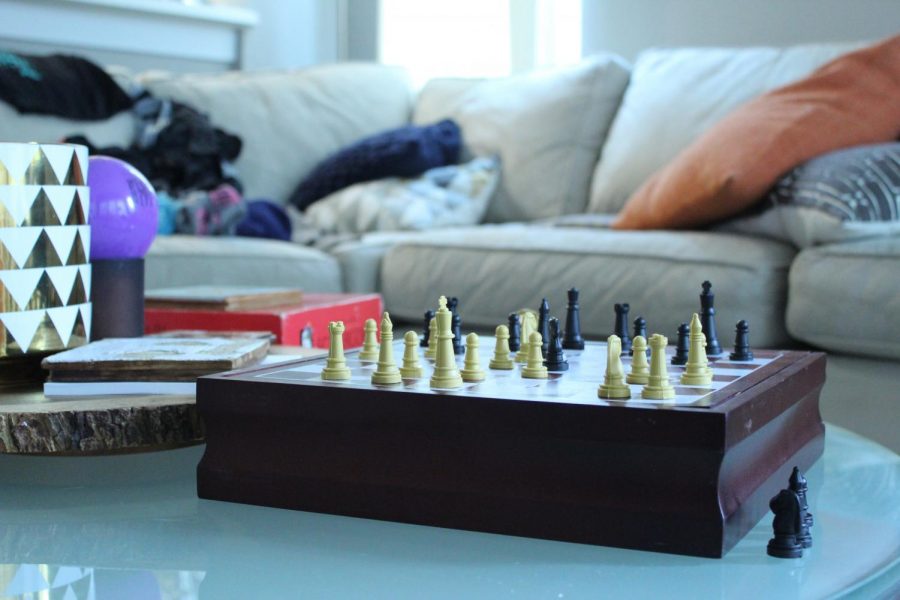 A GAME: My dad and I play chess together. We have a game going where make turns when we're not sitting at the table. The game goes on for hours; we tell whose turn it is by a Anakin Skywalker keychain. It's a game where we figure out what piece was last moved and how to confuse the other. Photo by Maggie Provost.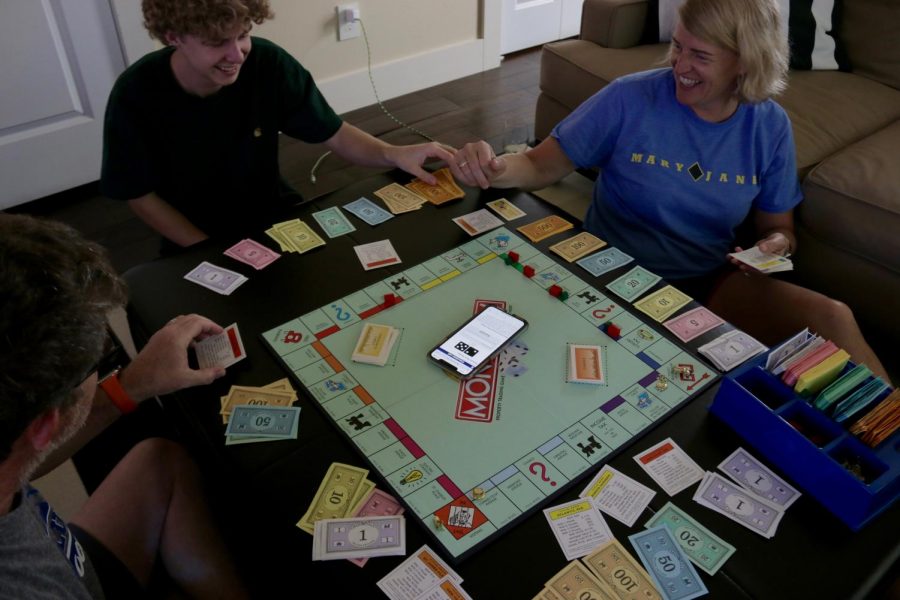 FAMILY GAME NIGHTS: This photo was taken of our family game night just this past week, and this is a perfect example of work and family in our household. Every week on Friday the whole family gets together and plays a game. Without this bonding time, work time would overpower family time. So this time is crucial to balance work and family. Our game night is so that we can put or school or work troubles aside and just enjoy a fun night with the family. They are also so important because all of our busy work lives it is hard to make time for family. Photo by Emmi Anderson.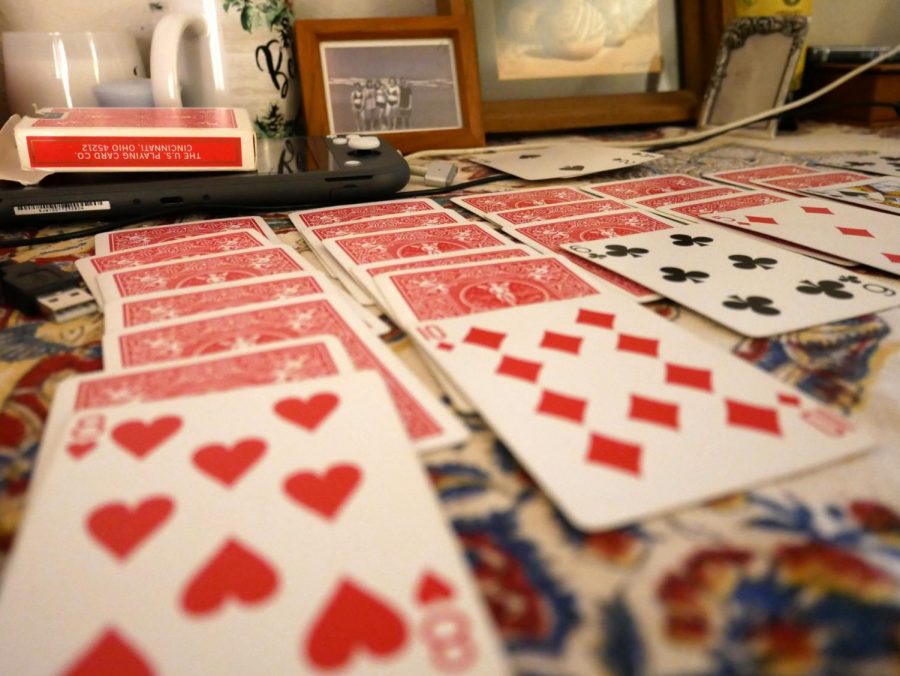 SOLITAIRE CONFINEMENT: Solitaire is the perfect game for social distancing. I have found others. With Animal Crossing: New Horizons newly released, I'm sure that I'm not the only one focused on catching bees and chopping trees, plus I haven't played a guitar in years, but it's better than being bored. It's nice to brush up on old skills, but god, do my fingers hurt! Photo by Theo Roe.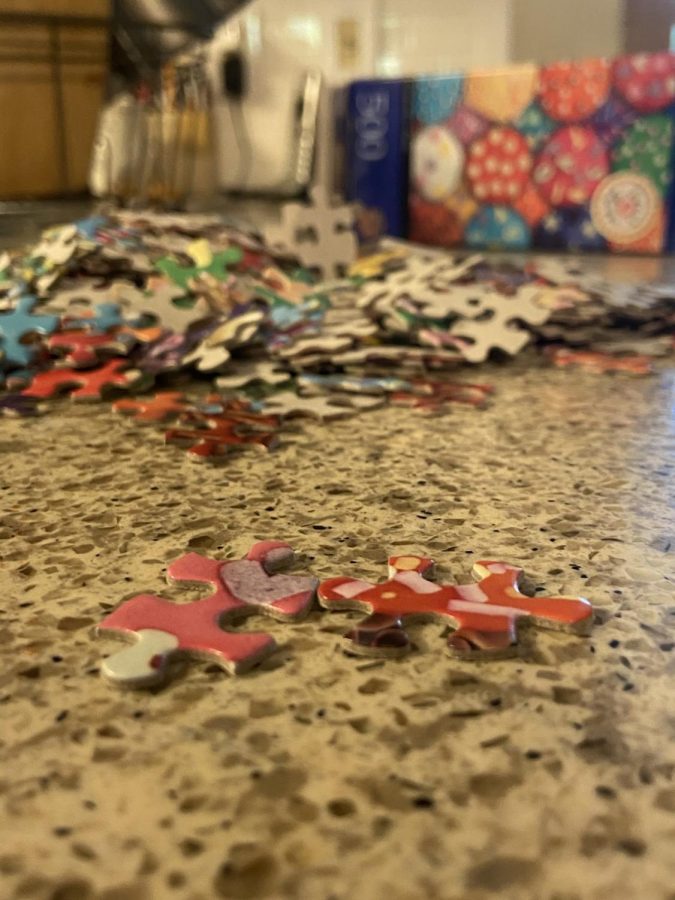 PUZZLING: This picture was taken right before my dad completed this puzzle. As a family we have been doing a lot of things to pass by the time of this quarantine. Puzzles is definitely one of the big ones; it takes so much time and is a good way to create family bonds while stuck inside the house. Photo by Reagan Dias.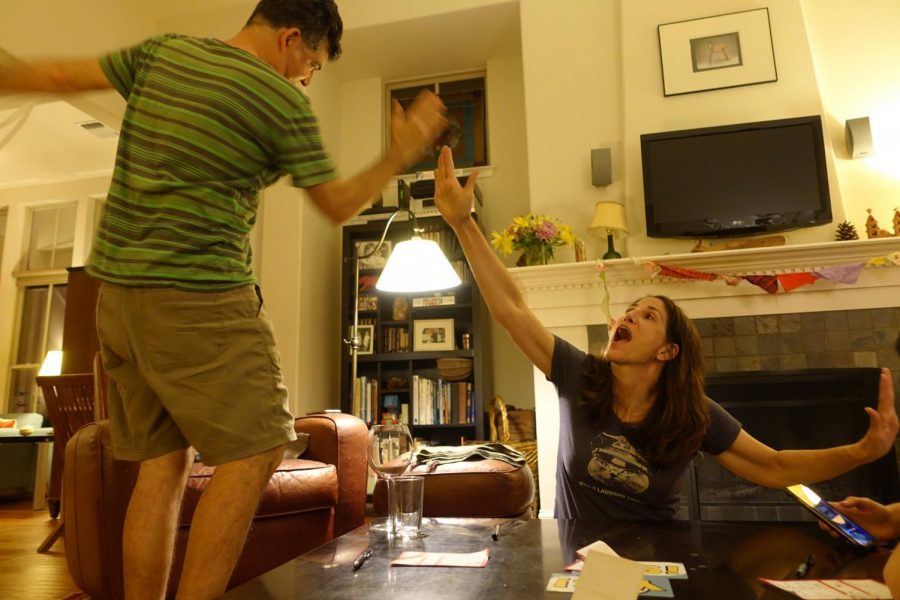 GAME NIGHT: Being stuck at home has definitely made our family push each other's buttons more than usual, but we also have been able to make room for quality family time. Playing games always brings out the goofy side of the family, a side I love to see. Photo by Camille Wilson.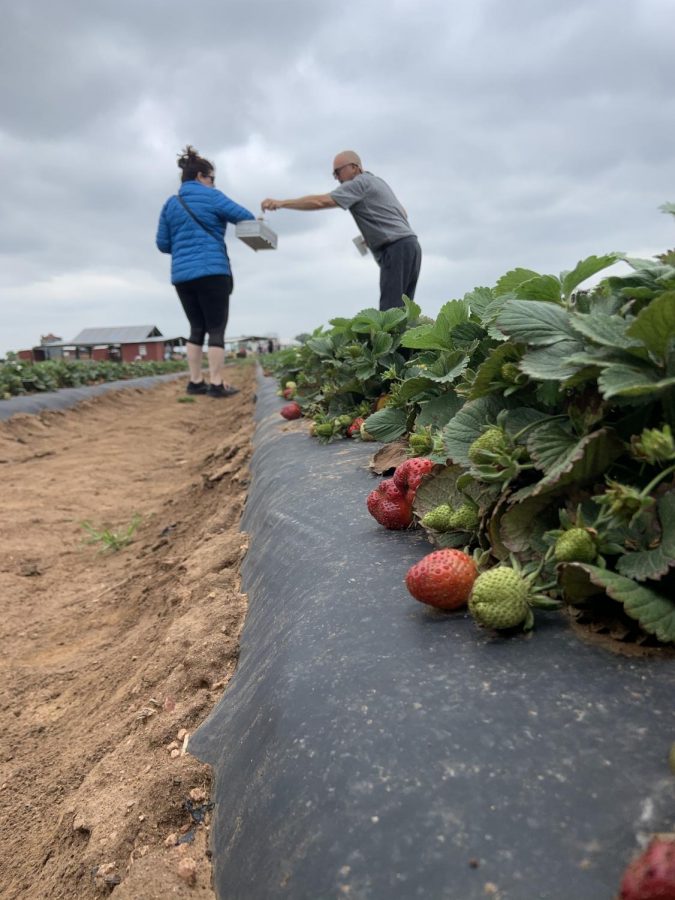 A BERRY GOOD TIME: During this pandemic, my family and I decided to go to a strawberry farm. We don't usually do this sort of thing, but because we were desperate to get out of the house, it seemed like a good option. My dad was very avid about finding the biggest strawberry while my mom preferred getting pictures.  Photo by Lily Prather.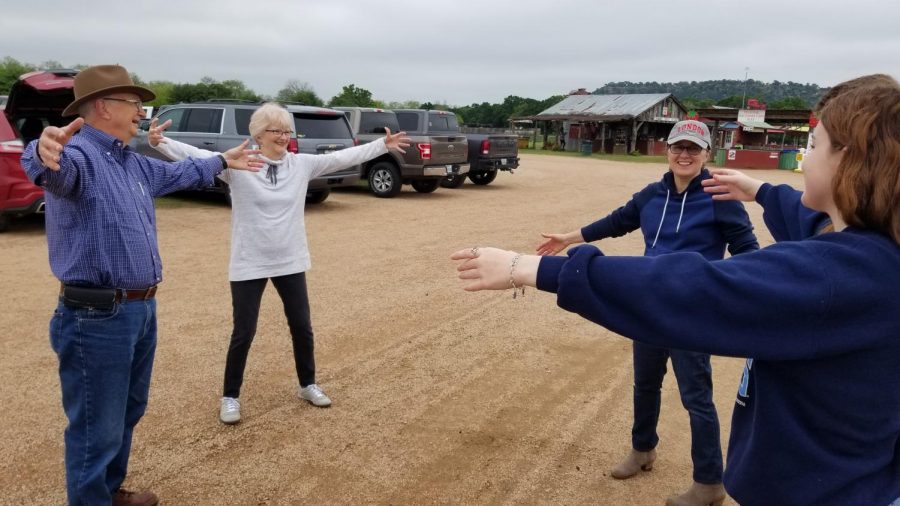 PRESENT BUT SAFELY DISTANT: My kids, my wife and I met with Opa and Mimi (my wife's dad and step mom) to pick strawberries in Marble Falls. The strawberries were beautiful, and we were able to maintain safe social distancing from other visitors to the strawberry farm, including Opa and Mimi, who live in Fredericksburg and met us in Marble Falls for this break from quarantine. In this photo, we are saying our goodbyes with a virtual hug, which was almost as good as a regular one. Photo by Dave Winter.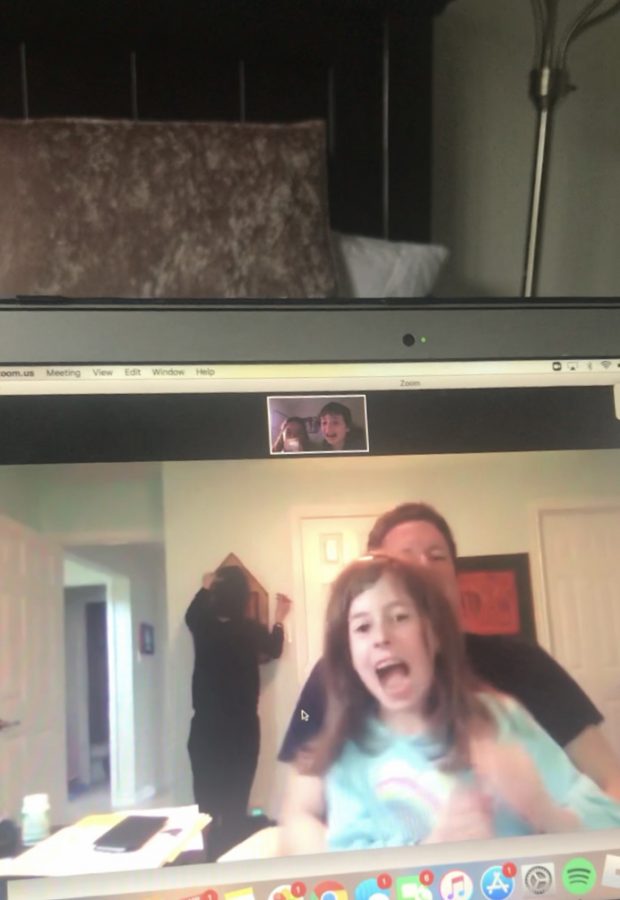 ZOOM STUDIO: My stepmom is holding a lecture for her UT students in the following week, which means finding an appropriate space to do this. We held a Zoom one room away from each other to see how things would look through a screen. She set up paintings in the office, which is now her zoom studio while my little sister and dad model. My little brother and I tell her where the paintings would look best on the wall. Photo by Anna Garcia.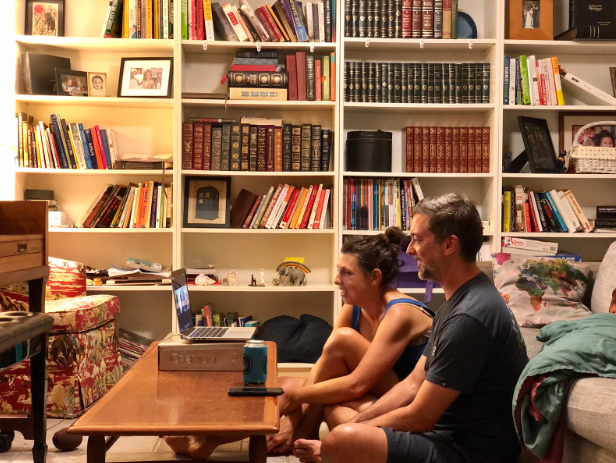 A DIGITAL DOUBLE DATE: My parents sit down one night after dinner to enjoy a 'double date' via zoom. Social distancing has been tough for my extremely extroverted family. Being able to see our friends, even if through a screen, has helped make this time slightly more bearable. Photo by Evie Barnard.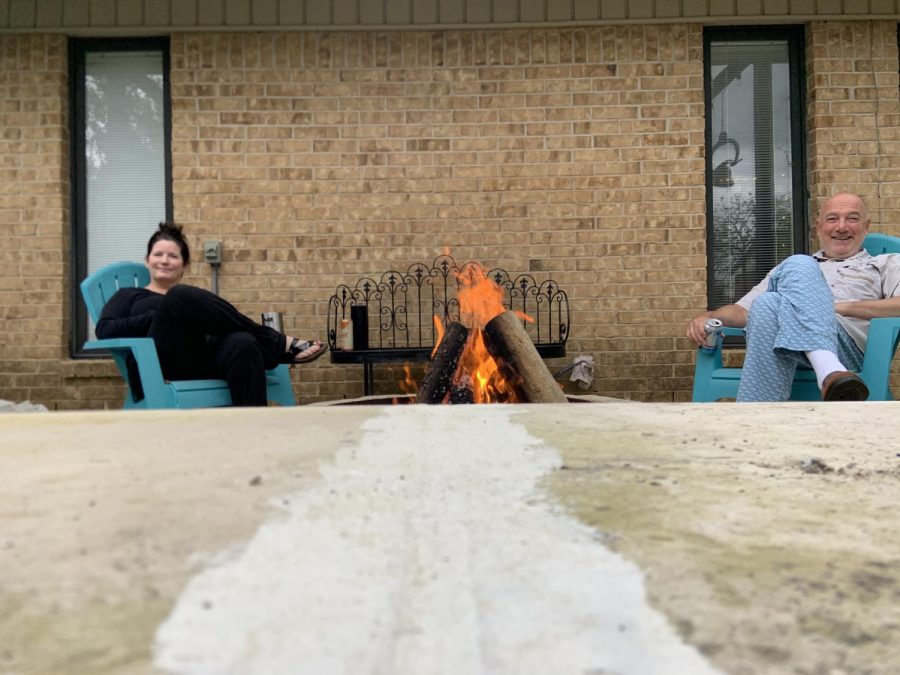 ALL FIRED UP: My family, pandemic or no pandemic, loves to sit on the porch. My dad is usually the one to say "let's have a fire" and from there it takes on the whole night. We sit till the sun is gone talking and waving at passing cars. Usually our neighbors and friends stop by and sit with us, but sense the quarantine its just been us three. Photo by Lily Prather.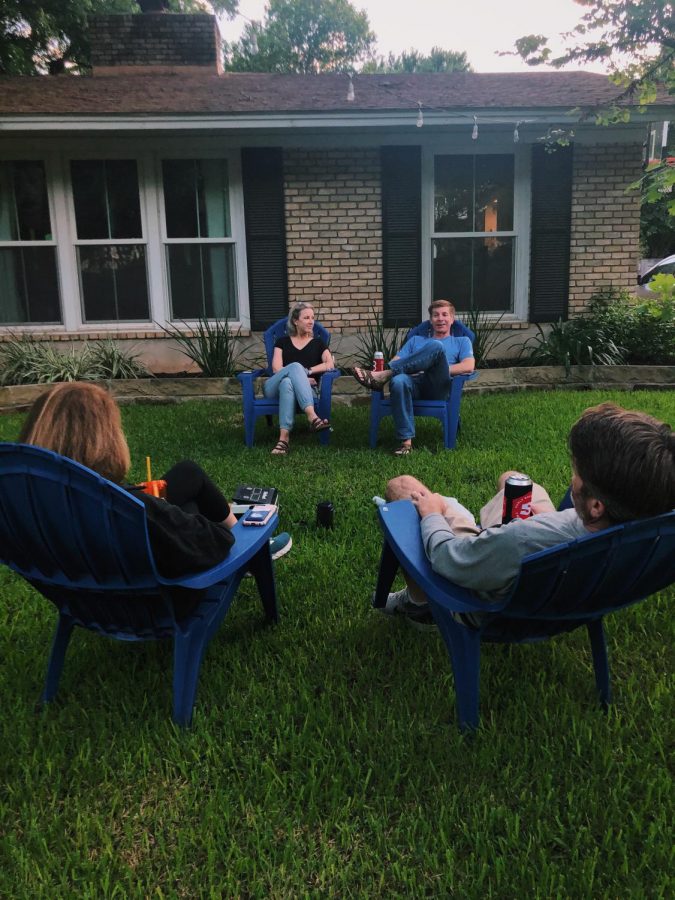 SOCIAL DISTANCE BIRTHDAY: This picture captures a very abnormal birthday for my dad. He doesn't normally love all the attention, but he admitted that anything would be better than a quarantined birthday due to the coronavirus outbreak. To make the day better, we had our aunt and uncle over to celebrate the strange occasion 6 feet apart. Our family is trying to keep our heads up by spending time with each other and by having an occasional social-distanced happy hour. Photo by Megan McHorse.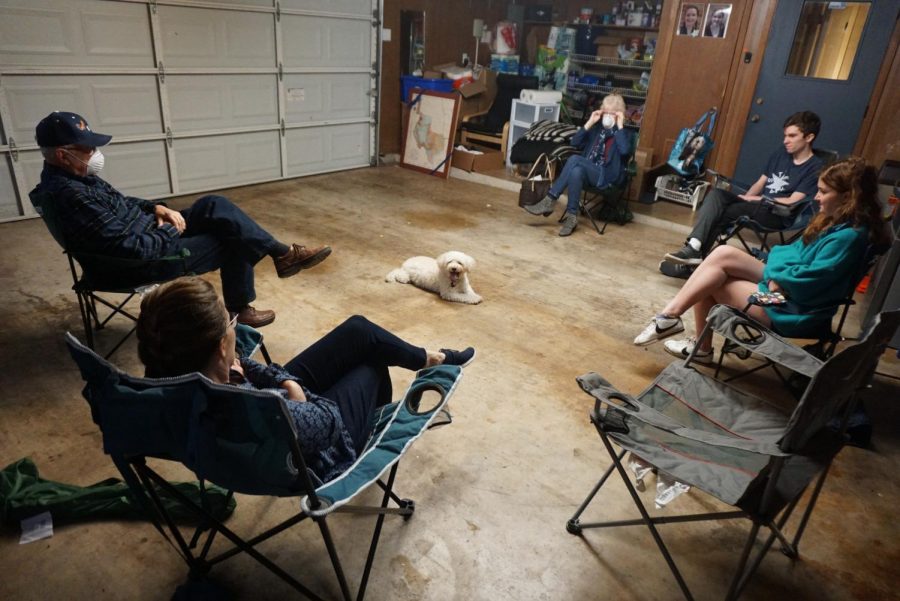 TURNING 18 IN COVID-19 AMERICA: My son's 18th birthday was April 18, and it fell squarely in the city, county and state stay-home order, plus more recently passed ordinance requiring masks in public. Because his grandparents fall in a high-risk age range, we practiced social distancing, and they wore masks at least as the party began. My daughter served the cake while wearing latex gloves, and they placed his presents in the corner for him to retrieve after they sat down. Only our dog Marty was allowed to venture into the no man's land six feet between them and us. It was a birthday party to remember. Later in the day, we had a zoom party with my family where we played a Kahoot quiz where the questions were all about Henry. His Nana crushed the competition as if there was any. Photo by Dave Winter.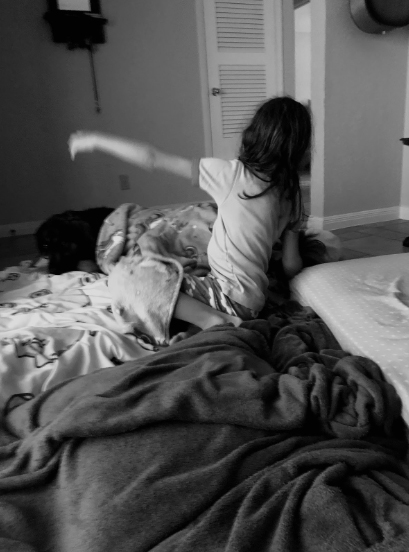 SIBLING SLUMBER PARTY: My youngest sister was devastated when her sleepover was cancelled due to the coronavirus. To help cheer her up, my family held a slumber party for her in our front room. We lined the floor with pillows and blankets, snacked on popcorn, and binge watched movies till the late hours of the night. Photo by Evie Bernard.