Ms. Troy leaves McCallum over safety concerns
English, women's studies teacher feels district should not implement a plan where social distancing isn't guaranteed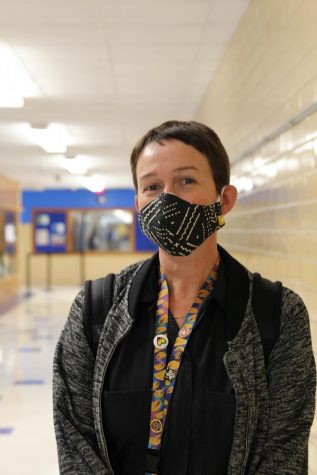 Cassandra Troy is leaving not only McCallum or AISD, but all of Texas. It's not the people or community she's trying to escape but rather the situation. The English and women's studies teacher feels the district is putting the health of its teachers at risk due to its plans to reopen school. After almost 14 years of teaching, 12 years in AISD and less than two years at Mac, Troy is saying farewell to the community as she leaves Texas for a new home and safer opportunities. 
Troy hadn't always planned to work in education. She originally went to college to become a writer. When a family friend fell ill, Troy unearthed a passion for teaching.
"One of my very good friends had a son who was diagnosed with a brain tumor," Troy reflected, "so I would homeschool him. I got really into it and decided to quit my job because I felt a call to teach."
That call brought her to Austin High School, where she taught for the next 10 years. It was here that the idea for her popular women's studies class was born.
"At Austin High, I incorporated a feminist lesson [into the curriculum]," she said. "The students really liked it, so I expanded it a little bit every year."
At McCallum, Troy was able to expand this unit into a dedicated class, but she won't be teaching it much longer. Troy has decided to resign from teaching at McCallum, citing the pandemic as what has brought her to a breaking point.
"I remember when I first became aware of COVID," Troy said. "In class, we watched CNN 10 every morning. Day by day, we saw it getting closer"
By early January, Troy had begun to worry.
"We were hearing about hundreds of people dying," she said. "Then we were hearing about it coming here, so when they told us that we weren't going to come back to school, I was relieved."
Yet that relief came with a price. Troy, along with countless other teachers, was forced to move her curriculum online, something that only added to her growing worry.
"It was this never-ending summer of trying to figure out how to do Blend distance learning," she said. "Us teachers spent a lot of time learning and studying and working in groups and doing seminars, and most of us spent our entire summer learning how to make online learning fun."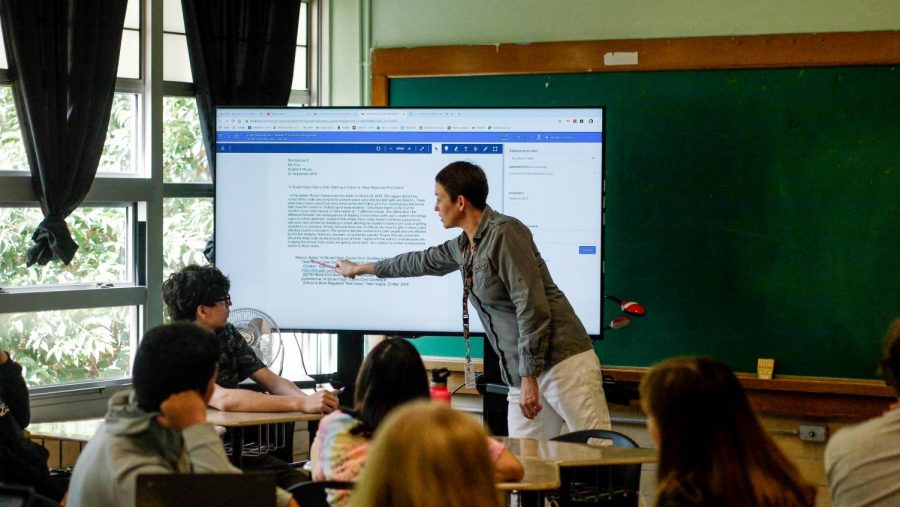 For Troy, the sudden pivot was challenging. She said the district's demanding expectations only added to her stress. 
"My mental health has been suffering," she said. "I've been having panic attacks, nightmares, constant worry."
As if distance learning was not a struggle enough, students were allowed to return to in-person school on Oct. 5 with a hybrid model combining on-campus and online learning. On Nov. 2, schools  resumed a rotating bell schedule with students switching classrooms. According to the district's announcement of the curriculum change, if too many students choose to attend school in person, the district cannot guarantee social distancing. 
The CDC defines social distancing as retaining six feet between all individuals. In addition, they recommend the added precaution of face masks. TEA (Texas Education Agency) is now requiring on-campus instruction throughout Texas in order for districts to receive funds. While students and their families have the option of choosing virtual or in-person classes, the district's teachers without medical accommodations do not.
"Teachers work all weekends, spend holidays grading papers, and spend summers planning and doing professional development," Troy said. "So to ask us to choose between, ultimately, our health and our jobs, I'm not OK with that."
"
It shows how little the T.E.A values their employees. People's health should come before anything. It's cruel and ridiculous that teachers are being forced to go back to school.
— sophomore Ella Rosenblatt
Troy said that in order to preserve her safety, she has decided to resign. Her leave is effective today, the last day of the second 2020-2021 grading period.
"I'm disappointed that the district isn't taking better care of us," Troy said. "The message they're sending is that we teachers are dispensable. Students and families have had choices throughout this. I don't understand why teachers haven't been offered the same choices. If you have a health accommodation you get to stay home until December: that's all that's guaranteed. Or you qualify for unpaid leave. Or you can resign. Those are our options."
Teachers aren't the only ones who find these circumstances unfair. Sophomore Ella Rosenblatt, who is a student in Troy's women's studies class, blames the state board of education for making school districts adopt an in-person learning model in order to secure funding.
"It shows how little the TEA values its employees," Rosenblatt states, "People's health should come before anything. It's cruel and ridiculous that teachers are being forced to go back to school."
Principal Nicole Griffith said that the district has been slower to reopen that other school districts in Texas.
"AISD has been cautious compared to other districts around the state," Griffith said. "I think the district has tried to make responsible choices when it comes to COVID and having students back on campus."
That said, Griffith also said she supports Troy on her decision. 
"I want what's best for teachers," Griffith said. "McCallum feels like a family and that means taking care of each other. These aren't normal circumstances, And we can't pretend like they are. If this is what's best for Ms. Troy, then I'm on board."
Troy will be leaving McCallum for Colorado, a place where she feels it will be easier to prioritize her health. She had originally planned to make the move at the end of the school year, but COVID-19 has sped up those plans.
"At the end of the summer [of 2020] we were going to move to Crested Butte, Colo.," Troy said. "But last Friday, when it was confirmed that McCallum can't guarantee social distancing, that was it for me."
So Troy decided to move sooner. Unfortunately that means McCallum must find a new English teacher.
"I know I'm going to miss Ms. Troy," sophomore Darlene Marsh said. "I think she cares a lot about what she teaches, but I'm happy that she's getting to do what she wants [to do]."
English department chair Diana Adamson agrees but said her departure is a big loss for her department and for the school as a whole.
"I think a great injustice has been done," Adamson said, "McCallum is losing a very experienced, practiced and thoughtful teacher. I don't think TEA is being fair. Asking people to choose between work and their family is absolutely unconscionable."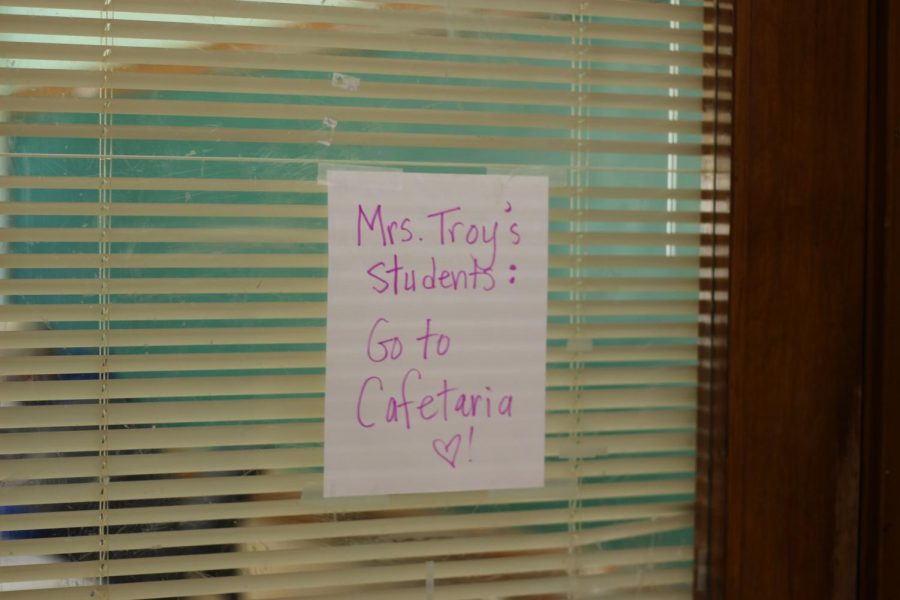 Troy hopes students and faculty alike understand that her decision was personal, not political. Troy has decided to put herself first: even if it meant losing her job in the process.
"I hope our state and our district recognize the peril they are subjecting their dedicated teachers and staff to," she said. "I hope that they will shift their priority to safety, not numbers or dates. One loss of life in our community is one too many."