In-person students to rotate classes
New instruction model starts Monday; students, teachers express concern about safety, unknowns
Throughout the country, there has been a wide range of policies regarding how and when to make the switch back to in-person learning.
In Denver, in-person school for middle- and high-schoolers has been delayed until at least Nov. 7, due to rising COVID-19 cases. Both middle and high schools will remain completely virtual, except for two programs catering to students with disabilities and those new to the United States.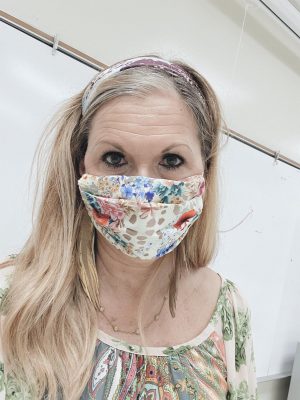 "We know this will be a disappointment for many of our secondary students as well as school leaders and staff, as I know you have been working hard to make plans to safely reopen our doors," Denver Superintendent Susana Cordova said in a district-wide email, published in Chalkbeat Colorado. "Yet given our overriding focus on health and safety and the current COVID conditions and guidance we are receiving, we feel this is the right decision."
On the other side of the country, in Atlanta, public school officials have opted to maintain online-learning until at least January 2021. On the Atlanta Public School blog, Superintendent Dr. Lisa Herring cited recent upticks in local COVID cases that could lead to substantial community spread.
"The decision to further delay the in-person opening of our schools was difficult," Herring said. "But after consulting with our teachers, staff, students, families and public health officials, I decided this is the right approach at this time."
In Austin, after delaying the school start date by three weeks and beginning the school year completely online for an additional four weeks, on Oct. 5, AISD began welcoming middle and high students back in socially distanced learning pods. The school district recently announced that on Nov. 2, AISD plans to begin class rotations. Parents received another survey from the district due Oct. 28, asking if parents want their students to continue learning remotely at home or to attend school in-person.
"Students will have the opportunity to return to school with an instructional model that includes students moving from class to class (think pre-COVID high school)," said McCallum principal Nicole Griffith in an Oct. 20 email to McCallum families. "Though we will try our hardest, we will not be able to guarantee social distancing. The use of face masks will be required for in-person attendance."
Superintendent Stephanie Elizalde has stated that AISD has little autonomy when deciding how and when to open schools back up. She claims the Texas Education Agency threatened to withdraw funding from the district if it didn't change its current in-person learning model and offer more direct instruction.
"'How can you say it's in-person instruction when the students are not getting any time with their teachers?'" said Elizalde, recollecting the questions that TEA posed to the district.
Elizalde has also stressed that the return to school will be safe, expressing confidence in the district's efforts to promote social-distancing mechanisms such as one-way hallways and plexiglass barriers.
"This is not a free-for-all where we are opening the doors, and kids are going to be running in, and there are no masks at all," Elizalde told KXAN on Oct. 23.
The Nov. 2 MacJournalism Instagram post that reported the shift to class rotations sparked a flurry of comments from students and parents expressing their opposition to the change in in-person instruction model.
"
I can understand students' eagerness to get back, but I don't think it's a wise decision. I believe waiting until the start of next semester would have been smarter."
— junior Caitlin Mitchell
"What's it gonna take for people to realize returning back to a 'normal school routine' is just not possible now and won't be anytime soon?" Class of 2020 graduate Janael Copeland commented.
English teacher Amy Smith, though not surprised by the shift in policy, expressed her concerns about the safety of having large numbers of students in her classroom.
"I wasn't surprised. I felt like our new superintendent has been trying to push this [class rotations] for a long time, Smith said. "It worries me because I have classes anywhere from 34 to 36 kids.
Right now, I have it set up with nine desks spaced out, which I think is a reasonable amount. But I'm worried if I get more than nine kids, where am I going to put them? I'm anxious about it."
Junior Caitlin Mitchell is among the many McCallum students who have been actively advocating for teachers to have the choice to stay home. She disagrees with AISD's decision to begin rotations on Nov. 2.
"I can understand students' eagerness to get back, but I don't think it's a wise decision," Mitchell said. "I believe waiting until the start of next semester would have been smarter."
She also worries about the negative consequences the Nov. 2 changes will have on the teachers.
"I find it appalling that during this time where over 90 percent of students are electing to do online school, teachers are dehumanized and forced to return," Mitchell said. "They deserve the same basic human decency that the school district has shown to students. They shouldn't be required to use their sick days and personal leave to stay at home and work."
In an email to parents on Oct. 27, Griffith clarified that all AISD high schools, including McCallum will begin using a hybrid model. According to the email: "All AISD high schools are starting on a hybrid schedule on Nov. 2. Most students will come two days per week. Some students will be invited to attend five days per week."
Last week, Griffith also announced the McCallum Outside Classroom Initiative, a pilot project to create outside learning space where students can attend pop-up classes.
"Outside is safer. Outside is also often very nice in Austin, Texas aside from the few hot months in our rear-view mirror," said Griffith in her email to McCallum families. "Learning, after all, does not require the four walls of a classroom."