Mathias' new sound all about experimenting, having fun
Junior musician, part-time astronaut takes you on a journey from his indie roots toward to the distortive world of bass and autotune that permeates his new EP 'Vampire'
Jay Mathias wants you to think his music is weird. 
In this episode of the Feedback Loop podcast, hosts Alysa Spiro and Evelyn Griffin talk to McCallum musician and part-time astronaut, senior Jay Mathias, about his first EP Vampire and his move away from the soft world of indie and towards the experimental world of bass and autotune. 
Mathias shares his experience creating Vampire, including an epiphany while riding his bike, and the various tools, gadgets and strategies he used to create his new sound. The sound of Mathias' new EP is one he considers experimental. He acknowledges that this isn't everyone's cup of tea.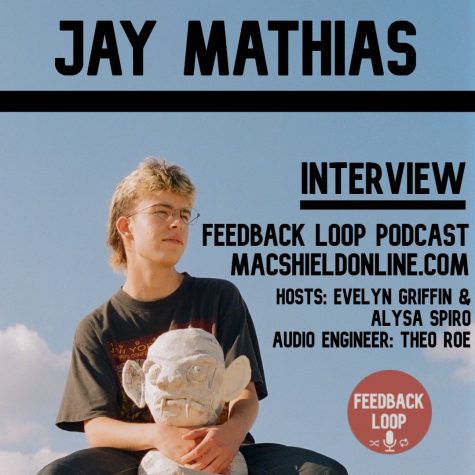 "I don't even need them [people] to be like 'Oh, that's good.' Because this is my first EP and I know there's going to be problems with it, or just flaws," Mathias said, "but I want people to be like 'Oh, that's new. That's weird. I haven't heard that before.'"
For Mathias, the process of creating Vampire was rewarding in it of itself. He describes his progression as an artist and where he wants his music to go. 
"I totally never thought I was going to go in this direction," Mathias said. "And I have no clue if I'm going to want to stick with it. Honestly, I'm kind of impartial. It's really fun to make, I'll say that. That is my favorite thing about making this. The indie songs were nice, but they weren't as fun. It's really fun to click a key on my keyboard and hear some crazy, distorted, loud bass note."
From Kanye West to Grimes to 100 Gecs, you'll notice that Mathias gives props to other musicians from which he's pulled inspiration. If the songs and musicians he references in his interview sound like a foreign language, don't worry: we've got you covered. We've included a playlist of the tracks and musicians Mathias' mentioned to help you get the complete perspective.
A Micro-Moon production filmed by Alex Martinez, the music video for Jay Mathias's "Vampire" features Ian Hackworth in the role of a government agent and Mathias as an alien whose music is a weapon. Mathias said Hackworth's character is also an enemy alien from another planet trying to recapture the all-powerful head sculpture from Mathias after conquering his home planet. He said the video gave his music meaning it did not previously have and that Martinez helped him determine the best sequence for the songs on his EP.
We included this playlist of all the songs that Mathias mentioned during his interview.