Making music with Mathias
Junior Jay Mathias dreams of recording the perfect song
The Shield: What are all the projects you have going on inside and outside of McCallum?
Jay Mathias: In McCallum I'm in the marching band. I play the synthesizer, I'm in AV Club; I'm also in film class. Outside of Mac, I do a lot of music, and I have a couple of things I'm working on right now. A couple of songs, one of them is with Will Dooley 'cause he's super talented, and one of them is a cover of Tyler the Creator, two songs from his newest album. Pretty soon I'll be heading into the studio to make some jazz stuff. And I have two commissions I have to finish this month for this guy's film at Anderson.
TS: Do you feel like these projects intersect at all in terms of what you learn and create?
JM: Yeah totally. I've learned so much from being in the percussion section. I didn't know at all I was going to do band in high school, my freshman year I did soundboard, just like mixing, and then I got kind of roped into percussion, and since I've learned a ton about music theory, how to play music with other people, and it's been a super interesting journey. And then music intersects with film in soundtracking, so last year I started soundtracking for people's stuff and learning more about sound design.
"
I didn't know at all I was going to do band in high school, my freshman year I did soundboard, just like mixing, and then I got kind of roped into percussion."
— Jay Mathias
TS: How long have you been making music?
JM: So Kealing has a music production class. In seventh grade, I tried it out for a semester and ended up liking it, so then I kept going with it. In eight grade, ACL Live or Spotify gifted them a bunch of studios, so I got super into it then, and it's been like exponential from there. Meeting so many talented people here inspires me. I started playing piano freshman year, but if you count the computer, it's been like five years now.
TS: What motivates you to keep up with all of your projects?
JM: Music wasn't really totally my passion up until freshman year. Something about it really connected with me. I think that everyone sort of needs something, and I think that I sort of figured out that music was mine. It's not just making music. Listening to music makes me so happy, in contrast to literally anything else. When I started messing around on the computer, with programs and something I use called Ableton, I started realizing that if I keep doing this, I can start making the music that I like. Especially if I cover Tyler the Creator, who I love, I can make the stuff that I love, and that makes me super happy. Now, if I have free time, It's what I do. Now it's my subconscious I guess.
TS: How often do you think about music?
JM: All the time. Sometimes I'll think of a melody or something in the middle of class and I'll like have to go to the bathroom and record it on my phone. Especially last year, it got really bad, and I stopped doing my homework completely, because every day I'd just go home and make music for like four hours.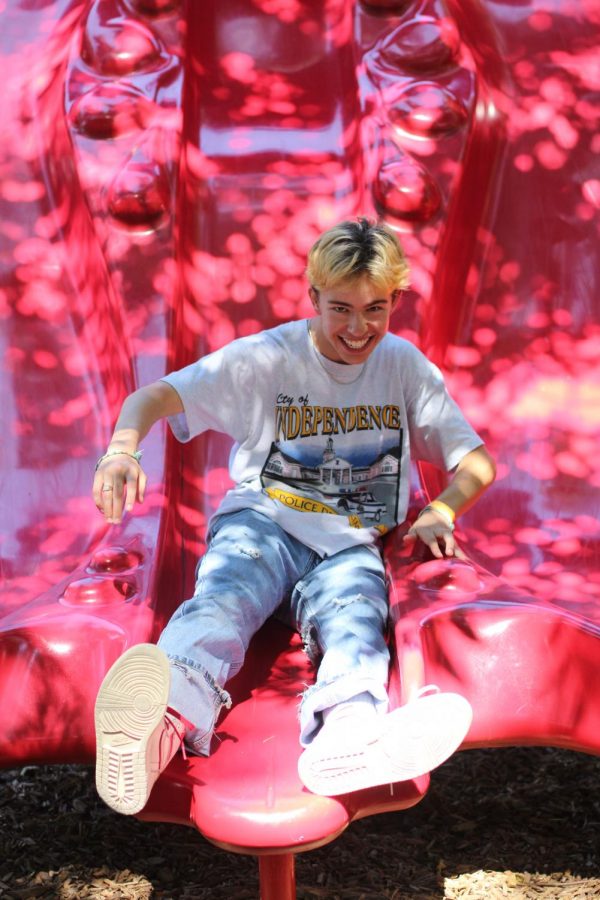 TS: How do you balance your music with everything else you have going on?
JM: I don't know how to balance it, honestly. Summer was great because I didn't have to, This year I just make sure I get my homework out of the way, and then I just go straight to music.
TS: You're going into the studio soon to record. How is that process different from what you usually do?
JM: Generally, I go into the studio with an arranged song, because studio time is expensive. He cuts my rate to like $30 an hour. That's still kind of a lot. So, I have to go in with an idea. If I had the money, I would love to go in and make a song. I wish I could, but I can't afford it. I go prearrange something, assign people the parts and hopefully they know it before [we get in the studio].
TS: Who do you usually go in with?
JM: Generally, Julian Smith on guitar and drums, Erik Jensen on bass, or Max Hoff on bass or guitar. Gavin Owens on sax, he's really good. That's who I'd expect, but I'll be doing stuff with Will Dooley soon.
"
There's nothing that makes me nearly as happy as music"
— Jay Mathias
TS: Does working with your friends change the experience of recording?
JM: Yeah. We're more open to be critical with each other, and we get almost competitive. We're all very opinionated. It definitely influences it.
TS: Is there anyone else you're looking forward to working with?
JM: Van Burger, he has a really good voice. Kai Cole, who's a violinists here, he has a really good ear for music. Crazy talented.
TS: What would you do as a career?
JM: There are two options, side hustle until I make it, or scoring for movies, writing royalty free music and sound design.
TS: Is that a driving force for you?
JM: There's nothing that makes me nearly as happy as music. I don't care about what I do in college. I just care where I go. As long as I have a place with a good music community, I'll probably still be doing music in college, even if I don't have a degree for it.
TS: So what's the biggest reward that comes from putting out a song?
JM: I think the biggest reward to me hasn't happened yet. I get most of my music taste from my parents, and my dad is really into audio equipment and music in general, so I'm waiting for the day when he really, really likes one of my songs. Like intensely enjoys it. I'm waiting for the day when I show him a demo and he can't say anything.
—interview by Bella Russo