I give you permission to love Bird Bird Biscuits because you will
While Thunderbird Coffee will always have a place in our hearts, they will also melt over buttery, downright spiritual biscuits coming to Koenig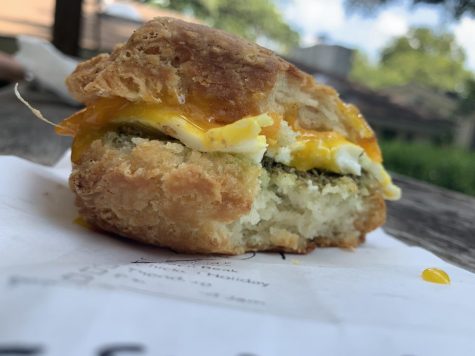 As a recovering Thunderbird Coffee addict, I was crushed when I heard the news of its Koenig location closing. However, my grief was slightly alleviated when I found out what would be replacing it: Bird Bird Biscuit, a restaurant serving breakfast and lunch buttermilk biscuit sandwiches. I have a feeling my bank account will not notice the difference between the two, but I needed to know if it is worth the hype.
Bird Bird currently has only one location in Cherrywood and is only taking online orders. As I perused the menu from the safety of my car, I found it difficult to settle on just one biscuit. It has something for everyone. Those who like to spice things up can get the Firebird, a hot chicken sandwich, biscuit purists can dig into a plain old buttermilk, and cheese enthusiasts (who might be missing those heavenly Thunderbird grilled cheeses) can get the Little Dipper, a grilled cheese biscuit sandwich that comes with marinara sauce. I went with the Lovely Day, a chicken sausage sandwich with a fried egg, cheddar cheese, and basil pesto. (I am a vegetarian so I got it sans sausage.) I also impulsively got an order of Dough-Doughs, which are basically doughnut holes made with biscuit dough and covered in cinnamon and sugar.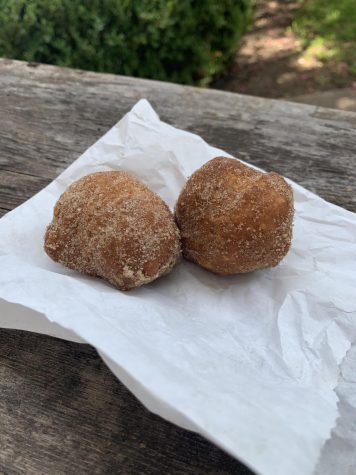 I was not disappointed. The biscuit was crispy and buttery on the outside and warm and soft on the inside. Even my deep southern grandmother would have been impressed. The egg was just runny enough and the pesto added much-needed freshness to the heavy sandwich.
After that downright spiritual experience, I moved on to the Dough-Doughs, and now that I know what I was missing, I don't think I'll eat doughnut holes ever again. Plain but perfect, they were simply on a whole other level. When I received my order they were still warm and the saltiness from the dough tasted amazing with the cinnamon and sugar. If I were you, I would not do what I did and eat them right before tennis practice; however, they did not leave me feeling too gross.
While I will miss having such a good coffee shop in the McCallum neighborhood, I look forward to next year when Bird Bird Biscuit will become a part of the community just like its predecessor.
View Comments (1)