Fishies take on the big Zoom sea
As if starting high school isn't hard enough, Class of 2024 begins its secondary school experience in the virtual arena
This incoming class has the most testing job of them all, trying to endure all that McCallum has to offer through a screen.
High school is magical, hectic and challenging all at the same time. Something is relieving through knowing you are surrounded by people going through all the same things. With distance learning, you have to adapt to new ways of being productive, social and attempt to have a fun high school experience from home. This is an ambitious task, but everyone is finding ways to safely do all of the above. McCallum has such an ample social life it is disappointing the freshman can't know all that makes McCallum so special.
"As a new cheerleader, I am disappointed that pep rallies have been canceled," cheer team member Hannah Vanoution said, "but I am hopeful that we will still be able to cheer at the football games."
Football games seem to be a common event that is missed by everyone.
"Something about being at a football game where everyone is so hyped up is just so much fun," freshman Lanie Sepehri said, "It feels like there are lots of school traditions that revolve around football games, so I'm sad I won't get to experience those."
Due to COVID, a lot of programs have been unable to continue as normal, specifically sports.
"I am playing tennis and we got clearance to play, although we have to wear masks the whole time, which is sort of hard to get used to," Sepehri said.
Hopefully, this means that sports practices are beginning to resume as normal and that possibly music programs and theater productions are close behind.
Something routine about the new school year is meeting your new teachers! There is something extra special when you get one you heard about or maybe a sibling had before you. When asking Sepeheri about her teachers, she mentioned that she had a personal connection to one of her teachers.
"
As a new cheerleader, I am disappointed that pep rallies have been canceled."
— cheer team member Hannah Vanoution
"My grandmother used to babysit for Mrs. Ashton when my dad was growing up so it was quite the coincidence that I ended up getting her as my teacher," she said. "I like Mrs.Ashton. Geometry is a harder subject for me but she explains it well."
With online school, it is of the utmost importance to have things that motivate you. Without the physical school environment, it can be very easy to get caught up with home distractions. Yes, of course, it is nice to be in the calm environment of your home where you have unlimited snacks and can hang out with your pets all day, but it also may cause an ineffective working environment.
"It's really hard for me to stay motivated in an online school," Sepehri said. "Since we are not physically there, it's just not the same pressure for me to get things done on time. There are still due dates, but it doesn't feel the same as when you have to hand something into your teacher, and to be honest, it all feels a little pointless."
As well as the fact of school feeling a little less important now that the dynamic has changed, Zoom seems to be a difficult platform to adjust to. The amount of time they want us to spend on the computer is absurd and can't be productive or have a positive impact.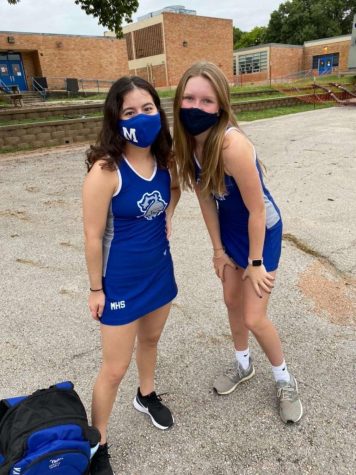 "I got really bad zoom fatigue the first few days; I got a bad headache and my eyes hurt a lot from being on zoom all day, so I am not the biggest fan of the aspect," Sepehri said.
There is also the challenge of not everyone having adequate access to the internet, devices, and other school accommodations. Although the district is doing its best to actively solve these issues, it still affects students daily and adds more unnecessary stress.
Everyone has their musts when it comes to online school. It can be simple like gum, water, snacks, or for Gella Andrew, one specific snack, honey crisp apples.
"I love honey crisp apples, they are the bomb! They help me focus on my school work."
As for Sepehri , she swears by her bullet journal. Bullet journals are planners that you make yourself that you can customize for what works for you! "Not only is it therapeutic and calming to plan out the spreads and color them," she said, "but it's also very helpful for keeping track of my assignments." Sepehri also likes to listen to calming, chill songs, and light candles that help her remain calm and focused.
Since students can't inhabit the lively halls of McCallum this year, they are having to get creative on ways to remain socially active. Lucky, some students are lucky to have friends from previous years, freshmen, on the other hand, are starting from scratch. Sports and other programs McCallum offers is a great place to start.
"I made varsity and I am very lucky to meet a lot of amazing upperclassmen that made me feel included and happy," Andrew said.
"
It's so much more helpful to write things down for me. I feel like I'm digesting the information a lot better when I take physical notes rather than just typing something out."
— freshman Lanie Sepehri
She also enjoys FaceTiming her fellow freshman about catching up with each other. Other ways of socializing are private Zoom sessions with friends, socially distanced events, or, in Sepehri's case, study groups.
"I am in a study pod with a couple of girls," Andrew said. "We meet in one of our backyards once a week and do homework together and talk. I usually get a lot done working those sessions and it's nice to have a social aspect to school."
Another challenge of online school is the lack of physical assignments. Some work well with digital tests, assignments, and homework. Others struggle with staying organized and knowing all they have to do. With physical assignments, you can spread everything out in front of you and see what needs to get done.
"I've been taking physical notes in actual notebooks," Sepehri said. "It's so much more helpful to write things down for me. I feel like I'm digesting the information a lot better when I take physical notes rather than just typing something out."
This year has been a difficult one for many students. School is mentally tasking enough without the worry of your health as a constant concern. School is some people's safe space. It is where they can see the people they care about and who care about them. With everyone working together to stop the spread of COVID, all students will hopefully be able to return to the classrooms and these freshmen can experience what it means to be a McCallum Knight.