Knights capture first day of virtual school
We asked you to help us cover the first day of virtual classes at Mac, and you delivered and then some. The least we can do in return is a little reporting.
What is a journalism program supposed to do when the first day of school is online, and we can't be in your homes to document the big day in pictures? We asked for your help, and you delivered and then some. The least we can do in return is do a little reporting. Here goes.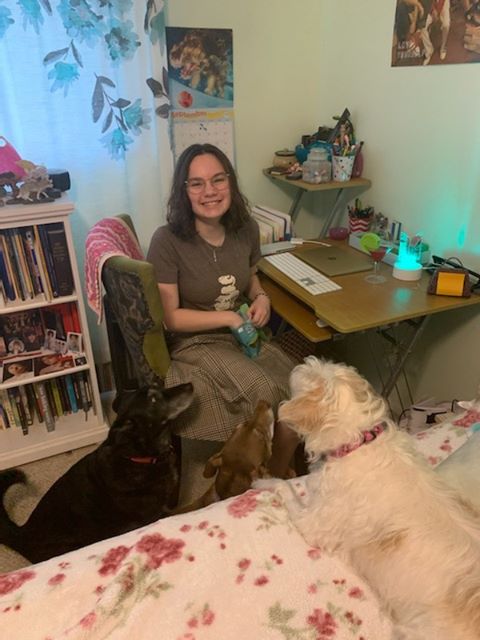 KNIGHTS OF THE ROUND TABLE: Junior Ariela Choiniere prepares for the first day of the 2021 school year alongside her three furry classmates: Shadow, Pickle and Lizzie. Choiniere said her favorite part of the first day was the new Round Table advisement. "I liked how we got to meet new people and teachers [in Round Table] that we otherwise wouldn't have," Choiniere said.  She said her Round Table teacher, Mr. Koslan, brought in his daughter and asked his advisees some simple questions. "He had us say our name, what class we just had, and on a scale from 1-10 rate our first class and how we thought the online classes would go." In addition to enjoying today's advisement she said she appreciated the long-term potential of having an adviser as an advocate. "I like how it's kind of like home room but for high school," Choiniere said. "It's sort of like making a new friend that's a teacher. … They could be there if we don't feel comfortable speaking out about something … that we might not be able to tell the principal, assistant principal, or counselor." Reporting by Lukas Bednar, Alysa Spiro and Dave Winter.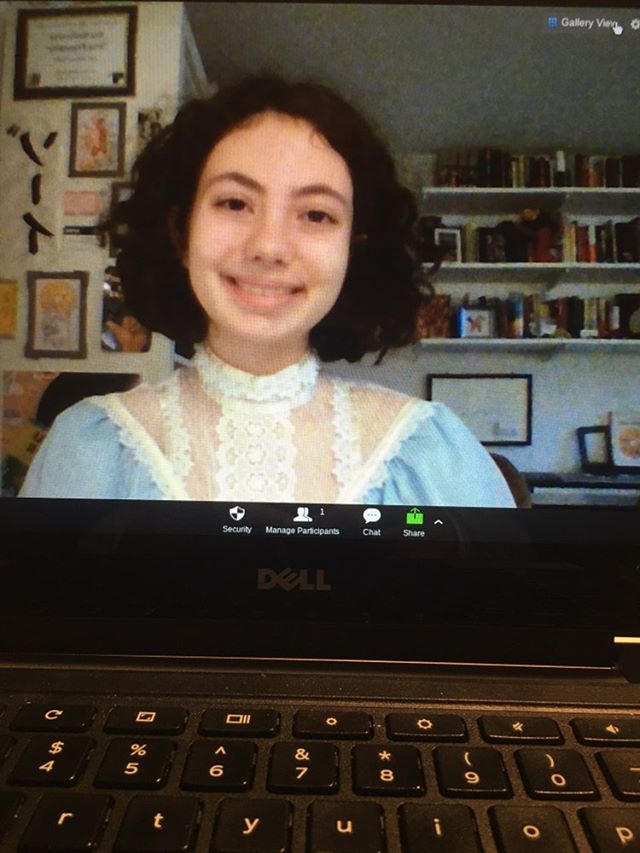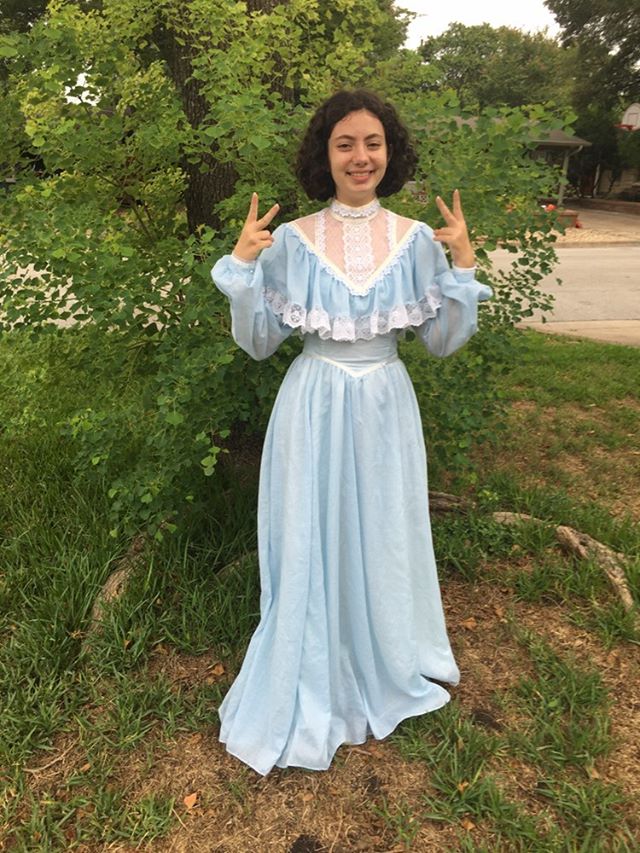 THAT '70s SHOWSTOPPER: It's not often you see someone in a 70's-style floor length gown strutting through the McCallum hallways. Luckily, for junior Zoe Rabinowitz, the first day of Zoom classes proved to be the perfect place to flaunt her head-turning dress. "I figured that the start of school was going to be miserable this year, so I thought wearing a gaudy and ridiculous dress would make it more fun," Rabinowitz said. As for the dress itself, Rabinowitz claims there's no big story behind it, but was attracted to the Victorian style influences seen in the dress design. Fortunately, the first day of school wasn't as big of a bust as Rabinowitz had originally envisioned. "Some highlights from my day were seeing people in my classes who I hadn't seen for a while and chatting with my friends at lunch," she said. "It's a shame we don't have in person school this year, but life is unpredictable." Caption and reporting by Alysa Spiro.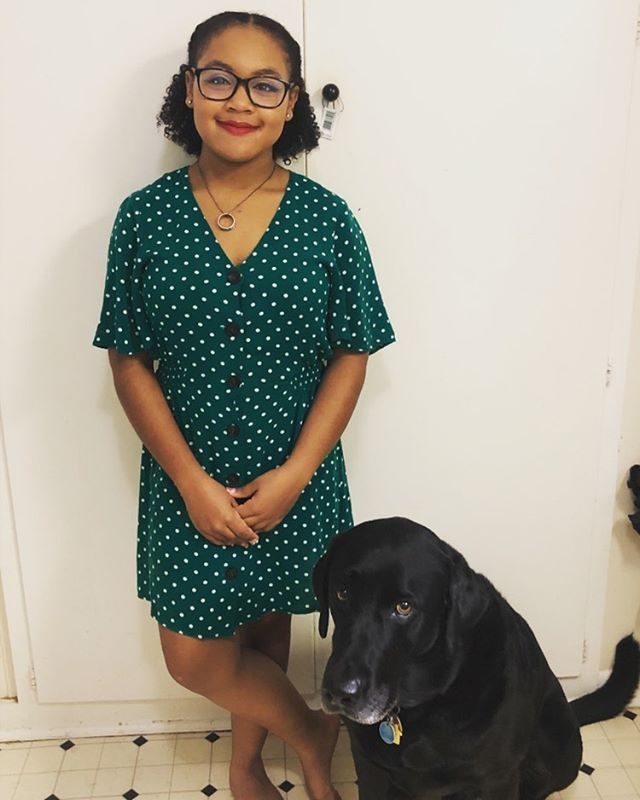 Alongside her furry companion, senior Vanessa Lee prepares for her first day of school through Zoom. Lee says her dog "CJ" doesn't mind her being home because it means more belly rubs for him. "My favorite class so far has been math, which is rare because math is usually my hardest subject," Lee said. "I'm actually adjusting pretty well to this new version of school. I'm getting my work done sooner, and with this extra time I'm able to do things I like such as sewing and cooking!" As Lee prepares for her unexpected senior year, she has been surprised with how much fun it has been. "I feel like I have a more personal connection with the teachers," she said, "and I'm learning at my own pace." Reporting and caption by Carly Johnson.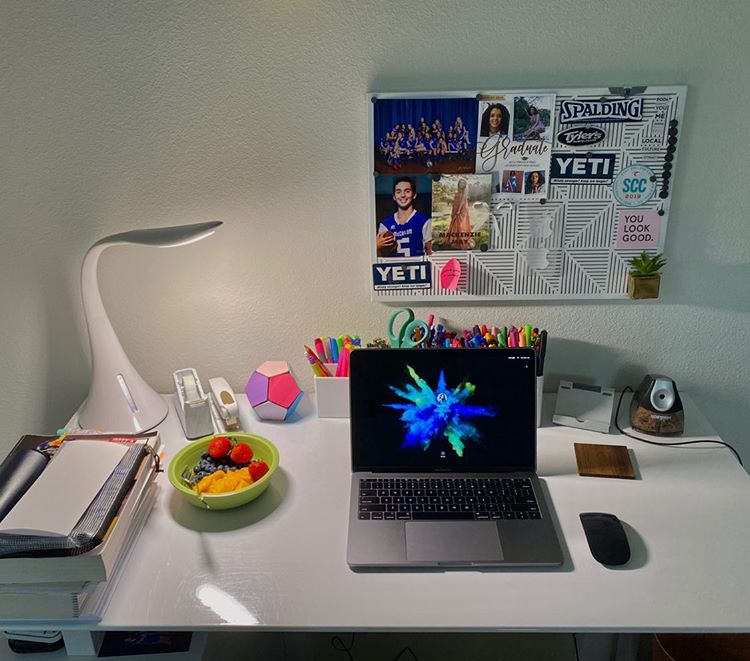 DIY DESK: Feeling prepared and organized, junior Mia Gomez gears up for first period at her sleek and colorful workspace. "Online school felt surprisingly fun, mostly playing get-to-know you games, but it was nice to finally see some familiar faces," Gomez said. "I always like to feel organized, so working from my own desk was not an issue for me." As the spring soccer season was cut short, Gomez says her favorite part of the first day was being able to see her teammates and meeting the new freshmen. "Even though it was through Zoom, it was nice to see everyone and reminisce on what it felt like to be an underclassmen in soccer." Caption and reporting by Carly Johnson.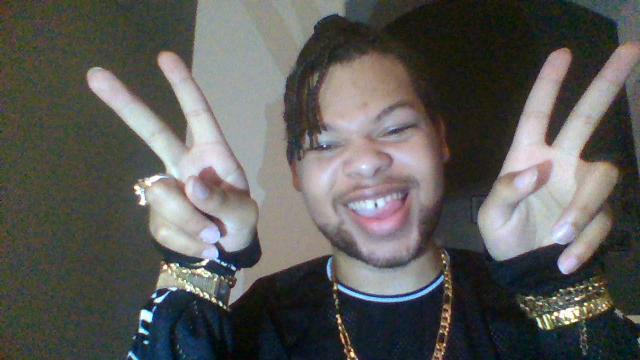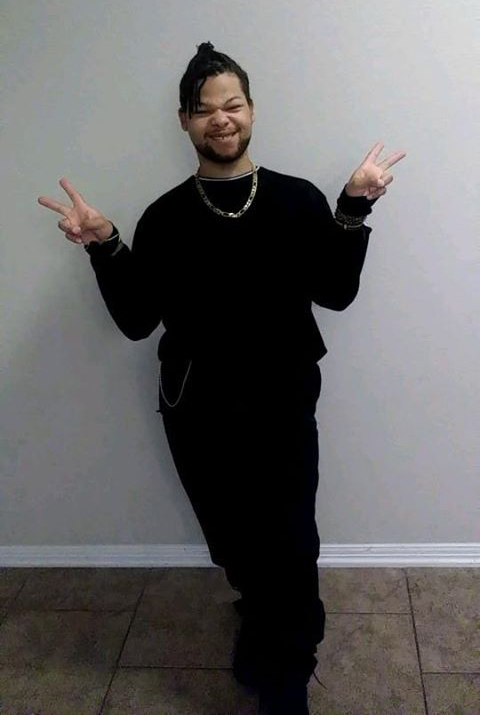 BACK IN BLACK: Dressed in all black with gold jewelry to match, Terrel Hall logs onto his first period Zoom class to put a start to his senior year. Hall was inspired to ditch the pajamas and pull out all the stops because he wanted his first day to be memorable. "Today was my last 'first day of school' as a high-schooler, so I wanted it to be special," Hall said. And special it was. Hall notes that a highlight from his day was a Zoom dance party in his sixth period pre-professional dance class: "It was a fun way to shake up a regular Zoom class." Reporting and caption by Alysa Spiro.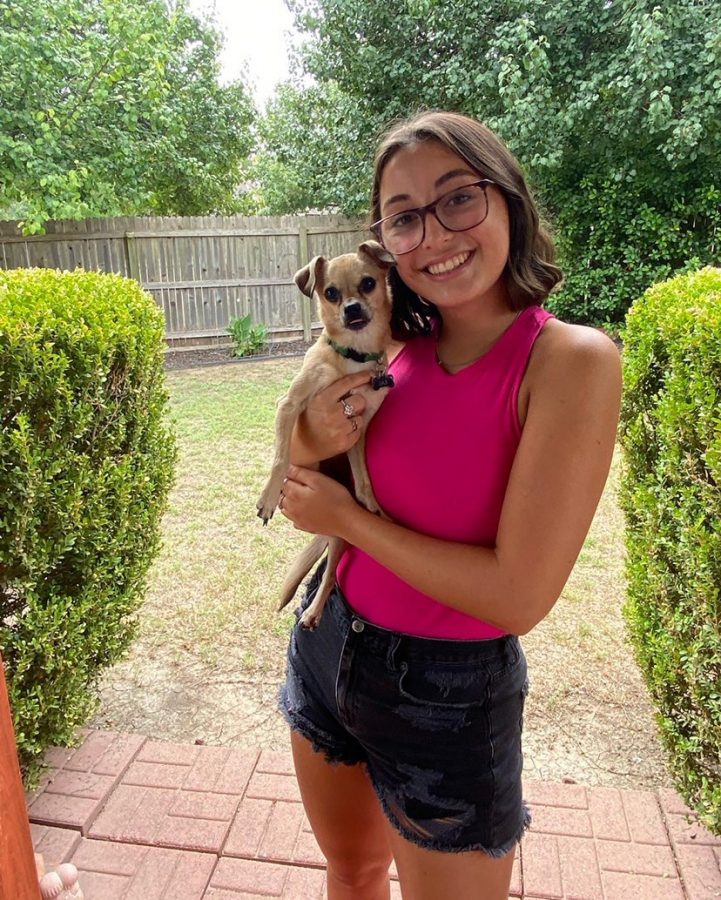 Senior Bella Ramacciotti and pet companion Jax prepare for the first day of her senior year being online. "He sat with me in all my Zooms but unfortunately barked the entire time," Ramacciotti says, "I'm excited for Round Table with Mrs. Baughman on Thursday because we're having a pet show and tell!" Ramacciotti says it's really strange to have the first day of senior year on ZOOM but the best thing to do is to stay optimistic. "I'm excited to see how the year goes. I loved my classes, especially English IV with Ms. Brodbeck because I was happy to see I had a lot of friends in that class and it seemed really chill." Caption and reporting by Carly Johnson.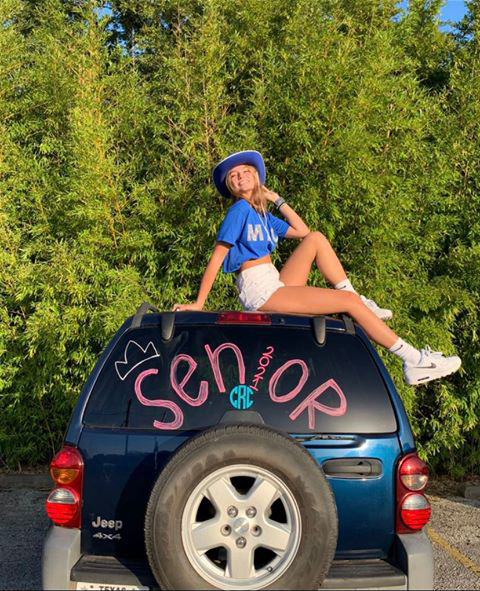 SENIOR CELEBRATIONS: Continuing a classic McCallum tradition, senior Campbell Race poses on top of her freshly painted car. In an attempt to make the most out of an unforeseen beginning of the year, Race shows off her creative side with a MAC shirt she made the previous year and a 2021 cowboy hat to go with it since senior jerseys were not ready in time for the first day of classes. "It's a tradition to paint your car with your friends and take pictures in your jerseys" Race said. "I loved the satisfaction after when it really set in that we're all seniors." Photo by Mati Currie. Reporting and caption by Harper Cummings.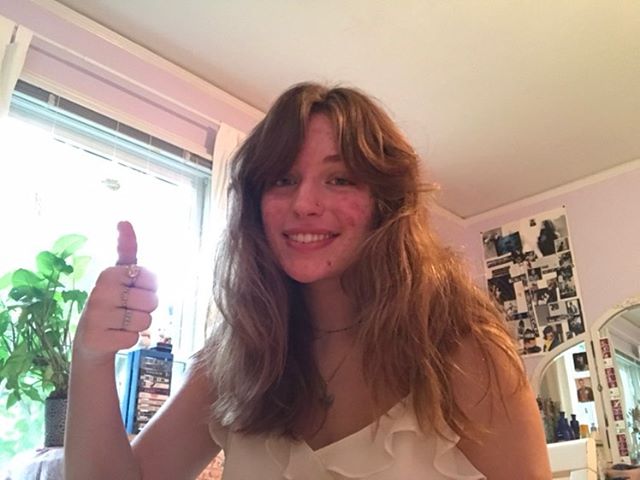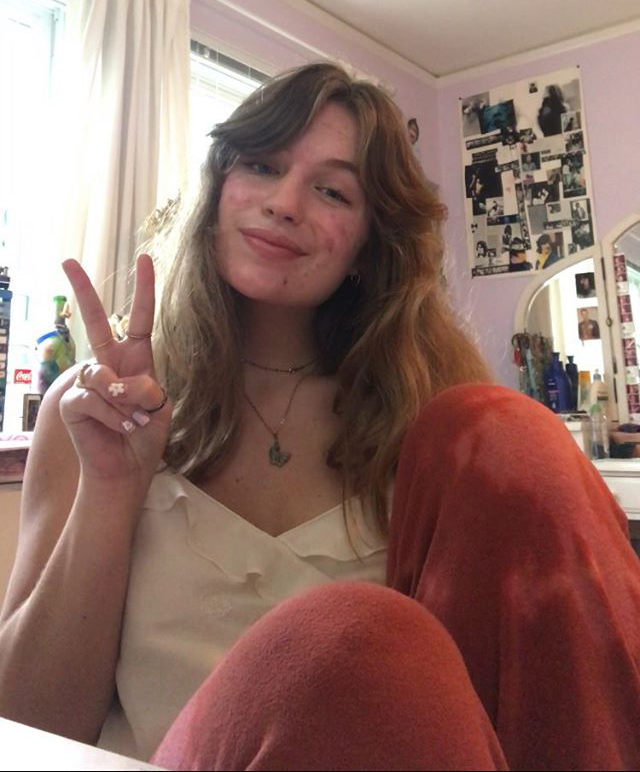 DESK TO IMPRESS: Starting the year off right, senior Ginger Bolton shows off her first-day outfit, and her workspace for Zooms. Her desk setup is not only ready for each of her classes but also includes things to keep occupied during breaks. "I have my Chromebook set up on my desk and a couple of notebooks and I've been making friendship bracelets to keep my hands busy since it's mostly just talking on the Zoom calls right now," Bolton said. Despite the relative inaction, Bolton's assessment of the first day was positive overall. "It was very interesting," she said. "Teachers seem very prepared and excited for the school year. It's fun to see everyone's rooms. I've seen a lot of teachers Bitmojis and I don't know how I feel about that." Caption by Zazie Bryant.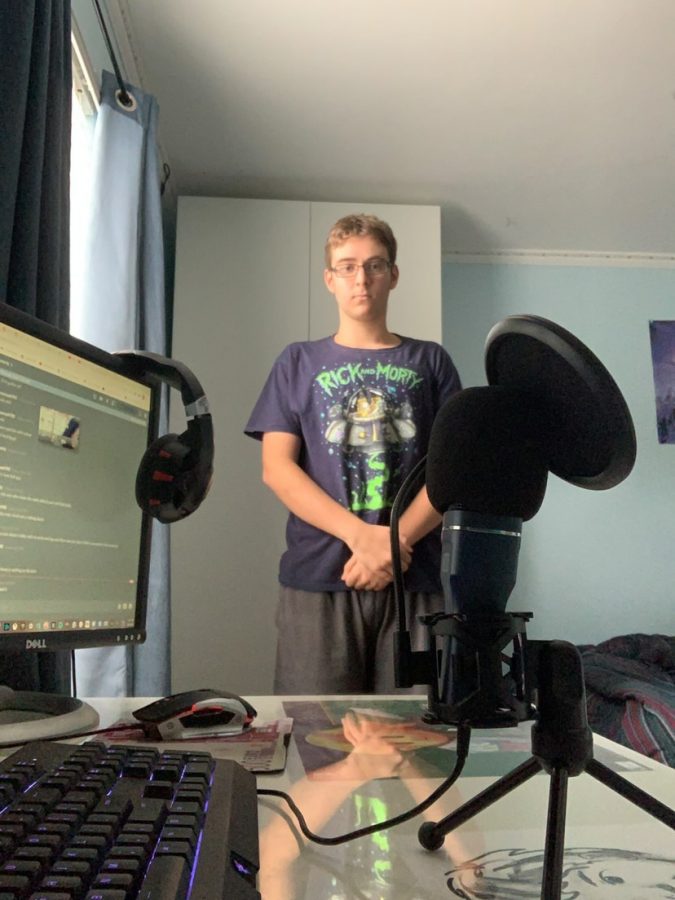 TECH-ED OUT FOR TUESDAY: Standing beside his snazzy school setup, junior Marios Petropoulos poses for a quick shot before his first day of school. His PC, which he built himself with help from his father, allowed a smooth first day of Zoom calls. "I can have all my Blend tabs open and it won't lag whatsoever," he said. "I think online school will be good until we go back to real school." His highlights of the day included a lively advisory class and classes with teachers he's had previously. "My math and science teachers already know me, and they know how I learn, and it's just cool because I like them," he said. "It was a really good day actually." Reporting and caption by Madelynn Niles.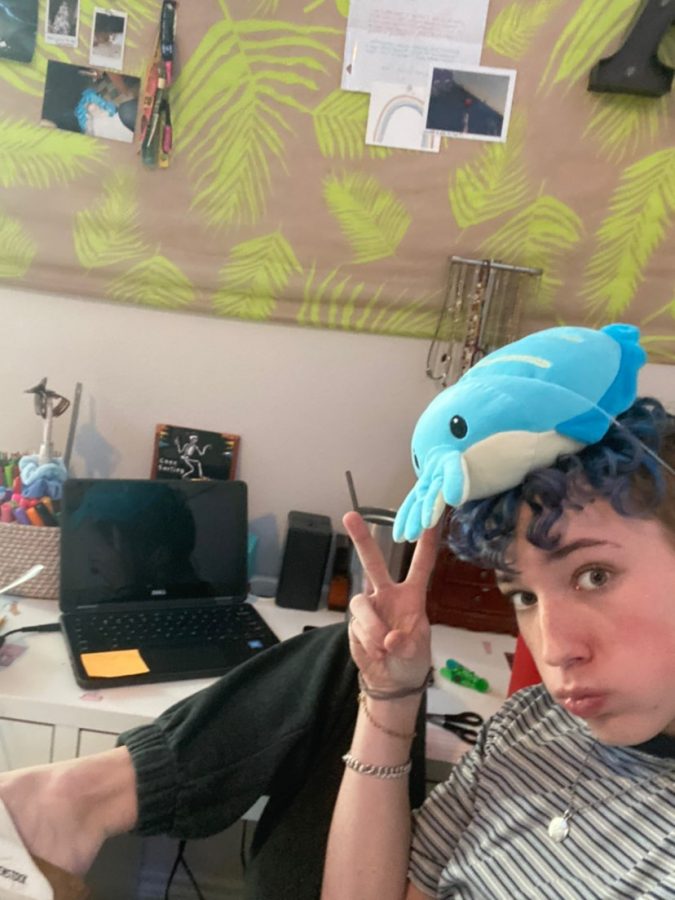 BLUE GUYS AND FRIES: Senior Aydan Howison shows off his work space for the first day of school. Howison decided to set up shop at his desk with the help of a little blue friend, Mr. Noodles, and the method proved successful. "As a senior I think it's ever important to find a functioning way of learning and mine is through the help and support of my friend, Mr. Noodles!" Howison said. "[My first day] was super nice! I liked all my classes and then for my off period, I went to Top Notch with Ava Grace and then went thrifting!" Reporting by Alysa Spiro. Caption by Samantha Powers.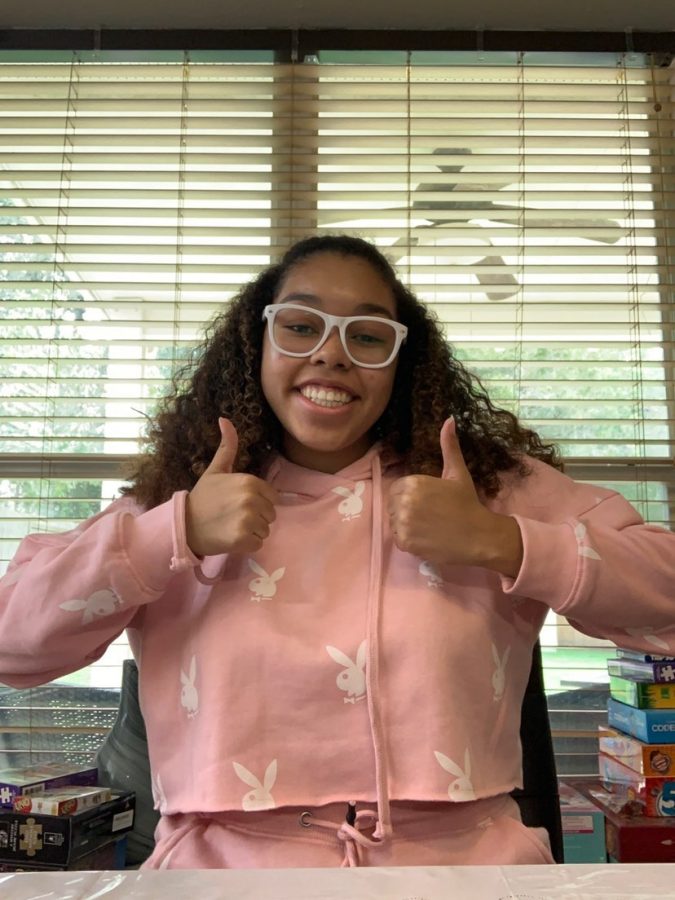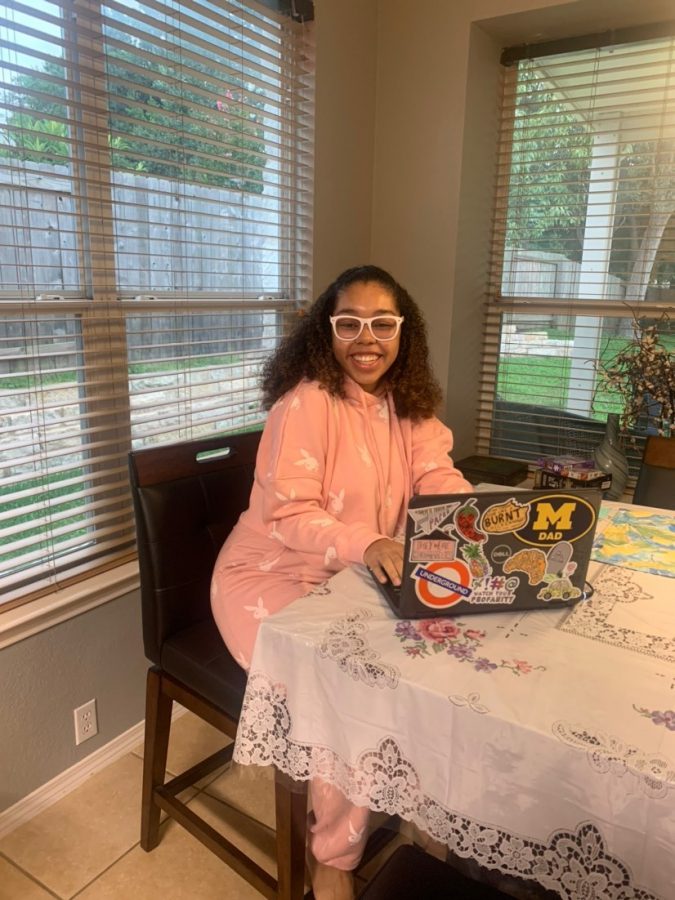 VIRTUAL VOGUE: Senior Helena Laing poses in her first-day-of-school work space and with her Zoom view fashion. Laing's proud mom, Desiree Lang, saw the opportunity to send in first-day pictures and answered the call. Ms. Lang describes the outfit of choice as "quarantine chic." Of Helena's first day, Lang said, "She thought it went really well and was impressed on how well teachers set it up for them." Reporting by Alysa Spiro. Caption by Samantha Powers.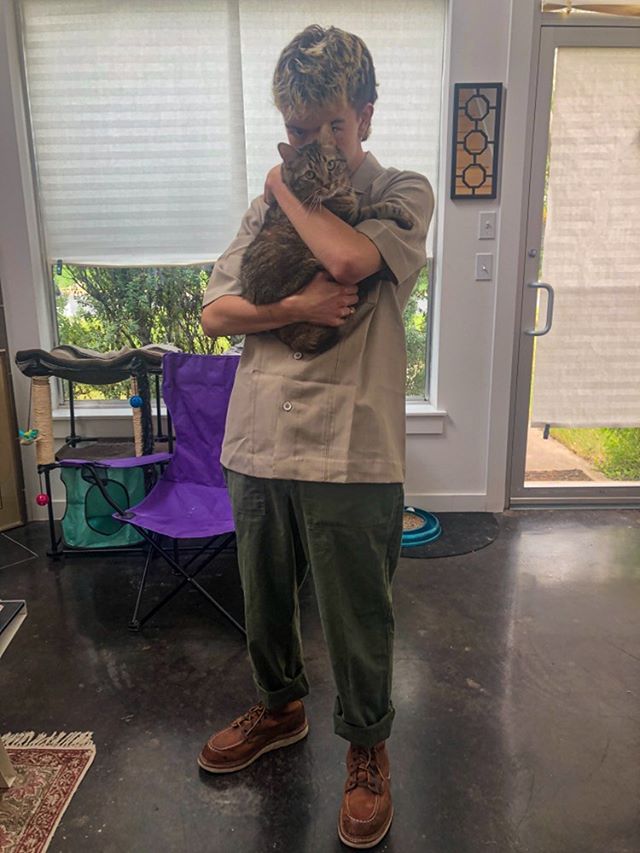 SWEET AS HONEY: Senior Jay Mathias holds his first-day-of-school companion, his cat, Honeynut. She kept him company during Zoom classes, sitting under his desk in his office. "It seems like everyone's handling everything pretty well," Mathias said of online school. "I think once we get adjusted to the technology, it'll be smooth sailing." Reporting and caption by Isabella Dietz.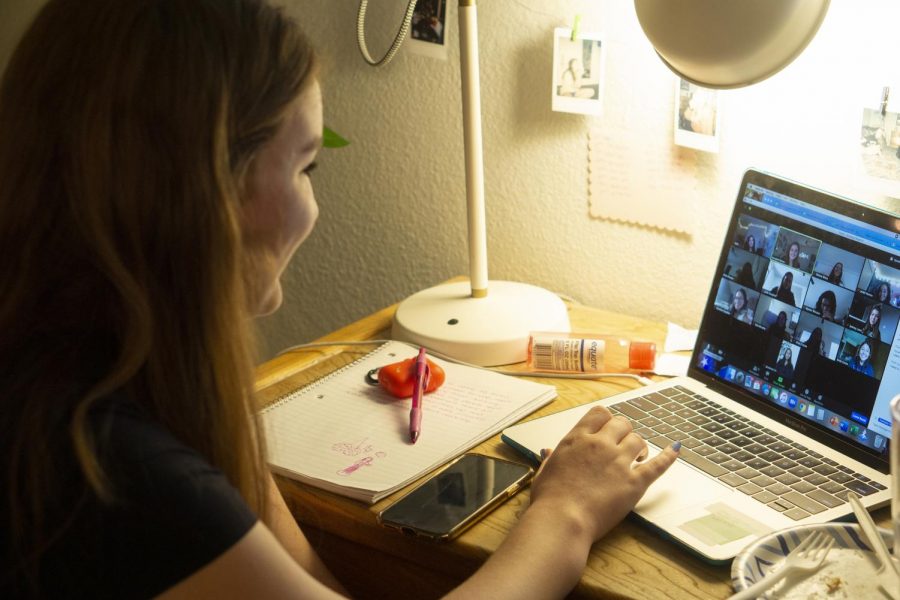 Junior Annabel Winter interacts with her pre-professional dance classmates and teachers during her sixth-period Zoom class on Tuesday, the first day of school. During the class the dancers met in breakout rooms by grade level to discuss their goals for the year before reconvening in the main Zoom room for a celebratory first-day-of-school virtual dance party. "It's a very unique and strange year," Winter said. "Instead of just worrying about if your friends are in your classes and if you will like your teachers, you have to worry about if your computer will work and if you have the right Zoom codes. It's definitely a lot more stressful." Winter's second day on Wednesday started more stressful than her first. The monitor on her MacBook Pro wouldn't turn on at 8 a.m. before her first-period class prompting an unsuccessful help call to Apply followed by a successful mad dash to find a backup computer so she could meet with her Blue Brigade class.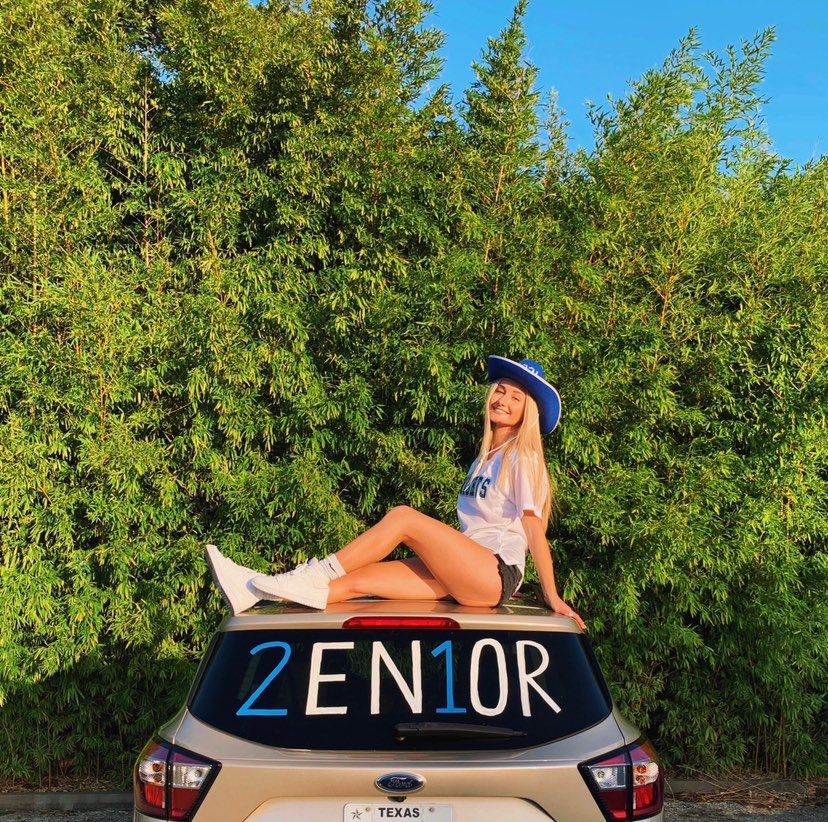 You only get one high school senior year and making the most out of it is especially meaningful to band member Mati Currie. "It's important to spend as much time as possible with the people you care about while preparing to start your own life and become the adult you wanna be," Currie said. She decorated her car in celebration of officially becoming a senior. "It was great to see friends for the first time in awhile," she said. "It was the first time I actually truly felt like a senior." The seniors may not get the senior year they pictured but at least they are making the best out of an unfortunate situation. Photo by Campbell Race. Reporting and caption by Harper Cummings.