Banners installed, removed, replaced
In wake of banner controversy, AISD promises new policy for approving official team photos
At a Jan. 21 meeting, the boys and girls basketball teams, their parents, school officials and associate superintendent Dr. Craig Shapiro met to discuss the district's decision to remove and ultimately replace the boys and girls team banners because they both included a player making a hand symbol in which the thumb and index finger form a circle and the remaining three fingers are extended.
"
I want you to be yourself, but we have to make sure that we aren't offensive.
— principal Brandi Hosack
The symbol has been long used to indicate that things are "OK" or that a basketball shot attempt is beyond the 3-point arc, but recently, the commonly used hand symbol has in some contexts taken on a more sinister meaning: white supremacy.
According to The New York Times, the signal was originally ascribed the sinister meaning as a hoax. In early 2017, several members of the anonymous message board, 4Chan, made a plan to try and trick liberals and much of the western world into believing that the "OK" symbol is a covert symbol for white supremacists.
The campaign to promote this hoax was so successful on many mainstream social media platforms that alt-right groups, such as Neo-Nazis and members of the Ku Klux Klan, started using the gesture as a serious expression of their racial ideology. According to the Anti-Defamation League, the direct use of the symbol to convey racism was made clear in March of 2019 when Brenton Tarrant, the mass shooter of two mosques in Christchurch, New Zealand, held out the symbol to reporters at his court hearing.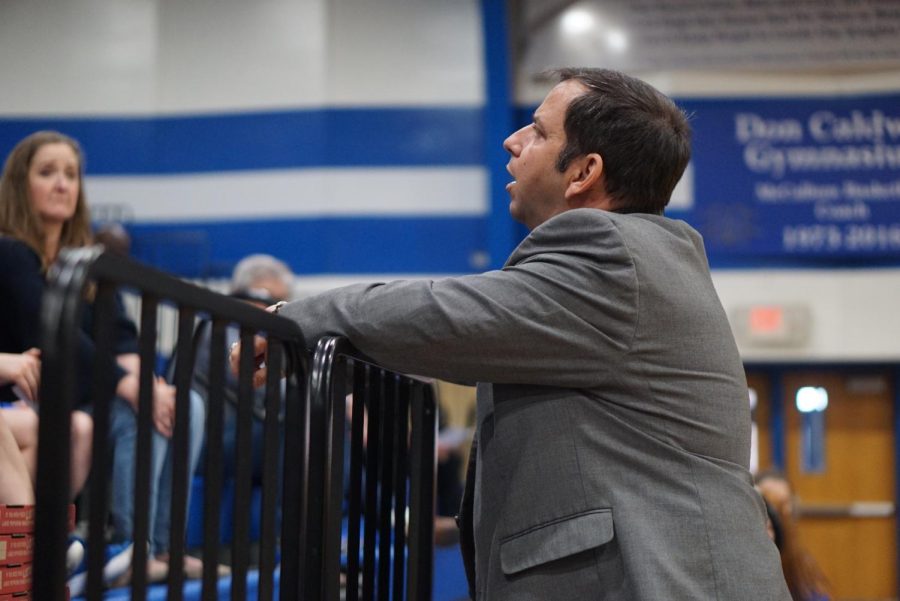 Entirely unaware that the hand symbol had been used to convey this sinister meaning, when it came time to take pictures for a promotional banner, junior shooting guard Makayla Mason put up the symbol in order to indicate that she is good at making 3-point shots. Mason's hand signal caught the attention of team member Natalie Suri's father Jeremi Suri, a historian at The University of Texas.
"Someone texted a picture on the groupchat of the banner, and then I showed it to my parents," Natalie Suri said. "At the time I had no idea about the symbol … and then my dad said something because he's a historian and very into activism. I showed it to him, and he was saying things like 'This is not OK.'"
"
We should do everything possible to deny haters an ability to display their symbols.
— junior Natalie Suri
Mr. Suri said at the Jan. 21 meeting that he brought the gesture to the team's attention in an email message over the winter holiday. After the banner was installed, the issue escalated to the superintendent's office, and after considering the matter, the district ordered that both the boys and the girls banners be taken down because a player on the boys team also made the hand gesture in that banner.
In a email response to a Shield request for comment, Natalie Suri wrote that the symbol should not be displayed in a public place such as the large gym.
"Although unintended, displaying a symbol utilized by white supremacists could be interpreted as endorsement of white supremacist views," Suri wrote. "Remember that the gym is a public place. Many of the visitors of the gym do not know much about McCallum or the people depicted in the poster."
In wake of banner controversy, AISD promises new policy for approving official team photos Suri does not claim that any sinister message was intended by the gesture in the banners but rather that any possible misinterpretation of its meaning should be prevented. Suri wrote in the same email that the symbol's appropriation makes it similar to other symbols, like the swastika, that once were innocuous but are no longer so.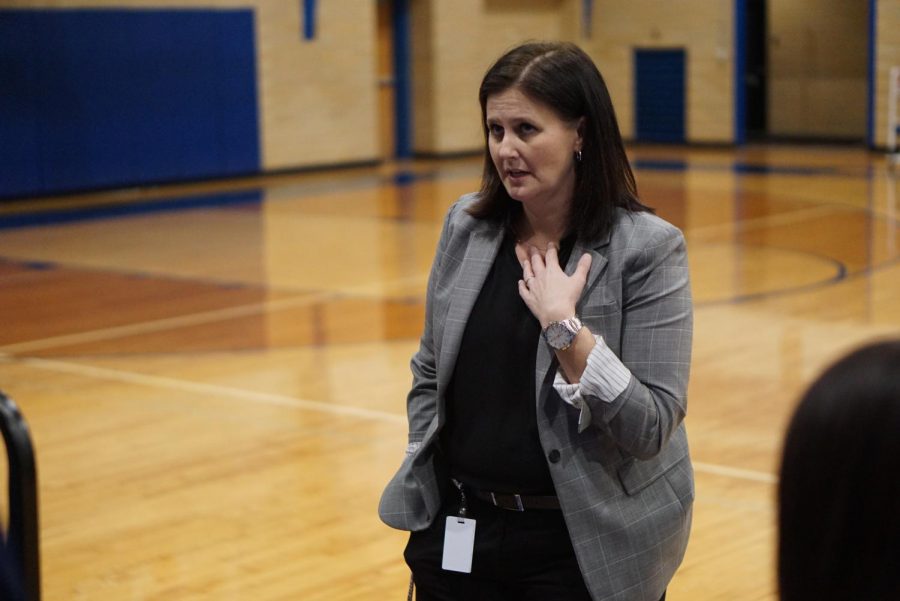 "We should do everything possible to deny haters an ability to display their symbols," Suri said. "That is why we prohibit swastikas in schools, even though it is a common symbol used by Hindus in India, many of whom live in Austin today."
In addition to the current meaning of the hand symbol, Suri also worries about what the publication of the poster could do to her teammates' futures. "Obviously context matters, and Makayla didn't mean it, but if somebody else saw [the basketball poster] it could be worse in the future, and we don't want anyone to think McCallum would do that."
"
We shouldn't completely stop using the sign only because one hateful group is turning it into something horrible.
— senior captain Ruby Del Valle
Principal Brandi Hosack said she worries that the white power symbol could become something much more widespread and serious than it currently is now.
"Right now, in January 2020, we know what the intention was. But especially with the rise of social media and whatnot, 15 years from now, first of all we don't know what's going to become of this particular hand symbol or anything else. We don't know what the future looks like and that's for sure," Hosack said. Mason sees the matter differently.
"I get how they were offended by it, but I felt threatened after everything blew up," Mason said. "All of the attention was on me, and I felt attacked."
At the Jan. 21 meeting, senior team captain Ruby del Valle argued that the symbol should be allowed because of its intended meaning.
"Since [the symbol's misuse] is in its infancy, we shouldn't succumb to its power. We should reclaim it and use it as 'OK' and threes, because it's still used for threes in college and professional basketball," Del Valle said. "[The gesture] is even on our phones. We shouldn't completely stop using the sign only because one hateful group is turning it into something horrible."
Del Valle also pointed out how reading the symbol with context is very important. Since the gesture is shown in a basketball setting, Del Valle argues that there shouldn't be a problem with defining Mason's signal in terms of the game of basketball.
"
I think the easy thing to do, not the popular thing to do, but the easy thing, is to tell the coaches that when they take the pictures make sure that your students are showing nothing that could be misinterpreted.
— principal Brandi Hosack
"I feel like McCallum is such a good community that we wouldn't even think about that," Del Valle said. "We used the symbol solely in a basketball context, and McCallum would 100 percent not support that [white supremacist] meaning. They put the poster up and took it down, and we were hurt by it." Del Valle acknowledged that there are two sides to every story and that professional and college basketball programs players are only allowed to use the hand sign while they are on the court, not in any sort of promotional poster or published photos, but she also said that using the symbol in its basketball context was effectively fighting against the racist meaning of the gesture.
In a comment made to our initial Instragram post covering this controversy on Jan. 23, graduate Townes Hobratschk agreed.
"The only way we can keep [white supremacists] from taking this from us is to make it clear that the 'a okay' sign means 'a okay,'" Hobratschk wrote. "This is a situation where we lose if we yield to racists."
Dr. Shapiro began the Jan. 21 meeting by expressing regret that the district did not have a set procedure in place to handle the controversy over the banners. He said that a policy has been developed that will prevent similar problems from recurring in the future. He stressed that he did not think that any Mac basketball players meant to convey a discriminatory message with the symbol as it appeared in the banners. New banners were installed at the district's expense on Jan. 23.
Principal Brandi Hosack anticipates that the future policy will give principals the responsibility to review documents and promotional materials before they are disseminated before the local community.
"
If we take every poster that offends someone down, we can't hang anything up.
— junior Makayla Mason
"I don't think anyone here would intentionally try to hurt anyone else, but I'm also not wanting to say, 'You're not allowed to be offended by that.' So, I think the policy will be that the principal has to review all of these things," Hosack said. Suri said the procedure should be similiar
to the review of photos that occurs in student publications.
Hosack says that her decision-making will be driven by avoiding offending any students. "I think the easy thing to do, not the popular thing to do, but the easy thing, is to tell the coaches that when they take the pictures make sure that your students are showing nothing that could be misinterpreted," Hosack said. "I don't want students to feel that they can't be themselves; in fact, that's what I'm working against, I want you to be yourself, but we have to make sure that we aren't offensive."
Makayla Mason opposes Hosack's view. "If we take every poster that offends someone down, we can't hang anything up," she said. "You can probably pick something out that's offensive in anything. Giving it this much attention takes away from the true meaning of the sign in the context of the photo."