Hegar opening doors with U.S. Senate run
Former Air Force pilot leads the race for the Democratic nomination to challenge incumbent John Cornyn
Last week's Democratic presidential debate from the Paris Theater in Las Vegas smashed the previous records, becoming the most watched Democratic debate in American history at 19.7 million viewers; national news sources responded to the widespread public interest with nonstop coverage of the event and the resulting Nevada Democratic primary. 
For Texas Democrats, on Tuesday, a smaller, lesser publicized debate was taking place in a small studio hosted by KUT, KVUE and The Texas Tribune. Eleven candidates sat side by side facing a table of local Austin reporters. There was no dramatic theme music or over-the-top intro graphics leading into the debate, and without a live studio audience to erupt into applause after every passionate statement by each candidate, this debate was seemingly looked over by Democratic viewers. 
But, sitting front and center of the Texas Democratic Senate debate was the source of another media video that amassed millions of views: Air Force veteran Mary "MJ" Hegar. In 2018, Hegar created a viral ad, entitled "Doors," for her congressional campaign against Republican John Carter that depicted formative scenes from her life tied together by a series of doors. The three-minute video got the attention of many celebrities even outside of Texas including "Hamilton" creator Lin-Manuel Miranda and comedian Patton Oswalt who both praised the ad's creativity in comparison to competing political commercials. In just 10 days, "Doors" raised $750,000 for Hegar's campaign. 
MJ, you made the best political ad anyone's ever seen.
I should be asking YOU for help! 👍🏽👍🏽👍🏽 https://t.co/5nNjOp3vT7 https://t.co/xXeBYmTEml

— Lin-Manuel Miranda (@Lin_Manuel) June 22, 2018
Though In the end, Hegar lost the Round Rock House seat to John Carter by a close margin of just 2.9 percent of the vote. Though Hegar lost the battle, she was far from the end of the war. Her House of Representatives campaign's popularity had given Hegar name recognition in the political and public spheres. 
In April of 2019, Hegar announced her intent to run for U.S. senate against Republican incumbent John Cornyn with the release of yet another video campaign that referenced "Doors," but went on to explain what drove her to run for senate after her prior unsuccessful race. 
"[The Round Rock district] was gerrymandered to be much redder than the rest of the state," Hegar said. "Carter won his last midterm election by 32 points. John Cornyn has a lot of experience. I would argue that the Texans that I meet across the state don't feel [that] he's done anything for them. People across Texas are looking for fresh faces and voices."
"
People across Texas are looking for fresh faces and voices."
— MJ Hegar
Currently, MJ Hegar is leading the Texas Democratic Senate primary race with 22 percent of the vote according to a recent poll done by The Texas Tribune and the University of Texas. Amanda Edwards, Royce West and Chris Bell trail behind Hegar with single-digit percentages. With early voting already underway, the Democratic nominee could still belong to any of the candidates. No one has been able to secure the 50 percent simple majority required to win. 
Though Hegar has gained the attention of large and local celebrities, such as Jared Padelecki and Jensen Ackles of Supernatural,  99 percent of her donations have been under $100, coming from individual donors, including Austin resident Glenda Goehrs. Goehrs learned about Hegar at "A Conversation with MJ Hegar" with the Texas Tribune.
"I think that she can garner the veteran vote in Texas, and that's huge," Goehrs said. "I loved her calm demeanor. I loved her history and her courage and bravery. Beyond that, I loved the understanding that she had of Texas and Texans. She has really covered Texas in her research and visitation. I liked several of the candidates, but none could compare with her. "
 The Democratic party is also supportive of Hegar's campaign. She was endorsed by the Democratic Senatorial Campaign Committee which is the endorsement arm of the Democratic senators. 
"Of all of the endorsements we've received, and of all the endorsements on everybody in this race, the [Democratic Senatorial Campaign Committee] endorsement is the only one that only looks at viability," Hegar said. "All they care about is flipping the U.S. Senate and getting our government back up and running for working families again. So it was something we were very proud of, it was a nod to the grassroots campaign that we've built."
Many of the other candidates protested this endorsement at the debate, with opponent Royce West claiming that the selection process for the recipient wasn't fair. No evidence has surfaced to prove or deny his claim. Annie "Mama" Garcia also argued Hegar's endorsement, arguing that name recognition and money wasn't enough to beat Cornyn. This was going to be a tough fight.
MJ Hegar is no stranger to tough fights. She grew up in what was then rural Texas just outside of Austin but is now a well-known suburb. When she was just 4 years old, she witnessed her abusive biological father push her mother through a sliding glass door in their home. Then watched as just a few years later, her mother gained the courage to leave that relationship and buy a new home for her and her daughters.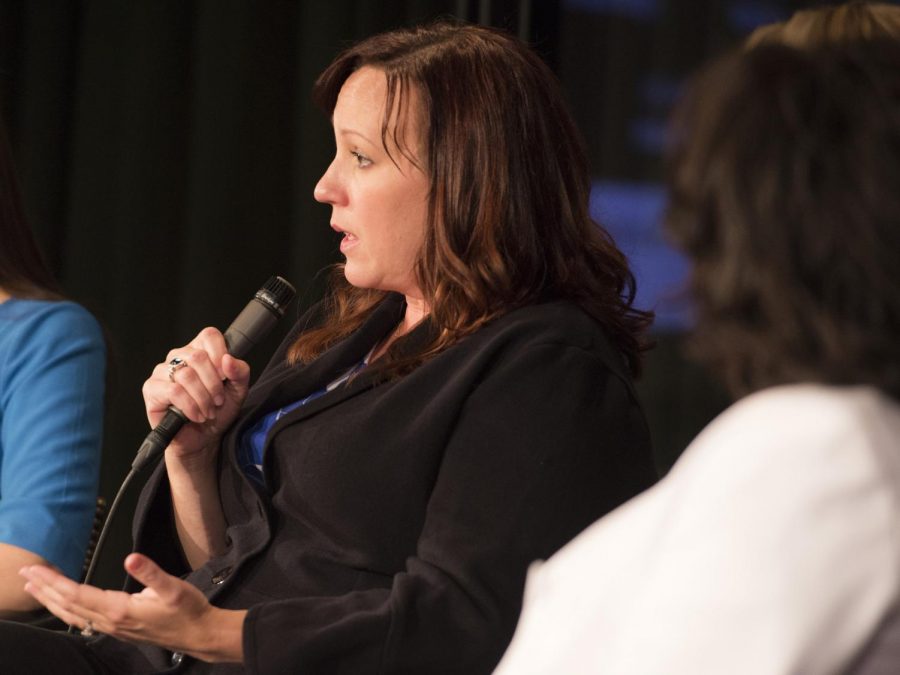 As she was growing up, Hegar discovered that she wanted to be a pilot and began working towards that goal, eventually landing her in flight school and then the United States Air Force. As a pilot, Hegar served three tours in Afghanistan. Her job as a search-and-rescue pilot didn't keep her out of danger. In 2009, on her third tour, Hegar's medevac helicopter was shot down by the Taliban while on a rescue mission. Though she was shot in the arm and the leg, she clung to the outside of the flying helicopter and shot back at her attackers. She was able to save the patients and the helicopter's crew. Her actions in this mission earned Hegar the Purple Heart and the Distinguished Flying Cross with Valor. 
Later, when Hegar was stationed at a base in Missouri, she was sexually assaulted by a military doctor who demanded that she obey him or "kiss being a pilot goodbye." She reported this incident to a supervisor, but months later, realized that nothing had been done to the doctor.  
"[My experience is] why I have such a passion for taking on powerful people who exploit the people that they're supposed to be helping for the importance of transparency and oversight and accountability," she said. "Because I trusted my chain of command to take care of that. They told me they would, and they let me down."
Her fight within the military continued when she sued the Pentagon after being barred from ground combat because of her gender. Her case made it to Congress, and in the end, Hegar and the women of the United States military emerged victorious. That was the first time that she met her future opponent should she earn the Democratic nomination: John Cornyn. 
"John Cornyn has a lot of experience," she said. "He's been in a state office now for nearly 40 years and has been in the senate for 18. [He's] been in Washington so long that [he's] forgotten [Texas values]. I'm running to remind you." 
With a large spectrum of beliefs in the Democratic party, ranging from moderate to Democratic socialist, Hegar doesn't like to put herself in an ideological box.
"It isn't about progressive versus independent," she said. "It's about being able to present bold ideas that show people how we are going to help [them] keep food on their table and a roof over their heads."
"
It's about being able to present bold ideas that show people how we are going to help [them] keep food on their table and a roof over their heads."
— MJ Hegar
The divide usually becomes evident when healthcare is the issue on the table. Hegar, like most Democrats, strongly believes in protecting the Affordable Healthcare Act while making improvements as needed, like protecting coverage for people with pre-existing conditions.
"John Cornyn is shrinking out of the way again while [Republicans in Congress] try to take away protections for those of us with pre-existing health conditions." she said in her ad for her Senate campaign.
Instead of shrinking away, Hegar says that the quality that will help her most in the race and beyond is her position as "a fighter." She believes that her strong convictions and experience will be a good addition to the federal government where she will support the people, not "just big donors." President Trump used to be a supporter of universal background checks, but, according to Hegar, he "unfortunately reverses that position when he gets a call from the NRA." 
"One of the things that I'm looking forward to doing," Hegar said during the debate, "is helping [Trump] keep that spine and actually enact universal background checks."
With early voting underway and Super Tuesday just days away, now is the time to get to know your candidates. For more information about the candidates vying to become the next U.S. senator from Texas, click the links below.