A fresh starter
When a varsity opportunity opened up for Andy Honea late in the season, the freshman took full advantage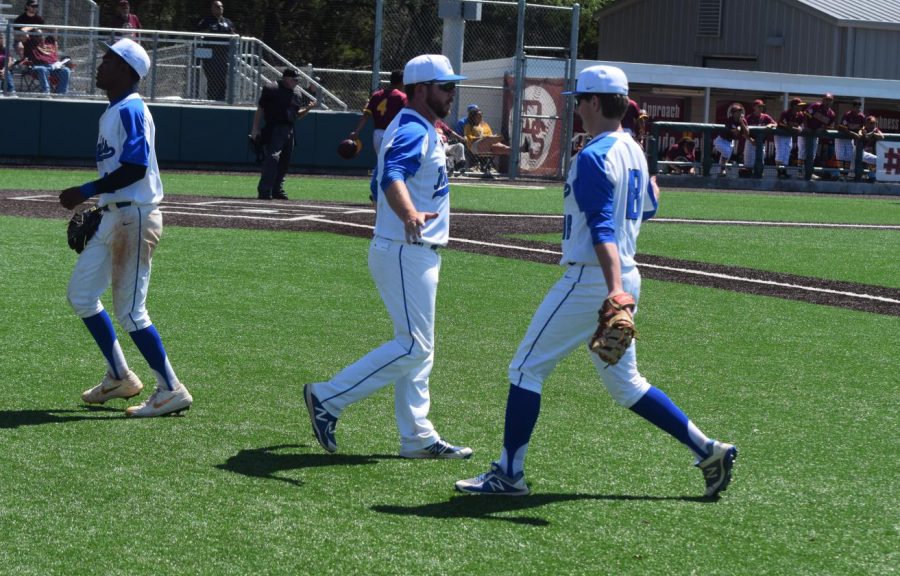 He hangs his head and crumples his dusty white and blue hat in his hands. His feet drag along the red clay dirt beside first base. He stares at the scoreboard then back at the first baseman's mitt that covers his fingers and palm. Sweat stings his eyes and the sun pierces through his tinted Oakley glasses.
All around, he sees the mark and the colors of his opponents, the signs that say "Go Tigers!" and the brown and gold logos that dot the stands. He is oblivious to the crowd sitting on the bleachers watching him intently. He is oblivious to the opposing teams in the dugout chanting names and yelling the occasional "Get 'em kid!"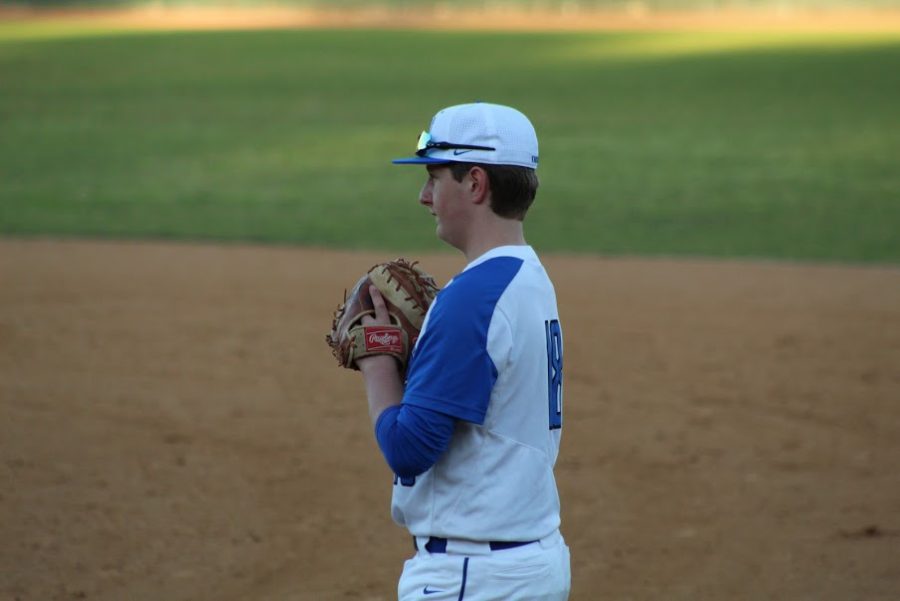 It's the bottom of the eighth inning, and the score is tied a 6; his opponent has two runners on base, two strikes, and two outs.
"
[Andy] can catch, he can pitch, he can play the infield, and if it is necessary he can play the outfield. Oh, and he's a great hitter, too."
— Honea's JV1 teammate Jaxon Rosales
His team had led 5 -1 early in the game, and looked poised to sweep one more district series and keep their undefeated district record in tact, but the lead had evaporated, just a painful memory, overwhelmed by reminders of his three trips to the plate in the game: all strikeouts.
There would be no shot at redemption on this day as the next batter swings and slams a dinger over the left field fence. Walk-off home run. That's the game. He stumbles to the dugout, sits down in the darkness and buries his head in his hands. He tries to shake off the three strikeouts he acquired on the day, but they keep playing back in his mind like a snippet of an old movie.
For freshman baseball player Andy Honea, the game is an aberration. A bad day in an otherwise breakout freshman season. We tell this story not because it's the ending, but rather because it's the obstacle to be overcome. In a year that began with Honea playing freshman ball and ended up with him starting for the varsity, he's shown a penchant for overcoming obstacles and reaching goals.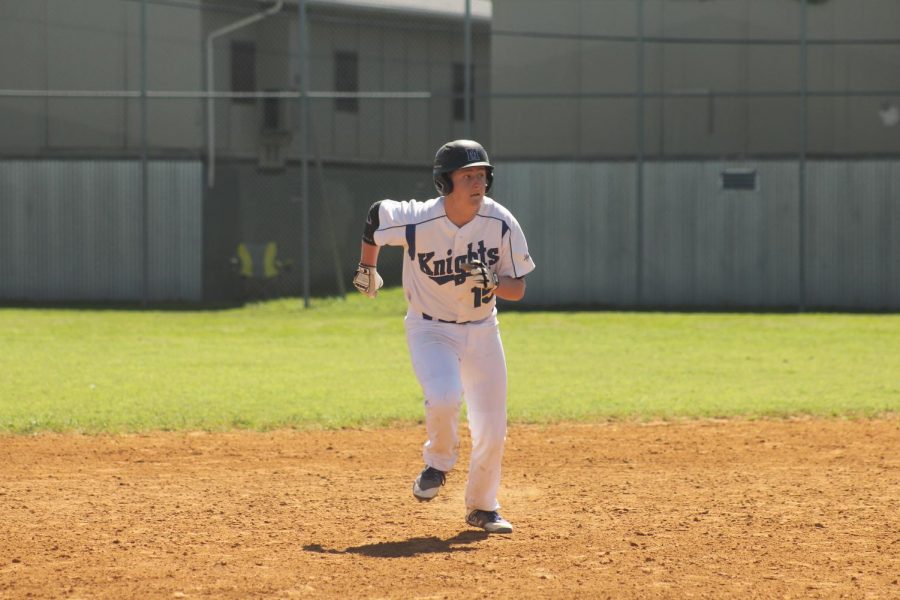 He's been playing baseball since elementary school. He played T-ball, little league and select baseball; pretty much whatever he could do to swing a bat. His parents started him off young and have supported him ever since; always in the stands cheering and providing enthusiasm.
However, the real story lies within Andy's freshman high school baseball experience. The McCallum Knights varsity baseball team won its ninth consecutive district title this year and Honea was a part of that… but not at first.
"
I feel like we are a family. I'm a family with varsity, JV1 and freshman. It's cool I'm like the only guy who has played with everyone."
— freshman Andy Honea
He started off at the lowest level of high school baseball; JV2, also known as freshman ball. There he played with his old Little League buddies and was rotated through position after position.
"He really brings a sense of unity, and he lifts up other players," freshman teammate Hudson Koch said.
On the freshman team Honea faced non-district opponents such as Austin High, Pflugerville and Bowie; each opponent brought tough defenses and formidable hitters. Although his team lost games, Honea came out and brought his all, whenever he was on the field or in the dugout.
People noticed. Honea and a few of his fellow teammates were asked to start playing on the next team up, JV1. "Andy brought everything to the team because he can catch, he can pitch, he can play the infield and if it is necessary he can play the outfield," JV1 teammate Jaxon Rosales said. "Oh, and he's a great hitter too."
So Honea jumped up to JV1 and started playing tougher opponents. He still pitched but now his focus was on first and third base. Although he played on a different team he still kept up with everyone. "I feel like we are a family," Honea said. "I'm a family with varsity, JV1 and freshman. It's cool I'm like the only guy who has played with everyone."
A few games into Honea's stint with JV1, the varsity roster suddenly thinned at the first-base position. The varsity coaches, Grant and Searle, needed to find someone who could step up and fill that void.
Each different level of baseball brings out a different angle of ability in a player. On the freshman team, Honea showed his leadership qualities and attributes on the mound and at the plate. He built up his other teammates and encouraged them to be better players. Then on JV1 Andy figured out how to expand his role from pitching to different positions. All of this lead up to his varsity debut.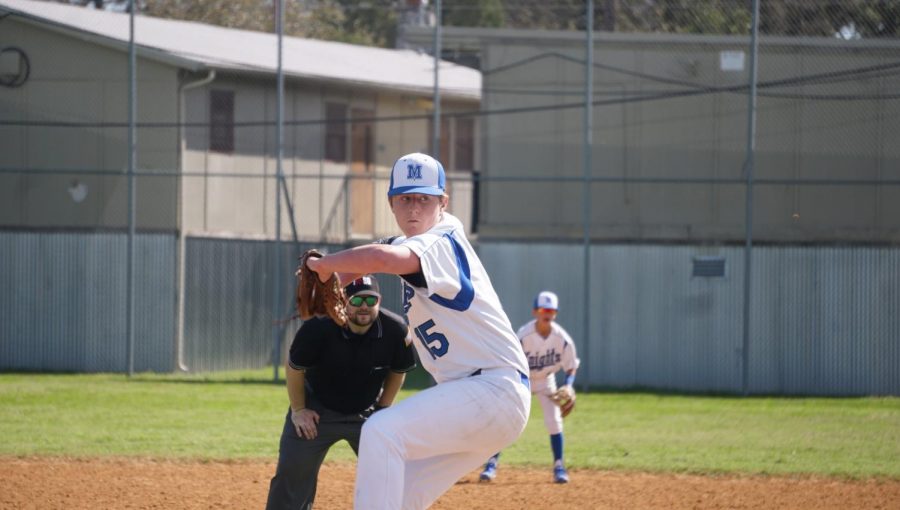 "You're going to be going with us on varsity from now on," Coach Grant told Honea, and with those words, Honea's first season at McCallum forever changed.
"
"Andy is very steady and even-keeled. He will not be affected by a fielding error or a bad at-bat. It never changes his game."
— Coach Steve Searle
Of course Honea was shocked and honored to hear these words. He may not have known, but the varsity coaches had observed his potential, and his hard work paid off.
"Andy was consistently swinging the bat really well, no matter what level he was playing," varsity assistant coach Steve Searle said.
But the head on his shoulders is perhaps more valuable than the bat in his hands.
"He also is very steady and even-keeled," Searle said. "He will not be affected by a fielding error or a bad at-bat. It never changes his game."
One of Honea's goals at the beginning of the season was to start and make an impact on whatever team he played on. He accomplished this goal. Although he only played nine games on varsity, Honea earned honorable mention all-district honors, with a batting average of .368 and a perfect fielding percentage. Honea made his mark on varsity, helping secure the district clinching win against Dripping Springs and thanks to a torrential rainstorm that moved the location and start time of the Knights' opening playoff game, a return to Dripping Springs Tiger Stadium and a shot at redemption.
This time his day at Tiger Stadium would be different.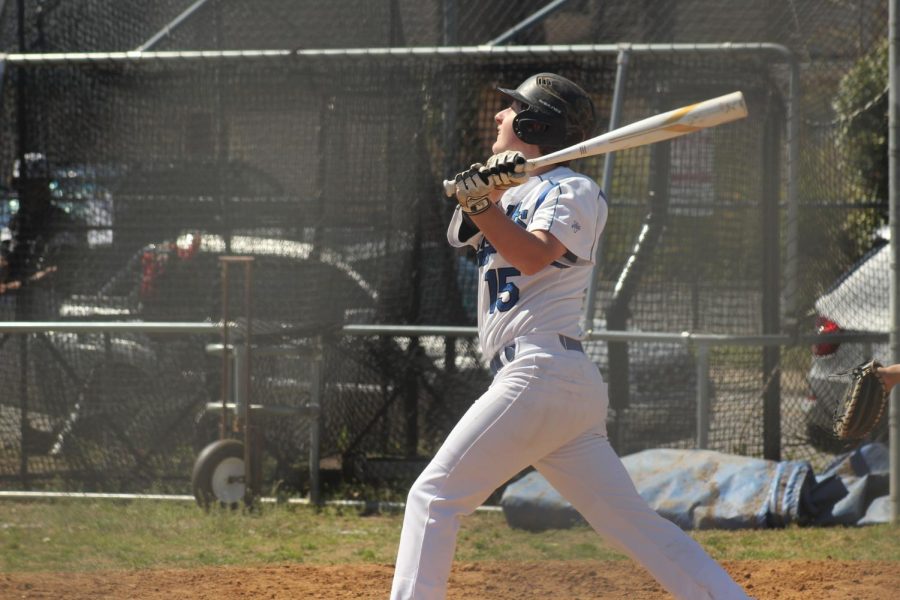 He proudly put on his worn white batting helmet and cinched up his gloves. He walked up to the plate, sighed, and took his stance. The pitcher was trying to psyche him out, but it was to no avail. He was ready for the slider, curveball, fastball or changeup. Dirt and grime had built up on his hairline and he smelled faintly of sweat and sunflower seeds. He was focused on smashing the ball as far as possible. He still saw the brown and gold colors that cover the stands, he may have been at the same field where he had failed earlier, but it was a different opponent and this time he was ready to dominate.
"
Andy really brings a sense of unity, and he lifts up other players."
— Honea's freshman teammate Hudson Koch
This was his game, his time. His grip tightened on the the bat and his cleats buried next to home plate. In place of K's, contact and results.
He jogs into the dugout and earns some helmet slaps and a few "nice job kid"'s. By the end of the night, Honea lead the Knights with four RBI's. The team wasn't as lucky by game's end, but Honea had earned a personal victory with a terrific game and the venue where he had suffered his worst day of the season.
It was his finest varsity moment on the biggest stage: the first round of state playoffs.
For Honea, it was a good way to end his season's journey from JV2 to varsity in one season. It's a long road, especially for a freshman, but it was certainly a home run for him and for his team.
Sophomore season, filled with optimism and hope, awaits next spring.