Scooter trooper, rides are gonna find you
The Lime and Bird products are ubiquitous in the ATX. Enforcement of their rules? Not so much.
Hang on for a minute...we're trying to find some more stories you might like.
Austin has been invaded by scooters. Anyone who has been to the UT campus or downtown in the last six months has surely seen them, parked on nearly every street corner and being ridden down the sidewalk or street. Currently, the three main companies are LimeBike, Bird Rides, and Uber has started its own brand, called Jump. To keep up with the competition, all three brands charge the same amount, $1 to unlock it and then 15 cents a minute. One of the appeals for the scooters is that they're dockless, meaning you can leave them wherever you please and pick them up just about anywhere. They have a clever way of making this happen: the companies hire people to pick the scooters up at night, charge them at their house, and drop them off at various street corners in the morning.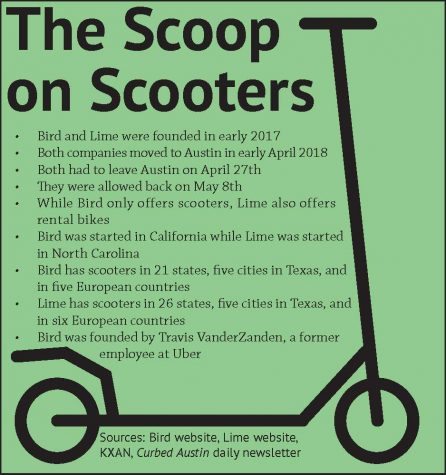 When used responsibly, the scooters can be a great way to travel to events downtown or at UT where parking is limited, but for drivers and pedestrians, they can be a bit of a nuisance.
Lime and Bird, the companies that have been in Austin since April 2018, both claim on their websites that safety is their utmost concern, and that riders need to wear a helmet, ride in the proper area and be of a certain age. The only problem is, they don't really have a way to enforce these rules. One of the rules they have in place is that kids are not allowed to ride them: you have to be over 18 and have a driver's license to operate one. This brings up the fact that 16- and 17-year-olds can drive a car but not a scooter. Of course, you have to be 25 to rent a car, but an electric scooter with a top speed of 15 mph feels a little different.
You may have heard of how back in April, the City of Austin had to kick both Bird and Lime out and put in some regulations because they were essentially operating in the city without official permission. After laws were put in place, the two firms got their scooters back on the streets as soon as possible. The city may have just expected these scooters to be more of a temporary fad, because the regulations that were put in place don't really address all the issues the scooters present; for example: where should they be ridden? The official app says in the bike lane, but this restriction is rarely observed or enforced. In order for the rules and regulations to be efficient, they should be made by the city, not the company. There are places where the bikes can be ridden, cars can be driven, and people can walk, but scooters? There's no designated scooter lane.
These scooters may be annoying to drivers and pedestrians, but how is it to actually ride one? I embarked to find out. I figured that while it is technically illegal for anyone under 18 to ride a Bird or Lime scooter, it posed no problem if done with adult supervision.
"
Lime and Bird … claim on their websites that safety is their utmost concern … The only problem is, they don't really have a way to enforce these rules. "
Getting an account and setting up the app for both Bird and Lime is pretty simple and user friendly, although Bird gives you some more information on how to ride one and where to park it, while Lime doesn't. To get started, you need to scan your driver's license, but that's only the first time you use one. Before you can ride, you "need" to read the terms and agreements, which has to be at least 3,000 words, and says things like you can't carry a backpack or briefcase, use your phone, or ride with another person, all of which I've seen broken at one time or another.
"
The scooters are … not saving the environment by reducing car use. People usually ride them instead of walking."
After you've thoroughly read all the terms and services, its time to actually find one. The app provides a handy map showing your proximity to the scooters in a given area. Once you've located a scooter, just scan the barcode with your phone camera, and it says it's ready to go. On some scooters, there are two little levers, marked "start" on the right and "stop" on the left; on others, the brake is a handle like the brake on a bike. The levers are kind of like pedals on a car, just a bit more sensitive. They have an impressive acceleration, and for someone who doesn't partake in scooter activities very often, I found them pretty easy to ride. Going quickly on an uneven surface is a little sketchy, as well as turning at high speeds. But once you've negotiated those hurdles and you've finished riding, you just re-open the app, and hit the lock button to turn the scooter off. To make sure you park it in a responsible spot, Bird asks you to take a picture of where you park it, although this parking verification is not required.
The scooters have taken Austin by storm, and the city has been struggling a bit to properly deal with them. They can be very handy to quickly move around downtown, but they're not saving the environment by reducing car use. People usually ride them instead of walking. The idea of dockless scooters in practice may work very well, but there are still a few real-world issues that need to be resolved.