Smith: there's more than one way to interpret a text
Veteran lit teacher's 29th year is her first at Mac
English teacher Amy Smith isn't just new to McCallum, but also to Austin. After living in Dallas for 36 years, Smith moved to Austin with her husband and two dogs to be closer to her pregnant daughter. She was encouraged by her daughter and friends to get a job at McCallum. As soon as an opportunity opened up, she sent in her resume and drove three hours from Dallas to Austin for an interview with the committee including principal Mike Garrison and English department chair, Diana Adamson, who both thought she would be a good fit for McCallum.
"She fit a niche that we were looking for," Garrison said. "We felt like she would be a really great contributor to the English department and to our students."
"
I have found that teenagers are more open to ideas and more inclusive than most people.
— Lit teacher Amy Smith
Garrison believes her experience in other districts and her availability and openness to teach multiple levels of English will make her a substantial contribution to McCallum. He describes her as a very nice person and great English teacher. He also said that she was very highly recommended by her previous principals, colleagues and students. Adamson also thought she would he be an eminent addition to her English department and had many good things to say about her.
"She's really outgoing, well versed in her academic area, seems to be a team player, and she seems to really like kids," Adamson said. "She has the ability to be able to laugh really easily and I kind of envy that."
This is Smith's 29th year teaching, and she says she's excited that it will be at McCallum. She's been teaching and administrating on-and-off since 1982 at schools in Dallas, Plano and other cities around the DFW area. She loves the fine arts, freedom, diversity, and acceptance of expression at McCallum, but most of all, she loves her students.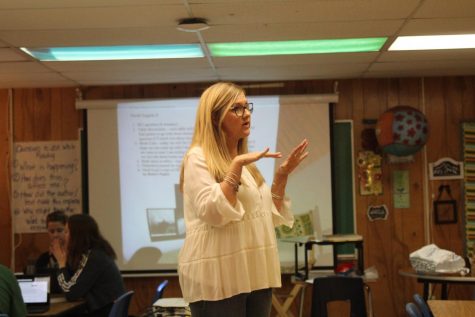 "I like teenagers, I think they're fun and interesting and funny," Smith said. "I have found that teenagers are more open to ideas and more inclusive than most people."
She tries to provoke these ideas with activities relating to the current book or lesson. For example, during a recent classroom lesson, she posted 10 statements around her room based on themes from the English II classes' book, Things Fall Apart, by Chinua Achebe. She then had students walk around in pairs answering the questions on sticky notes based on their beliefs. This activity compelled the students to think about their beliefs and view of the world through the themes and problems in the book that they were currently reading. She then had them analyze the answers and present the trends. She says she wants her students to understand that there's more than one way to interpret text and teach them how to prove their ideas and beliefs about the text with evidence.
"I want [my students] to learn that there are multiple meanings in a text and that they have to bring themselves to the text whenever they're reading," Smith said. There's no one real meaning of a text, so as long as you can support your ideas with textual evidence then your ideas are legitimate and let's discuss it."
"
Before you react to something, pause…don't send that text, don't send that email, don't say that thing.
— Lit teacher Amy Smith to her students
Smith is very inclusive of all her students and tries to always be involved with sharing her thoughts on class discussions as well. She wants her students to feel welcome and safe in her class. She too is figuring out McCallum, just like some of her students, so she knows how they feel. She cares for her students and wants them to be successful in English, high school, and life in general. She wants to teach her students to work on mindfulness and gratitude which are both very important to her as well. She shares a lot of advice and wisdom in the hopes of helping her students in the future.
"Before you react to something, pause…don't send that text, don't send that email, don't say that thing," Smith told her students in class.  "Go into a situation considering that you might be wrong."
Smith is excited to be in Austin. Along with being here to welcome her first grandchild, Alice Elizabeth, in early October, she also has a son who attended UT and continues to work here in Austin. She's only been here a short while but she already loves the city.
"I love Austin, I love the food, I love the restaurants, so I've been real happy being here," Smith said energetically.