New math teacher is all in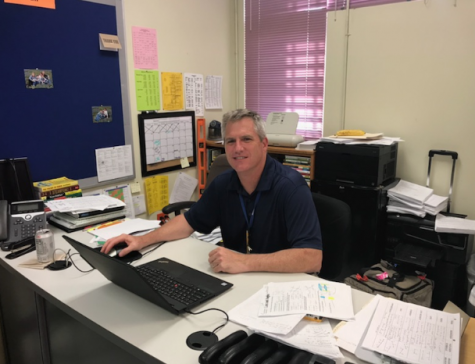 Matthew Whipple, the new math teacher in room 119, has held many titles at McCallum: observing college student, substitute and parent. However, its his newest title that's been the most unexpected to him: teacher.
"I couldn't believe it when I got the call saying that I was hired," Whipple said.
He did all his teacher observations here and subbed for teacher Yvonne McDaniel for six weeks. His daughter graduated from McCallum two years ago, and his son is a sophomore here.
"I've been around McCallum for a long time, and I've been around a lot of schools," Whipple said. "It's the culture, the diversity and the way the kids interact with each other that I love."
Whipple started college in Corpus Christi. After moving to Austin, he finished his college education at ACC, received an associate's degree in applied science in electronic technology and went to work at Dell in the engineering department. While working at tech companies, he got experience teaching by training people to do different jobs.
About eight years ago, he went back to college at Texas State and got a bachelor's degree in mathematics with a minor in secondary education.
"I wanted a change," Whipple said, " I was getting tired of what I was doing, and I realized, oh, math teacher!"
Whipple taught for four years at LBJ and did a year subbing.
"I knew I was going to be a math teacher in a high school, so I decided to take as many odd jobs as possible," Whipple said.
He taught at everywhere from the Gardner Betts Juvenile Justice Center to Travis County Day School to the GO Project in Austin, but he's happy where he ended up.
"This is my dream school. Out of all the schools in Central Texas, this high school is the one that I always wanted to work at," Whipple said.
He's already involved in McCallum's community, sponsoring a card player club for anything from euchre to spades to poker.
"We can't gamble, but we can play poker," he remarked, laughing.