Junior really cleans up
Crofut plays catcher, infield or wherever her coach needs her to play
April 18, 2018
Filed under Sports
Hang on for a minute...we're trying to find some more stories you might like.
The Shield: When did you start playing softball and what made you want to start playing softball?
Julia Crofut: I started when I was like 5. I played baseball because I wasn't allowed to play softball, and then I moved up [when] I was 8 or 9. I started playing softball with Northwest. I played like every sport basically, but I liked softball the most.
TS: When you were a freshman you were put on varsity. What was that experience like?
JC: I had always heard [that] the old coach was waiting for me [and] the new incomers; they knew me from Lamar [Middle School], so it was kind of weird at first. I've always played with older girls, but it was weird playing with girls who were on their way to college, and how different their mindset was from mine was weird to me. Just seeing them going into college and basically seeing my future in a person was cool to me.
TS: What has the pressure been like being on varsity your past three years?
JC: It got better every year. I got to know the girls more [because] I was on varsity with a couple people that are still on varsity today.
TS: What's the camaraderie like on the team?
JC: We do have weird jokes; we get together and just grew [closer] being girls in high school and knowing how the life is and making jokes about it, trying to relieve stress with playing softball and just being in the dugout.
TS: How do you feel the team works under stressful circumstances?
JC: [When] we get on ourselves more than we should and [when]we hit bad innings, we always bring [the energy] up [usually after] a speech that coach will have for us.
TS: What is your relationship with Coach Matz?
JC: She's like my second mom. [She] always has been honestly, she's very [much a] mom figure.
TS: How was it at the beginning of this year, having the position you play changed so often?
JC: I had to adjust; it's always good to just start somewhere else, and I liked being catcher, and I was catcher for Nina [Buford]. Now I'm back at third, or shortstop, wherever [Matz] needs me, and I kind of predicted it since Talina Briceno left and we had Hannah Smith leave too. Because they graduated, we needed someone else to be catcher, so it was fun.
TS: How has batting been for you this year, being No. 4 in the lineup?
JC: It's kind of weird this year. I'm kind of just more focused on my batting average more than hitting the ball out of the park. Like whoever's on base, hit it where I need to and [make it to where] we can score more runs.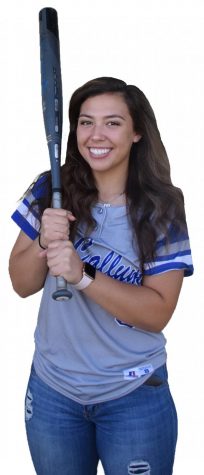 TS: What's been your favorite memories of the season so far, since it's almost over?
JC: Either the tournaments or how coach told us she was pregnant. I really liked the tournaments this year; last year they were kind of iffy.
TS: What happened at the tournaments this year that you really liked?
JC: We wanted [to win] a lot, and we pulled out more than I thought we would. We came together and we bonded during our off time. We watched Moana, and we played, and it was nice.
TS: What else do you do outside of McCallum softball and what are you thinking of for college?
JC: Well, I train every morning now at 6 a.m., and my diet is a lot different than most high schoolers, but it's more me getting ready for college, getting my studies and getting used to the morning workouts and then practice after school and then games. It's a lot, but I've also been doing this my whole high school career I guess.
TS: What are you thinking for college? Are you trying to play?
JC: Oh yeah. Over the summer I'm actually going to try and commit to Texas Lutheran.
Words of Wisdom from Coach Matz
The Shield: What does Julia bring to the team?
Rachael Matz: I think versatility is her strongest suit because I've been trying to get her to catch since she was a freshman, and this is the first year that she's actually done it. But obviously that didn't go the way that we wanted it, because she had to switch from catcher back to third. But she can play short if we need her to play short; she can play third, she can play in the outfield if we need her to play in the outfield, and she can pitch, and just [her] level of play. When you have these players that have experience and have a good deal of knowledge about the sport, it just brings a different level to the team as a whole. Obviously some players are more prepared for that than others. Some players take to that better than others, and that's always going to be the case, but when you look around and you have those players that just have a higher level of experience and have something more to offer that's always a good thing.
TS: What about her attitude, her positivity and her cheering on other people?
RM: She's loud, but I think—and I think Julia would agree with this—I think it took her awhile to settle in and to find her role. She's been on varsity since she was a freshman, and it took her a little longer to figure out where she fit as far as communicating and talking to other players and this year has been the best year as far as camaraderie at least that I've seen. Sometimes, it does take a while to develop more communication, but this year has been strong in that aspect. We definitely know who's yelling. You can pick her scream out from anyone else's, but I think it's definitely something that she settled into more this year than in years past.
TS: What do you have to say about her hitting because she has the highest batting average (.629 as of April 17) and slugging percentage (1.190) on the team and is the only player to hit the ball over the fence for a home run?
RM: Yeah, her slugging percentage is over 1.000, which is ridiculous in terms of really anybody, but I think too that it just speaks to [her] level of experience. I know, and other players know, how much she works outside of McCallum. This isn't just a high school softball experience for her; this is more than high school, and again not to say that this isn't for other players either, but I think you definitely get that sense of competitiveness with Julia, to get up at 5:30 a.m. to go work out, to go have a hitting lesson, to leave practice after school and go back to have another lesson after school. I think it just speaks to that level of commitment and competitiveness that she's got.
TS: If you could pick one or two words to describe Julia, what words would you use?
RM: Intense goofball. Because the intensity is definitely there, but so is being a goofball, and she's got both aspects. You can't always see both, but they're both there, so I think that if I had to sum her up in two words it would be intense goofball.