For Perkins brothers, Fridays a family affair
Hang on for a minute...we're trying to find some more stories you might like.
Brothers Max, Miles have both been a big part of McCallum's  historic football season
Senior Max Perkins has been playing football since the seventh grade, and until this year, his brother, sophomore Miles Perkins, has been supporting him from the bleachers.
"I'm used to seeing him in the stands," Max said. "It's definitely a different thing to see him on the sideline in cheer. But it's pretty fun."
Miles has been interested in cheer since last year, but freshmen are not allowed to join the cheer team. Though he had to wait, he joined as soon as he could. Since making the cheer team, Miles has attended summer and afternoon practices to learn cheers and to prepare for football games.
"It's great having Miles on the team this year," cheer coach Chastity Colbert said. "He's a sophomore, but he's already showing leadership skills. He's really friendly to everyone. Miles works extremely hard and is motivated to do new things. He has a great attitude."
In addition to bringing positive energy to the team, Miles has been able to literally support his teammates in his position as a back spotter for one of the stunt groups.
"I believe that our stunt team has grown so much this year," Miles said. "At the beginning of the year we were not good at stunts, and now we are more comfortable with our routines."
Like the cheer squad, the football team has improved its chemistry over the course of the school year.
"I think everyone has gotten more confident with each other and more comfortable," Max said. "The seniors and juniors didn't hang out with each other last year, but this year everyone is hanging out together, and that makes it special."
Max and Miles might not technically be teammates, but they support each other like they are.
"I think it's an awesome experience to be really close to my brother," Miles said. "[I like] being able to see him do something he really appreciates while he supports me doing something I really like doing."
Brad Perkins, the father of Max and Miles, was supportive of his sons joining cheer and football.
"I'm excited and proud Max and Miles are participating in something they both love," Brad Perkins said.
Before high school, both Miles and Max were taekwondo students of their father's, but eventually found their passions in different sports.
"They both wanted to explore other sports," Brad Perkins said. "When Miles said he was wanting to tryout for cheer, I fully supported him. I thought he would be an awesome cheerleader."
The whole family supports each other, and Brad Perkins said he always encouraged his kids to do what they wanted.
"Football was a great fix for Max, and he loved it," Brad Perkins said. "I never pushed them into doing either sport. It was all their decision to join both cheerleading and football."
One of the best moments in this year's season, according to both Max and Miles, was beating LBJ on Sept. 29.
"I tried a lot harder than I had in past games in the season," Max said. "To get ready, I pictured destroying the person in front of me so they couldn't get to the quarterback."
Varsity head coach Charles Taylor said that Max has been a leader and a key contributor to the team all season long.
"He's a senior this year, so he knows what is expected and how the system works," Taylor said. "We have a strong offensive line that allows us to be able to run the ball more, and Max plays his role there."
During the games, Max in on the field, and Miles is on the sidelines. The reverse is true during the game-day festivities leading up to kickoff. During the pep rallies, Miles and the cheerleaders are center stage and the Max and football players are off to the side.
"Pep rallies are the most stressful part of game day," Miles said. "We have to get everything ready in a short amount of time and try not to forget our cheers."
Both brothers have become an unmistakable part of football game days. Moreover, by being involved in each other's lives, these brothers have crafted an unbreakable bond.
About the Writer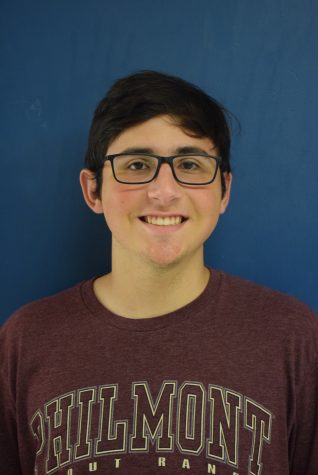 Gregory James, Staff reporter
Gregory James is in 11th Grade at McCallum High School. He plays Lacrosse and Ultimate Frisbee for McCallum. He has been a staff reporter for The Shield for two years.