Mac at Cedar Ridge

7 p.m. tonight

McCallum (28-17, 15-1) at Cedar Creek (9-23, 7-7)

Cedar Creek High School

793 Union Chapel Road

Cedar Creek, Texas  78612

Following an undefeated district season, junior Greta Carlson was announced as varsity volleyball captain last spring at the volleyball banquet. Settling into her new role, Carlson has led the team through a successful regular season that culminated with last Tuesday's district finale, a win at Ann Richards that made the Knights repeat district champions.

The return to the top of the District 24-5A podium is just the latest stop in a journey that began back in elementary school.

Carlson was introduced to volleyball by her older sister, and she frequently tagged along to tournaments. 

But Carlson had her own athletic interests. She was insistent on continuing to play soccer and basketball instead of volleyball. In fifth grade, however, she changed her mind.

Story continues below advertisement

She quickly discovered her passion for volleyball, and in middle school she decided that it was her favorite sport.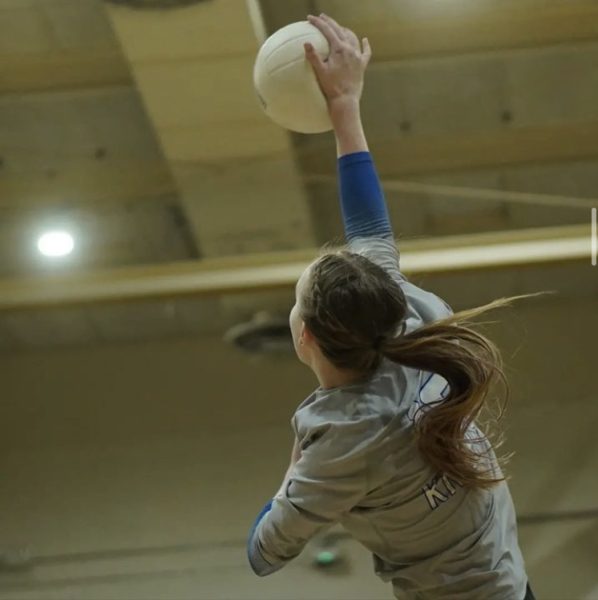 "[I was] like I just love volleyball so much," Carlson said. "I'm just gonna give up everything else."
Varsity volleyball coach Amy Brodbeck described Carlson as a role model for all the volleyball athletes. According to her coach, Carlson has a lot of talent. 
"She's just phenomenal," Brodbeck said. 
"
She's just phenomenal
— Amy Brodbeck
Brodbeck remembers meeting Carlson when she was the only freshman on varsity. Brodbeck was immediately impressed by her.
"There was a maturity that I've not ever seen before for a freshman player," Brodbeck said. 
But according to Brodbeck, Carlson's skill as a captain is not only her own experience and talent, but also her way of encouraging all the players. 
Junior Kai Talebi, Carlson's teammate, described her as an inspiring leader. 
"She likes to pump everyone up," Talebi said. "She's never a negative person." 
According to Carlson, being a captain comes with a lot of responsibility. If Brodbeck wants something, or if something is going on with the team, she or one of the other captains will have to sort it out. 
"I feel like we're the people [the team] comes to for problems," Carlson said. 
Carlson considers part of her job as a captain to be keeping the spirits high during games no matter the score.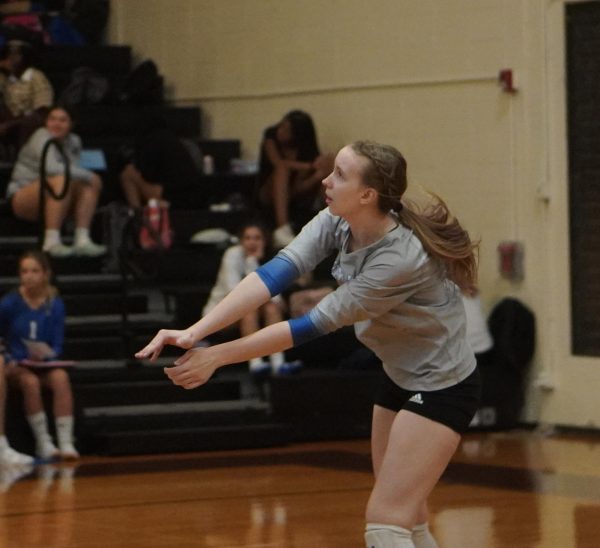 "You just always have to be confident because if you see your captains being like 'Oh gosh,' that makes everybody [worry about] what's gonna happen," Carlson said. 
Carlson said she enjoys the responsibility of being captain, especially when she sees her teammates succeed. 
"Like if I see somebody else get a kill, like that's the same feeling as if I got a kill," Carlson said. 
According to Brodbeck, volleyball players are expected to be outstanding students off the court. Almost all the players on all three teams, including Carlson, have reached A and B honor roll. 
She's part of the National Honor Society and plans on majoring in engineering in college. 
"I want to be an engineer, so I really want to have a good education, and not have my college life be volleyball 24/7," Carlson said. 
Carlson is considering playing Division II or III at most, but she's still excited to continue her volleyball success into her future. 
"I think she has the great potential to play at the next level," Brodbeck said.