On Aug. 24 The National Scholastic Press Association released its finalists for 2023 individual awards. The Shield staff collected 20 finalist nominations. 
NSPA awards students for individual work in broadcast journalism, cartooning, design, digital media, photojournalism, use of social media and writing. 
NSPA also offers superlative categories for best artist, broadcast journalist, designer, marketer, multimedia journalist, photojournalist and writer, and they offer specific awards of excellence in local climate change reporting; diversity equity and inclusion; and reporting on systemic change.
2022-2023 co-editor in chief Evie Barnard earned five nominations in art, design and illustration categories, including being named one of 10 national finalists for NSPA Artist of the Year.
Story continues below advertisement
2022-2023 and 2023-2024 co-editor in chief Alice Scott earned four nominations including a nomination for Marketer of the Year.
2023-2024 co-editor in chief Ingrid Smith also earned four nominations including a nomination for Multimedia Journalist of the Year. 
Other finalists in the NSPA Portfolio of the Year competition included 2023-2034 co-editor in chief Lanie Sepehri for NSPA Writer of the Year and 2022-2023 digital media student Gergő Major for NSPA Photojournalist of the Year.
This MacJournalism social media account is a finalist in both Best Use of Social Media categories: reporting and promotion.
All four of the Shield editorial cartoons submitted to the competition were named as finalists, two by Evie Barnard, one by junior opinion editor Nate Williams and one by sophomore online managing editor JoJo Barnard.
Other individual finalists included Major (environmental portrait of the year), senior print managing editor Caroline Owen (editorial of the year) and 2022-2023 Knight editor in chief Charlie Partheymuller (sports feature photo of the year).
We are proud to showcase our program's work that has been selected for this week's Tuesday top 10.
Cartoon of the Year
Editorial Cartoon
EVIE BARNARD
A Band-Aid for a bullet wound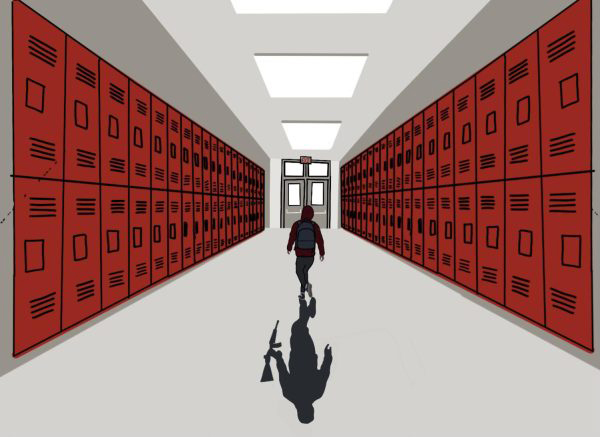 As the time between mass school shootings have passed and as the shootings become more and more part of our everyday reality, we have become desensitized to the fact that 20 children under the age of 8 were gunned down and killed at Sandy Hook Elementary School in Newtown Connecticut almost 10 years ago. How have we not done more?
EVIE BARNARD
"All hope is not lost"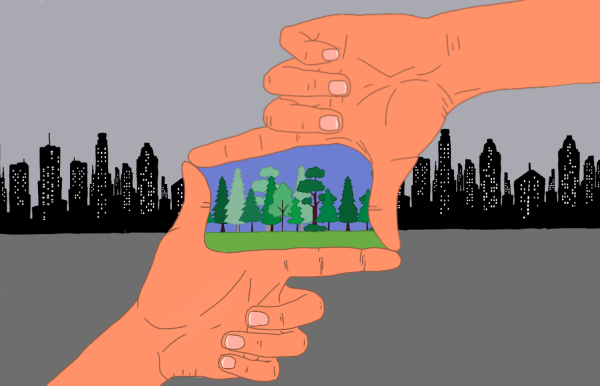 As the effects of climate change set in and politicians and corporations continue to ignore scientists' warnings, it can seem like fighting for our planet is a losing battle. With the power of optimism and personal action, however, it's possible to envision and make strides towards a positive and sustainable future.
JOJO BARNARD
"Breaking the silence"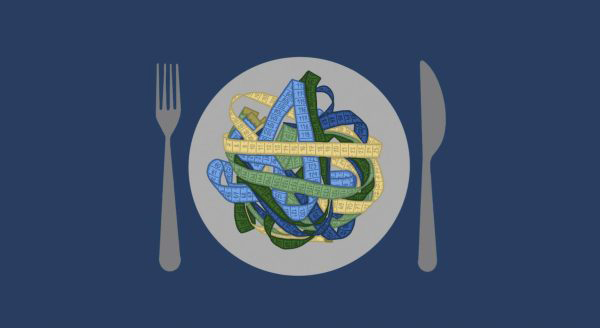 According to the July 2022 article, "College Students and Eating Disorders" published on the Child Mind Institute website, 10-20% of women and 4-10% of men struggle with an eating disorder during college.
NATE WILLIAMS
"Only vouching for Austin's rich"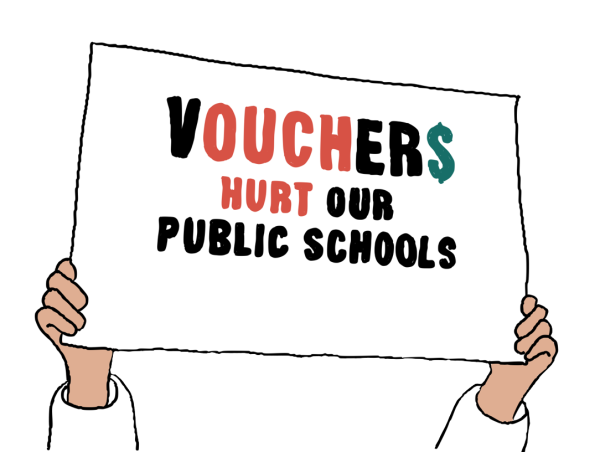 Far from needed educational reform, the school vouchers plan supported by Gov. Abbott is just a scam to take money from taxpayers and give it to private schools and mainly wealthy parents who don't need the extra help affording those institutions in the first place.
Design of the Year
Newsmagazine Cover
EVIE BARNARD
"Facing the fentanyl crisis"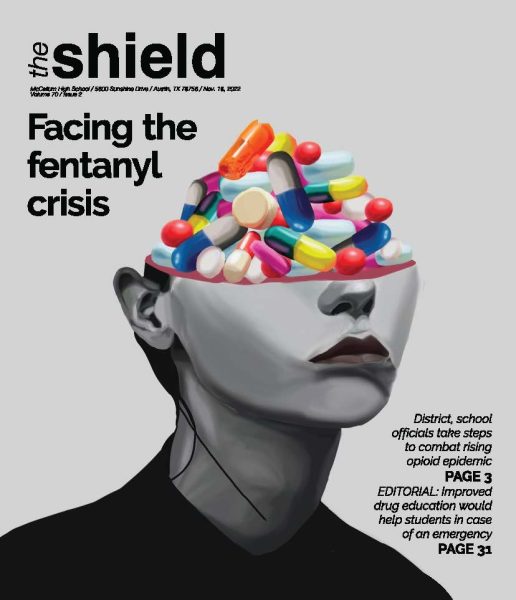 Newmagazine Page/Spread
EVIE BARNARD AND ALICE SCOTT
"What is driving your CO2 emissions?"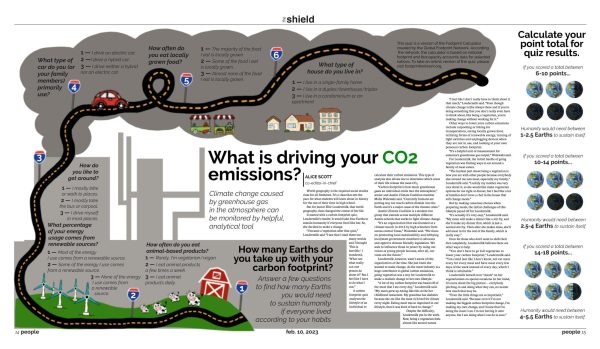 Digital Story of the Year
Interactive Graphic
INGRID SMITH
"Pumpkin spice and everything nice"
ALICE SCOTT
FRONT: Junior Liberty Mitchell (right) sits atop a rock formation at the end of the Gravevine Hills Trail, taking photos of the landscape from above. Photo by Alice Scott.
BACK: One of the major differences between the Grapvine Hills Trail and the other hikes the group went on was the landscape. Located much further away from Cottonwood Campground than elsewhere that the group had explored, this new location gave photographers new things to look out for. "The rock formations inspired me," Mitchell said. "I like how the texture really shows up in all the rocks. I learned to really keep an eye out for any photo opportunities. Even though some may not work out it's good to cover all your bases and get as many [photos] as you can." Photo by Mitchell.
Photo Slideshow
SHIELD STAFF
"McCallum Quinceañera celebrates comeback"
Podcast
INGRID SMITH
"Future teachers face obstacles, follow passion"
Photo of the Year
Sports Feature Photo
CHARLIE PARTHEYMULLER
"Sanchez, super sophs lead Knights' surge to second in district"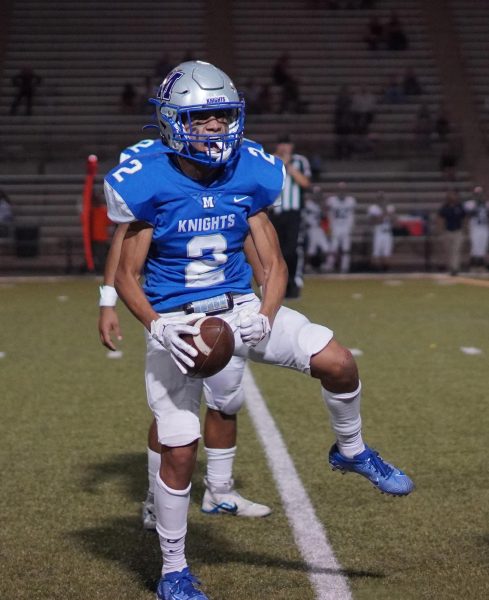 Mark Sanchez is among the super sophs helping lead the Knights' surge to second place in the district standings. Sanchez was key in helping the Knights respond to a disappointing loss to LBJ with dominant takedowns of Northeast and LASA. "Us Sophomores have been given the opportunity to play and we've all just capitalized," said Sanchez who had his first varsity interception on defense and his first rushing touchdown on offense in the win against the Raptors.
Environmental Portrait
GERGŐ MAJOR
"Cumberbatch wins Black Girl Magic art contest"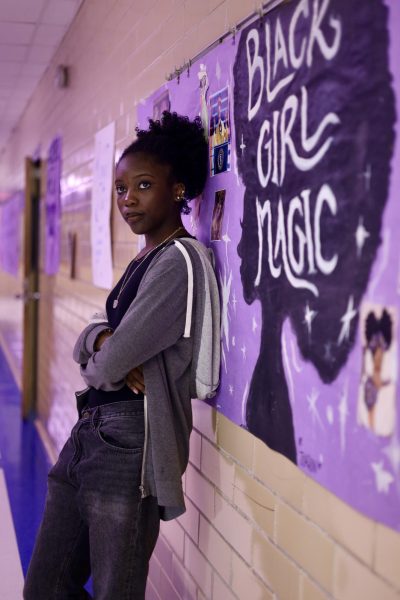 Black Girl Magic contest winner senior Sahara Cumberbatch stands in front of the "Black Girl Magic" billboard in the central hallway. She received her award from Tonya Moore on March 6 for the submission of her piece, "Women of Light and Color." The contest was organized as part of the Black History Month event series at McCallum with the intention of highlighting Black female artists. Cumberbatch, won a coffee mug along with a $25 gift card. Cumberbatch's winning submission was an art piece depicting a young Black woman empowered by her individuality. "I entered this piece because the inspiration was my identity as a Black girl, and because of that, the parts of me that make me stand out physically for most of my classmates," she said. Cumberbatch hopes her piece will inspire confidence in embracing differences and emphasize the message that you don't have to change the things that make you unique. "This year as a senior art major all my artworks have to connect in some way," she said. "I've been exploring the struggles I faced with myself at times that up until now I usually try to ignore Cumberbatch viewed the contest as an opportunity to embrace her identity and show appreciation for Black History Month. She is especially thankful to contest organizer Tonya Moore, Students of Color Alliance sponsor, for encouraging her to submit her artwork to the contest. "Ms. Moore said that I should enter one of my art pieces. Because I'm a major, she thought It would be good to have one of my works," she said. "I appreciate the chance for Black people and Black culture to be celebrated. Seeing the different submissions makes me smile whenever I walk in the hallways." Photo by Gergó Major.
Story of the Year
Editorial
CAROLINE OWEN AND ALICE SCOTT
"Outdated Mac should be included in bond proposals"
Portfolio of the Year
Artist of the Year
EVIE BARNARD
Marketer of the Year
ALICE SCOTT
<
Multimedia Journalist of the Year
INGRID SMITH
Photojournalist of the Year
GERGŐ MAJOR
Writer of the Year
LANIE SEPEHRI
Best Use of Social Media
Social Media Reporting
SHIELD STAFF
Social Media Promotion
SHIELD STAFF