Wind ensemble advances to TMEA Honor Band State
After having its recording of three songs selected in top three at area level, Mac makes state for fourth time in its history and first time since 2018
When the judges heard the McCallum wind ensemble perform Omar Thomas's "Come Sunday" at its UIL region competition at the AISD Performing Arts Center, they not only applauded the performance, they gave the group a standing ovation.
The effusive response from a group of UIL judges is not common.
Neither was their advice to ensemble director Carol Nelson. She should take the ensemble to Round Top, record the song (and other songs) and keep competing.
The ensemble's performance was that good.
"They thought we had a strong chance to crush other schools," rising senior flutist Sully Madres told MacJ on Thursday. "Everyone was really excited by this news because we were surprised by how positively the judges responded to our music."
While the judges were unusually supportive, they weren't wrong.
The recording that they encouraged the ensemble to create has made it all the way to State.
"
The judges made comments saying we are on level with college bands with our performance.
— rising senior flutist Sully Madres
At the Texas Music Educators Association Area Honor Band Hearings on Wednesday in San Antonio, a different slate of judges determined which of the 94 bands would move on to State. Out of the 10 bands in Area E, the McCallum wind ensemble was one of three chosen to advance to state, along with the Rouse and Cedar Park honor bands.
It is the first time since 2018 that an Austin ISD ensemble has made it to the state level of the TMEA Honor Band Hearings. Only five have AISD schools have ever achieved that level: Anderson in 1975 and McCallum in 2014, 2016, 2018 and now 2023.
The recordings the wind ensemble submitted for the competition were renditions of "Pathfinder to Panama" by John Philip Sousa, "Aurora Awakes" by John Mackey, and "Come Sunday" by Omar Thomas, all of which were performed live at the band's pre-UIL concert on March 9.
Clarinetist Mira Wagner, a Class of 2023 graduate, credited the solos of flutist Julia Schaubert, clarinetist Bea Saffer and saxophonist Frank Montesinos as helping to make the program exceptional. But even with these highlights, Wagner said that advancing to state was unexpected.
"Most people in wind ensemble didn't even think we would make it to state, so hearing that we did make it to state is a very pleasant surprise."
Out of all the pieces, Class of '23 graduate and former bass clarinet Rory Evers believes "Come Sunday" was the hardest out of them all.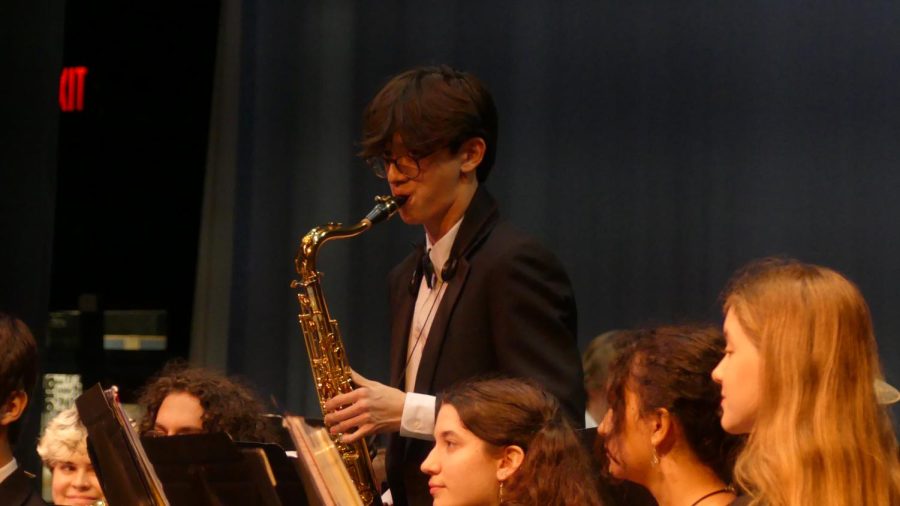 "We practiced those pieces for a long time," Evers said. "We had 'Come Sunday,' our most difficult piece, and 'Pathfinder to Panama' since our spring concert. 'Pathfinder' didn't really need work to be put together because it was an easier piece, but we worked on 'Come Sunday' until spring break. Ms. Nelson said that this year's program was more difficult than normal. Normally, we prepare pieces for a single concert and then move on; however, this year we worked on our program throughout the second semester, playing the same pieces for multiple concerts."
Madres agreed about the degree of difficulty for "Come Sunday" and stressed the amount of effort it takes for an ensemble to execute a cohesive concert performance out of such a complex piece of music.
"
As a senior especially, it's really cool that we're still being recognized even after graduating. I'm glad I made the choice to be in band all four years, and this is a great way to end it.
— Class of '23 graduate and clarinetist Ethan Hunteman
"It was our longest piece and our ending song, and it was the most challenging concert piece we have ever performed."
Madres said that the best part for him was marveling at the parts that make up the whole ensemble.
He said the first movement has an extended flute/oboe part that is really challenging, but after he and his section had done their heavily lifting, he was able to sit back and enjoy other sections doing the same.
"The piece was really fun," he said. "It was one of those pieces where I'd smile while watching the trumpets get up and play their horns or watching the clarinets go absolutely berserk on the clarinet in their little section. Clearly, the crowd liked it, the judges made comments saying we are on level with college bands with our performance."
He said that the intricate level of teamwork is what makes performing as an ensemble a different animal than performing as an individual.
"[A] concert performance is wholly different then [a] solo performance," he said. "It relies entirely on the patience and cooperation of multiple people within a section and multiple sections acting together to make everything perfect. Honestly, when people get in the zone during performances it can be really incredible."
According to the Wind Repertory Project, "Come Sunday" is an advanced level piece, appropriate for intermediate and advanced college ensembles and advanced high school ensembles. The performance of "Come Sunday" at the pre-UIL concert in March was a crowd favorite and ended the concert with high spirits.
Saffer, a rising junior and first chair clarinet, said the pieces were actually recorded at three different locations.
"We took one from our session at Round Top recording studio, one from our UIL performance, and one from a recording we did at Mac," Saffer said.
Even though this allowed them to showcase the band's variety, Saffer thinks the combination made their performance less ideal.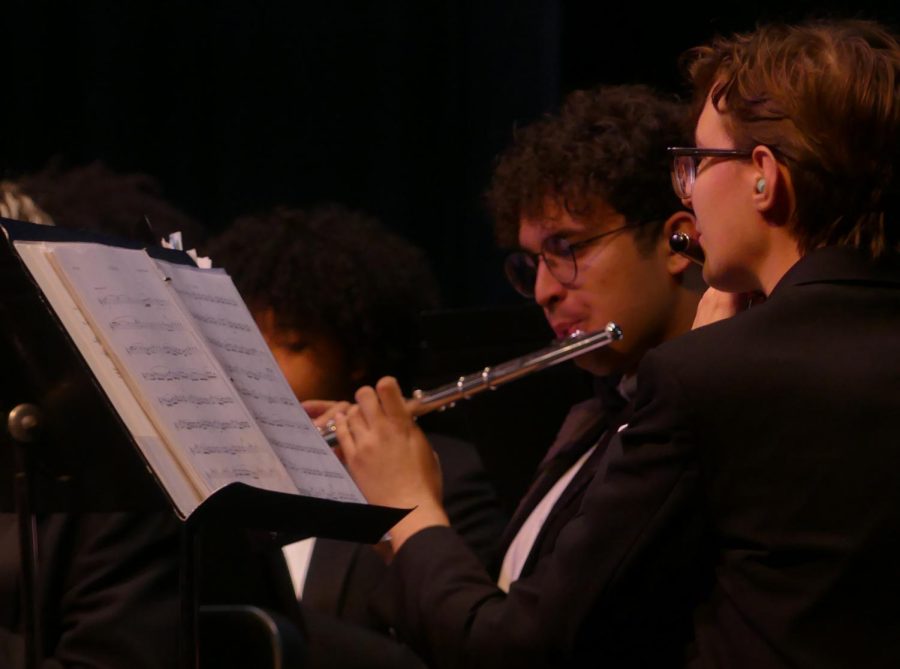 "I think that the combination of pieces we submitted made it kind of difficult to have a 'perfect' performance, as the three pieces are stylistically very different from one another, and the repertoire itself is fairly challenging to play as an ensemble; however, I'm pleasantly surprised that we made it to State, and I'm glad that all of the time and effort we spent on this music has paid off."
The preliminary state adjudication round will occur on July 19, with finals the following day at the Texas Bandmasters Association convention in San Antonio, which will determine and rank the top 15 bands.
Class of '23 graduate and former clarinet Ethan Hunteman says this is the best way to end his time at McCallum.
"As a senior especially, it's really cool that we're still being recognized even after graduating. I'm glad I made the choice to be in band all four years, and this is a great way to end it."
Wagner agreed but said that the ensemble will remain strong despite losing some talented players to graduation.
"
This achievement continues to demonstrate how strong our concert program is. It is really one of the strongest in the state.
— band director Carol Nelson
"[I am] very sad to be leaving that ensemble," Wagner said, "but I know that next year the wind ensemble will be phenomenal."
Fellow Class of '23 graduate and former oboist Daniel Valentine is also looking ahead to the future. He's excited to see how McCallum's performance in this competition might impact how educators view music education in the area.
Earlier this year, McCallum won Best Orchestra for 'Pippin' at the Heller Awards, beating out many other schools from the greater Austin area. In the award-winning production, Valentine played both oboe and English horn.
"If you were to think of bands in Texas, most bloggers or directors would immediately think of Leander," Valentine said, "but McCallum's been making a lot of noise."
Band director Carol Nelson agreed.
She said that making TMEA State demonstrates the ensemble's musicianship and the variety and difficulty level of the repertoire it played.
"This achievement continues to demonstrate how strong our concert program is," Nelson said. "It is really one of the strongest in the state."
View Comments (2)