Band hall a second home for longtime director
Approaching her 40th year at the helm of the Mac band, Nelson says, 'It's just what I do — it's my life.'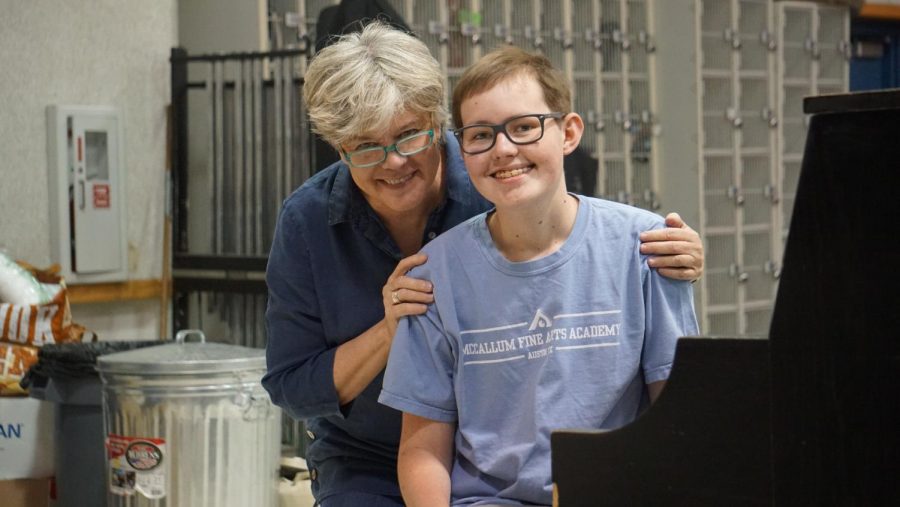 Just as I'm approaching the door to the band hall, it swings open in front of me.
"Follow me," Ms. Nelson says and, without hesitation, continues a rapid pace in the direction of the main building. I glance down at my phone, scramble to turn on my voice memo recorder, and ask my first question of the big, spectacular, 40th year interview.
"Where are we going?"
Substituting for color guard, of course, she explains to me on the way to the cafeteria.
After arriving at school at to teach 7 a.m. morning sectionals, teaching two band classes back to back, and preparing for the musical rehearsal later that evening, Nelson was headed to the cafeteria during her off period to supervise the winter guard's practice because of a teacher's absence.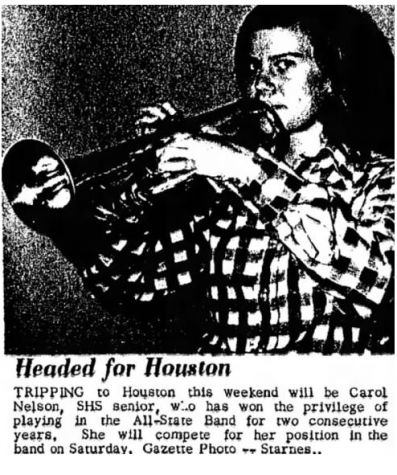 Juggling a lot of activities at once certainly isn't something new for her; in her high school years at Seguin High School, she was president of the band, National Honor Society, Spanish Club, vice president of Future Teachers of America, on the track team, and in the church choir. On top of this, she was an all-state trumpet player three years in a row and was salutatorian of her class.
"People ask me all the time, 'How do you do it all? You just do so much!'" She told me. "And the truth is, I don't even think about it. I just do it."
After only one year of teaching at McCallum, she was promoted to head band director in 1981, where she has remained ever since. Within her years, she has experienced many different aspects of the school — and being multitasker at heart, she has tackled everything presented to her. She was even the Blue Brigade director for one year.
"
If I threw a family reunion, I would invite her, because she is pretty much family at this point."
— senior Townes Hobratschk on band director Carol Nelson
"It was… different." She laughs. "Different than band, that's for sure. They needed a drill team director, and I guess they looked at my résumé and saw the tap dancing experience and thought, 'Well, OK, she can do it.' So I did it."
Despite the many activities that flood her daily life, Nelson still finds time to connect with each and every one of her students.
"She truly is one of the best band directors," senior tuba player Townes Hobratschk said. "She always wants the best for and from the band students."
In his freshman year at McCallum, Hobratschk was diagnosed with brain cancer. It also happened to be the year that the band was taking their quadrennial trip to perform at Carnegie Hall.
"Even though she was really busy with band stuff, getting everyone ready for the trip to New York and Carnegie, she still made time for me, and showed up at the hospital. Where some teachers would abandon their students right there, she even brought a tuba up to the hospital. It still amazes me today."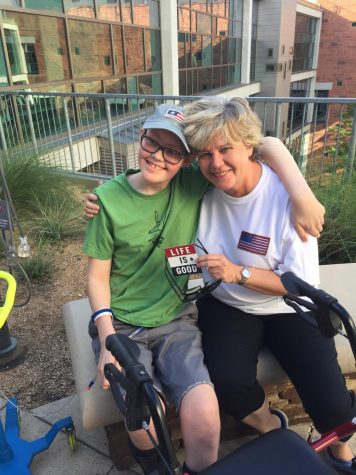 He went on to perform with the band that year in New York.
"It was all because of Ms. Nelson," he explained. "She believed in me, and because of that, I had one of the best experiences of my life. I owe it all to her."
Hobratshck said that Nelson is more like a favorite aunt than this teacher.
"Honestly, I think if I threw a family reunion, I would invite her, because she is pretty much family at this point."
After so many years at the school, McCallum seems to have become a second home for Nelson.
"It doesn't feel like a job to me. Most people get up in the morning and say 'Oh, I'm going to go to work now', but for me it's not like that. It's just what I do — it's my life."
From bright and early in the morning to the late afterhours of the school day, her teaching inspires and encourages students to try everything, to keep going, and to not think about it — to just do it.
As the interview with her comes to a close, I lean in and asked the big question. "So, are you going for 50?"
She raises her eyebrows and her lips curl into a smile as she lets out a little laugh.
"We'll see."