Austin concert confirms Capaldi's rare ability to captivate audiences
Scottish singer/songwriter mesmerizes audience in advance of his sophomore album release, 'Broken by Desire to Be Heavenly Sent'
The Scottish sensation, singer/songwriter Lewis Capaldi concluded his historic headlining American tour in early May in the heart of Texas.
"
Capaldi's soulful performance was filled with raw emotion, as he poured his heart and soul into each note.
Playing a slate of sold-out shows in major American and Canadian cities beginning with Nashville on March 30, and ending with Houston on May 11, Capaldi made one of his final stops in the States in Austin's Waterloo Park on May 8, attracting a full house of enthusiastic attendees. The American tour was one part of a worldwide tour to promote the release of Capaldi's second album, Broken by Desire to Be Heavenly Sent, released by Capitol Records on Friday. 
The new album's second track, "Wish You the Best," contains the telling lyric, "It's like Glasgow gets further from LA, Maybe it's supposed to be this way," evoking Capaldi's remarkable journey from his childhood beginnings to worldwide music icon. He first gained widespread recognition with his breakthrough hit, "Someone You Loved," which catapulted him to stardom in America. This soulful ballad struck a chord with listeners, capturing their hearts with its poignant lyrics and emotional delivery. It was with this heartfelt song that Lewis Capaldi became known as "America's sweetheart," captivating audiences with his raw talent and genuine sincerity.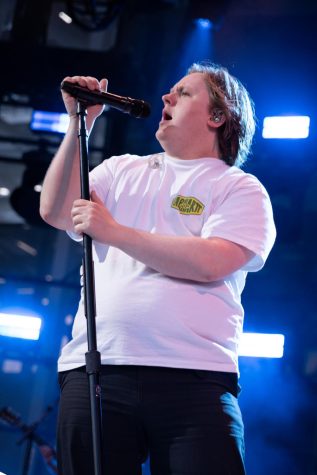 Now, with the release of his highly anticipated second album, Capaldi continues to captivate audiences with his powerful storytelling and undeniable talent. The album is a collection of songs that delve into the depths of human emotions, exploring themes of love, heartbreak, and self-discovery. Among the standout tracks, "Wish You the Best" shines as a personal favorite, resonating deeply with its introspective lyrics and heartfelt melodies.
At the recent concert in Waterloo Park, Lewis Capaldi brought these songs to life on stage, leaving the crowd awe-struck and moved. His soulful performance was filled with raw emotion, as he poured his heart and soul into each note. The audience, including many McCallum students, were entranced by the musical magic unfolding before them. The lyrics of his songs appeared to strike a chord with everyone present, evoking a range of emotions and creating a shared experience that transcended cultural barriers.
Capaldi's ability to connect with his fans is truly remarkable. Despite his international fame, his music touches the hearts of people from all walks of life. Whether you're a student navigating the complexities of life or anyone yearning for a sense of belonging, his songs provide solace and comfort. His performance at Waterloo Park was a testament to this wide appeal, as the crowd swayed and sang along, forming a united front of music lovers, bound together by the power of his music.
"
Capaldi's success story reminds us that with passion, talent and dedication, anything is possible.
Beyond his musical prowess, Capaldi's journey serves as an inspiration to us all. From his humble beginnings in Scotland, he persevered and pursued his dreams relentlessly, eventually conquering the global stage. More recently, he endured being diagnosed of Tourette Syndrome last year, but even that has not slowed his meteoric rise. His success story reminds us that with passion, talent and dedication, anything is possible.
Capaldi's concert at Waterloo Park was an unforgettable night filled with captivating moments. His captivating presence and powerful vocals mesmerized the audience, creating an electric atmosphere that will forever be etched in their memories. The concert provided clear evidence that Capaldi's career continues to ascend. It seems obvious to this review that his heartfelt songs will continue to touch the souls of listeners around the world, providing solace, comfort, and a sense of belonging.
Leave a Comment