The night Stubb's was a hub for Mac music
Like a good restaurant menu, the eclectic three-set lineup on Feb. 11 offered something for everyone
People gathered downstairs at Stubb's Bar-B-Q on Tuesday Feb. 11, a little after 7 p.m., awaiting a concert ranging from classical guitar to punk rock. McCallum's chamber guitar class was the first to play, conducted by their teacher Mr. Clark, they played a total of five quiet, intimate songs. The chamber group gave way to the bands that had earned the right to play at Stubb's by winning the Battle of the Bands at McCallum's Fine Arts Building Theater back in November. The first group of the winning groups to play was Pit Punch, a band consisting of three girls with Abby Green on guitar and vocals, Ruby Henson on drums and Louisa Najar on bass.  They were followed by Pax, comprised of a range of six Austin School of Rock graduates, who ranged from two high school freshmen to a college sophomore. The music both groups played was loud and exciting, and the crowd matched that energy by singing along to songs they knew and moshing as well. We are pleased to share these images from the performances as this week's #TuesdayTop10 photo essay.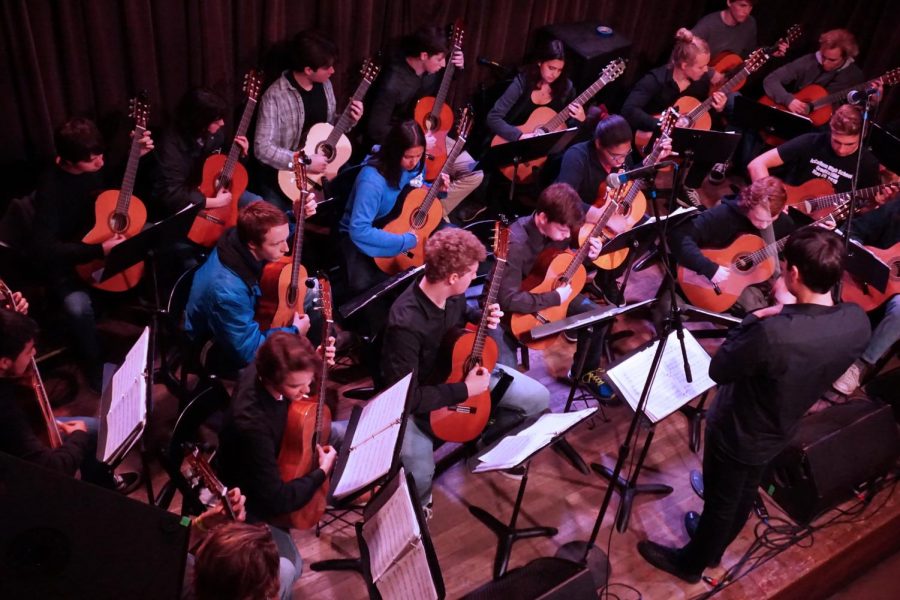 MUSIC FROM ABOVE: The classical guitar class took part in the Stubb's concert on Feb. 11 along with two other bands, Pit Punch and Pax. The guitar class consists of old and new players. One guitarist, Tres Tanner, has been playing for four years. "I started guitar at Lamar Middle School," Tanner said. "I like playing the music, and I like how Mr. Clark makes it fun. He gives the class freedom as to what we play and do." This was Tanner's second concert at Stubb's. "It's usually more exciting playing for an audience rather than nobody, and everyone enjoyed what we were playing." Photo by Olivia Capochiano.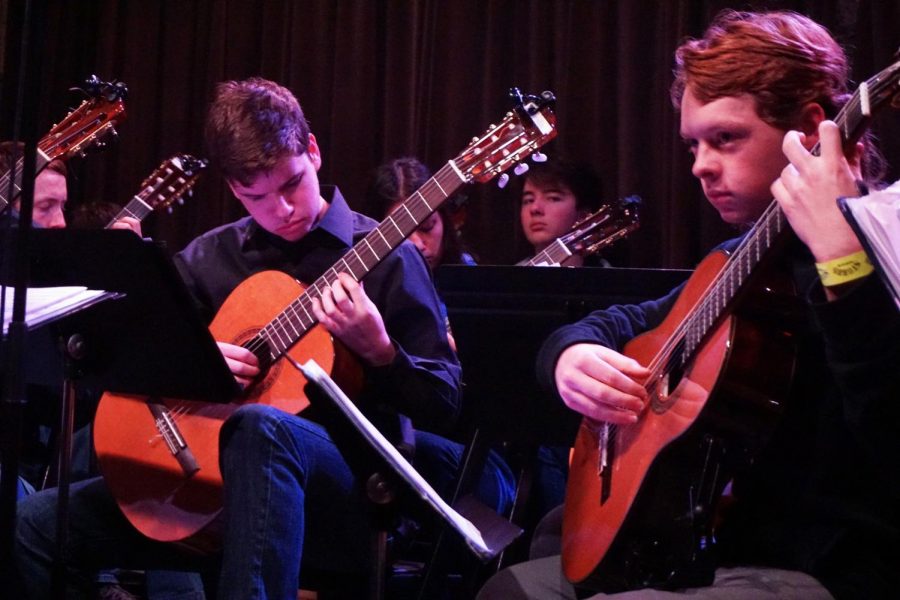 UP CLOSE AND PERSONAL: Senior Gage Bausman and sophomore Max Hoff perform the musical piece "In the Hall of the Mountain King". They were playing their guitars during a chamber guitar concert at Stubb's Bar-B-Q on Tuesday, Feb. 11th. "I've always liked guitar, so I actually tried to teach myself how to play in order to get into the Fine Arts Academy," Bausman said. "Guitar class is filled with really cool people and is not as stressful as some of the other majors. And the concerts are a nice way to show off what you've learned." Photo by Lily Wilson.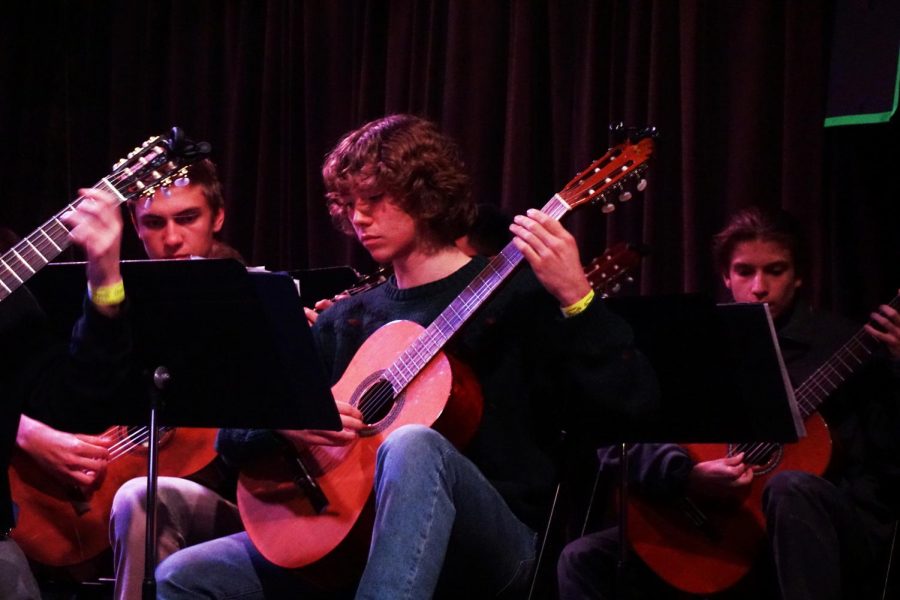 POKER FACE: Junior Henry Rodgers strums his guitar during the chamber guitar performance at Stubb's Bar-B-Q on Tuesday, Feb. 11. The show was very serious and intimate, the audience listening closely to the soft music coming from the guitars. "We were all seated so closely together on stage," Rodgers said. "It was kind of difficult to keep a straight face and remain focused in such a cramped environment, but the show went really well, and everyone played nicely and did a good job." Photo by Lily Prather.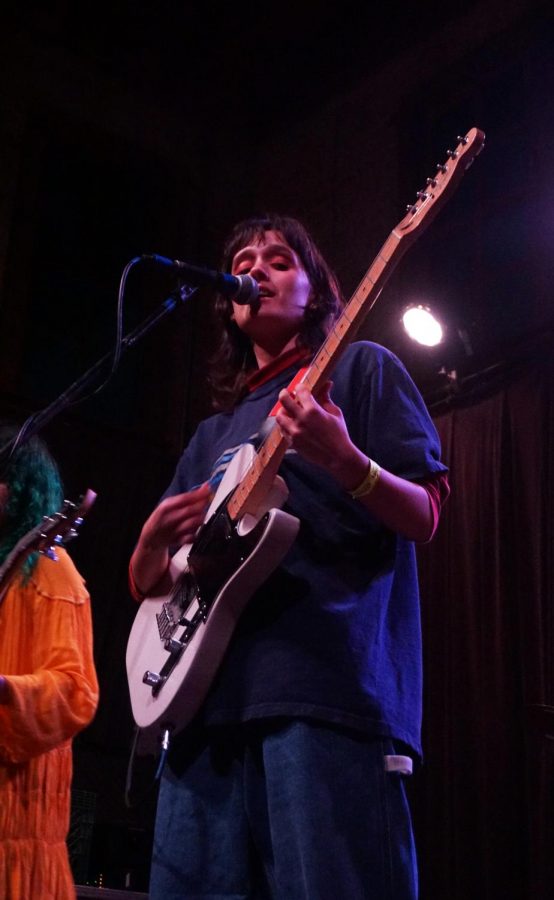 ORIGINAL LYRICS: The lights shined bright as Abby Green strummed the first notes to an original song. At 7:30 on Feb. 11, the band Pit Punch played at Stubb's Bar-B-Q. After a classical guitar performance, the band played their original punk rock music. "For me, I mess around on the guitar, and if I play something that sounds nice, I build off that," Green said. "[Bassist] Louisa [Najar] does it way differently though. She hears something in her head and then figures it out on the bass." Writing original songs also involves writing lyrics to go along with the chords. "We usually come up with them after we figure out the instruments and structure to the song," Najar said. "Sometimes we like to focus on a theme or narrative, but also we just like being silly with them. It's a very collaborative experience, each of us drawing inspiration from each other." Photo by Lily Wilson.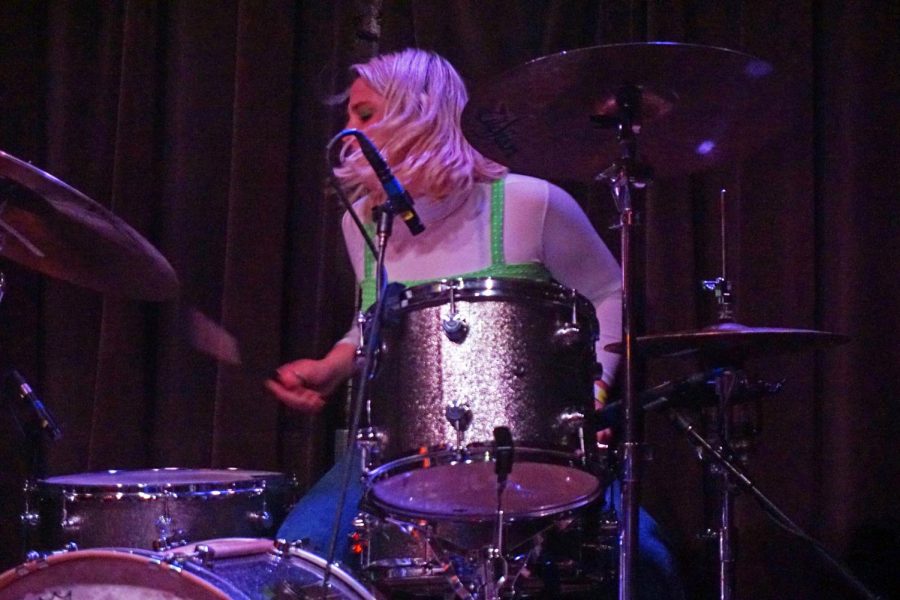 DRUMMERS HIGH: After setting up the stage for a live performance, drummer Ruby Henson smiles and laughs at the crowd recognizing some of her friends who came to hear her play. Pit Punch, a band of three McCallum girls, played on Feb. 11 at 7:30. The crowd consisted of McCallum students, teachers and some local Austinites who just came to see a show. "Our main focus as a band is to have fun and create a space for other people to have fun with us," Green said. "Performing our songs live is great because it's so fun to see our friends dance to something we've made." Photo by Lily Prather.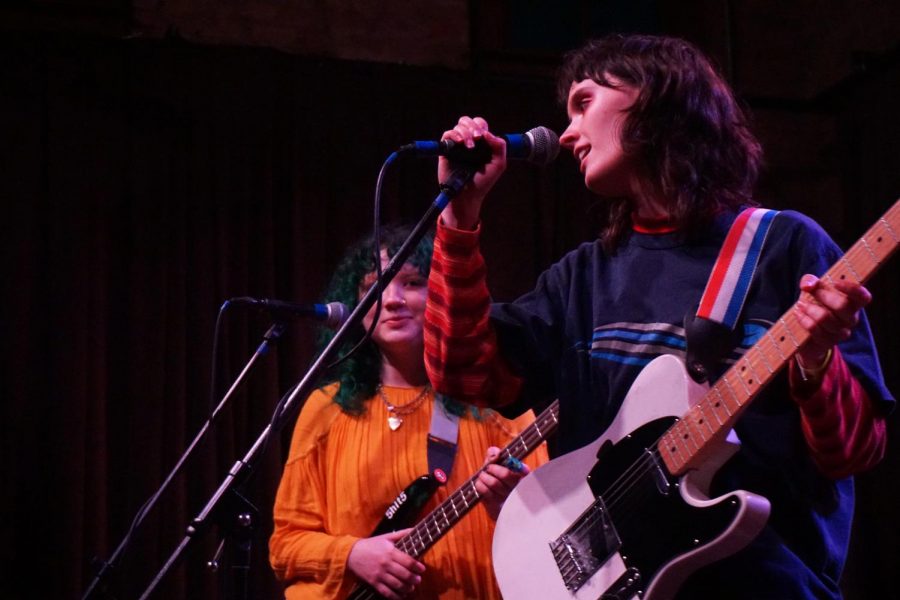 LONG TIME PLAYING: Abby Green and Lousia Najar sing into their microphones of the little Stubb's Bar-B-Q stage while Ruby Henson plays drums in the back. The trio includes Green on vocals, Najar on bass and Henson on drums; they call themselves Pit Punch and have only been playing for a couple months. "We've all known each other for a long time, since middle school," Najar said. "We've always joked about starting a band. For our senior year we thought, f— it, let's just have as much fun as we can with each other before we all leave for school." The band started to play more live concerts, like this one at Stubb's, and got support from each other and their friends. "We've definitely gotten real close to each other this year," Najar said. "It's been such an inspiring experience for all of us." Photo by Lily Prather.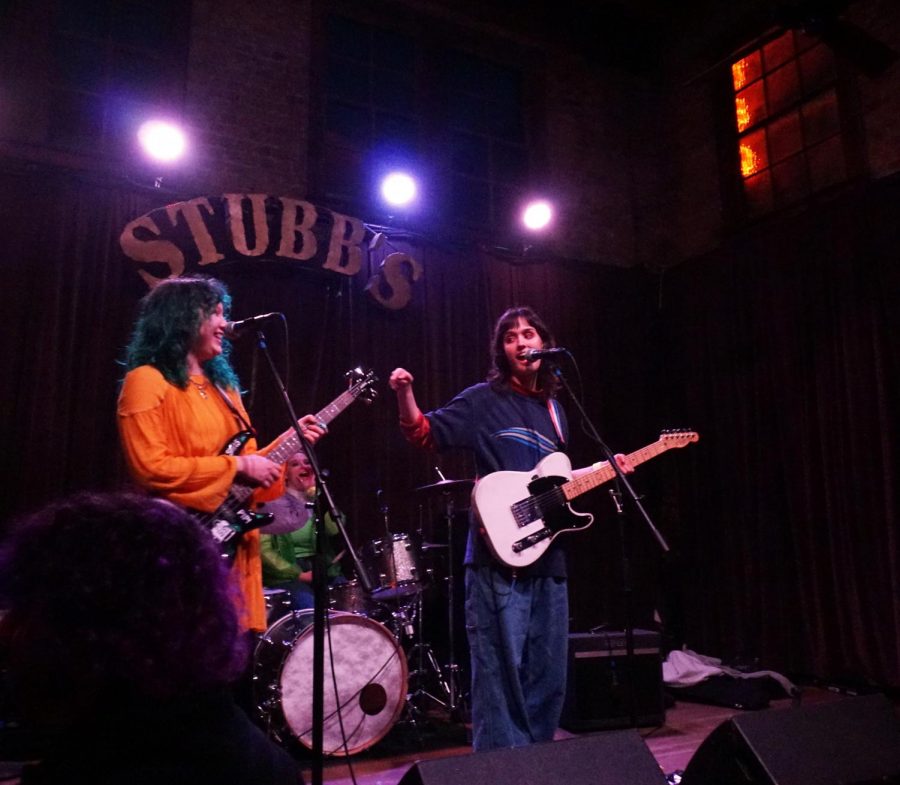 DYNAMIC DUO: Seniors Louisa Najar and Abby Green perform at Stubb's Bar-B-Q on Tuesday, Feb. 11. The two girls, along with senior Ruby Henson, are the members of a band they named Pit Punch. "We started to talk about making music during the summer of 2019," Green said. "When we write songs, inspiration comes from the mood we are in and the vibe of the day." Photo by Lily Wilson.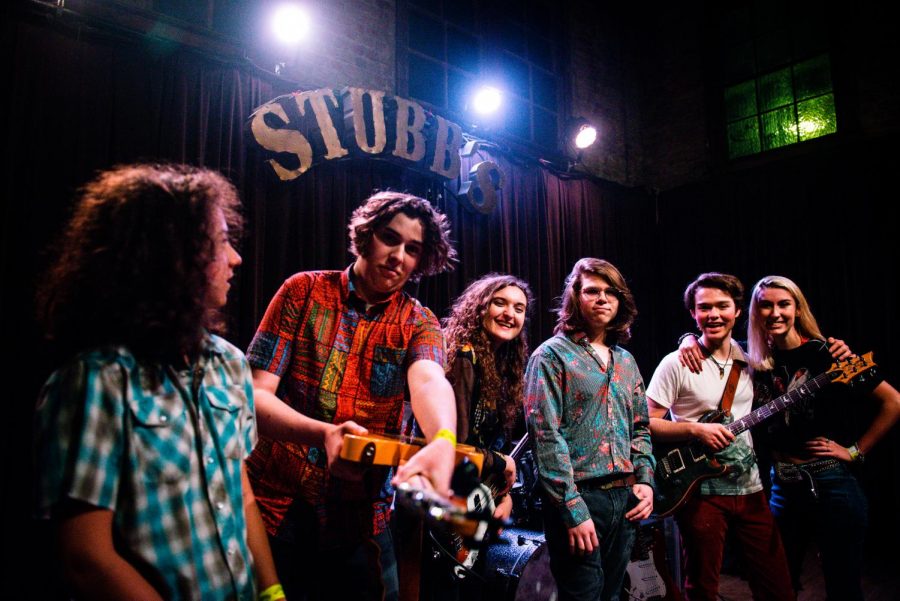 PAX-ED OUT: On the stage of Stubb's Bar-B-Q, a mix of college and high school students laugh as they finish the last song of their set. The name of the band is Pax and its members are freshman Nathan Dart, junior Chris Kalamarides, senior Anna-Grace Travis, freshman Connor Langham, senior Austin Rummel and college sophomore Olivia Stout. Only Dart and Rummel go to McCallum. This was the band's first show at Stubb's, but they have been together longer than that. "We all attend the School of Rock," Austin Rummel said. "We're all in the house band there. Olivia used to be. We play gigs around town with the house band including ACL. We've even been to Milwaukee to play at Summerfest with SOR." Photo by Ray Swartz.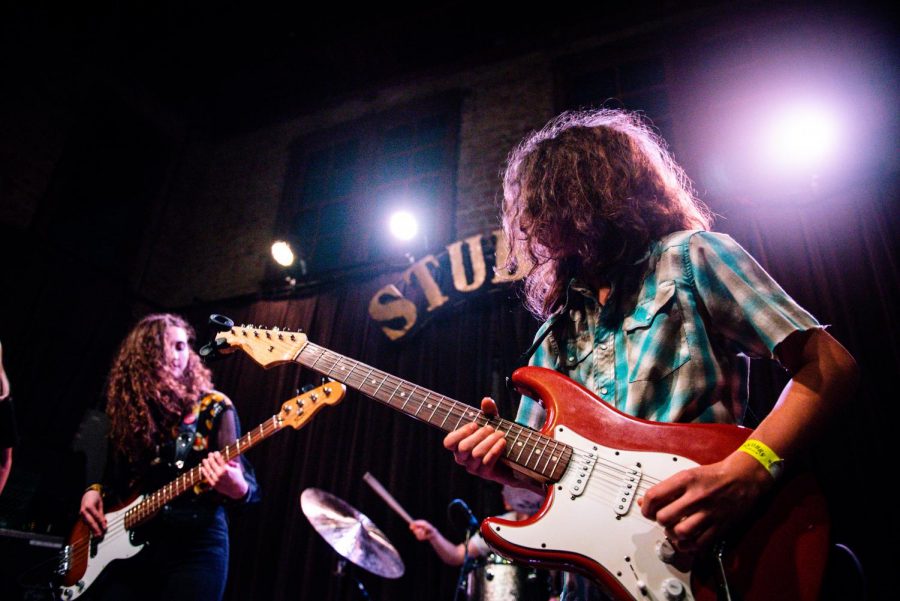 A STRUMMER OR A DRUMMER? Freshman Nathan Dart has been playing drums since he was a little kid and only later picked up guitar. "I play guitar at School of Rock mostly, but I still play a little drums." When asked which he preferred to play, he admitted he'd rather play guitar, "but they needed a drummer, so …."  Photo by Ray Swartz.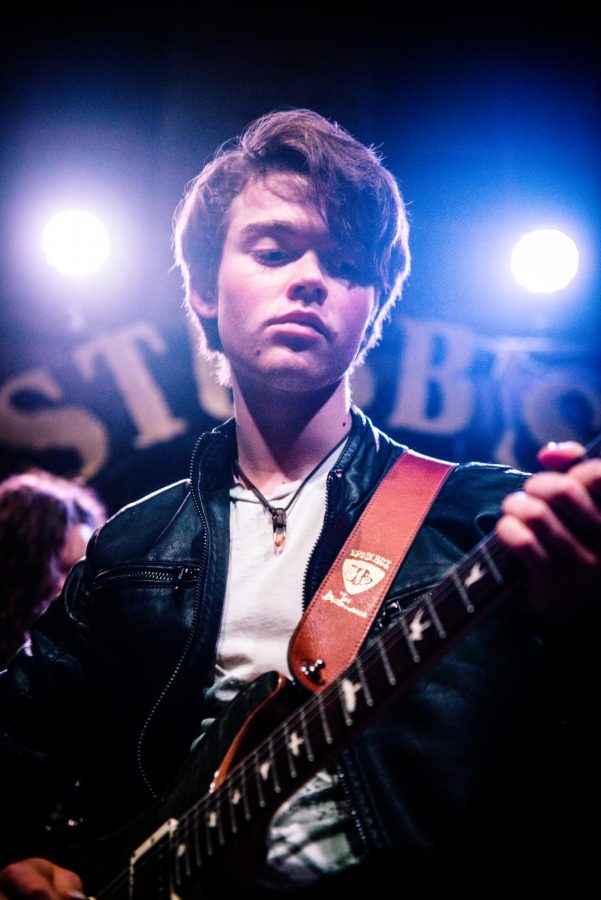 IN THE SPOTLIGHT: Senior Austin Rummel strums a few notes on his guitar as the harsh lights of Stubb's stage shine in the background. This was not Rummel's first show at Stubb's; he had played two years before with his band Frysk. "This time I feel there was a lot more energy with the crowd," Rummel said. "This gig gave us the drive to get more gigs and write more songs." Rummel went on to describe one of his favorite moments during the show. "During our last song, an original called 'Carpal Tunnel,' there was a dance circle where different people would get in the center and have a good time. The show was fantastic overall." Photo by Ray Swartz.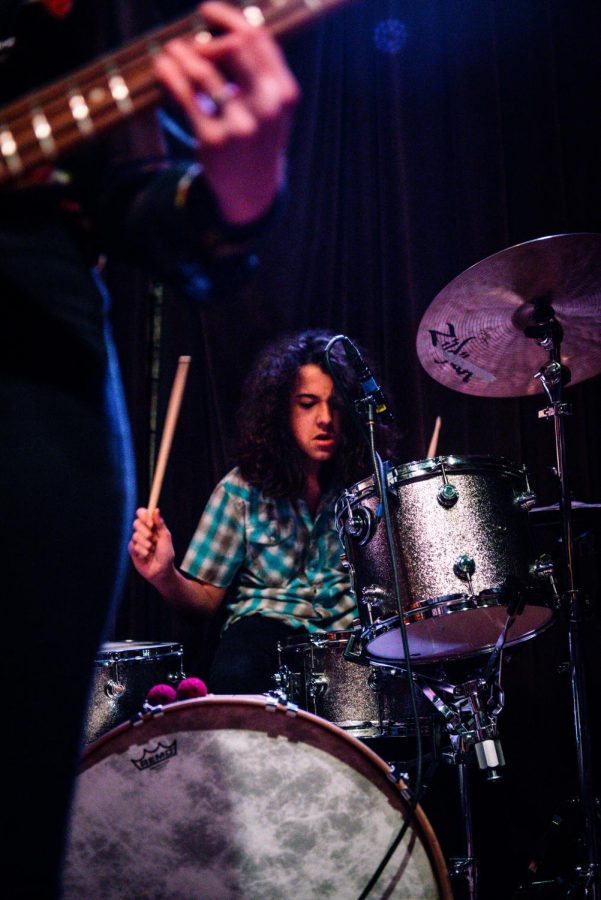 MUSICAL EDUCATION: McCallum freshman Nathan Dart plays the drums on stage at Stubb's Bar-B-Q on Tuesday, Feb. 11. The lineup included Dart's band, Pax, the McCallum Chamber Guitar Ensemble and Pit Punch. "Performing at Stubb's was a really cool experience; it was our first gig as a band, and it was really fun playing in front of people I know," Dart said. "Everyone in my band met at the School of Rock, which is like a performance program for people who are aspiring to play music. They provide lessons for drums, guitar and vocals for people of all ages." Photo by Ray Swartz.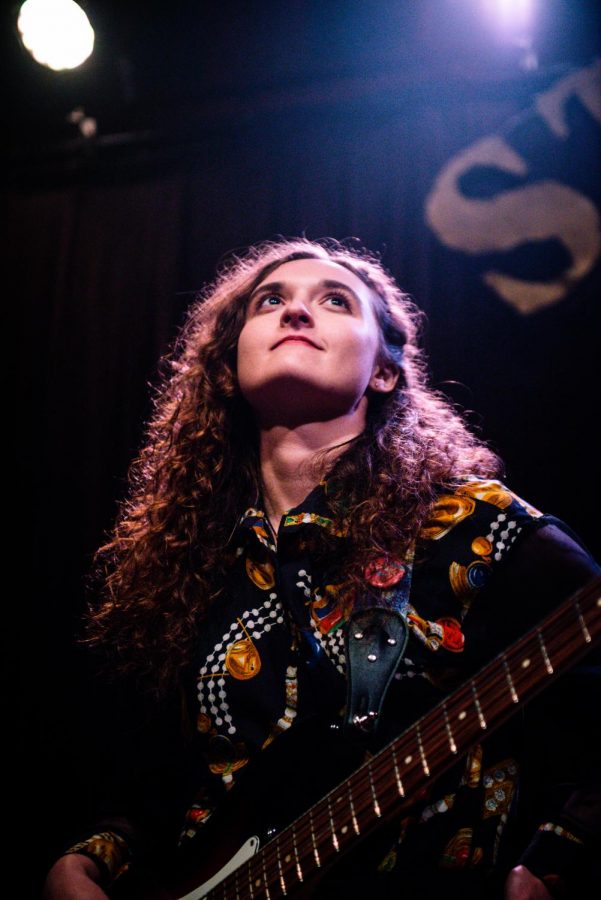 IT'S SHOWTIME: Anna-Grace Travis looks out at the crowd as she plays guitar for her band, Pax, during their performance at Stubb's Bar-B-Q on Tuesday, Feb. 11. The high school senior met her bandmates at the School of Rock, where they were all students. "The show went so great, the crowd loved us and our friend actually booked us another gig after we finished playing!" Travis's bandmate Austin Rummel said. "Not only was the show super successful, it was just a really great experience overall, I think it's a great idea to promote students creating art and expressing themselves through music and giving them a chance to actually share it with other people." Photo by Ray Swartz.