Music to Mac's ears
For these high school musicians, living the Knight life means immersing themselves in Austin's music culture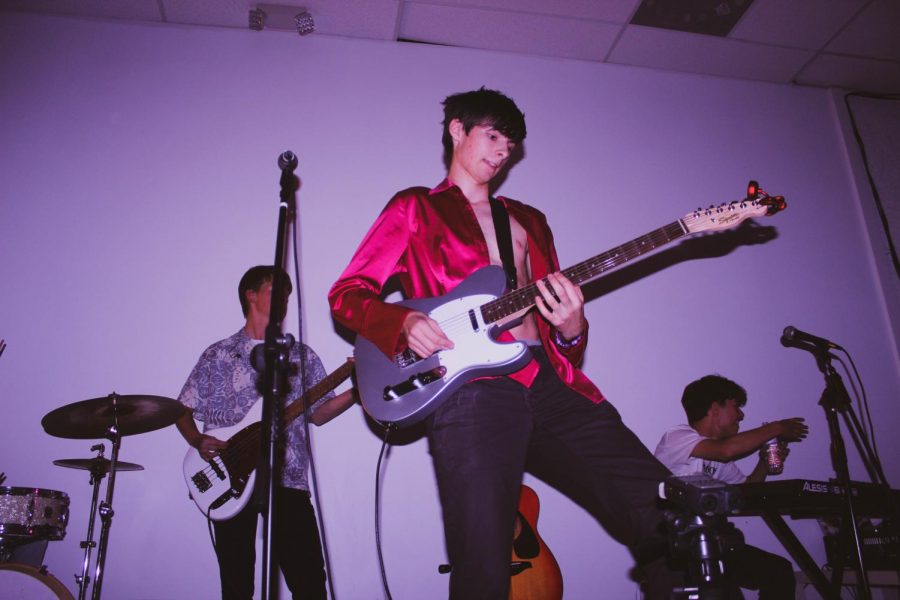 Slow jazz spilling softly from the record store down the street. A violinist, case open for tips, pouring melodies onto the sidewalk. That monthly summertime magic of Blues on the Green on the cool grass of Zilker Park and losing your voice as you scream the lyrics along to your favorite artist under the moonlight at Stubb's, or Emo's, or at your neighborhood bookstore. Living in the Live Music Capital of the World, music is something nearly inescapable. Whether it be sold out shows of world-famous performers or underground gigs by high school students, the Austin culture is undoubtedly drenched in  pursuers of music, both creators and lovers — and, at a school like McCallum, with a Fine Arts Academy that encourages students to study, make and perform music — connecting with that larger culture is natural and essential.
For many students at Mac, a passion for music extends far beyond the fine arts building, with a handful of students even producing original albums and playing gigs around the city. The Point, a musical duo consisting of seniors Joe Roddy and Jack Montesinos, is a prime example. Although they were in the same kindergarten class, Roddy stated that the two really became close and started making music together their sophomore year of highschool, playing over 130 gigs since between beat sets, DJ sets, and live performances of their originals, as well as recently releasing a record. But for them, it's not about pocketing a little extra cash after school.
"
It's so cool to see people buy our record, not because they're paying for it, but because they went out of their way to listen to our music"
— Joe Roddy
"It's so cool to see people buy our record, not because they're paying for it, but because they went out of their way to listen to our music," Roddy stated. "No one [at McCallum] is really old enough or professional enough to just be in it just for making money, so it's really just for fun — making music for music."
When asked about their creative process, the boys laughed as Roddy stated that "there's a lot of yelling at each other".
"He'll come over to my house, sit down at my computer where we have all the instruments, and we'll just go from there," he said. 
The two agreed that after this initial creation process, their favorite part of making music is the live shows. 
"We do a lot of DIY shows where we organize everything and do it in a weird spot like a coffee shop or a bookstore, and we fill that place up," Montesinos said.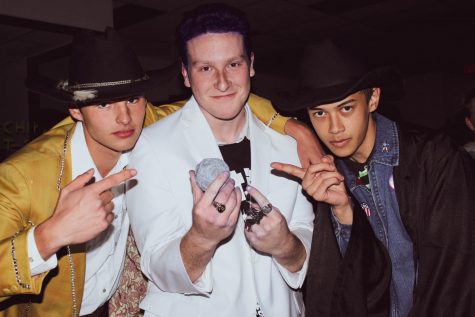 Roddy added that connecting with people in these more underground shows is "much more intimate", and that it is what they plan to continue doing more of going forward. Montesinos also mentioned to look out for some music videos in the future, as Roddy is hoping to branch into aspects of film.
Headed to Belmont University in Nashville next year as a major in songwriting, senior Cora Jordan has also turned tunes to a lifestyle, with her biggest inspirations close to home. 
"I am so, so grateful that I grew up in Austin," Jordan stated, smiling. "First of all, it's just a good place to grow up, but second, my parents will just buy tickets to random shows, and that's how we found some of my favorite artists like Jade Bird."
 She went on to describe that it is fun for her to dive into the live music scene, even if she's never heard the artist before, and to just "feel the music."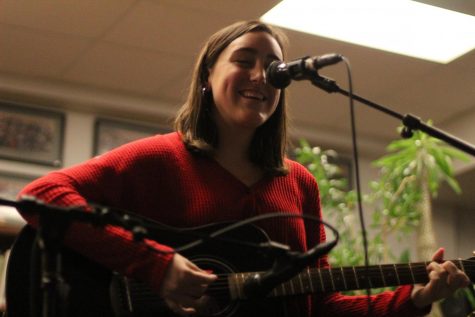 Jordan also expressed her admiration for the McCallum music community, specifically her first performance at Coffee House — a biannual showcase for student musicians, spoken word poets, and visual artists hosted by the school literary magazine, Excalibur. 
"Looking around, I was shocked," she recalled, laughing. "I knew that a lot of people wrote their own music and played a lot here, but it was just so cool to see other people play their songs and get into it. I kind of looked around and realized 'Man, this is what I want to do with the rest of my life. Look at all these cool ass people doing what they love'."
Moving forward, Jordan hopes to put some of her songs together to release an EP, with help from her computer-savvy little brother, and to keep aiming to experience what she describes as her favorite feeling. 
"
There is that special moment where you write something down and you're like… this is it. This is how it feels, this is exactly how I feel"
— Cora Jordan
"There is that special moment where you write something down and you're like… this is it. This is how it feels, this is exactly how I feel. Before, you couldn't put it into words, and then all of a sudden when you put it to some guitar chords, it's magical."
Jay Mathias, another artist at McCallum, has also come to the conclusion that music is something he will always have a passion for, creating what he describes as Indie-Electronic production. 
"I go home and I spend hours on my computer making music," he stated. "That's just what I do." 
Living in Austin, Mathias feels, is not only a shaping factor in terms of the live music scene but also the people that came for it. 
"My parents, my friends, my friends' parents," he said. "They all influence what I listen to, and I've also seen a ton of really good concerts here in town. It's inspiring to be around."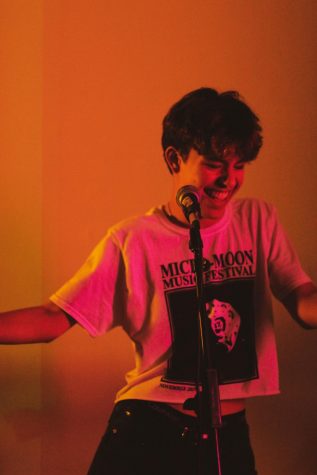 When asked about other performers at Mac, Mathias excitedly described his experience working with The Point. 
"I love The Point, absolutely love them," he said. "I've done work with them, and they played at my concert… it's awesome having a community at school. I think everyone here is really honest with each other and just wants to make good music." 
He also mentioned his gratitude for working with another musician and close friend of his at school — Will Dooley.
Dooley, another Mac-based artist, is a part of the musical duo Phonie alongside Georgia Boutout, who, anfter graduating last year, moved to New York. 
"She sings and I do… basically everything else," he said. "We met through tech theatre — she was friends with one of my friends, and one day Georgia texted me. I didn't even have her number, and she was like 'Do you want to make music?' and so I said okay, and that's how it all started — very random." 
Since then, the two have put out two albums and played several gigs thanks to Dooley's co-creation of Five Pin Productions, a record label and production company for musicians at McCallum. He has also collaborated with some of these other artists, such as Mathias and The Point. 
"The Point and Jay and I collectively are a set group, and we play shows together," he stated. "Everyone [at McCallum] is always helping each other out. Shows that I've gotten opportunities for and couldn't play I've given to Jay and vice versa. It's really nice to be a part of."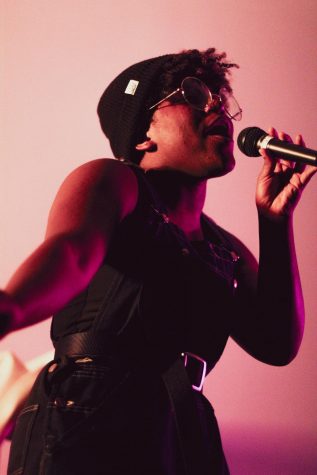 Junior Marlee Foster has also grown to be a part of the Mac musical community, as well as the industry itself, with two released singles — "Red Eyes" and "Boys Club".
"When I was little, I used to like writing songs and it just became something I was obsessed with," she recalled. "I've always been a singer, so it just kind of became my dream to become a singer-songwriter…  it's just something I'm always gonna do because, well, I can't stop." 
Foster also expressed her gratitude for living in Austin, specifically for the opportunity to have been introduced to a recording studio, which she discovered through a fellow musician. When asked if she had anything to add, she wanted to express that if anyone is even considering starting to release music, "it is a process, but it's 100% worth it."
And, of course, this isn't to say that these are the only creators at Mac — other musical groups including Deva, Flip 45,  Pit Punch and Pax among them — also reflect this passion for the music community, and countless students participate in fine arts classes through the school. From basses to beats, late night musical theatre rehearsals to afternoon Coffee House showcases, the culture in which our school and city is rooted surrounds us in our day-to-day lives, and for these students this music has become not only an aspect of life, but a lifestyle itself.