Pride of Mexico shines in the MAC
Ballet Folklórico and friends celebrate Hispanic heritage McCallum style with a full Cinco de Mayo dance show
Sofia Arredondo, JoJo Barnard, Kate Boyle, Isley Cameron, Amaya Collier, Chloe Lewcock, Gergő Major, Caroline Owen, Alice Scott, Ingrid Smith, Tóth Tamás Vitold, and Dave Winter
May 9, 2023
After enthusiastic advertisement by Spanish teacher and Ballet Folklórico sponsor Juana Gun, students purchased tickets and left at the beginning of eighth period on Friday to celebrate Cinco de Mayo McCallum style. Audience members gathered in the MAC to watch a program complete with traditional Mexican dances, a royal court and vocal performances.
Juniors Maggie Coulbourn and Ana Mejia served as "mistresses of ceremonies" and introduced the audience to the first treat of the night: a performance by a four-piece Mariachi Internacional ensemble. After a greeting by Gun came a series of folkloric dances from Panamá. Then, the mistresses of ceremonies declared the royal court in session. Junior Isai Villarreal-Pacheco and freshman Tristen Diaz were crowned king and queen after winning a fundraising competition for the Cinco de Mayo show and McCallum Spanish program.
Ballet Folklórico took the festivities to a new high with its opening number "Jarabe Tapatio," or "Mexican Hat Dance," Mexico's national dance. Dressed in charro suits and china poblana dresses, members revolved around a sombrero placed on the floor. Ballet Folklórico paid tribute to music and dances from various Mexican states including Veracruz and Chiapas.
The program continued with Spanish vocal performances, dances and guitar performances all by students. Near the end of the night, 2013 McCallum alum Crystal Vara took stage to perform two songs, "Cucurrucucú Paloma" and "Volver Volver." She wasn't the only Mac alum to take part in the program; Valeria Elizondo from the class of 2014 served as dance instructor for Ballet Folklórico. The program wrapped up with "El Baile de Huitlacoche," an audience participation dance that filled the auditorium with smiles and silly moves. 
We are proud to present some of our favorite snapshots and our exclusive highlights video from the Cinco de Mayo celebration in this week's Tuesday Top 10.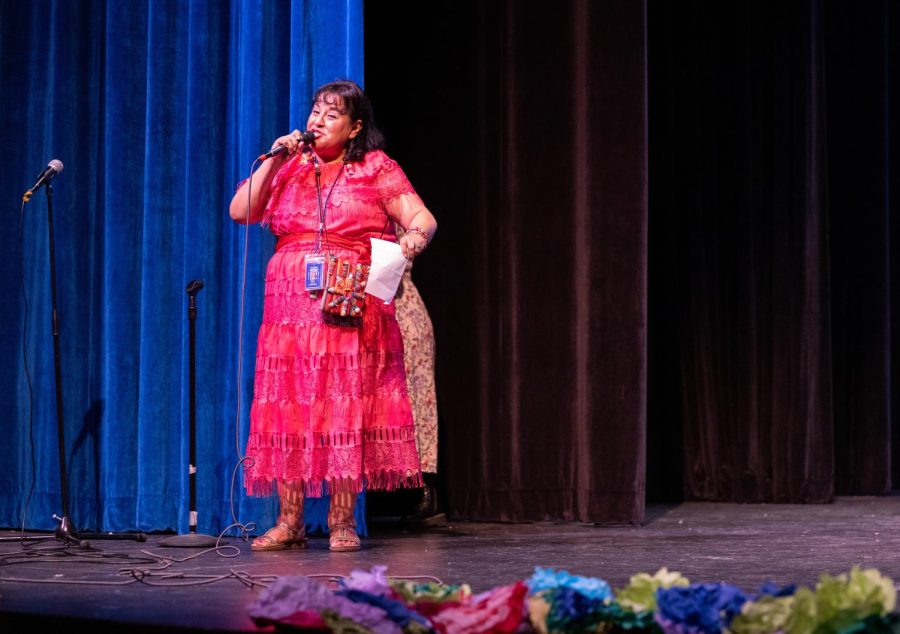 TRES ES EL NÚMERO MAJIC: The Cinco de Mayo celebration came less than a month after Ms. Gun and her colleagues pulled off a schoolwide quinceañera. In hindsight she admitted she staged the events too close to each other. But she stressed that even though she is exhausted, she remains committed to celebrating three Hispanic traditions: quinceanera, Cinco de Mayo and Dia de Los Muertos. "Day of the Dead is so special to me because it is about honoring the lives of your loved ones, people who molded you, influenced and impacted you. The quinceañera she said is more about helping dreams come true. "If we can help by fundraising for the dresses, everything else falls into place because of the community and … again … the importance of family." The Cinco de Mayo show, Gun said, serves to showcase the Ballet Folklórico dance troupe before an audience of their peers. "They mostly perform at elementary schools or businesses, it's about celebrating our Hispanic heritage." Despite the fact she feels too old to be putting in the work to make all three events happen, she feels they are all essential. "I am passionate about all three. My heart is overflowing with love and pride for all those kiddos and staff who have helped me." Caption by Dave Winter. Photo by Gergő Major.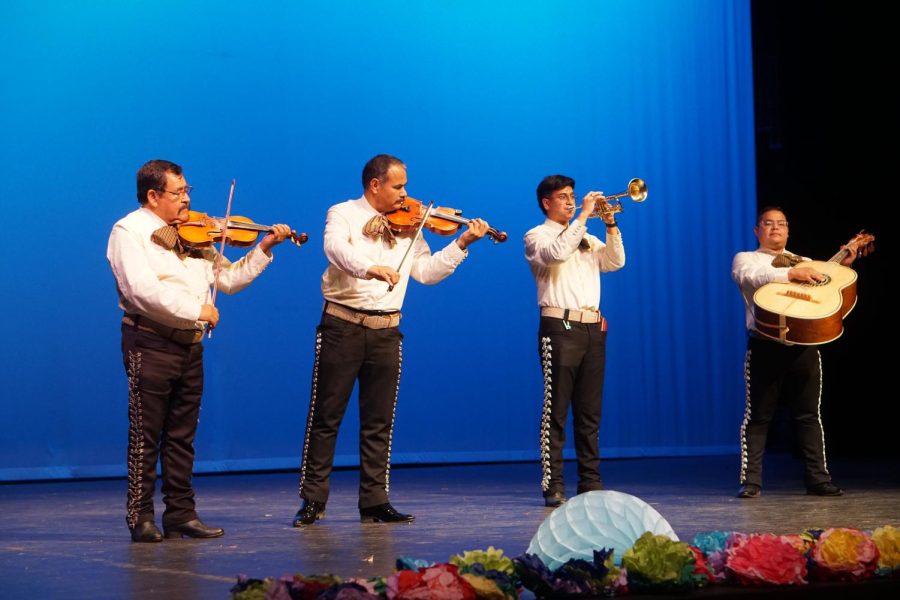 A MEMORABLE OPENING ACT: The mariachi quartet, Mariachi Internacional, was the opening act for the Cinco de Mayo celebration in the MAC last Friday. Eventual Cinco de Mayo king junior  Isai Villarreal-Pocheco said the mariachi performance was his favorite part of the celebration. "I love listening to live mariachis," he said. "It's a very unique way to play music and it's amazing to see how it's done." Caption by Dave Winter. Photo by Sophia Arredondo.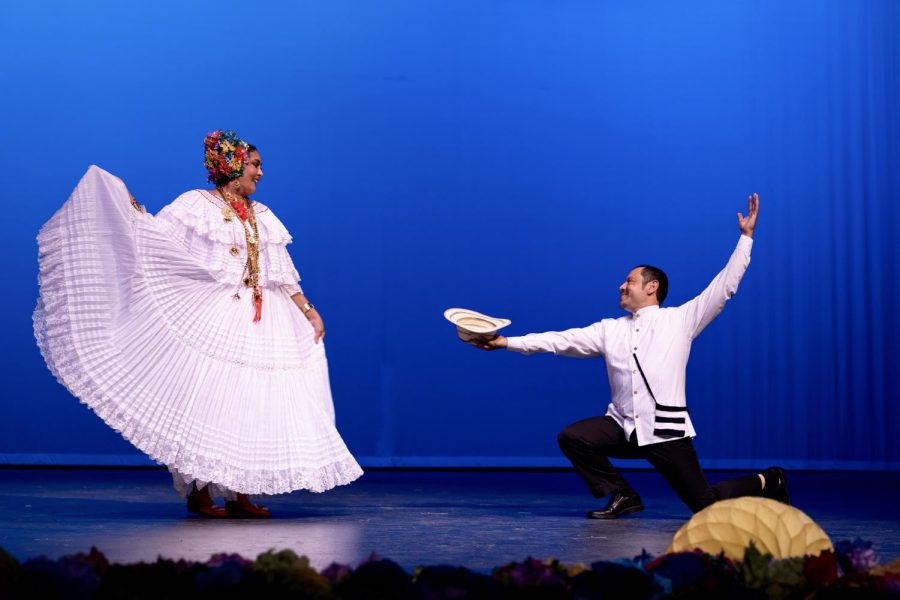 FOLKLORE Y RITMOS DE PANAMÁ: Sonia Acosta and Fernando Vilca perform "El Punto," the first of three folkloric dances from Panamá that the professional dance troupe performed Friday in the MAC. The troupe also performed "El Tinajero" and "Cumbia Viva Panamá." Event organized Juana Gun praised the audience for being attentive and polite during the performance and the mariachi performance that preceded it. Caption by Dave Winter. Photo by Gergő Major.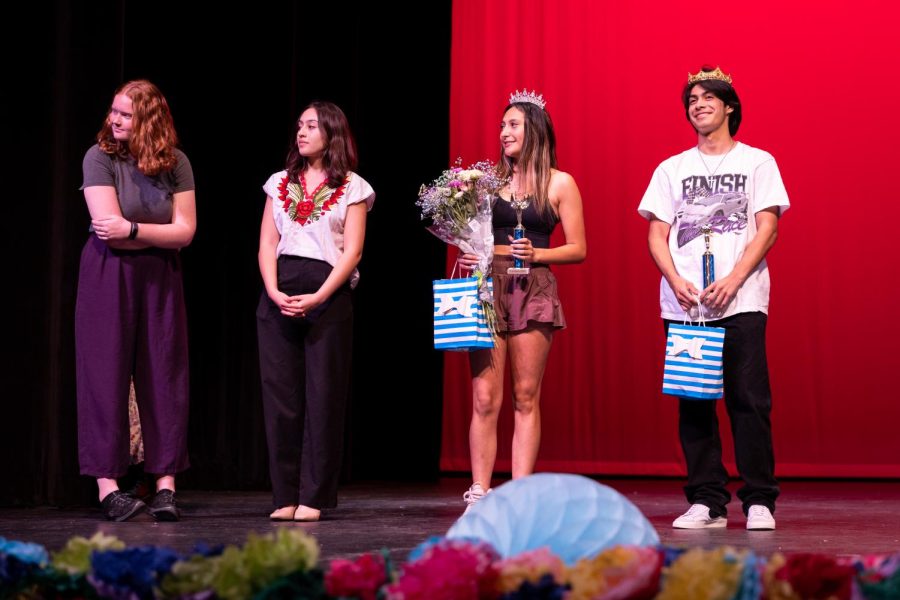 ONE SHINING MOMENT: Junior Isai Villarreal-Pocheco is crowned to Cinco De Mayo court alongside winner Tristen Diaz and mistresses of ceremonies Maggie Coulbourn and Ana Meija. For Villarreal-Pocheco, being called up to the stage was a fitting honor after his contribution to the Spanish program. "I was just really happy that I was able to raise as much money as I did," he said. Besides the warm feeling of having done a good deed, Villarreal-Pocheco was also awarded Payday chocolate bars, candy, a trophy, and a party for his Spanish class. "Basically my entire class started cheering for me as soon as Ms. Gun announced my name into the crowd," Villarreal-Pocheco said. Caption by Caroline Owen. Photo by Gergő Major.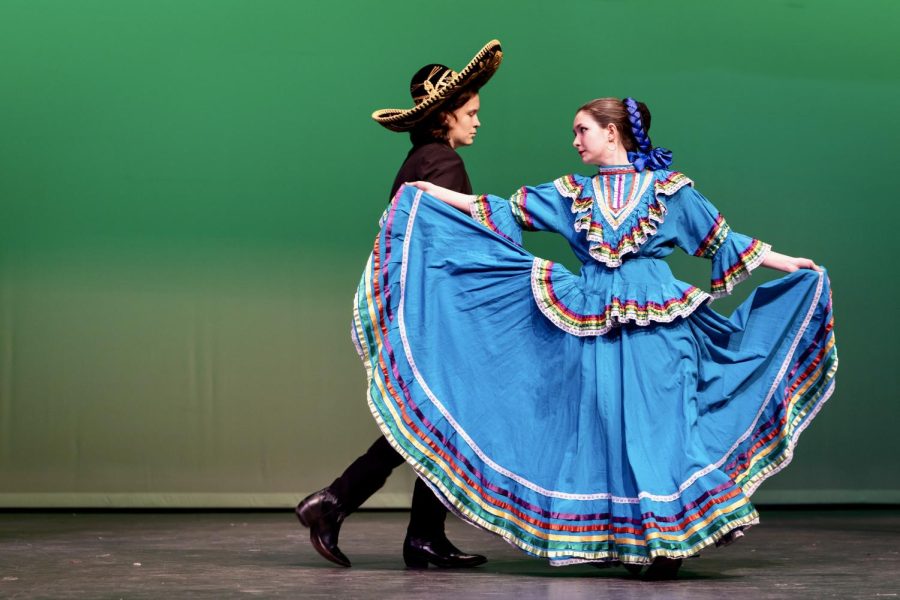 ASSERTING MEXICAN IDENTITY: Freshman Abigail Peacock and sophomore Maverick Palacios perform the first Ballet Folklórico dance of the Cinco de Mayo show. The dance, called "Jarabe Tapatío," is also known as "The Mexican Hat Dance." Peacock joined Ballet Folklórico because she wanted to try something she hasn't done before. "I saw them perform a number of times when I was in elementary school," Peacock said. "I always admired the dancers so much." Peacock's favorite part of the show was when she was able to bring friend Lila Cisneros-Wise on stage during the last dance.  "We got to bring people up on stage with us," Peacock said. "It was fulfilling seeing everyone so excited and want to participate. Lila has always been enthusiastic about me dancing folklórico, and she is a really fun person, so I thought she'd be good to dance with." Peacock felt that this show was important to embrace Mexican culture. "Cinco de Mayo helps Mexican Americans assert their identity while living in the U.S.," Peacock said. "This particular celebration helped bring Mexican culture to McCallum." Caption by Kate Boyle. Photo by Gergő Major.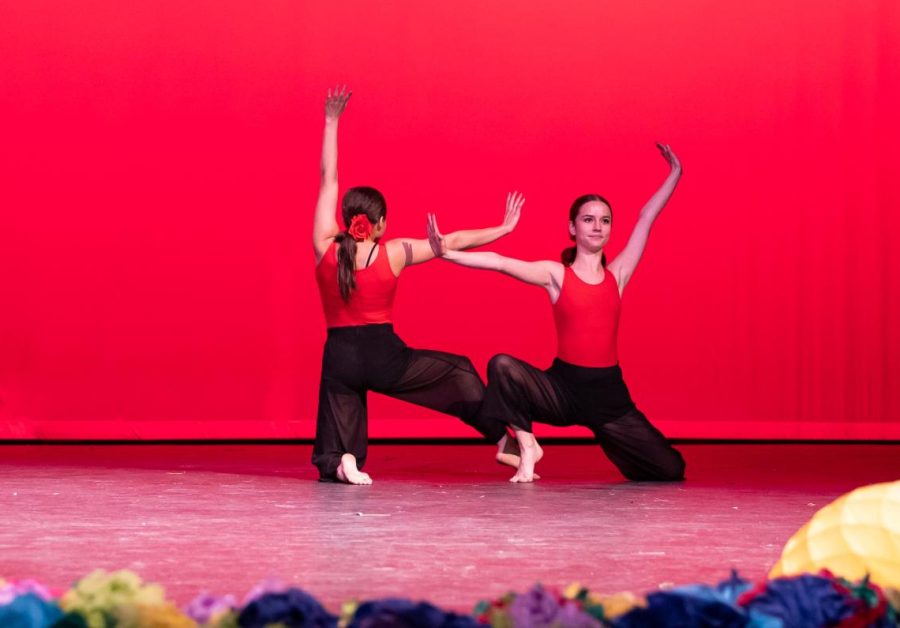 THERE'S MUSIC THERE'S DANCING! : During Friday's Cinco de Mayo celebration, the Mac stage filled with live mariachi, live singing and most of all live dancing. The show was thrown eighth period and for a $5 entrance fee, students got to see and celebrate Cinco De Mayo. Freshman Emerson Merritt (right) and her dance partner Chloe Seckar-Martinez filled the stage with their duet, "Todos Juntos nos Unimos" set to "La Flecha y Mi Corazón." "The most fun part of our performance was just the opportunity we had to perform at Cinco De Mayo." Merritt said. "The crowd was really supportive of everyone who performed, and it was just a fun environment overall." Because of COVID, the Cinco de Mayo celebration has been missing from the McCallum stage for a few years. "It was really fun to watch backstage and see everyone else's performances." Merritt said. "I have never done anything for Cinco de Mayo so I thought it would be fun to try something new and put our duet out there." While Merrit has been performing dance for most of her life, she said this performance had a different feel to it. "I got to watch and perform styles of dance I wasn't really familiar with and haven't done in the past." Merritt said. "I've been performing since I was little but nothing like this." Caption by Chloe Lewcock. Photo by Gergő Major.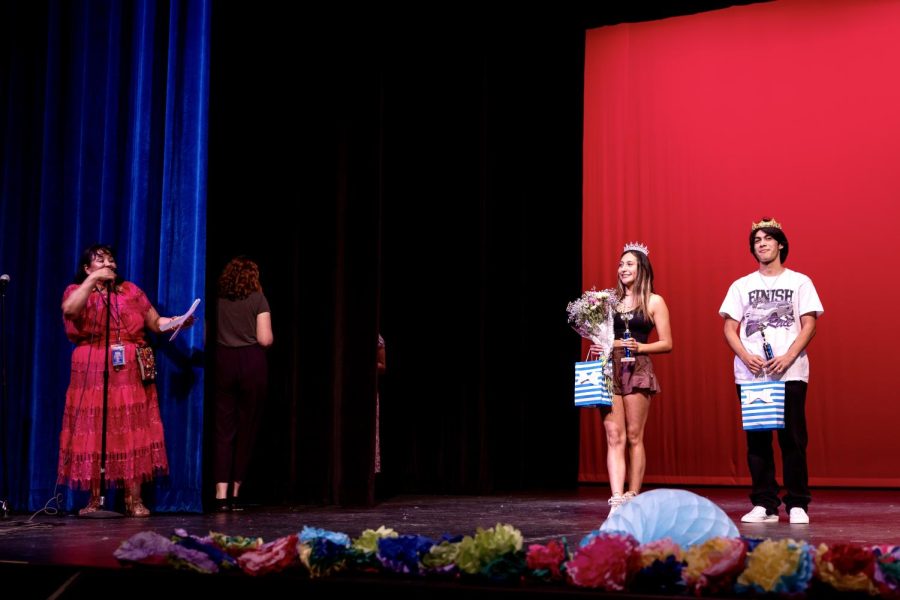 A CROWNING ACHIEVEMENT: A part of the Cinco De Mayo festivities consisted of crowning a king and queen. To win, competing students had to raise the most money and the top donors were announced at the Cinco De Mayo celebration. Junior Isai Villareal-Pacheco and freshman Tristen Diaz raised the most money and so they were crowned king and queen at the celebration, "Nothing happens now that it's over, just happy to help out." Diaz said. The proceeds go into putting together this performance and helping out Ballet Folklórico. "I actually entered late into the competition," Diaz said, "I was left with only two days to raise the money." Caption by Isley Cameron. Photo by Gergő Major.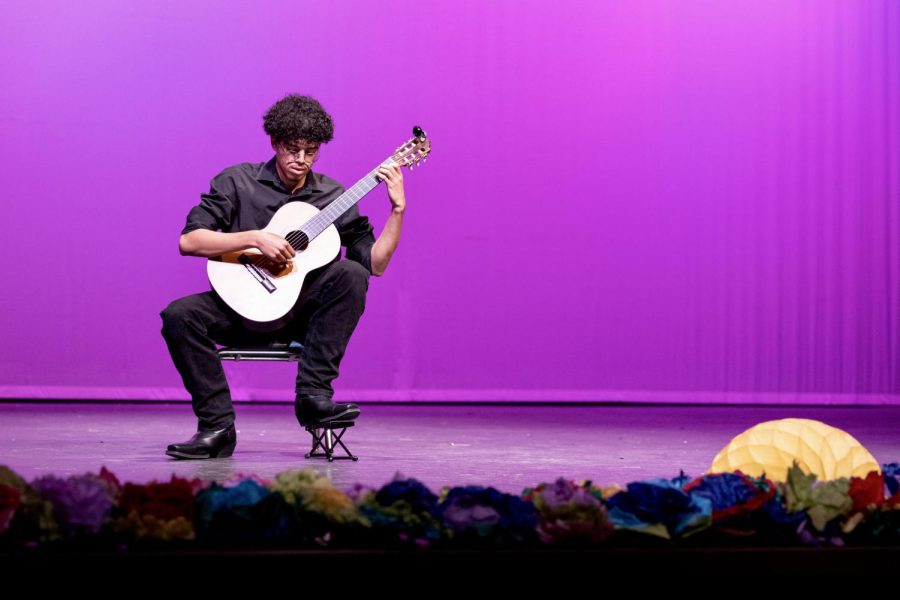 MIXED AND IMPROVED: Senior Aaron DeGante performed his original song, "Malagueña," at the Cinco de Mayo celebration in the MAC on Friday during eighth period. After being asked to  perform at the event, DeGante thought to himself. "I have the perfect song." As a guitar major, DeGante was excited to have an opportunity to perform his original piece at the showcase. "It felt amazing to perform," he said. "I've never really played that solo for an audience before so it was lovely to see people's reactions to it." DeGante took influence from Malagueña, a genre of folk music from eastern Venezuela. "I've listened to a bunch of Malagueñas and some of them had really cool sections that would sound better if they were combined into other Malagueñas, and I did just that," DeGante said. For DeGante this moment was very special as he got to share his individually crafted piece. "I took sections of other Malagueñas and made my own, so it's significant to me because I made it." Caption by Amaya Collier. Photo by Gergő Major.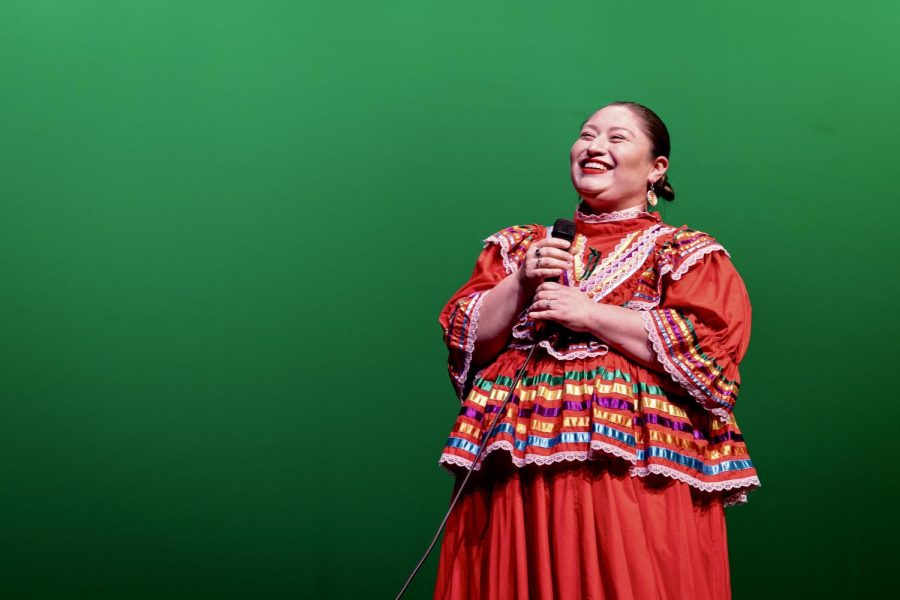 JUST KEEP SINGING: Class of 2013 Mac alumna Crystal Vera sang two songs, "Cucurrucucú Paloma" and "Volver Volver." Spanish teacher and event organizer Juana Gun said the performance was her favorite part of the show. She started crying as Vera began singing her first song. "I remembered that she joined Ballet Folklórico as a freshman and did that plus choir all four years," Gun said. "Seeing her become a wife, a mother of two little girls, [while] holding down a job working with daycare kids and still singing just melts my heart." Caption by Dave Winter. Photo by Gergő Major.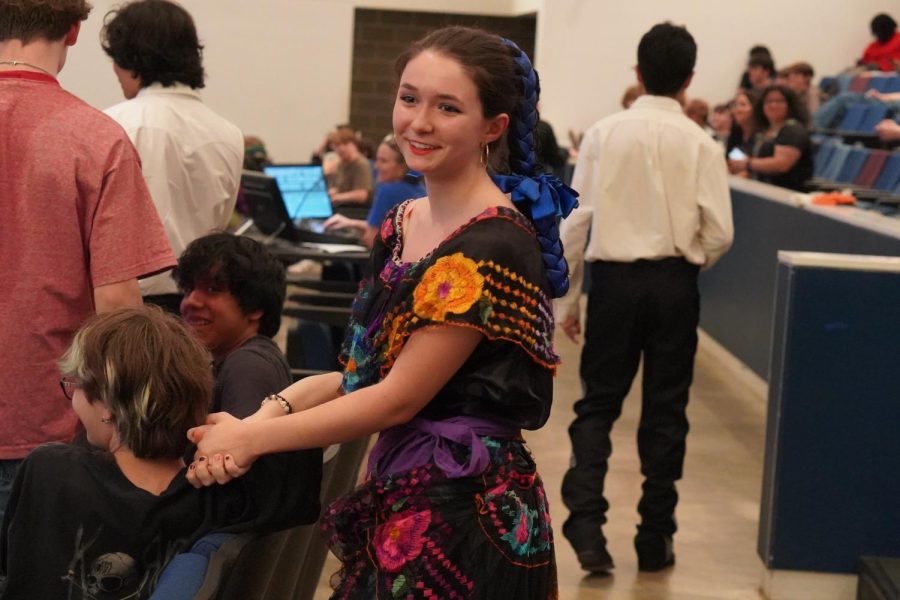 YOU CAN DANCE IF YOU WANT TO: Freshman Abigail Peacock looks around before selecting her friend, Lila Cisneros-Wise, to dance on stage with her. This was Peacock's favorite part of the show. "There were so many enthusiastic people who were willing to participate," Peacock said. "And it was really fun to dance on stage with a familiar face. It made me a lot less nervous." Peacock said the initial anxiousness was all worth it in the end. "I liked getting to showcase what we [Ballet Folklórico] have been working on to everyone because we work so hard, and it's not a club that people see a lot at school," Peacock said. Although high schoolers may not see them a lot, the club often performs for elementary schools. "I remember seeing the McCallum Ballet Folklórico back when I was in elementary," Peacock said. "I thought it was really cool and I felt inspired to join." According to Peacock, joining the club was the right decision. "I've gotten to meet a lot of people through Ballet Folklórico that I wouldn't normally meet," Peacock said. "I can truly say it's been a great experience." Caption by JoJo Barnard. Photo by Dave Winter.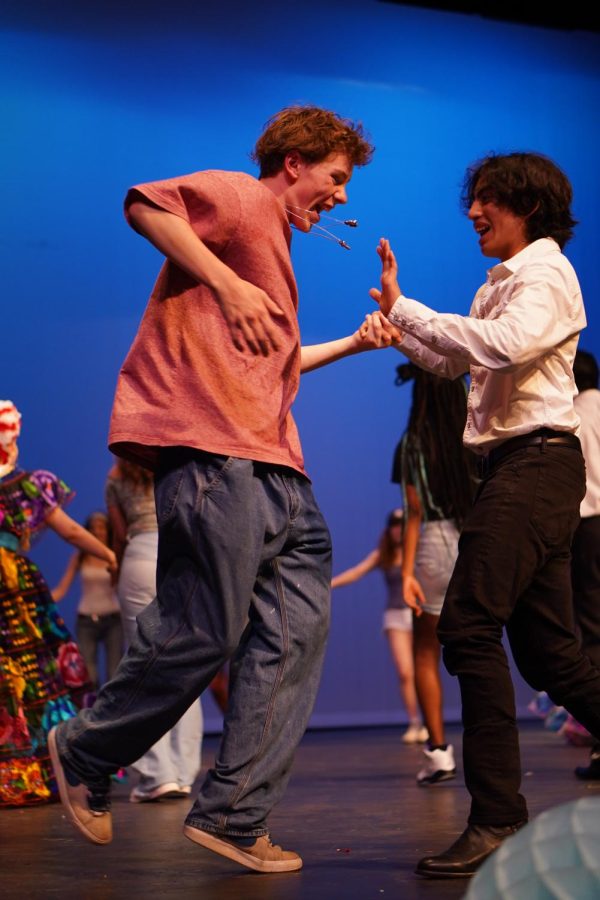 EVERYBODY CUT FOOTLOOSE: Freshman audience member Sam Morse and senior Ballet Folkorico troupe member Abraham Torres participate in the "fun group dance" that brought a close to the Cinco de Mayo show in the MAC on Friday. Each Ballet Folklórico member went out into the crowd and found a volunteer to join them on stage for the closing number of the show. "The crowd seemed to really enjoy the audience participation dance that we closed with," said Juana Gun, the event organizer and the sponsor of Ballet Folklórico. Photo and caption by Dave Winter.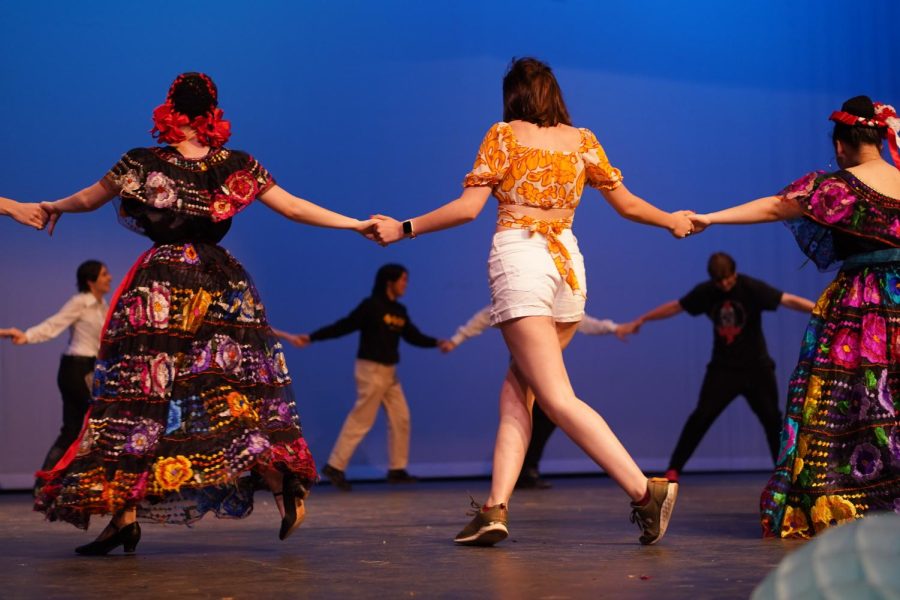 A TURN OF EVENTS: Sophomore audience member Satya Morgan was encouraged to join the group dance at the end of the show by a total stranger. "My friend came over to look for people, and I said I would volunteer if she couldn't find anyone else," Morgan said. "She ended up finding someone, but someone else overheard and brought me up with them." Although she ended up on stage in a pretty random way, Morgan made the most of the experience. "I ended up enjoying it," Morgan said. "It was kind of fun how unexpected it was. It was spontaneous." Caption by JoJo Barnard. Photo by Dave Winter.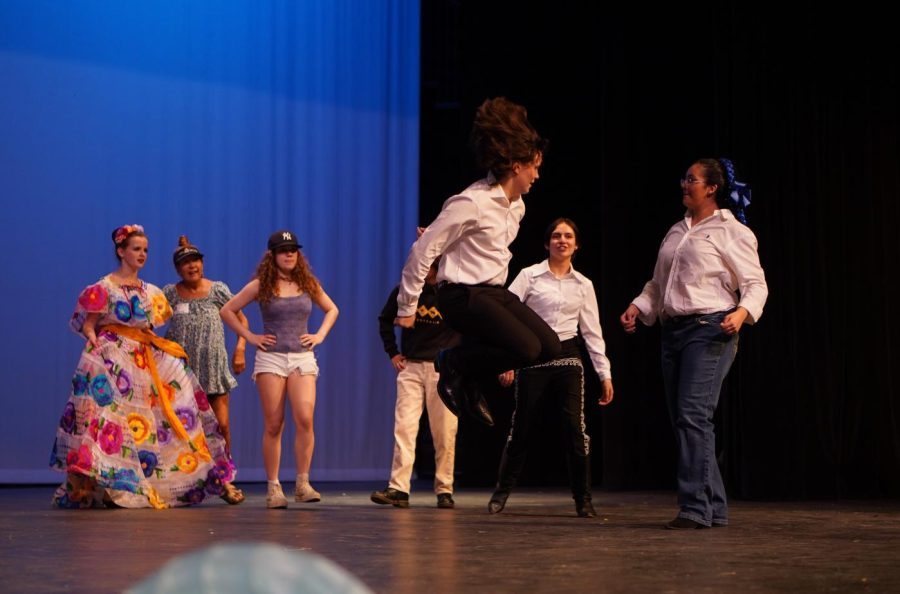 BIG FINISH: Junior Keegan Sarwate joined other members of the Ballet Folklorico club and audience members in final dance, "Boda." The title, which translates to "Wedding" in English was representative of the dancers' energy during the number. "The other dances are very choreographed and structured," Sarwate said. "But this one is mostly just us doing what we wanted to do, which is very true to the spirit of Mexican celebrations like weddings and quinceañeras." Because this dance was all about the fun of it, there were many different plans for the choreography. Even though not all ideas were executed, Sarwate felt that it remained high energy throughout. "There were a lot of plans for this dance that didn't end up happening, specifically a part where the other guys were going to throw me," Sarwate said. "But I think the audience participation and the dance we ended up with was just as much fun as we planned it to be." Reporting by Alice Scott. Photo by Dave Winter.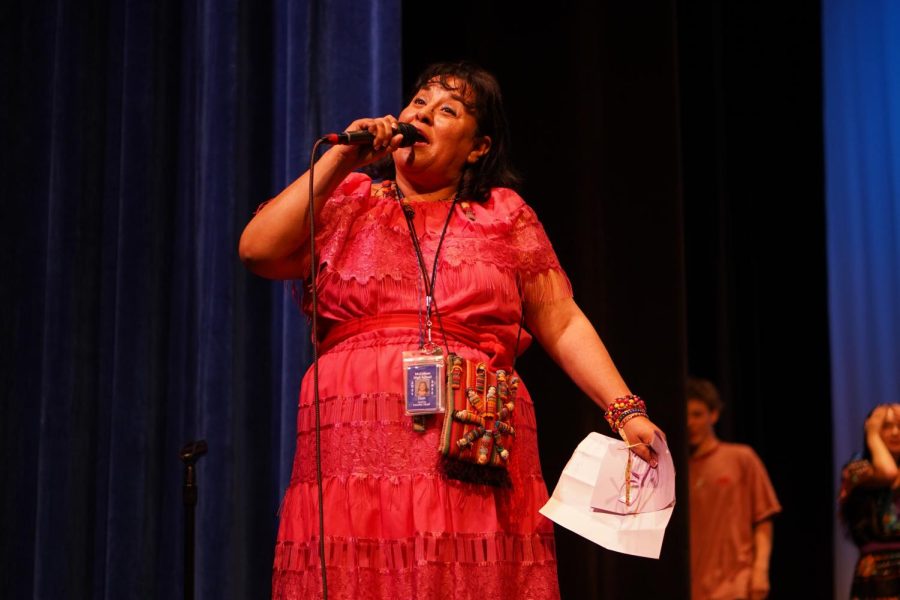 CROWD ATTRACTED THEN ENTERTAINED: Event organizer, emcee and Ballet Folklórico sponsor Juana Gun had to overcome a lot of obstacles to bring the Cinco de Mayo celebration to fruition. Not being able to make daily announcements (due to standardized testing) forced the teachers and students to sell tickets directly to students. "We stalked out hallways," Gun said. "I walked through social studies and math rooms to speak to lunch bunch kiddos." In the end, the organizers were able to get the crowd to the size they wanted, and Gun praised the crowd for being very polite to the mariachi band and to the dance troupe from Panamá. She was also encouraged that they participated so enthusiastically in the audience participation dance that closed the show. Photo and caption by Dave Winter.