'Cows' a graze show with mooving performances
Led by writer/director/choreographer Anderson Zoll, Mac's finest artists make most of chance to be scene, herd
Last Tuesday and Wednesday, MacTheater students debuted Cows: the Moosical—a farmyard and frontier set metafiction musical comedy entirely performed, written and directed by students.
Senior director, writer and choreographer Anderson Zoll conceptualized the show last year and began early songwriting with the help of cast members Atticus Adair and Addie Knight. When freshman Maggie Brown joined the team as a composer and pianist, the moo-iscal moved towards the stage.
The show follows a narrative within a narrative: the curtains open with Farmer (Maya Cidale) telling the story of Cows: the Moosical to Farmer's Daughter (Sydney Safarik). As Farmer narrates, the pair sit back and watch the plot unfold.
The heifer of the hour is Betsy-May (Addie Knight), who just won first place at the county fair and can finally achieve her dreams of dancing in the cow ballet. It quickly becomes clear, however, that Betsy-May is not being sent to a prestigious bovine studio but rather to Ms. Wickershaw's (Lauren Ryan-Holt) Meat Processing Plant. This turn of events upsets Farmer's Daughter, who wishes nothing but the best for her dear Betsy-May, and prompts her to whip out a pencil and begin rewriting the story, much to her mother's dismay.
As Betsy-May faces cyclones, heartbreak and predators out on the open range, the question becomes not what will she do next, but who determines her choices— an omniscient narrator, herself, or something beyond the McCallum Fine Arts Building Theater stage?
We are proud to present some of the most moo-rvelous photos from the two-night run of Cows in this week's Tuesday Top 10.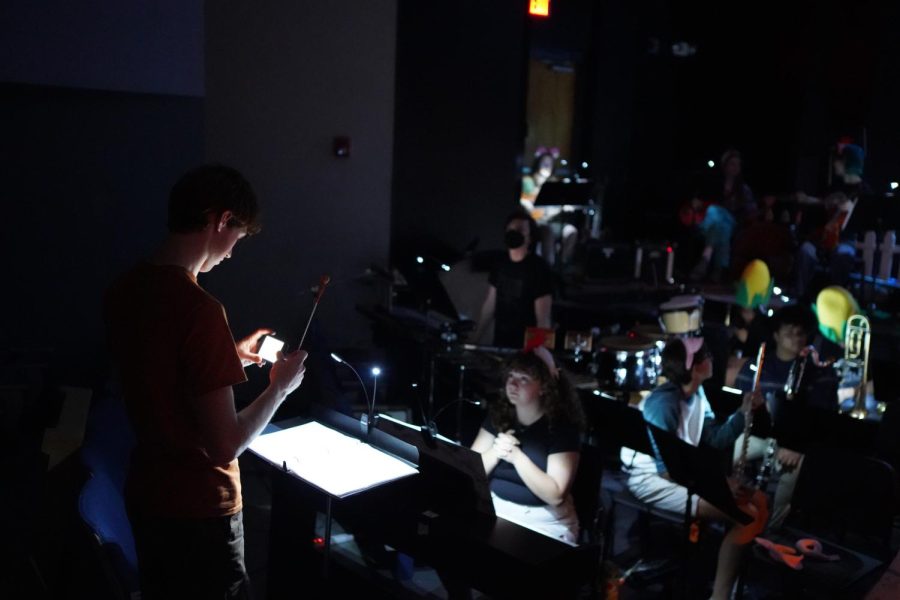 MAKING A SHOW: Freshman composer and pianist Maggie Brown practices during a dress rehearsal with senior conductor Oliver Harrington. Brown joined the Cows team a few months after the show's conception at the Pippin sitzprobe. She had heard that senior Anderson Zoll was writing a musical and wanted to offer up her composition skills.
"I had never written music to accompany lyrics before," Brown said, "but I knew Anderson, Atticus [Adair] and Addie [Knight], and I wanted to take a chance at the opportunity to help."
That very night, Brown, Zoll, Adair and Knight wrote "Cyclone," an action-packed and genre-blending number.
"It began with them giving me songs that had a tune, but no instrumental," Brown said. "Eventually I taught myself how to write for other instruments like violin [and] trumpet."
A longtime pianist, Brown has been up to her neck in music for the past seven years, but she didn't start composing until a theatre class project earlier this school year.
"I have a lot of experience with music theory and how songs are structured, so all of that prior knowledge came together for me to write songs," Brown said.
The combination of experience and courage of trying something new culminated in an entirely original soundtrack. Still, the writing process was a whirlwind—some of the songs came together less than a month from open night.
"That's the thing about completely student-written musicals," Brown said. "You have to be very flexible since you're writing and directing a show all at once."
Brown also worked as a vocal director, meaning as soon as she finished the music's score, she taught vocal harmonies to the cast. And she led the pit on piano. When opening night arrived, Brown and Harrington were put to the test of tying up last-minute loose ends.
"The orchestra was full of some of the most talented musicians in the school," Brown said. "But there was still the matter of getting cues worked out, checking vocals against the orchestra, as well as giving last-minute notes. I've been on stage for almost every other show I've been in, but Cows had me more excited and nervous than any show I've done previously."
Before stepping out to start off the show, Brown allowed herself a moment to bask in all her hard work.
"Right before the show started, Anderson and I stood back stage and hugged each other saying, 'We did it! We made a show!'" Brown said. "Closing night was just as magical, if not more."
Caption by Francie Wilhelm. Photo by Alice Scott.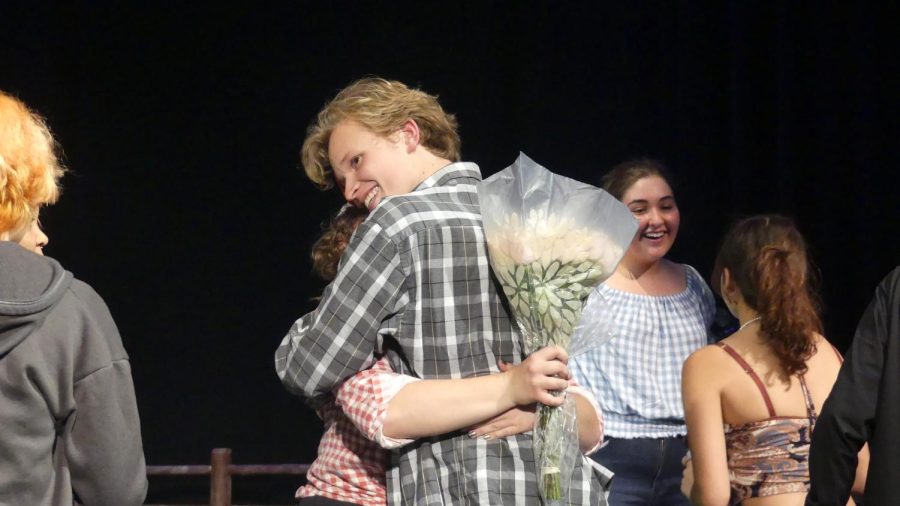 VISION TO FRUITION: Senior Anderson Zoll hugs freshman Maggie Brown after the closing night of Cows: The Moosical last Wednesday.
Despite the two narrators seen on stage throughout the performance, the real storyteller of Cows was senior Anderson Zoll, who transformed Cows from an idea to a full-scale production.
"I helped produce a musical last year, and that had such a big impact on me that I knew I wanted to continue to write, direct, and choreograph," Zoll said. "The main inspiration for Cows specifically was the name Cows: The Moosical. I liked the title and created a show that would fit it."
Despite the lightheartedness and goofy feel of Cows, the show was made possible only through hard work and effort not only Zoll but also the many students who helped him bring his vision to fruition.
"Some of my favorite moments were the late nights I spent in practice rooms with my friends building harmonies, accompaniment and lyrics." Zoll said. "I had so much fun during the writing process of this show, and I am really happy with how it turned out."
The process of putting together a full musical; writing, choreography, set, costumes, music, lighting—it's hard to do all at once. With cast and crew members busy schedules, there wasn't a single day where everyone was available until the days of the show.
"It was super rewarding to see it all come together so quickly," Zoll said. "I was extremely happy to see that the writing worked and that the story was reading well to the audience. The only time we had everyone there at the same time was the days of the show, so it was definitely very stressful. But the Cows community worked so well together, and I am extremely proud of the end product."
Caption and photo by Julia Copas.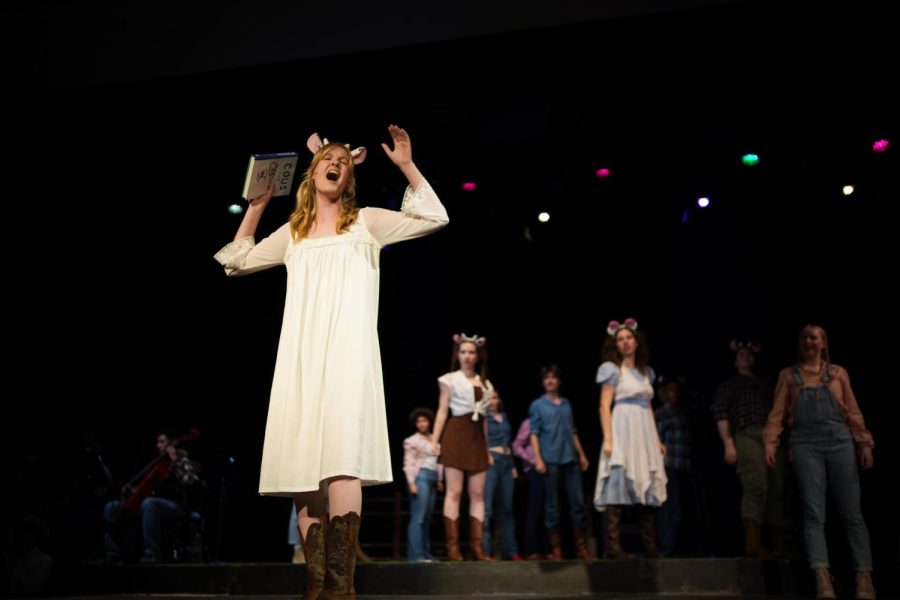 KNIGHT TIME INDEED: Junior Addie Knight (Betsy-May) performs "Beefing with my Destiny" during the opening-night performance of Cows: the Moosical.
The opening night was the ensemble's first full run of the play, as it was discovered that the programming of the stage lights had been completely deleted, forcing the lighting designer to reprogram them only hours before the performance would begin.
This unforeseen challenge prevented the ensemble from rehearsing on stage the day of the premiere, making Knight nervous. Despite this disruption, Knight remained largely optimistic.
"The first night was really nerve-racking, but by the time we had finished the first act, we were all too excited to be nervous."
The play was designed entirely by students in the Fine Arts Academy, which created a unique atmosphere around the project and allowed the students to work in a more natural environment.
"While we were all still super focused, It felt a little more like hanging out with friends than other rehearsals I've had in the past," Knight said. "We would have rehearsals after school wherever we could find space."
Ultimately, Knight feels that the experience helped her as a performer, and she was happy with how the whole project turned out.
"At least personally, I know I couldn't have wished for a better opening night, especially considering the circumstances."
Caption by Lucas Walker. Photo by Lanie Sepehri.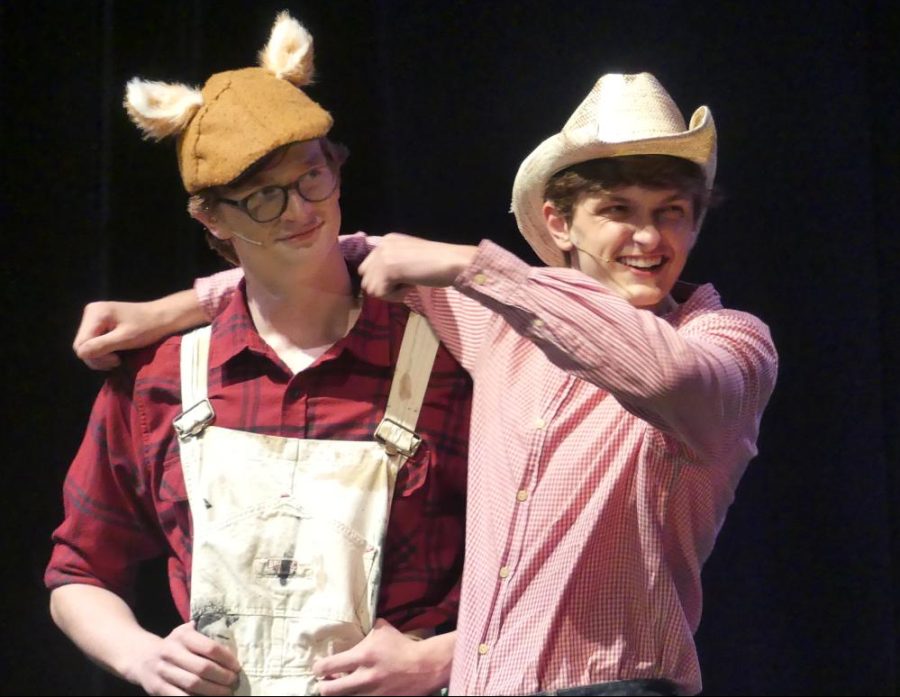 TAKING THE REINS: Senior Atticus Adair (Samuel) stands next to junior Henry Mayes (Cowboy Clyde) as he decides between his duty and his desire to help Betsy-May. In addition to playing a lead role in the show, Adair also helped write the music for the show. Adair, who has worked on numerous past McCallum productions, noted that the creative process for Cows was unlike any other he'd worked on.
"I think the main difference was that it was all student-led," Adair said. "Everything was done by kids. We had such a big task to pull everybody [together] for a full musical, a full two acts, songs, orchestration, whatever. It was stressful, especially the last week leading up to it because we were kind of scrambling to make sure everything was ready. If it was a flop, it was kind of on us. So it was stressful, but I think in the end, the reward was so much better because it was all done by students."
Adair felt that the fact that the production was entirely newly created relieved some of the pressure to get it right, as there was no standard to live up to. Also unprecedented was his role itself — Adair played the love interest, Samuel, who just so happened to be a horse.
"It was just so absurd — a cow falling in love with a horse and singing a whole sappy love ballad [about that]," Adair said. "I think my favorite part was on the first night, when me and Addie were singing it, we weren't sure how people were going to take it. [We weren't sure if] people would be like, 'This is funny, but really weird.' People were kind of like that, but we just hammed it up and played into the weirdness aspect of it."
Caption by Lanie Sepehri. Photo by Julia Copas.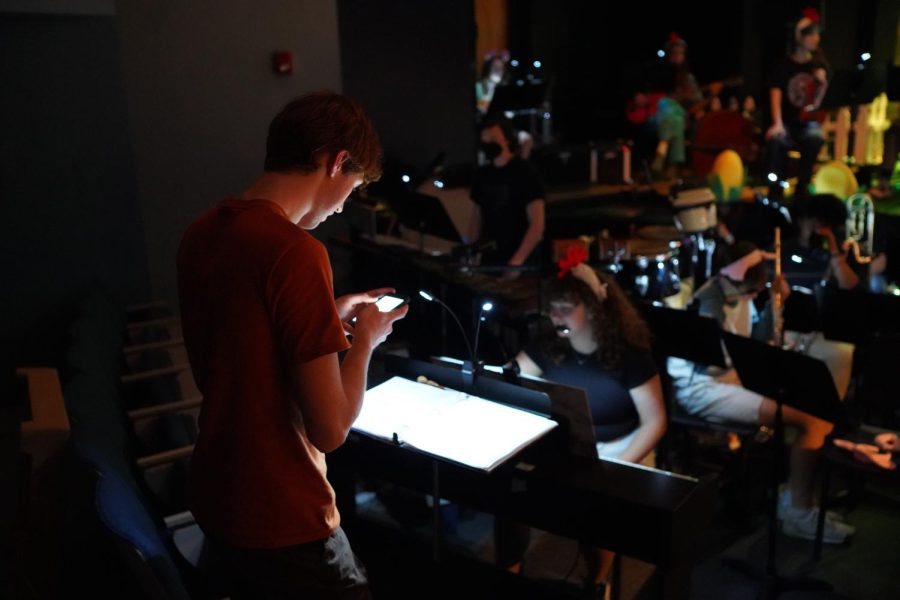 THE MAN BEHIND THE MOOSIC: Senior Oliver Harrington checks his phone at the conductor's podium in front of the full pit orchestra. When Harrington was first approached to be part of Cows: The Moosical, he was initially scouted to play percussion in the live pit orchestra. Harrington, who was the percussionist in MacTheatre's production of Pippin at the time, had a different idea.
"I said, 'Well, I don't know if I want to do another musical as a percussionist, but I would be totally up for orchestrating it,'" Harrington said.
With that, Harrington became the orchestrator for the show. Harrington orchestrated about half of the songs in the musical, which entailed writing out each part for the 15-piece pit orchestra to accompany a piano score and vocal parts.
"I've written a couple of pieces for the steel band here before, but I've never written anything as complex," Harrington said. "It's a very different type of music from anything I've ever written. It was awesome getting to hear it in person for the first time—especially because it was all of my friends, who are like pretty much the best at their respective instruments at McCallum, playing it, so that was that was a really cool experience. Hearing how it fit in when we put it with the cast and everything was really rewarding."
Harrington's role didn't end there. In addition to orchestrating, Harrington also conducted the live pit orchestra. As the conductor, Harrington was responsible for staying aware of certain cues to keep the orchestra on track; however, he felt orchestrating was an overall more challenging role.
"Orchestrations were fun when they came together, but in the process, it was very, very hard work," Harrington said. "Once I got up on the podium and started conducting, it was kind of like I knew the music already."
The lack of adult guidance provided by the student-run musical proved stressful at times; however, it also allowed Harrington greater freedom in his orchestrations, as exemplified by his personal favorite piece, "The Big Moove."
"It was kind of the jam piece," Harrington said. "It was a lot of fun to orchestrate. I didn't have much guidance going into it on how they wanted it to sound, but what I wrote was pretty fun for the orchestra and the cast."
Harrington was impressed by not only how well the orchestra and cast were able to put his pieces together, but also by how smoothly the production ran as a whole. The idea that students could put on a whole musical had seemed wild to him at first, but the result proved it to be both a unique and rewarding experience.
"I think it's definitely something that you probably will only find at McCallum," Harrington said. "It's one of those 'That's so McCallum' things. I never thought I would be doing anything like this, and I'm really glad I was able to be a part of it."
Caption by Lanie Sepehri. Photo by Alice Scott.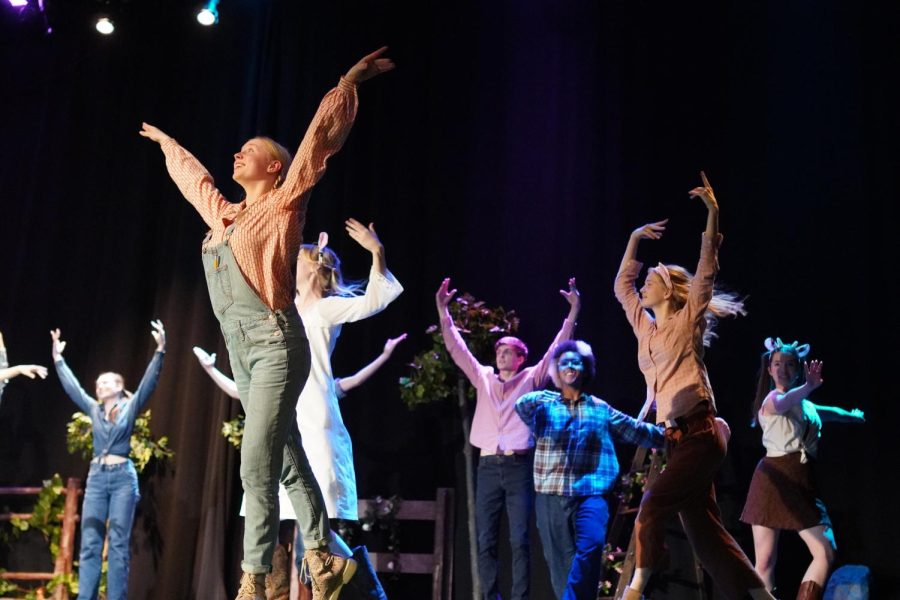 FRONT AND CENTER: Junior Sydney Safarik plays the Farmer's Daughter in the closing number in the opening night performance of the student-produced Cows: The Moosical.
"The highlight of the show was working with some of the most talented people ever and watching everything come together," Safarik said. "It felt good to create something of our own."
While Safarik said she didn't contribute much to the creative process, she worked as a soundboard when senior Anderson Zoll was writing the script and when the creative team put together the score.
"This really goes to show how much we can do without any adult help, and since all of these people on this project are so incredible, it is just the start of our creative careers. I can't wait to see what my peers do next."
The cast and writers were put under crunch time to scrap together resources, produce the musical, and rehearse, but Safarik applauds how everyone managed to come together and put on a great show.
"The audience seemed to think I was pretty funny, which was the goal. I tried to really play off of their reactions, especially when they started mooing at me."
Caption by Elena Ulack. Photo by Lucas Walker.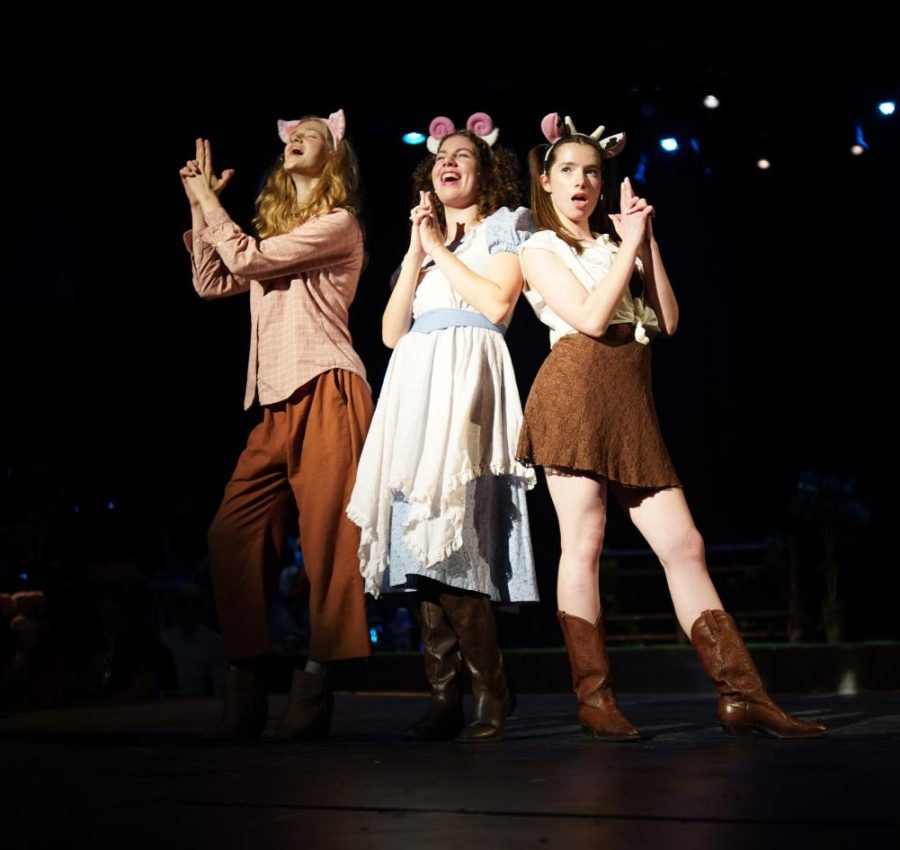 WITH HER HERD: Junior Ellie Loudermilk poses with her "herd." In the musical, the trio went through many hardships together, all for the sake of saving their fellow farm friend: Betsy-May.
"Being in the trio was so much fun," Loudermilk said. "In some parts, he [Anderson Zoll] would give us a random beat, and we would riff off of each other. We'd even make up our own little harmonies."
Even though the production was a big commitment, Loudermilk claims the hard work was well worth it.
"I'd say the musical was very successful," Loudermilk said. "It was really cool to watch it all come together."
Because Cows: the Moosical was the first student-led play Loudermilk has been a part of, she said the show was special.
"The best part was that we were all kids who were super excited about what we were doing," Loudermilk said, "and we put the show all together with no supervision, which I thought was pretty impressive."
Caption by JoJo Barnard. Photo by Lanie Sepehri.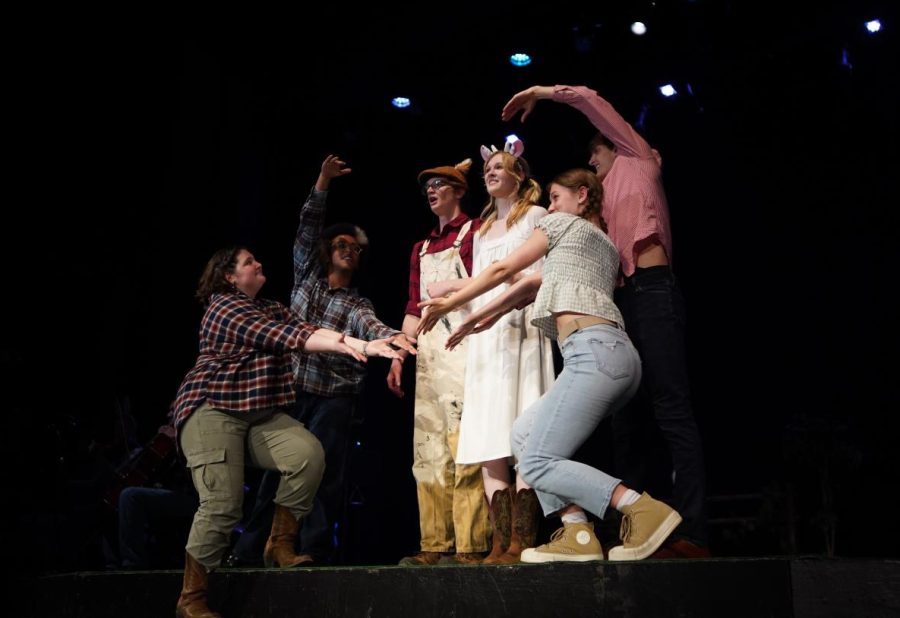 MAKING MOO-VES IN THE ENSEMBLE: Sophomores Zoe Maxwell and Robin Kulhanek, senior Atticus Adair, juniors Addie Knight and Henry Mayes and sophomore Zalie Mann perform "Notice Me" on the opening night of Cows: the Moosical.
Maxwell, who was a member of the three-person ensemble, found dancing on Cows to be an especially intimate experience compared to their past experiences with MacTheatre.
"I had worked with everyone in the cast before, and it was really refreshing to have fun with something that was so homemade," Maxwell said.
Not only was Cows a smaller-scale production but also a faster-paced one. According to Maxwell, rehearsals were hectic but still fun.
"There were probably only a few rehearsals where everybody in the cast was there," Maxwell said. "[Mann] and I spent the week before and of the show running back and forth between Cows rehearsal and Mac Dance rehearsals. It was very much 'down to the last minute' kind of rehearsal, but once the adrenaline kicked in, everything came together."
During this frenzied pre-show period, Maxwell worked closely with director, choreographer and writer senior Anderson Zoll to perfect her performances of the many dance numbers throughout the show.
"I had some prior experience working with Anderson as the choreographer for both Pippin and Descendants, but it was really incredible seeing him work not just for choreo, but writing, staging and managing all together," Maxwell said. "I think he's a great choreographer, and he's super open to suggestions and collaboration."
Once the lights were on and the stage was set, Maxwell saw the fruits of their, and the rest of cast and crew's, labor reflected in the audience's reactions.
"[I loved] watching the cast from the sides and hearing the crowd laugh at all the parts I love in the show," Maxwell said. "I think also getting to perform in the FABT for the first time was a great experience."
Caption by Francie Wilhelm. Photo by Lanie Sepehri.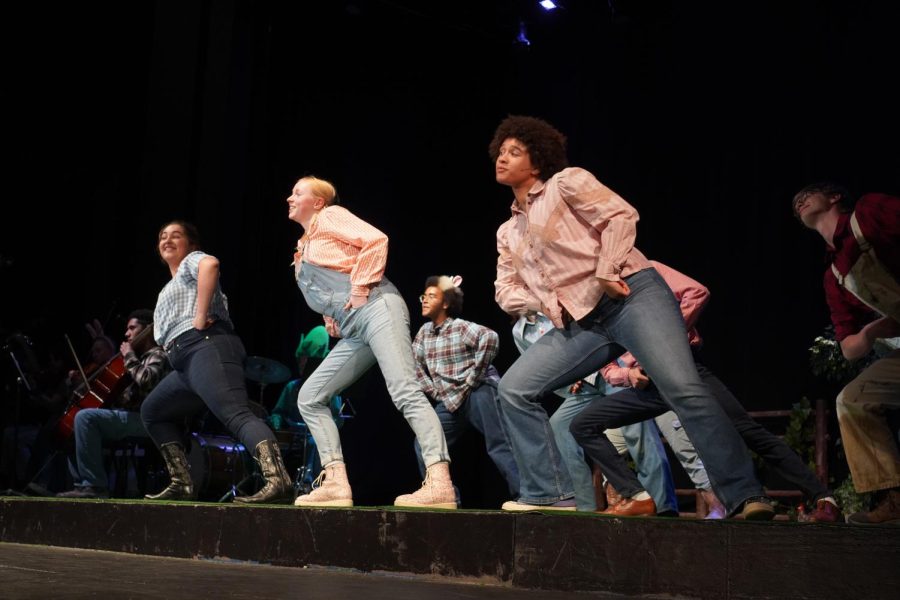 FACT OR FICTION: In the show's opening number, "Counting the Cows," senior Lauren Ryan-Holt (Whickershaw) introduces the story's protagonist. Betsy-May. Ryan-Holt played the main villain in the story, fighting against Betsy-May and her movement to free the cows. But in real life, Ryan-Holt found the experience of working with a completely-student run the cast, crew and pit orchestra very rewarding.
"It's the same process [as a regular show], but from a completely different perspective," Ryan-Holt said. "It's makes me realize how much work it is to put a whole show together and I think that's important for people to understand. Also it was way more fun than I've had on any other show."
Photo by Lucas Walker. Caption by Alice Scott.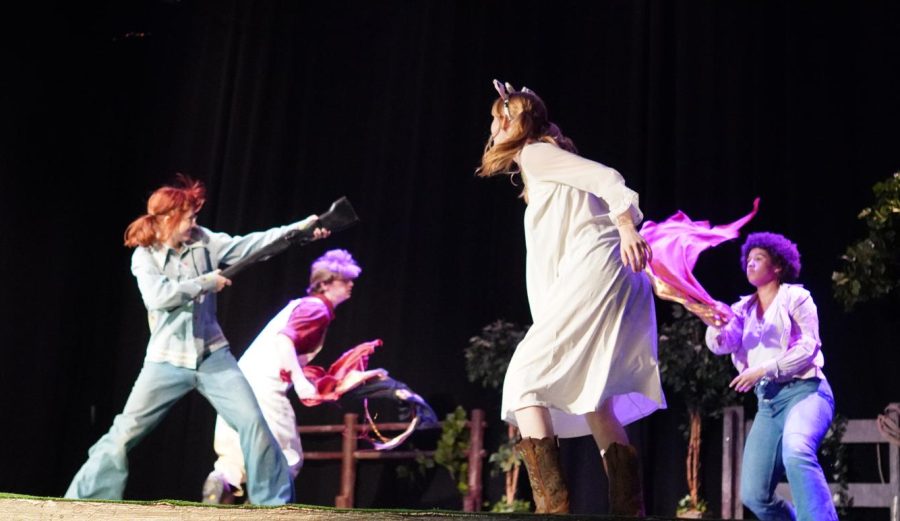 A GREENE ACTOR MAKES HER DEBUT: Junior Olive Greene made her acting debut in Cows the Moosical. "I usually do technical theater, and I'm behind the scenes, which I love, but I have a lot of respect for Anderson [Zoll] as an artist, and it was clear that this is a project that he really cared about," Green said "He put time into it, and I was wanting to try that out and see it to its end."
The scene pictured above is a chaotic one.
"It's the part of the show when there's two narrators who are wrestling over who has control of the story," Greene said. "So it's a very quick, very comedic, back and forth between who has control the story so at first I rush in and I'm a hunter, but then one of the narrators decides that I'm going to befriend the cow that I'm hunting, and then they the first Narrator decides that there's a fire and then the second Narrator decides again that instead, my garden is now a watering hose, so I can put out the fire so it's just a very fun like physical comedy scene."
One of the big things that pushed Greene to try acting was senior Anderson Zoll's enthusiasm for the project.
"Anderson is a very engaging director," Greene said. "He likes to try new things and kind of experiment and mess around with with physicality, especially because he's so dance focused. I've never done a show before, and I think I was very receptive and I had a lot of fun just taking out his ideas and matching his energy and figuring out what his vision was."
Greene found this production more approachable that typical McCallum production. Although she enjoyed the experience, she is planning on returning behind the scenes.
"I don't know if I'll do it again," Greene said. "I think I'm better suited for hands-on stuff and just kind of prefer that kind of work."
Greene added that the work of being a stage actor, at least for this musical, created equal parts uncertainty and euphoria.
"Our rehearsal process was very janky because we only used the stage for a certain number of days because there was other things going on. A lot of us were busy and I work, and so I think it didn't really come together until the night that we first performed. It was our first-ever time doing a full run-through. But it was really fun like seeing it all come together. I think we all brought a lot of energy and we're able to actually commit and make it happen."
Caption by Kate Boyle. Photo by Lucas Walker.