Student injured in hit and run; family seeks answers
MacJ open to receive information, tips regarding suspect
Security video of the suspect's car was obtained from Guadalupe Marco House. The white SUV enters the frame in the top right corner at 00:10. It strikes the student slightly off camera. Reflections from the brake lights can be seen in the window of one of the houses in the top right corner shortly after the suspect's car exits frame. EMS arrives on scene at the 04:56 mark.
Morgan Eye, co-social media managing editor & co-opinion editor
March 28, 2023
A McCallum family is requesting help from the community to find video surveillance and information regarding a hit-and-run accident on the intersection of Guadalupe Street and Nelray Boulevard. on March 11 at 6:54 p.m. A white SUV struck a McCallum student on his bike while crossing the street and fled the scene.
According to the family, the student is recovering from their injuries.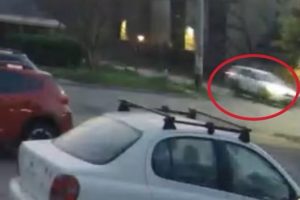 According to the student, the vehicle pulled over for an estimated 10 to 20 seconds after striking them before taking off. The student said the suspects never exited the vehicle and failed to render aid.
An image of the suspect vehicle was recovered from Guadalupe Marco House. The license plate is not visible. Other nearby businesses contacted by the Shield were unable to recover video footage of the vehicle.
The family of the student is asking for neighbors and community members living on Guadalupe to check home video surveillance cameras on March 11 between 6:45 p.m. and 7 p.m..
The Shield filed an open records request with the Austin Police Department to obtain the police report about the incident; however APD said it was unable to release the report because the case is still open. 
The family has requested anonymity to protect its privacy. 
All information can be submitted to [email protected].