Rogers to retire
After 16 years as cinematic arts adviser, veteran filmmaker plans to work in industry, wrap 'One Summer Film' soon
Inside the small, dark AV classroom with movie posters and student awards crowding the walls, Ken Rogers performs a demonstration on the Blackmagic Cinema Camera. His first class of the day is Audio/Video Productions 1, the introductory class to the entire cinematic arts program. Rogers believes that teaching those eager and ready-to-learn students is what his job is all about.
"It is really important for me as a teacher that I listen to my students and what they want," he said. "They know what they want to learn, and I can help teach them."
"
I definitely will remain involved, showing up when needed, helping students out."
— AV teacher Ken Rogers
Rogers has been teaching at Mac since 2007 but after this school year, he will retire. Before becoming a teacher, he worked in animation and visual effects for the government. The film program, which Rogers built into what it is today, is a four-year program that takes students from the screenwriting process to production and editing. His students have gone on to win multiple awards and scholarships at the national level, even competing internationally. Many have also gone on to work in the film industry. Others have studied film further in college and then worked later in film or in television.
Not only is Rogers the head of the film department, but he is also the adviser of the Mac Fashion Show.
"I always knew that I wanted to do something with fashion," Rogers said. "I used to create and sell clothes in New Jersey growing up, so that definitely had something to do with [my interest in] the fashion show."
Although Rogers knew for years that this would be his last year teaching, his students didn't, and the news came as a big surprise to them.
Sophomore Lark Adrian, who received the highest film score of any student applying to the AV program in 2021, says her love of filmmaking progressed under Rogers' tutelage.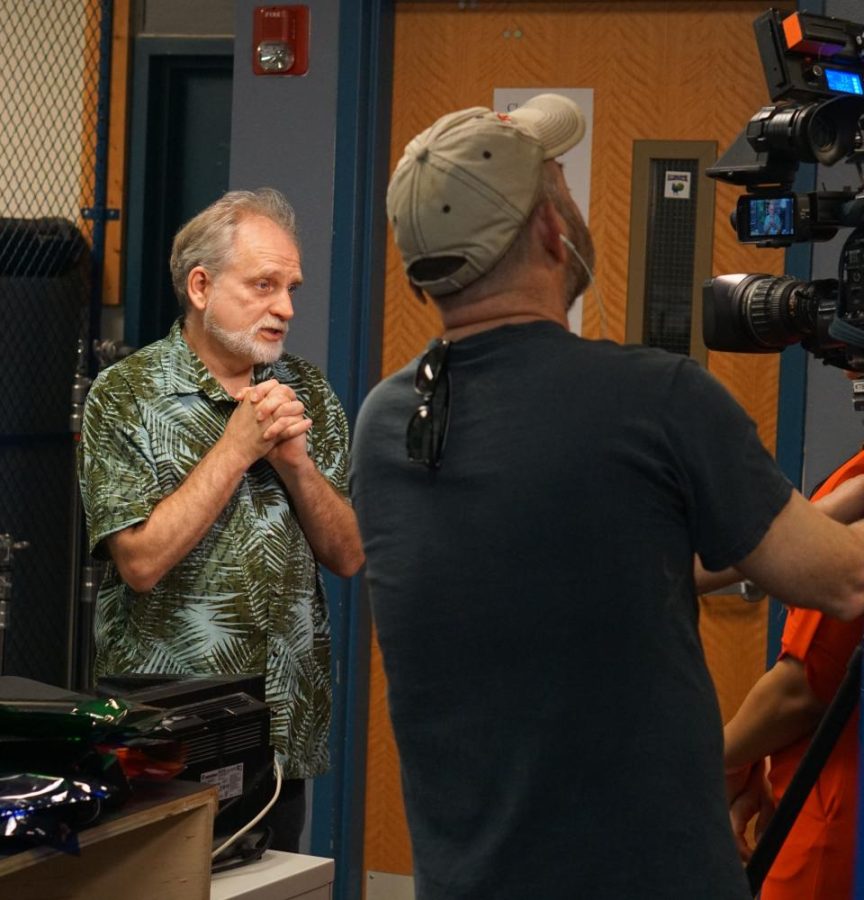 "I was shocked when he announced that, just because I couldn't imagine the program being run by anyone else," Adrian said. "I just hope that we continue to have a great program after Rogers is gone."
According to Rogers, a great film student is defined by a willingness to remain in the creative mindset all the time.
"Somebody who just films everything or films even when they don't have to is somebody who is committed [to it] and will be a great fit for the program," Rogers said.
"
I think that Mr. Rogers is definitely going to miss the school and miss teaching."
— MAC data processor and Ken's wife, Andrea Rogers
Currently, Rogers is in production on a feature-length film, "One Summer Film," that he says should hopefully be wrapping up soon.
It's clear that the cinematic arts program will continue to be a large part of Rogers' life, even after he retires.
"I definitely will remain involved, showing up when needed, helping students out," he says. "I am so glad that I ended up teaching at Mac, and I will come to the kids' graduations and see them off."
Rogers may be retiring, but his wife, Mac data processor Andrea Rogers, will remain at the school.
"I really enjoy Mac, I'm not ready to leave yet," she said. "I think that Mr. Rogers is definitely going to miss the school and miss teaching."
As for what Rogers would like to do after his retirement, it's clear: continue filming. Rogers says he will continue his businesses, work in the animation field and possibly move out of Texas.