A 'Knight at McCallum' to remember
Clubs, athletics, fine arts show off their skills at annual exposition to potential future students
On Monday, clubs, organizations, academic and fine arts departments, guidance counselors and athletic teams came together for the annual "Knight at McCallum" showcase to share opportunities and experiences to current eighth-graders who might become McCallum Knights in the fall.
The evening began with a performing arts showcase as families arrived. When the event fully kicked off, the halls were flooded with club tables, academic and athletic representatives and fine arts performances. In the past, the event was run by former Fine Arts Academy Director Gabriel Reyes. Reyes departed from McCallum at the end of October for a new position as the director of enrollment and attendance services for the district. This year, the event was run by current administrators and department heads.
The informational showcase provided future students with insight into their high school options.  Teachers were also able to meet the middle- schoolers and explain to them what makes McCallum a unique and complete high school experience. Math teacher Richard Cowles enjoys the event because he gets to share the things he loves about McCallum with middle-schoolers in person. 
"It's not all about what's on paper," Cowles said. "It's more about the connections that you make. It just allows that chance, although brief, to make a connection with a future student."
We are pleased to present as this week's Tuesday Top 10 some of the top images from the 2022 "Knight at McCallum."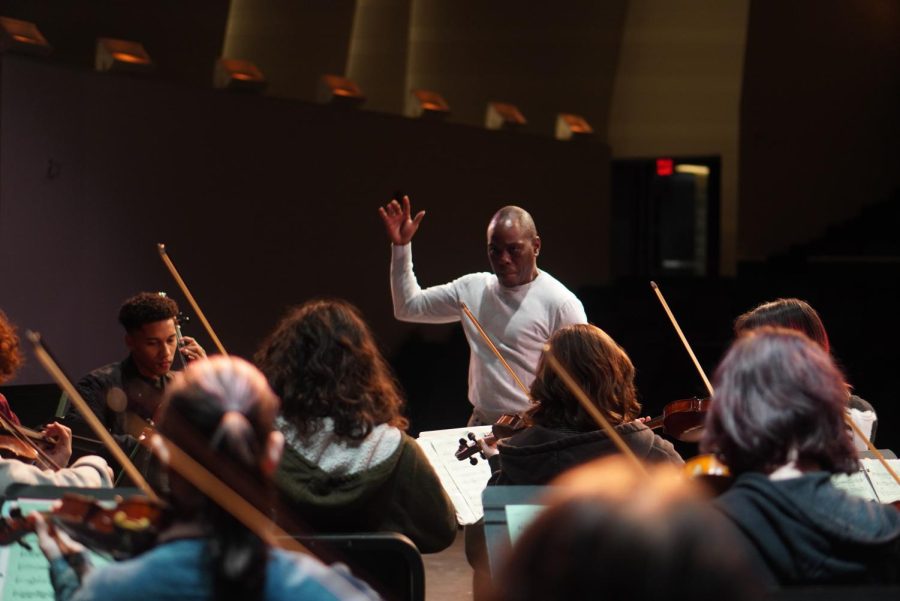 A GRAND OPENING: To kick off "A Knight at McCallum" showcase off, the orchestra played a piece from "Spirituals for Strings" by Morton Gould. The music was supposed to imitate a train, which is what makes it such a crowd-pleaser according to first violinist Ingrid Smith. 
"My favorite part of the night was that we got to open the showcase," Smith said. "I'm super proud of the orchestra for putting on an awesome performance that I'm sure the audience loved."
Smith hoped that the show helped inspire current middle-schoolers to come to McCallum for high school. Back when she was in their place, Smith remembers the orchestra putting on a very passionate performance which she enjoyed listening to. 
"It's crazy to think that I'm in their position now," Smith said. "I'm so excited for the next generation of Mac orchestra students to experience the amazing things the program has to offer." Caption by JoJo Barnard. Photo by Morgan Eye.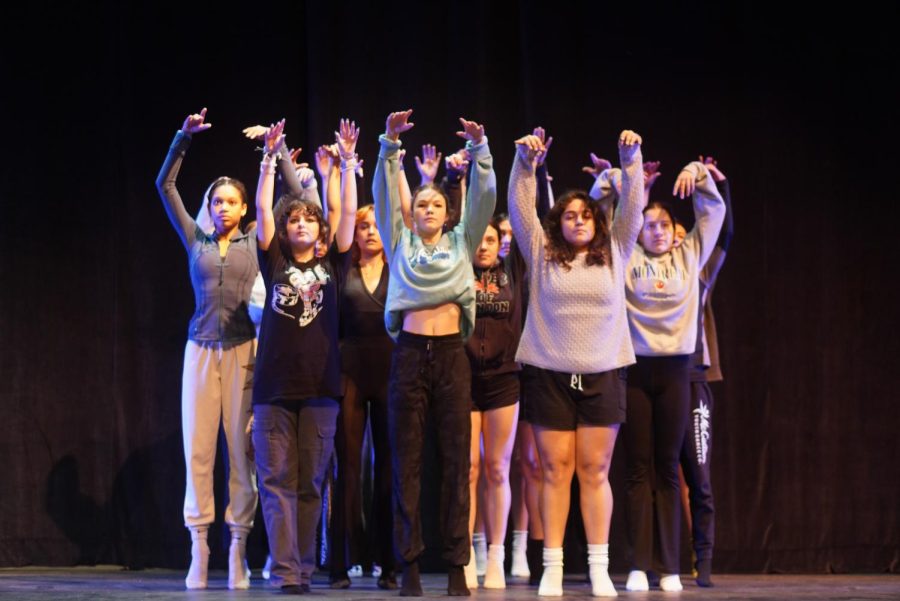 TALENT OUT OF THIS WORLD: The McCallum Youth Dance Company stands in a formation representing the dwarf planet Pluto. For Monday's "Knight at McCallum" performance, the dancers performed a piece titled "Stars." The dance included various formations that each represented a different planet or constellation. Sophomore Maya Wallace had a great time at the event. 
"I really enjoyed getting to perform with my peers," Wallace said. "It was also just a great way to show off what we have been working so hard on for the last couple of months."
Caption by JoJo Barnard. Photo by Morgan Eye.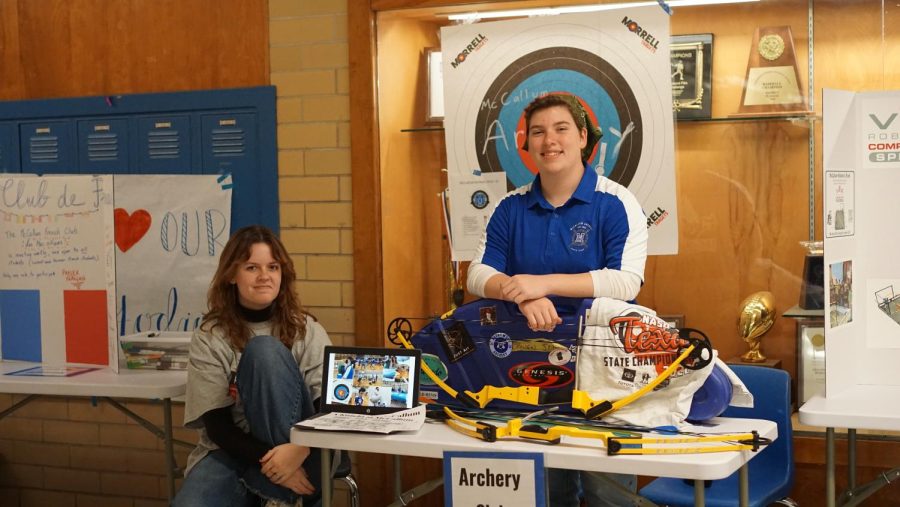 AIMING FOR THE FUTURE: Junior Hannah Bell and sophomore Jada Gonzales shared information with aspiring archers and passersby wanting to learn more about the team. Gonzales says she saw many familiar faces in the archery community and was happy to talk about her experience on the team.
"I saw quite a few students that I shot with when I was in middle school." Gonzales said. 
With a majority of AISD archers attending one of McCallum's feeder middle schools, Lamar, Gonzales said she had the opportunity to talk to many students about Mac's successful team.
"I told them that McCallum archery is a [National Archery in Schools Program] team and about our previous success in statewide tournaments," Gonzales said. "I also talked about the equipment that we use, the practice times, how often we have tournaments and where those take place."
Bell, Gonzales and their teammates are hoping that some of these young archers will choose McCallum and compete alongside them next year. Caption by Lillian Gray. Photo by Maya Thackett.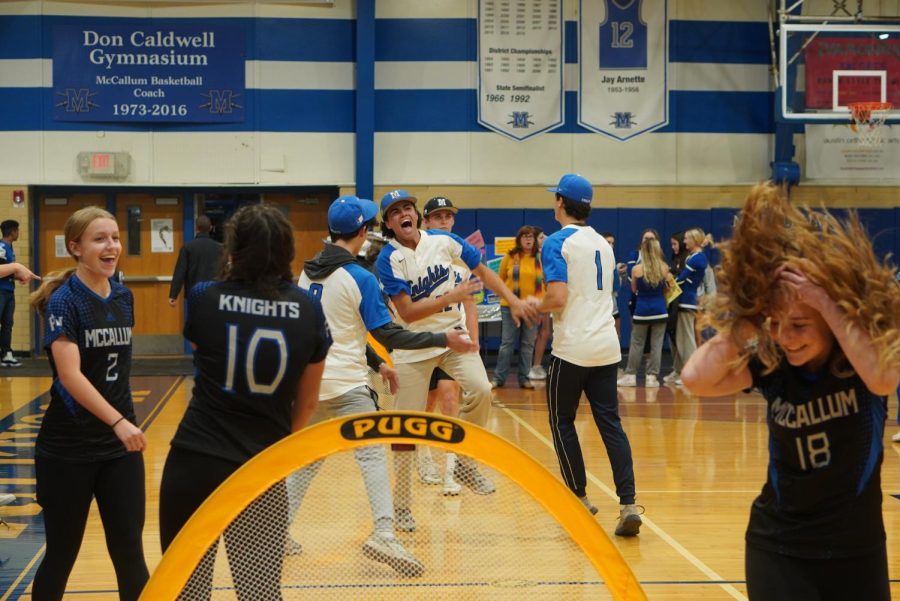 A BATTLE OF LIKE-MINDED KNIGHTS: The girls soccer team played a friendly soccer match against the baseball team in the gym as a component of the athletics exhibition. The soccer team won the non-official, but still spirited, game 5-2. Junior baseball player Nathan Nagy and his teammates celebrate after the baseball team received a gift after the soccer team accidentally scored on themselves.  Caption by Merrill Price. Photo by Dave Winter.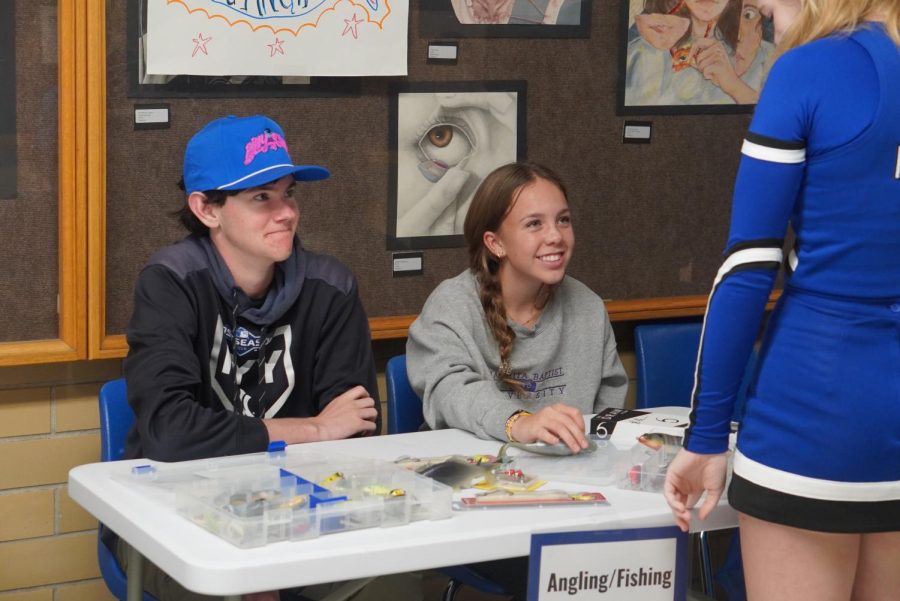 FISHING FRIENDS: Freshmen Sienna Gunning and sophomore Fin Kirsch sit at the Mac Angling Club table, advertising to visitors at "A Knight at McCallum." Gunning decided to join the club at the beginning of this school year to find new ways to experience one of her favorite hobbies.
"I've always enjoyed fishing, and I was looking for a club to join," she said, "so I joined fishing club, [and] it was something different." 
Even though it's only her first year as a Knight, Gunning appreciated the opportunity to show off one of the many extracurriculars that McCallum offers, as well as getting to see the future freshmen take a look around campus.
"I enjoyed showing the bait off and just talking to other people about fishing," she said. "It was nice to see them interested and excited to be apart of Mac fishing club when they come to McCallum." Caption by Francie Wilhelm. Photo by Dave Winter.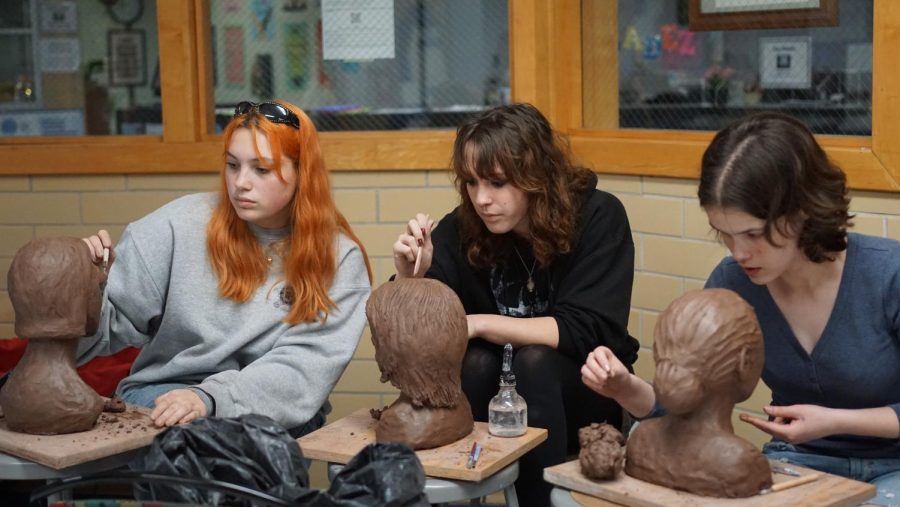 SCULPTING THE FUTURE: Junior Isabel Ramirez and seniors Kailey Pontoja and Vivian Trominski mold clay during a live sculpting demonstration in the main hall. Representing her Sculpting I class at the course fair brought back memories of Ramirez's own Expo Knight.
"I remember going to the expo as an eighth-grader and I felt scared and intimidated by the new environment," Ramirez said. "So when I was sculpting at the expo, I made sure to always smile and try to engage the students. I really just wanted to make sure that the upcoming freshman felt welcome at McCallum and in the arts program."
The course fair provided not only the chance to welcome new students but also remind current Knights what makes Mac special.
"In the middle of the expo, the dad of an upcoming student came up to us," Ramirez said. "He told us that he is an artist and he never had an opportunity to take sculpture or any specialty art classes. He told us those specialty classes are why he is sending his kid to McCallum."
The opportunity to inspire younger students made A Knight to Remember especially meaningful to Ramirez.
"We interacted with a lot of kids who said they didn't know how to do art," Ramirez said, "but they were excited when we told them that it is a judgement free zone and everyone is just learning. They seemed more interested in taking a class. It was nice letting them know that you don't have to be an artist to take those classes and that they're for everyone." Reporting by Lanie Sepehri. Photo by Maya Tackett.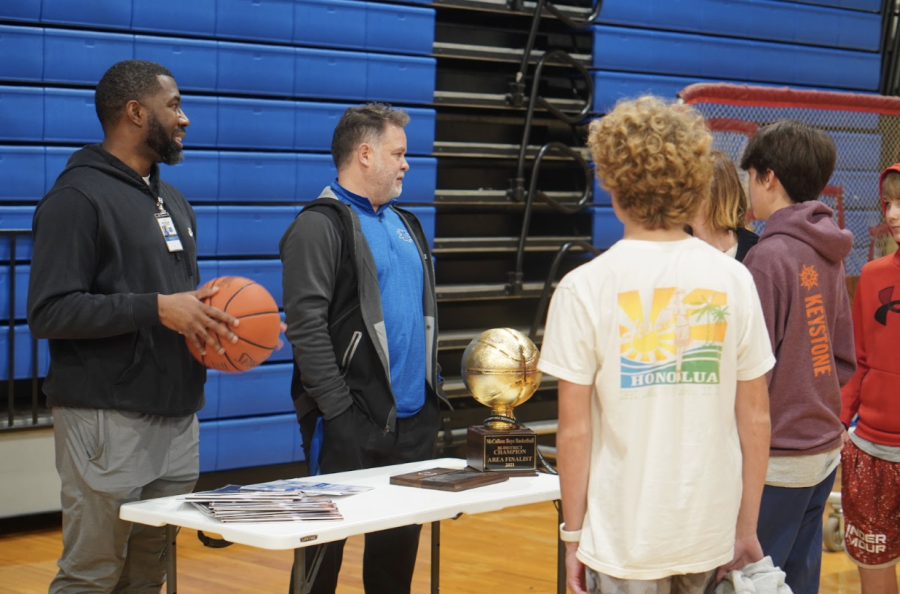 ROSTER ROTATION: During the 'Knight at McCallum,' coaches Daniel Fuentes and Carlin Shaw manned the basketball booth while some incoming players found interest in the team. The basketball season recently started up and the program is always on the lookout for new talent to take the team to new heights in the future. Caption by Merrill Price. Photo by Nate Williams.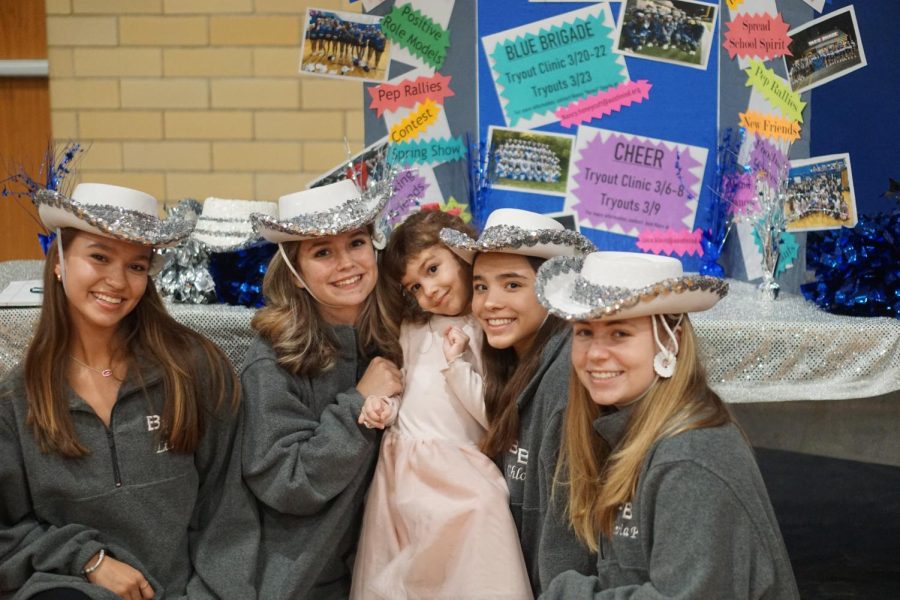 DANCING "THE KNIGHT" AWAY: As the end of the first semester approaches, middle-schoolers are starting the quest to find which school they want to attend next year. The "Night at McCallum" gave future students a look at what McCallum has to offer. With band, orchestra, and dance performances, McCallum showed off its fine art departments. They also had academic and athletic showings for students to see all the different options the school presents. 
For freshman Liliana Escamilla, a member of the Blue Brigade, the effort to help middle schoolers discover new passions and try new things was completely worth it. 
"I loved meeting all the incoming middle schoolers and hearing their excitement," Escamilla said. "I am so glad I got to be a part of helping them discover what they would like to do in their high school years." 
McCallum was filled with middle-school students from across the city, all getting to experience the school firsthand. Escamilla and a group of other freshmen in Blue Brigade got to run the booth responsible for sharing information about the organization. 
"We basically answered any questions from parents and incoming students that were interested in Blue Brigade," Escamilla said.
Not only was the group met with incoming middle-schoolers, but by McCallum athletic director Coach G's daughter Camila as well.
"Her dream is to be on Blue Brigade." Escamilla said. "She always comes and chills with us here, and sometimes in the stands."
The event overall gave insight into McCallum's diverse creativity, opportunities and many different routes to take once you reach your high school destination. 
"It really shows how our school attracts such artistic and creative students so they can participate in what they love to do in their school life, and give them opportunities in the future." Escamilla said.
Caption by Chloe Lewcock. Photo by Merrill Price.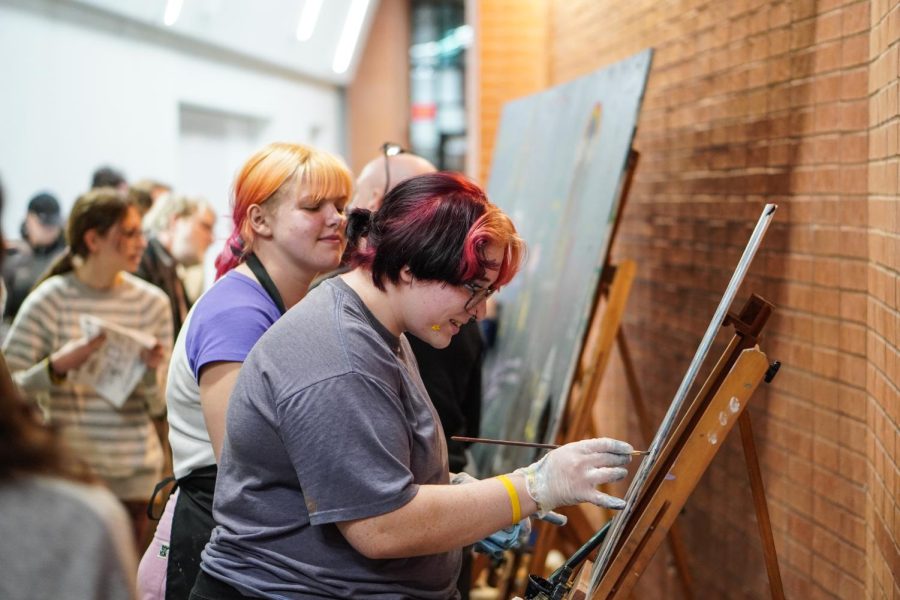 ASPIRING ARTISTS: Art majors were able to show the incoming students their finished pieces and artistic process during "A Knight at McCallum." New and incoming students were able to see juniors and seniors finishing up their artwork in the lobby and halls of the MAC theatre.
Senior Ella Jones was working on their painting while students were walking around looking at the artwork. 
"[This showcase] introduces art to them and takes the pressure off their shoulders entering this big new world," Jones said. Caption by Maya Tackett. Photo courtesy of the Knight staff.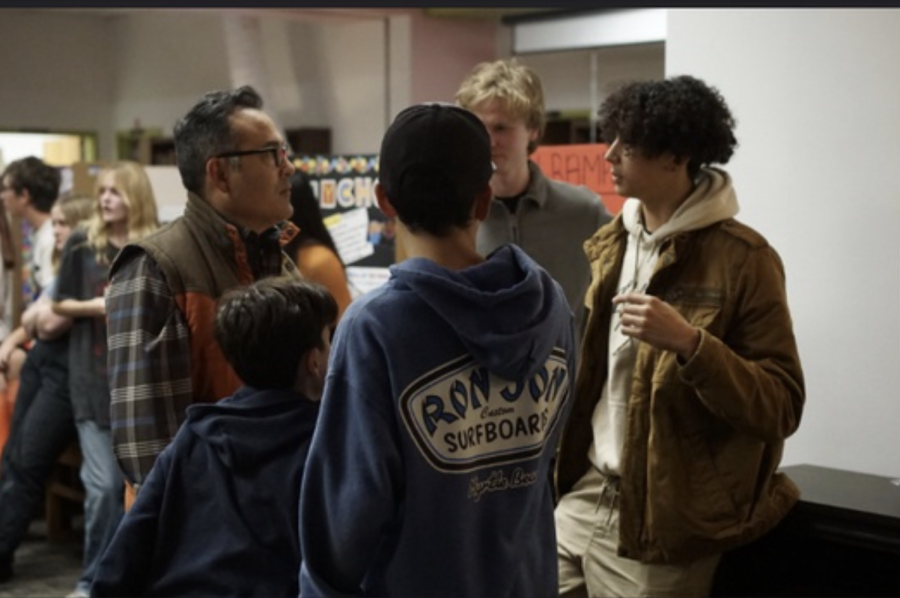 MIDDLE SCHOOLERS IN AWE: McCallum hosted its annual expo night for middle schoolers on Monday, and anyone interested to learn more about the school and programs McCallum has to offer.
Junior Nicolas Colimon shared information about OnRamps U.S. history with current eighth grader Lewis Rangel. Rangel enjoyed an informative and fun night at the event.
"We get to learn about all the classes and meet a bunch of people that we are probably going to go to school with," Rangel said. Photo and caption by Priya Thoppil.