Dysfunctional air conditioning in library prompts decision to shut down blood drive prematurely
Necessary repairs to AC impeded PALS' first annual drive
The first blood drive of the year ended prematurely as high temperatures in the library caused the drive to be shut down. A combination of high heat, high humidity and lack of air conditioning in the library coincided with many students feeling lightheaded. The inability to lower the library temperature to 68 degrees prompted the decision to close the drive early.
"The principal let us know that they were working on the AC, and it [was] going to take about three hours [for people] from central AISD to get it done," We Are Blood account manager Gabriela Castro said. "By that time it [would] be 3 p.m., time for us to shut down, so we [were] forced to stop the blood drive for the safety of all our donors. Safety comes first."
The lack of air conditioning in the library had the potential to exacerbate lightheadedness caused by blood donation.
"We've certainly had kids get lightheaded before, but if the school is well air-conditioned and the humidity is down, then typically there's not much of an issue," PALS sponsor Richard Cowles said.
"
Blood donations are how our health care system exists. Without donations, there'd be so much loss of life."
— PALS sponsor Richard Cowles
The library is not the only campus location that has been struggling with spotty AC so far this school year. The problem has persisted throughout the school. Cowles said the AC problem is due in part to the campus's age.
"Seventy years is a bit too long for the building not to have a major AC reinvention," Cowles said.
Cowles has been in charge of the blood drive since he took over the PALS program 11 years ago. Cowles works closely with We Are Blood, an organization that provides blood to the Central Texan community, to schedule and publicize the drive (Cowles's voice is strikingly similar, in fact, to the Count heard every morning on the announcements). To Cowles, the blood drive is absolutely essential to the Austin community.
"Blood donations are how our health care system exists," Cowles said. "Without donations, there'd be so much loss of life. I think what's important about that, at the high school level, is the fact that you're beginning to introduce the idea of service and that you can do this long term. And this becomes, hopefully, a lifelong habit."
It seems that many students are beginning to build that habit. All 55 appointment slots were filled and additional students showed up for the opportunity to donate, including senior Canyon Hilgemann.
"Blood shortage was a problem that my grandma suffered from because she has a unique blood type," Hilgemann said. "So I just figured [donating] would be worthwhile. I think it's important to have that supply and that incentive advertised among high schoolers. It's a good cause."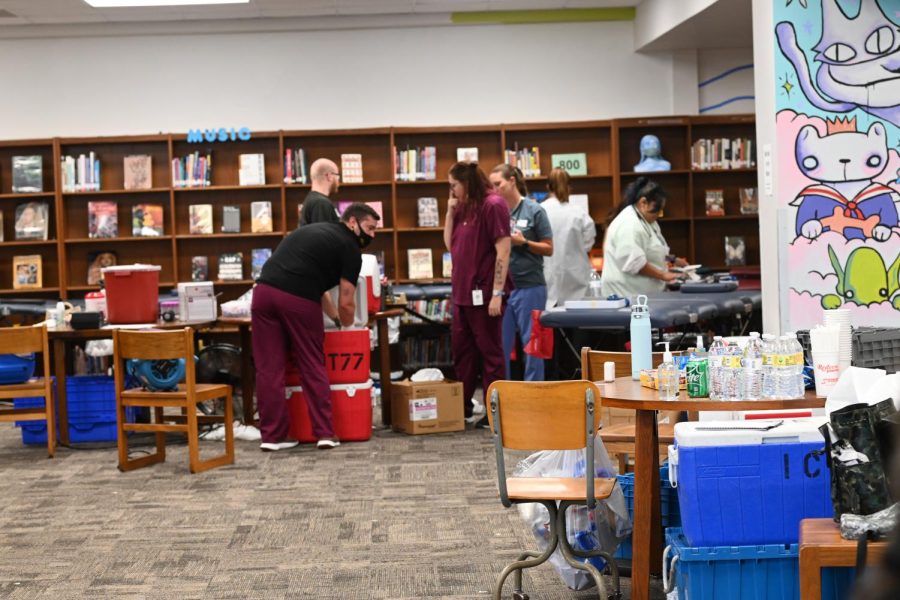 While Hilgemann could not donate due to the drive's cancellation, he will have other chances later in the year. PALS will host another drive in February, and Cowles hopes the high student interest in this drive will enable it to be rescheduled.
"Students are a huge source of blood for every blood bank," Cowles said. "So if we don't host it, I think it'd be more difficult for students to find time to go to a donation center. By allowing them to come here, we can provide publicity, communication and setup. It just maximizes the amount of blood they can take in which, once again, allows us to supply Austin healthcare and keep it running smoothly. It's a lifelong habit … that is imperative to the success of our society."
This story contains reporting by Morgan Eye.