This year's Taco Shack made with new ingredients
Despite vastly different lineup, Knights aim for repeat result
High school football teams don't usually wear names on the back of their jerseys, but the Knights may have to this year with only two starters returning from last year's bi-district winning team. Not only did the team lose 32 seniors to graduation, but defensive coordinator Brandon Grant and offensive line coach Brad Bernard also moved onto brighter horizons, with coaches Chris Russell and Colton Collins assuming their positions.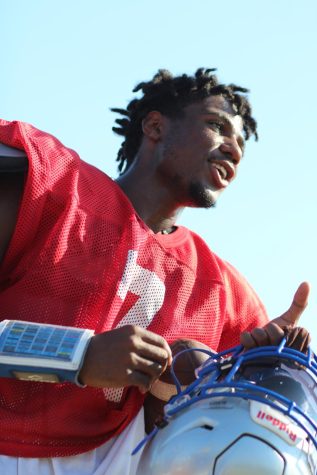 Even with all these changes though, the team knew they were coming and has been preparing all off-season for this season of turnover.
"We're breaking in a lot of new faces with a lot of inexperience out there, but I'm looking for players to step up as we have plenty of good players to do it," head coach Thomas Gammerdinger said. "I'm excited to see how quickly everyone can settle in for this season."
Along with preparing for the season, the team has of course been readying for their rival, the Anderson Trojans, in the annual season opener of the Taco Shack Bowl. What has dominated the offseason prep conversations for the Knights has been consistency.
"We have a lot of first year starters who have come a long way since day one of spring ball," senior offensive lineman Jack Stites said. "We have a lot of confidence going into Thursday and, if we stick to our assignments, then we'll be well off down the stretch."
Last year's triumph over Anderson was ground out in the trenches as the 14-13 victory was predicated on stops from former defenders Tino Rodriguez and Ezra Guenther, and a rushing touchdown by former quarterback Jaxon Rosales. This year on the other hand, the Trojans are going through a different kind of transition than the Knights with their third head coaching change in as many years and losing their star running back, Colin Page, to graduation. 
The game plan for the offense will definitely have a shake up from last year with former defensive back now turned quarterback David Houston in the backfield with new sophomore running back Mitchell Butler.
"I'm feeling great about playing quarterback this year because it gives me another opportunity to help my team win and show my talent," Houston said.
While Houston shined at receiver and defensive back last year, Butler helped lead the freshmen team a year ago. "My experience last year on the team has made me comfortable on the field, while the coaches have put me in a position to succeed this year," Butler said.
On the contrary, the defense will have a different look but with similar schemes in play. The heart of the defense will be led by senior middle linebacker, Pedro Sanchez, who is also a first year starter. Luckily the defense will also be getting a boost from senior defensive tackle Miles McCollum, returning from an ACL injury sustained in last year's Taco Shack bowl.
"I'm just really excited to be back for my senior year," McCollum said. "My knee is feeling great and I can't wait to see what this team is capable of."