Bob Bedard's little acts of kindness made a big impact
Fireman, martial arts expert turned security guard helped students find their way by listening, believing in them
It's the little things in life that make your day better. As the busy hallways of McCallum fill with exhausted students, security guard Bob Bedard has dedicated himself to brightening the days of many by offering his guidance and helpings of Hershey's Chocolate Kisses.
The purpose of this act? To spread kindness and help students work their way through each day.
"
To have a chance to just do good, and see good, it's just awesome."
— Bob Bedard
"Recently, I just saw some kids really struggling through it," Bedard said. "Maybe they didn't eat lunch, or they're stressed, or whatever, but there just seemed to be a need at that time."
Though Bedard's official position is security guard, he also sees himself as a voice of comfort and encouragement for students.
"My job is a great opportunity to do positive things all the time, which I really like to do," Bedard said. "It's hard enough being a teenager, in my opinion. It's even harder now, during the pandemic. Adults that are positive and encouraging are something students need to have. I hope I can provide that."
For senior Emma Winnie, Bob has assisted her since her days as an underclassman through his listening and advising. "I just randomly started talking to him in the hallway my freshman or sophomore year," Winnie said. "He always had my back with things. He makes things easier for me."
Winnie is not the only student that has been impacted by the positive acts of Bedard. Junior Camille Wilson views Bedard as a source of reassurance that doesn't often find in other adults.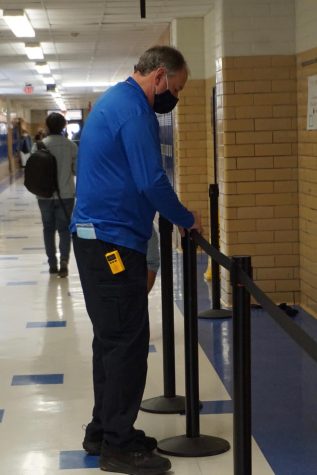 "He's just very helpful and very involved and if he sees any issue, he tries to talk to you about it," Wilson said. "He acts more like a friend. I would be scared to tell some of my teachers or counselors about some things I am more comfortable with telling him."
For Wilson, Bedard has become a trusted source of direction.
"Bob has helped me get to the counselor's office when I was too scared to get there myself," Wilson said. "He serves more like a middleman to help me get my message across to other people."
While Bedard has enjoyed his time at McCallum, it's just one of many chapters in his very expansive book. Before his arrival at Mac, Bob worked in the fire service in Chicago for about 30 years. His experiences as a firefighter have fed into his desire to help people.
"In the fire service, you see such horrendous stuff," Bedard explains. "So to have a chance to just do good and see good — it's just awesome. So many times I hear 'I really needed that right now, thank you.' That's why."
Sophomore Kylie Reeves and junior Thea Cahoon spent many days working alongside Bob during their fall semester as library interns. During their time, Bob told stories about his encounters throughout his previous years in Chicago.
"He would let us wander around the school and tell us about his adventures before he came to Mac," Reeves said. "He told us about how he was a martial arts master and had his own dojo, and he would tell us some firefighting stories."
"
He always had my back with things. He makes things easier for me. "
— senior Emma Winnie
Kristen Herrera, class of 2019, was one of the students that Bob recalls guiding in the most positive and beneficial way. Herrera was being told by the adults in her life that she did not meet the requirements to graduate high school.
"Bob formed a relationship with her and knew she was a smart kid," Herrera's counselor, Daniela Romero, said. "He helped connect her with a lot of people, including me, to motivate her to get her stuff together. The fact that he took that time to build that relationship with her helped her a lot."
Not only did Bob's actions allow Herrera to successfully graduate high school, but it allowed him to accomplish his goal of making an impact on the students he encounters.
"I know I've made a difference in a couple of kids' lives, and that means a lot to me," Bedard said. "She graduated and out of all the students I helped, that was the one. That's what I had hoped for when I came here after working for years in such a horrible environment. Even if it was just one kid."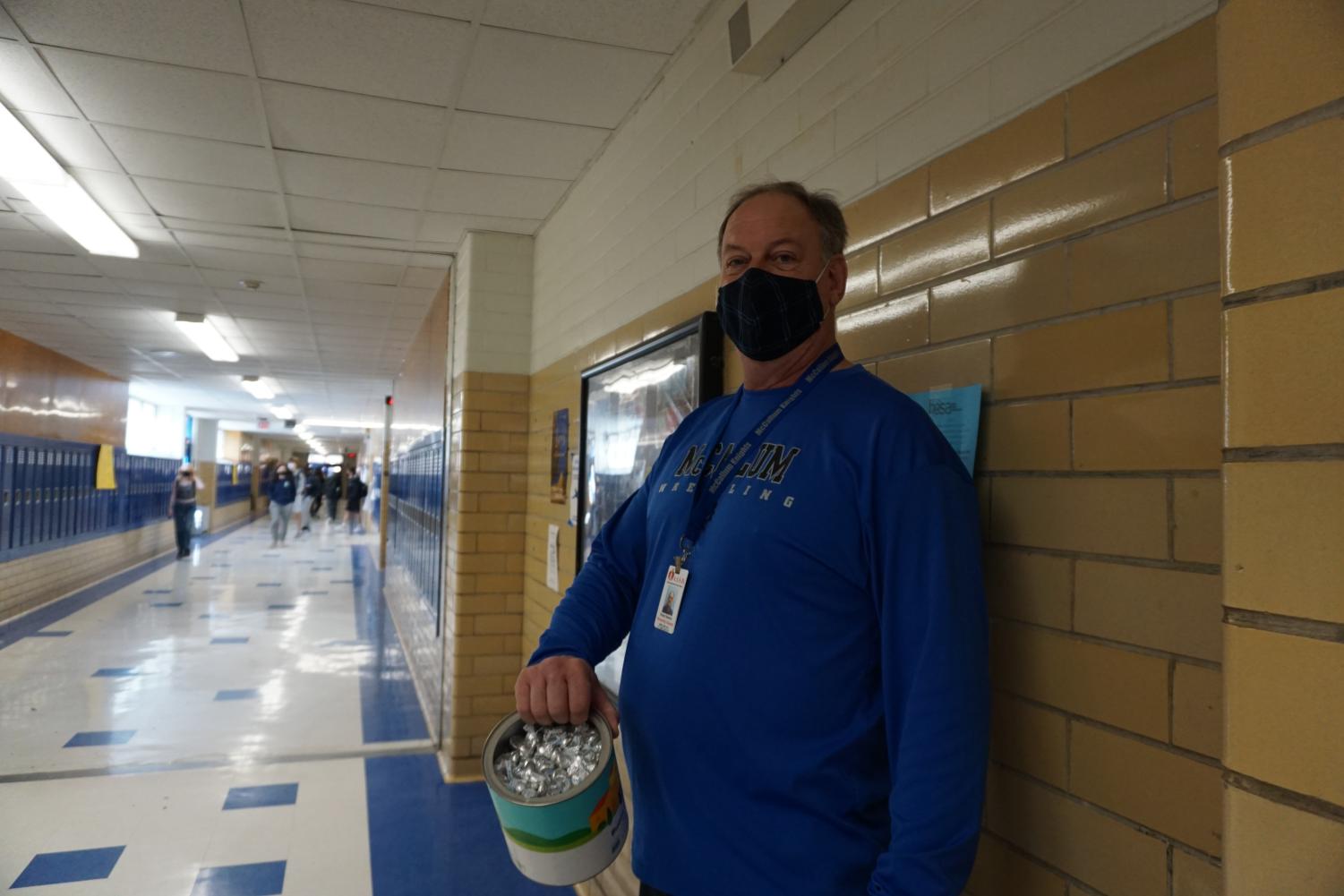 Just as McCallum loves Bob, Bob also loves McCallum. He expresses deep admiration for the talent and students at Mac and enjoys the environment of the fine arts academy.
"I admire the creativity I get to witness, and not just musical things, all the things that the academy likes to offer," Bedard said. "I just think the diversity here is fantastic. This morning I listened to a young man play the saxophone beautifully, then another young student was playing the harp, and I thought 'That's so amazing.'"
After almost four years of guiding McCallum students, Bob worked his last day at Mac today so he can head home to Chicago to take care of his family.
"
My job was a great opportunity to do positive things all the time, which I really like to do."
— Bob Bedard
"My mother, who is 94 went to the hospital over the weekend. I have medical training and we can't get somebody to take care of her right now."
Bob is taking a family medical leave, allowing him to have an absence for 12 weeks. On May 4, there is a chance Bob will return.
Some of Bob's last advice was from the words of philosopher Marcus Aurelius.
"Be humble, it's very easy to let your head get filled and your ego get in the way, but if you want to make the right decisions, you set your ego aside."
Students and teachers share their thoughts and stories about security officer Bob
"At the walkout, Officer Bob stopped by to check on our progress and see the signs we were making. He told us he was proud of us and he said he would have been encouraging his daughters to do the same thing if they had been at Mac. Officer Bob is so cool, I love him!"
—junior Emma Hagood
"Sophomore year I had really bad shin splints during cross country season. I would always walk in with ice wrapped around my shins and every time he would say hello and make small talk which always brightened my day."
—senior Anna McClellan
"When I first came to Mac he made sure I knew where all my classes were and was super nice."
—freshman Fatimah Hamzah
"Every morning when I would put up my violin, he would always say good morning!"
—freshman Kate Talley
"Freshman year Bob would talk to me while I waited for my ride since no one was at school."
—sophomore Sivaan Sharma
"Awesome, always says good morning to me, made my day."
—sophomore Will Sims
"He is just a chill guy who definitely will go out of his way to say hi or even talk to you!!!"
—junior Christopher Shieh
"It brightens my day when I see this man; he is always so nice to me and everyone else."
—freshman Fin Kirsch
"Holds the door and says good morning everyday without fail!!"
—senior Scarlet Frese
"Bob is such a sweet guy! How sweet? I have students who ask specifically if they can go visit Bob in the hallway. They're not asking to go to the restroom – they just want to say "hi" to Bob. By the way, Bob is also good for a Hershey's Kiss or two. Bob always has a small supply on hand for students. Connecting with kindness. And? Bob's a FIREMAN!"
—animation teacher Tim Carroll
"Bob is laser focused safety and has great relationships with students.  He is friendly, always willing to help and make sure school is running smoothly and safely for everyone.  What an incredible asset he is to our school community.  Thank you Bob."
—McCallum Youth Dance Company co-director Rachel Murray
"I love talking about Brazilian Jiu-Jitsu with Bob. Would hate to get hip tossed by that guy!"
—social studies teacher Robert Bucher
"Bob is a gift to McCallum. He is always positive and helpful to students and staff."
—counselor Mindy Croom
"He always is so friendly to everyone and I feel safe here in his presence.
—teacher of the deaf and hearing impaired Lydia Palace
"What an amazing person! I had three students come by my office today wanting to talk about Bob! He has definitely made an impact in a short period of time! Very dependable and knowledgeable in a lot of area. Was truly a blessing to McCallum High School. Hoping he is able to come back!"
—assistant principal Larry Featherstone