Pandemic inspires Mac entrepreneurs to venture out with innovative businesses of their own
From bouquets to books, onigiri to kombucha, local firms all seek a niche that meets the community's needs
A recent trend associated with the pandemic has surged across the United States, prompting 3 percent of workers in September to quit their corporate jobs, according to a survey done by the Labor Department. Some who quit their jobs started their own businesses in what is called the "Great Resignation." At McCallum, the pandemic has provided an opportunity for students and families to start their own small businesses and has also thrown new challenges at the small business owners who began prior to the pandemic.
Burlap and Twine is a mobile flower shop owned by McCallum parents Jackie and Rick Haisley. The shop is set up in the couple's bright blue 1971 VW truck, which travels all around Austin. This offers customers an opportunity to build their own flower bouquets right out of the bed of a truck.
They made the decision to create Burlap and Twine in 2020 after Jackie was let go from her previous job in hospitality, and focused on creating a positive impact in their community. They bring "peace, joy and feel good flowers" to their neighbors and are proud to donate 10 percent of their profits to local nonprofit organizations. 
"A special memory that came from our shop was having our kiddos come to our grand-opening event," Haisley said. "We kept a lot of what we were doing under wraps, so when they saw the truck filled with flowers for the first time it was pure magic. I think I even heard one of them bragging that we were their parents."
一Academia Excites一
2021 Mac graduate Delani Jah started his STEM tutoring business in August of 2020. He was inspired by his experiences tutoring orchestra (violin), math, and writing students in high school and wanted to start a business to continue to help students.
"
General education settings are a great place to get knowledge in various subjects."
"At the start of my senior year, I noticed that learning was becoming much more difficult for many students with the stress of the pandemic and the difficulties that teachers were having in that transition," Jah said. "In order to help the incredible community of McCallum and continue the work I love doing, I created Academia Excites."
Academia Excites is Jah's tutoring business specializing in STEM subjects. The name of the business reflects his goal: to make academia exciting for the students he works with.
"General education settings are a great place to get knowledge in various subjects," Jah said. "Still, with class sizes steadily increasing, it's difficult for even the excellent teachers at McCallum to provide individual learning opportunities that take a lesson from something instructional to something inspirational."
Jah found that communication with clients and transitioning to teaching online were two of the most challenging parts of running his business whilst in a pandemic
"I had to rapidly develop a host of small skills, such as drawing geometric and algebraic ideas with a mouse rather than a pen, making my work more complicated than it had been as a volunteer," Jah said. 
"As I began to explain how beauty and complexity could be derived from a formula as simple as the Mandelbrot set, his eyes began to light up. He started rapid-firing questions at me and the conversation that we had throughout that hour was by far the best we had had up to that point. It was an incredible experience to see him so thoroughly engaged."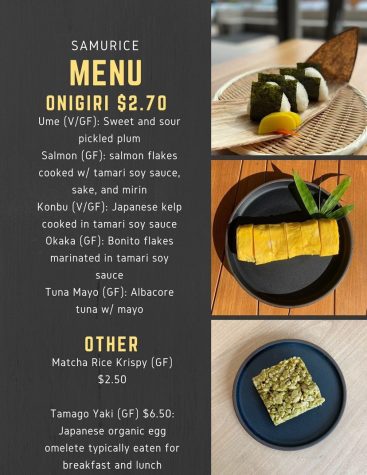 Senior Kenta Azazu started his business in 2020 at the beginning of the pandemic. He sells onigiri, Japanese rice balls with savory filling wrapped in rice and nori (a type of seaweed), and since starting his business he has been featured in newspapers and at large catering events.
"It's hard to stay motivated and consistent, especially when you have to juggle numerous responsibilities while maintaining a social life," Azazu said. "A cool memory I have is from when I did a massive catering order for a local Austin sumo wrestling tournament, and that I got featured on Eater Austin and the Austin Chronicle."
Check out a previous MacShield article featuring Samurice here!
Greg Goodman is the father of senior Eden Goodman. He first started his kombucha company in 2015, although he had already been a home brewer for years. He felt that the kombucha on the market had too much sugar, ruining what was otherwise a functional beverage, and wanted to cater to more health-conscious individuals looking for lower sugar kombucha. His company became one of the first to feature an "all-tea" process with no fructose.
More than five years later, his home setup brewing kombucha in glass jars in his kitchen has been replaced with a dedicated facility to brew kombucha in giant tanks. The most important challenge the company faces is maintaining both their quality and identity as they continue to grow.
Goodman says that human interaction through the company creates his most special memories.
"Meeting people who enjoy the product that I create means a lot to me and the relationships that I have built over time are what matters most," Goodman said. "Plus, being able to employ and help people sustain a living wage is of paramount importance."
一Bullseye Bakery一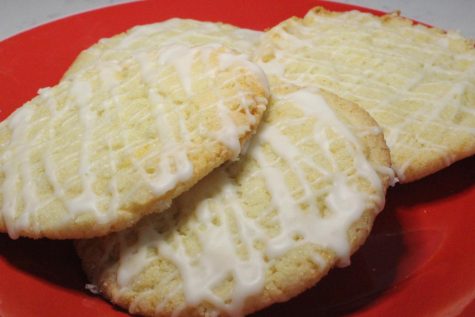 Bullseye bakery is an online bakery selling quick breads, cookies, cakes and holiday pies. Owner Paul McGarity started the business when his daughter, who is a freshman at McCallum, qualified for the National Archery Championship.
"We sold enough muffins and cookies to pay for the trip, but when we got back, everyone just kept on asking for more," McGarity said, "so I just kept going and haven't really stopped."
McGarity describes running his business as a juggling act. 
"Time is always my biggest challenge—I have a 'regular' full time job and a family," McGarity said. "Making time to order supplies, build and maintain our website, actually do the baking and deliveries, as well as researching and testing new recipes is a challenge.
His second biggest challenge is bookkeeping.
"I have no training as an accountant or in business, so figuring out taxes, paperwork, and all the other legal things that go along with a small business has been confusing, frustrating, and generally the least fun part of all of this."
Even with the challenges, McGarity feels joy when reflecting on his business. He looks at the logo, a stylized bullseye, and thinks about why he started his bakery. He thinks back to the fond memories of the trip he took with his daughter and remembers that the whole trip was made possible by selling cookies. 
Parents of sophomore Ayden Lee, Jess Lee-Haisley and Ian Haisley, are planning on opening their business in the spring of 2022. Parker and Scott is a modern take on a neighborhood general store.
"We've been thinking about starting this business for years but finally decided to get moving on things this year in March of this year," the owners said. "We'll sell home goods, kitchen items, pre-packaged foods, apothecary items, gifts, greeting cards, plants, and flowers. We'll even have a refillery where you can buy eco-friendly products for your home."
Although they plan to stock items from around the world, they will make it a priority to choose local products from Austin and the surrounding areas whenever they're able.
"We're excited to highlight so many incredible craftspeople and makers who live here in Texas!"
Of course, starting a business comes with a number of challenges that must be addressed before the store's opening.
"We've always had a vision for the store, but there are so many things that have to happen before you open,"  they said. "Figuring out real estate, building permits, and all the regulations we'll need to follow to operate our business has been the biggest challenge." 
They did have their ups and downs when looking for a space but were eventually able to find a place at 2113 West Anderson Lane.
"The day we got the keys to the space was incredible. Everything up until that point had been planning and paperwork. The keys made it feel real."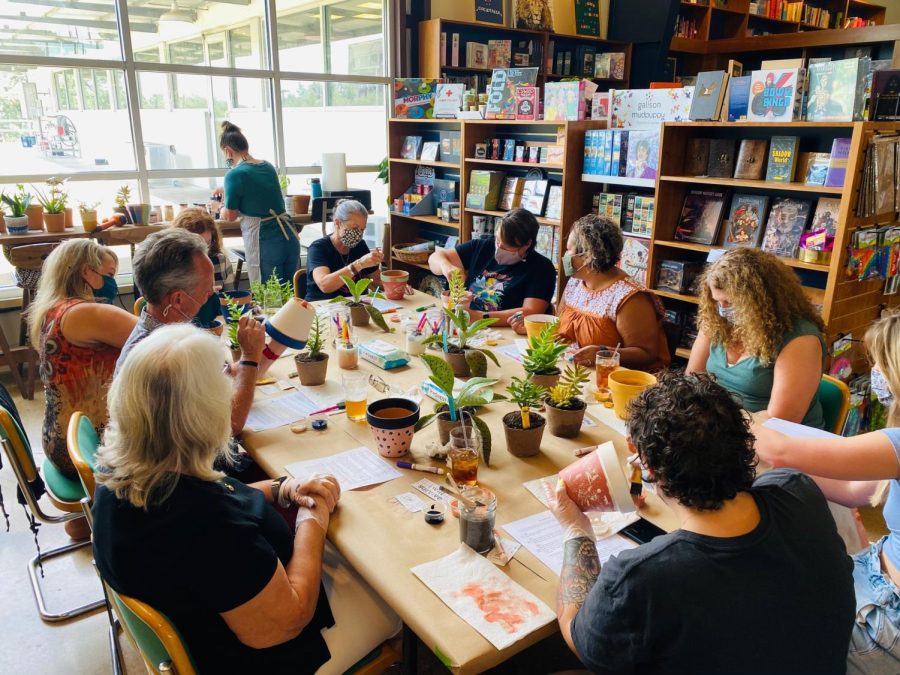 "We offer a beautifully curated selection of new books," Jonrowe said. "We also offer an eclectic mix of gifts for everyone, with a special emphasis on unique items from businesses that are women-owned, local, sustainable or have a social justice component."
The bookstore is also home to Nightingale Bistro, which is owned and operated by part of the Austin team that started Wright Bros. Brew & Brew and Better Half. Their menu is a "mouth-watering French-Texas fusion that spans the gamut from coffees and cocktails, to brunch, dinner, and desserts."
When the pandemic hit, the store knew that they wanted to keep everyone employed throughout the shutdown and continue to reach people in the community.  
"Community support has buoyed us up." Jonrowe said. "We worked with our supporters to find flexible and innovative ways to connect with folks during every stage of the pandemic, to not only ensure that we stayed open, but also continued serving as a place of connection for the entire community."
Junrowe has no doubt that their favorite memories all stem from moments in which they were able to connect with customers through the space they've created in the store.
"When a new visitor has come up to one of us, with a light in their eyes, to tell us how much they treasure the safe and welcoming space we have provided, where representation is an integral and visible part of the L&O experience," Jonrowe said. "Just recently, someone sent us a poem entitled 'You Are Who I Love' by Aracelis Girmay, to thank us for creating such 'a thoughtful, fun, open and inclusive neighborhood bookstore' which had us all shedding happy tears. We love this place, our community, and our good fortune!"
一Mom and Pops Frozen Pops一
Mom and Pop Frozen Pops was started in 2008, when junior Catalina Flores was only 2 years old. She and her brother were young, but their parents Manuel and Laura wanted to ensure that the kids had a healthy treat. Something that was all natural, no Red Dye 40 or any other chemicals and artificial ingredients. They decided to make paletas at home, using only all-natural ingredients.
"
We sacrificed a lot. But we got to spend a lot of time together."
— Manuel Flores
"It was fun, we were just experimenting," Manuel Flores said. "We would hand the kids one of our pops and they would tell us whether they liked them or not and then we'd adjust the recipe accordingly."
The plan to make a healthy snack morphed into a business on its own. 
"It kind of accidentally became a business." Flores said. "Somebody suggested that we take them to a farmers market to try and get into a farmers market. And so we did. And really without a whole lot of business experience. We got into the farmers market. And from there on it just kind of took on a life of its own."
Their philosophy was different. They wanted to make something all natural, organic, and made with love for their children, and then they wanted to share that with the rest of Austin. 
"I would go to our commercial kitchen and stay up into the wee hours making frozen pops and just getting them ready for the farmers market," Flores said. "We didn't get a lot of free time, but we did get to enjoy the kids. You know, we spent a lot of time with them growing up and it was just fun. We stayed true to our goal of not having to send them to the daycare. We sacrificed a lot. We had to do without a lot of things early on. But we got to spend a lot of time together."
一
The businesses featured in this article are just some of the businesses owned by students and families at McCallum. Owning a business while still functioning as a parent or student comes with its challenges, but these businesses have found a way to make it work and have fun along the way.