Marching season was filled with highs and Lowe
First-year percussion director played huge role in developing, honing historic fall competition show, praises students for their drive to improve
It's been a big year for the Mac Band. With the marching season coming to an end, they've had great success with their show Mirage – placing first at Cap City Marching Competition and placing sixth at UIL state. A new and welcome addition to the program is percussion director Scott Lowe. 
"I was [teaching at] four Austin schools, and then also driving out to around Westlake High School, and during the COVID year where everything was virtual, that really motivated me to see if I could find somewhere permanent: one program that I had to worry about focusing on and managing."
New to McCallum, but not the area or teaching music, Lowe previously taught private lessons to students at Bowie, Akins, Gorzycki and Bailey here in Austin ISD.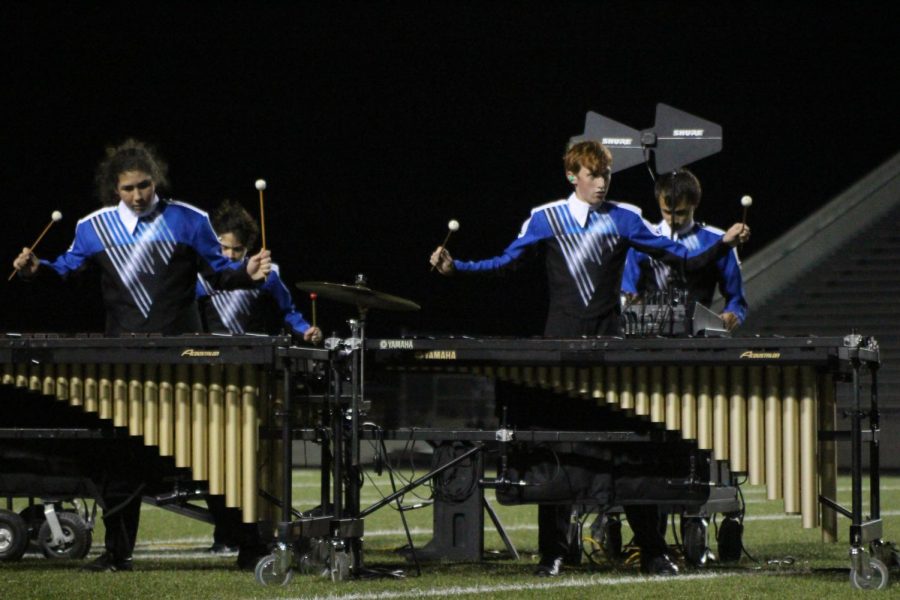 "I'd already kind of been in the district, and I helped out with the marching programs at Bowie and Akins," he said. 
With the move to Mac comes a new sense of security and commitment. Instead of driving all around town, he now has one program to be fully invested in, especially when it came to marching season, as this was the first show that Lowe had been with from start to finish. 
"We bought the show from a vendor that specializes in making shows for high school groups," he said. "But Mr. Travis and I did a lot of rewriting and tweaking it to fit what we thought would work best for our program, and for what we and the students wanted to do." 
Mirage featured intricate choreography, with mirrors moving around the field throughout the performance and solos from various sections. 
"It's definitely the strongest I've felt about something I've been involved with," he said. "To get that invested in the product instead of just getting it from somebody else and teaching it, I had a little more stake in the game."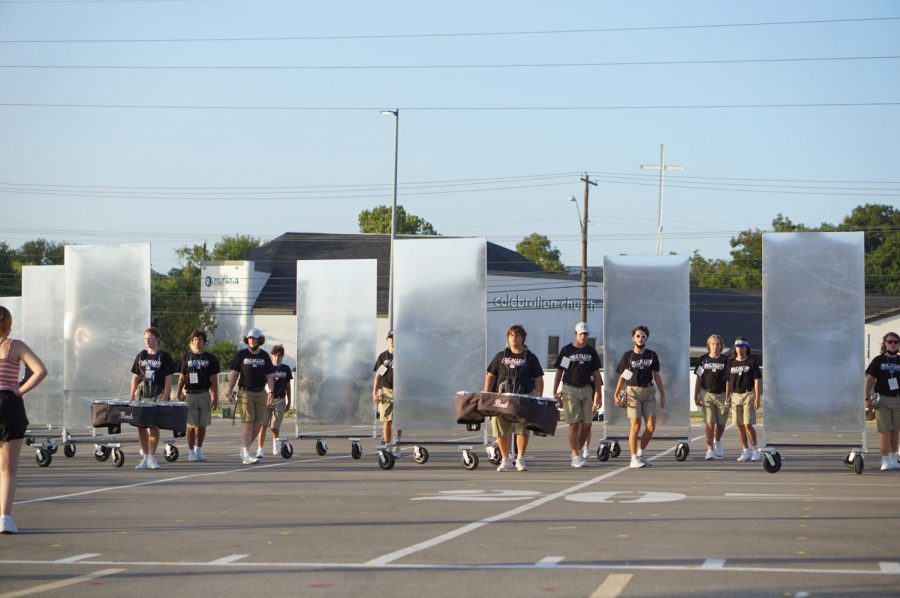 Marching percussion isn't the only aspect of the band he handles. He also handles all the percussion for the band too, along with some of his own projects with just the percussionists. 
"I make sure that all the parts are distributed correctly, they have the right instruments for any of the concerts that they do," he said. "And I also do the steel bands, and we do percussion ensemble who'll have a concert towards the end of February and that's strictly percussion-based. Then there's the Samba Knights, which is a Brazilian group that we started here [at McCallum]."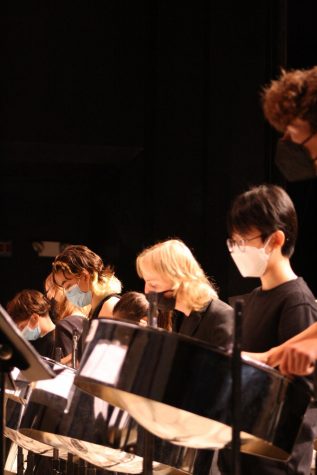 The percussion ensemble, made up strictly of percussion instruments, is preparing for its upcoming concert in February, now that both the marching season and winter holiday concert are over. 
This may be his first year as a full-time band director, but Lowe is no stranger to music. An alumnus of Texas State with a degree in performance, he not only has studied music but grew up around it too. 
"My whole family is pretty musical," he said. "My mom played trumpet, French horn, and was a singer. My sister played clarinet, and my brother played percussion, and then ended up doing some singing as well."
 It was his mom buying him a Walmart drum set before his freshman year of high school, and the inspiration of his own high school band director Mark Carlitos that inspired him to pursue music in college. With three musicians in the household and a mom who taught piano lessons, it seems almost a given that Lowe himself takes up the trade. 
At the beginning of Lowe's first year at McCallum, one thing immediately jumped out at him.
"The culture here is really strong, that's something that stuck out to me as soon as I put my foot in the door," Lowe said. "The kids are super positive and they have a really big appetite for learning."
Anyone can join a band class and pick up an instrument, but that passion and drive to be better is something that comes strictly from the students themselves.
"
The kids are super positive and have a really big appetite for learning new things."
— Scott Lowe
"That's the thing, you can't really teach, that just has to come from the student, so walking into a program where that was pretty much there in every single student from the get-go makes it a lot easier," he said. 
He believes this drive not only makes his job easier, but also makes the band better as a whole. Lowe wants his students to know that no matter how intimidating he may seem, he sees and appreciates their love for music.
"I'm pretty laid-back, for the most part, I just like to get things done," he said.
Lowe is happy to have settled down here, but still enjoys trips to his hometown of Rockport, Texas to go out fishing. 
"Just fishing, rod and reel," he said. "When I was younger, I used to go back there a lot to visit my grandparents and they would always take us fishing."
Leave a Comment