Band named Cap City grand champions
After earning the best score in the preliminary round, Mac beat the other finalists and their earlier score to earn the competitions top prize
After advancing to the finals of the Capital City Marching Festival on Saturday with the highest overall preliminary score, the band outdid itself and the competition in the finals, by beating the nine other finalists and their own preliminary score to take the overall first place prize. Their show, "Mirage," produced a final score of 951 out of a possible 1000. In addition to finishing first overall, they also won an award for best overall percussion performance after winning best 4A percussion performance in the afternoon.
"I am so extremely proud of this band," drum major Scarlet Frese said. "We haven't yet been able to have a performance that truly showcased all of our hard work, but yesterday, every single kid showed up with their game faces on and performed amazingly. Something I would love to say to all the band members is that they did an amazing job yesterday, and thank you for working so hard and being willing to put in all the work."
For the day, the band took home seven awards. In prelims, they earned first place among 4A bands, best overall general effect, best overall general musical performance and best 4A percussion performance. They also earned the best preliminary round score (935) out of all bands in the competition.
The band will compete next on Oct. 9 at the Texas Marching Classic in Round Rock, then the band will compete to advance to the area competition at the UIL Regional Marching Contest on Oct. 19, back at Burger Stadium. The area competition will take place Oct. 23 at the Pfield in Pflugerville. The top bands at area qualify for UIL State. In 2019, the Mac band made it all the way to state.
We are pleased to share the images of the band and color guard from the Cap City Marching Festival as this week's Tuesday Top 10 photo essay.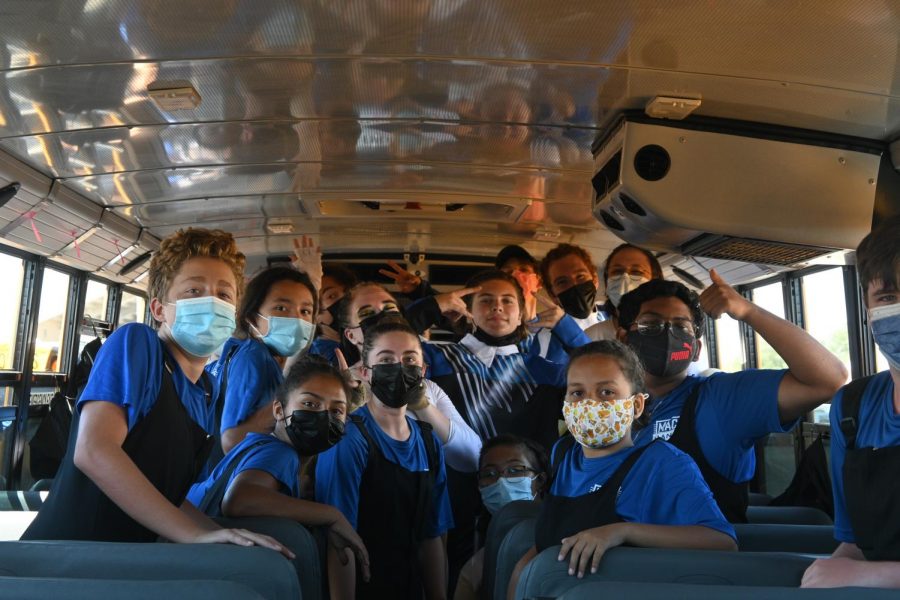 ALL ABOARD: In bus #2, members of the McCallum Band pose for a photo after changing from their full attire uniforms into halves (blue top and bibbers) after the preliminary round of the competition. The band had previously had a morning rehearsal at Connally High School, which prepared them for the competition ahead. "The whole day was just exhilarating," junior Brass Captain Lila Markey said. "We had just done our best performance yet and everyone was just overjoyed." Photo by Morgan Eye. Caption by Maya Thompson.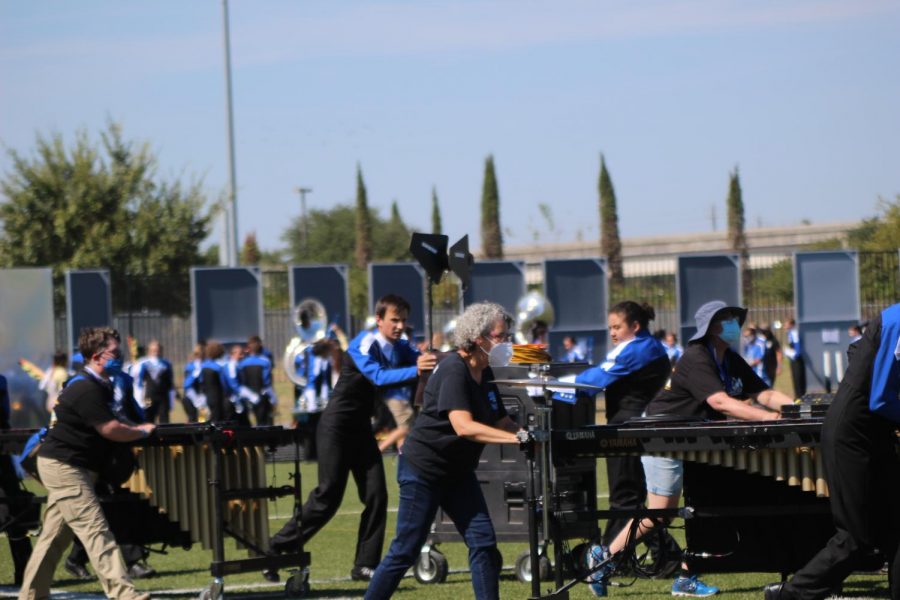 READY, SET, GO: After arriving at Burger Stadium, McCallum Band members and parent volunteers begin to set up their instruments for the Capital City Marching Festival to practice their music. The band previously practiced the visual portion of their show, Mirage, in the parking lot and the music portion of their show on the baseball field at the stadium. "This was my first competition to perform in," sophomore Sofia Hamlet said. "It was a mix of feeling joy, nerves and pride." Photo by Morgan Eye. Caption by Alice Scott.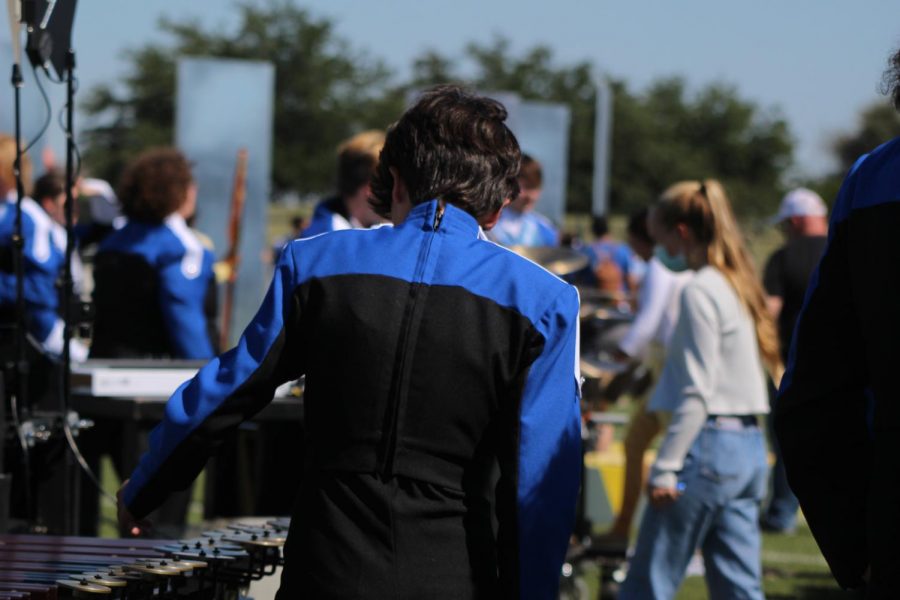 PREPARED PERCUSSION: The preliminary round of performances draws near as Parker Chauvin of the McCallum band's pit crew sets up his equipment with his fellow musicians. Their readiness paid off as McCallum's band went on to win multiple honors, including Best Musical Performance and Best General effect of the entire contest. "I think it was a bit serious and intense," Chauvin said when asked about the atmosphere during the buildup to the contest. "But I think we knew we were ready for this." Caption by Noah Braun. Photo by Morgan Eye.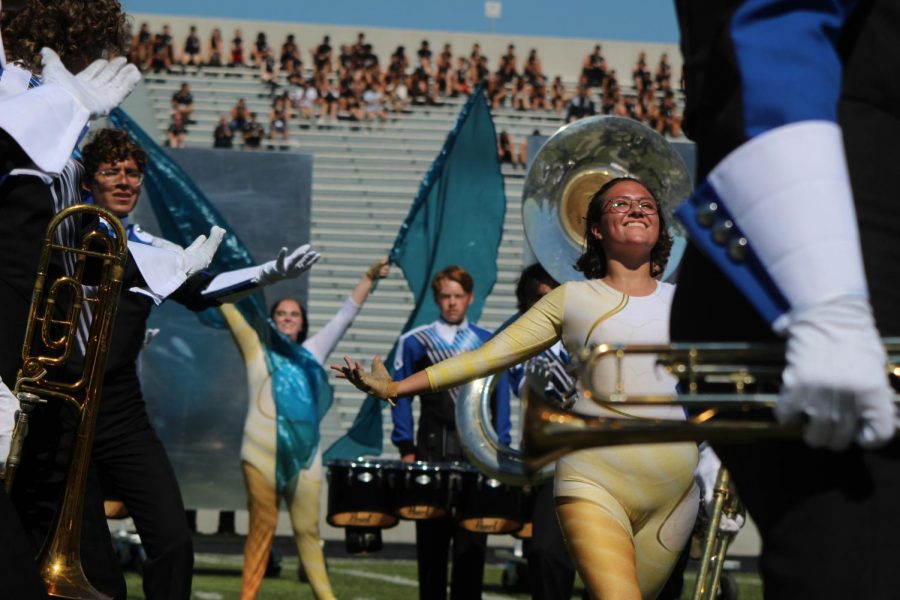 AND CUT: Members of the color guard eagerly motion their hands towards their captain, Natalie Nagy, in the closing moments of "Mirage." During the Capital City Marching Festival, the guard earned a second place title in the preliminary round. "We crushed it," color guard member Ella Jones said. Photo by Morgan Eye. Reporting by Grace Vitale.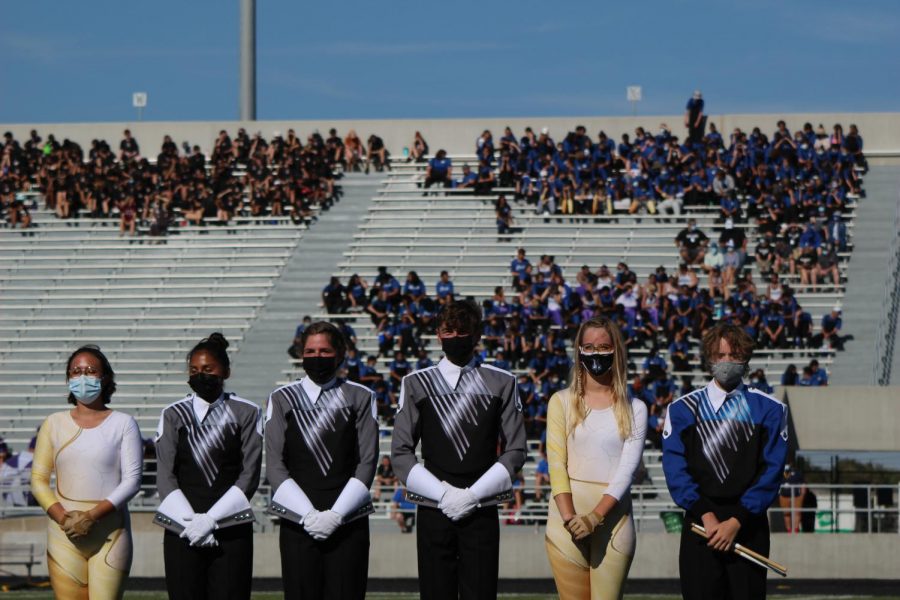 LEADERS OF THE BAND: Color guard captain Natalie Nagy stands by drum majors Stephany Gallegos, Scarlet Frese, John Hamlet, her fellow captain Grace Van Gorder, and percussion section leader Huck Langford, as they await the results of their prelims performance. Photo by Morgan Eye. Caption by Naomi Di-Capua.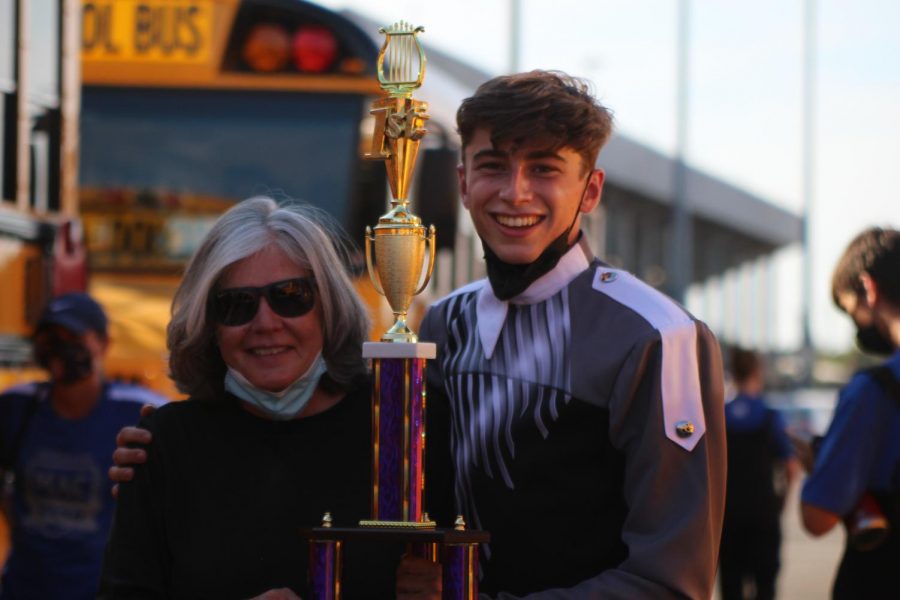 MAJOR TROPHY: Band director Carol Nelson and drum major John Hamlet pose for a picture with the #1 prelims 4A band trophy while walking back to return it to the bus. "I felt an accomplishment for sure," Hamlet said. "But [I'm] also looking forward to the first of many awards, earning more and a good first step." Photo by Morgan Eye. Caption by Terra Balentine.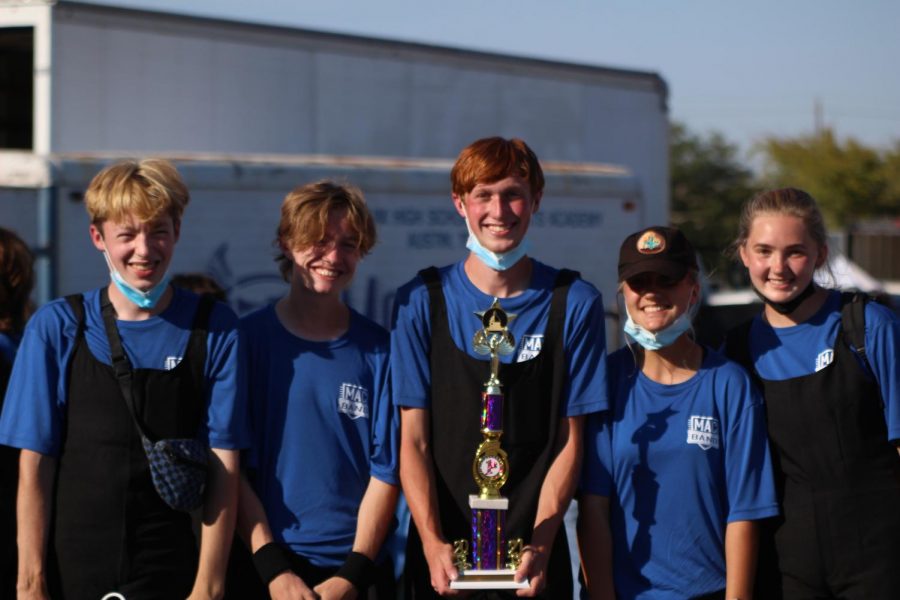 SMILE FOR THE CAMERA: Posing for a picture, Will Sharp, Huck Langford, Oliver Harrington, Ellie Knoll and Cate Thoden proudly display their trophy for Best Percussion from the preliminary round of the competition. "I was feeling really proud of myself," Thoden said. "I would say that was the best we have played yet." Photo by Morgan Eye. Caption by Livi Moore and Alice Scott.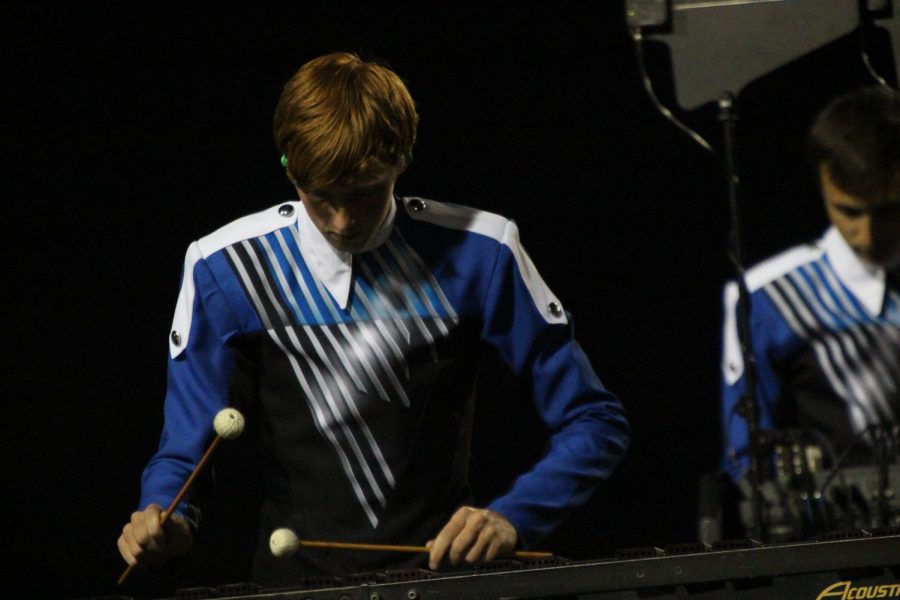 OUT WITH A BANG: Junior Oliver Harrington begins the final number of McCallum's Capital Marching Festival performance with the rest of the  percussionists. There were a lot of nerves in the days leading up to the festival, but it all paid off. "The whole day we were all buzzing with excitement," Harrington said. "This was our first real showcase of what we've been working on for so long!" Following their performance, Harrington and his section won the preliminary trophy for best percussion section of all of the showcased bands that competed. Photo by Morgan Eye. Caption by Julian Magee.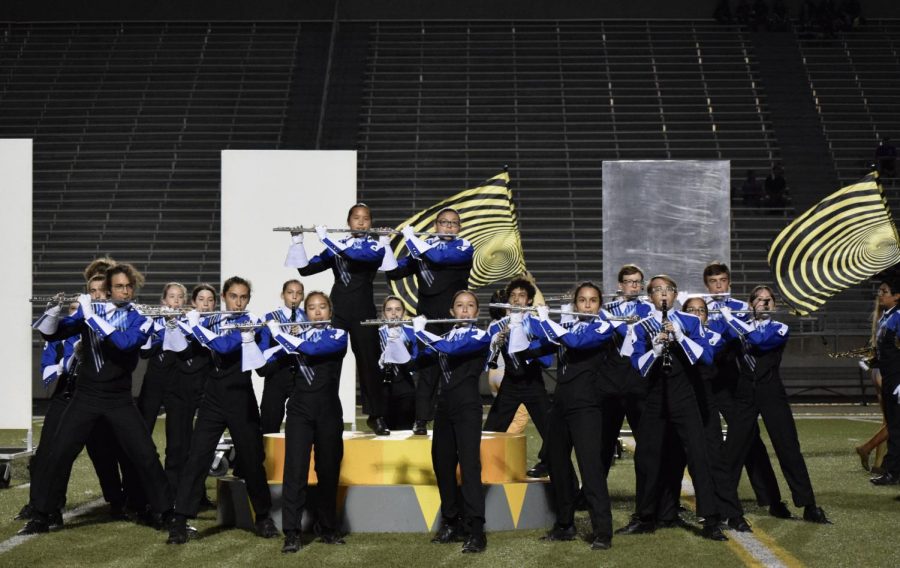 FLUTE IT OUT: The woodwind section gets into formation as their feature act begins during their final performance. "It was like a happy and blurry mess of emotions and music," senior flutist and woodwind captain Madelynn Niles said. "It's been a very different season, since so many people are new. I was definitely nervous going into it, so it felt really good to have a strong performance." McCallum won all of the awards they set out to win at the competition, including Best Musical Performance. "It gave us a boost of confidence going into bigger competitions next week," Niles said. Photo by Patrice Jones. Caption by Julian Magee.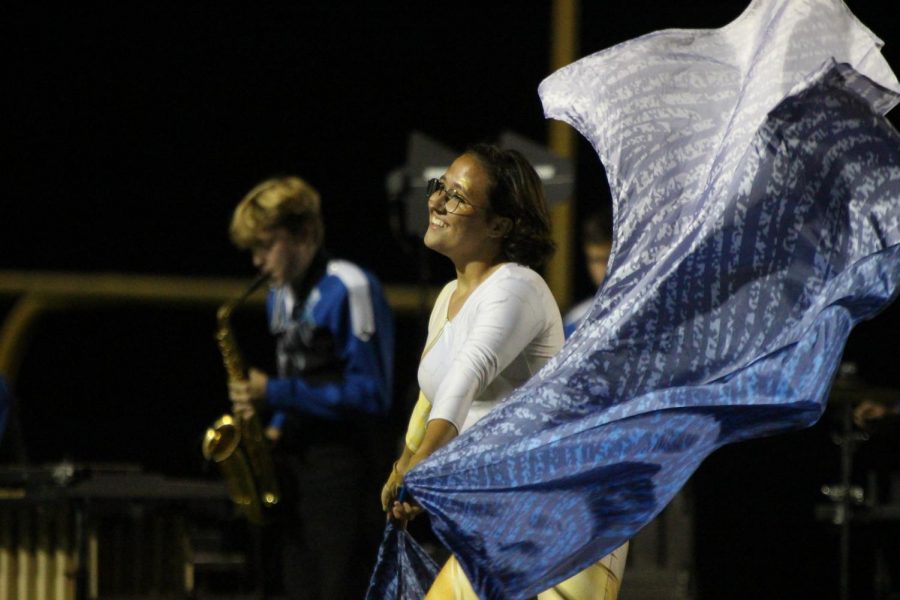 FLYING FLAGS: Senior Natalie Nagy twirls her flag as senior Will Sharp plays his saxophone solo. Nagy's job as a member of the color guard is to provide a visual element for the band's performance. "Performing has always been one of my favorite things to do, and guard allows me to do that alongside my best friends," Nagy said. After not marching for two years due to the pandemic, Nagy was incredibly thankful to be performing again. "The competition on Saturday was such an amazing official start to the season," Nagy said. "I think it was a very proud moment for us all because we knew that all our hard work so far had paid off. Winning at Cap City makes me very excited to see what is to come over the next few weeks." Caption by Lanie Sepehri. Photo by Morgan Eye.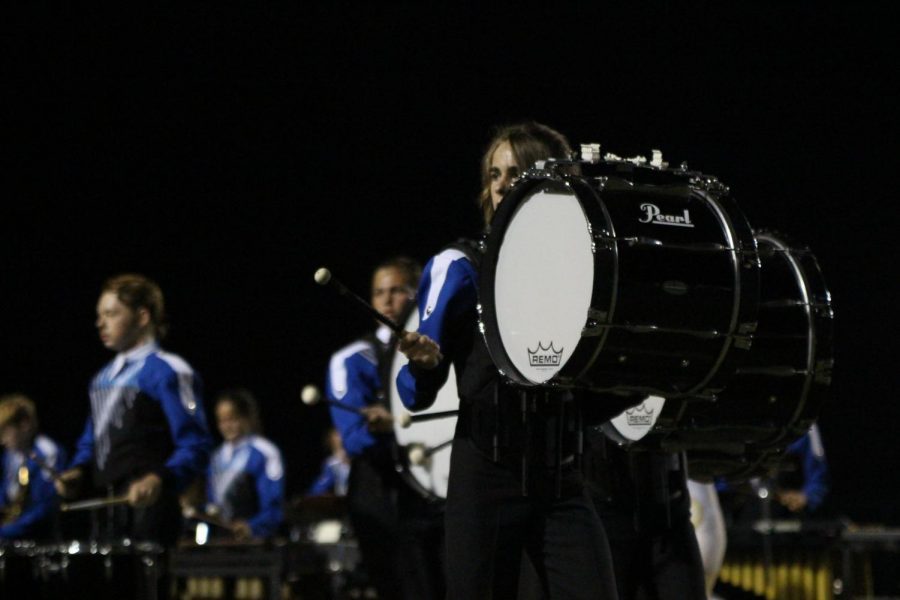 ACE OF BASS: Percussionist and freshman Jake Stagg-Ricketts plays during the final performance of the Cap City Band competition. Caption by Francie Wilhelm. Photo by Morgan Eye.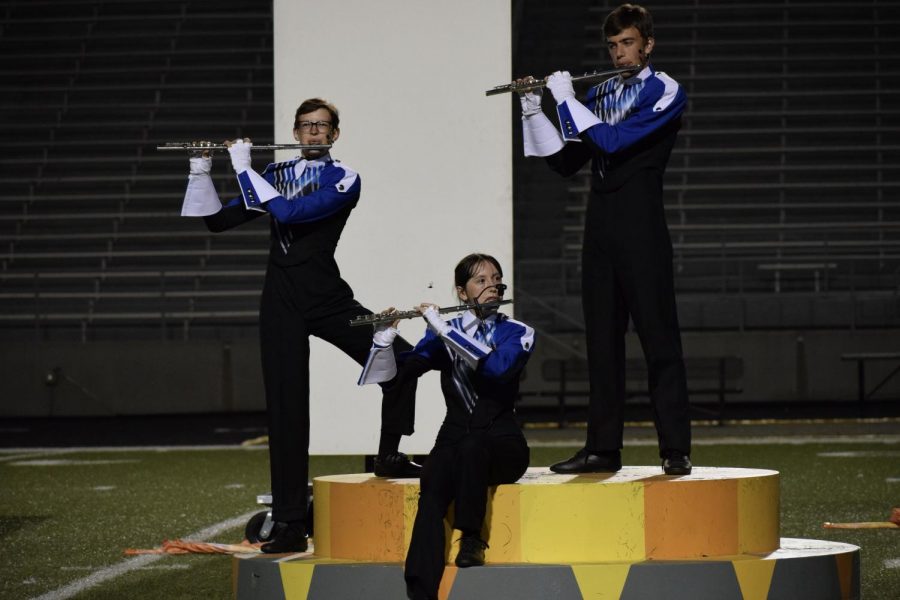 A TRIUMPHANT TRIO: Junior Julia Schaubert, seniors Madelynn Niles and senior Royce Blech, who make up the featured flute trio, perform during the first movement of the band's show, "Mirage." Following the trio, other "Mirage" soloists include senior Will Sharp on alto saxophone and junior Tyler Mankinen on French horn. "I had fun. I was a little nervous, because things have gone wrong in the past due to technical difficulties," Blech said, "And that's always a factor that could throw things off. But since we did well in the preliminaries I wasn't too worried about the finals." Caption by Elena Ulack. Photo by Patrice Jones.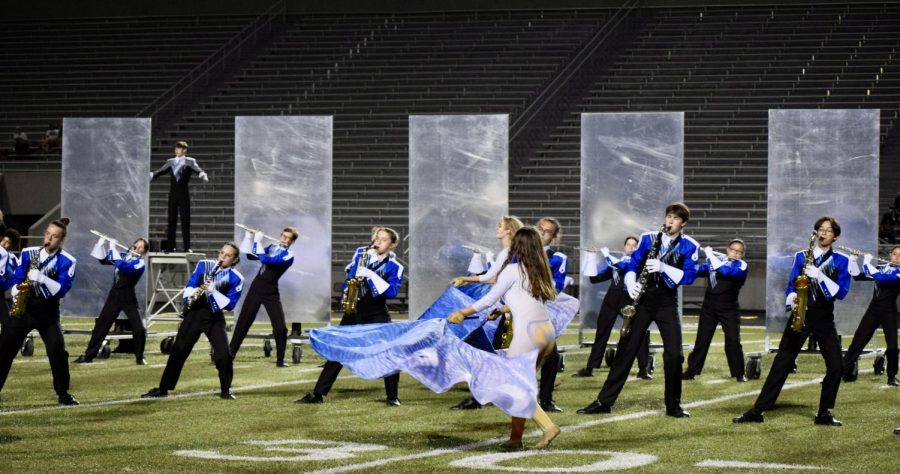 BAND IS BACK: At the Capital City Marching Festival, the band received a final score of 951 out of 1000 for the performance of their UIL show "Mirage." It was their first competition in almost two years, which brought up many emotions for the band members. "It was a bit of an anxious experience," senior George Harris said, "but it was also exciting." Photo by Patrice Jones. Caption by Cassidy Levin.
Leave a Comment