Looking Sharp
Senior saxophone soloist: a standout musician and a role model in the band
For senior Will Sharp, music is the ultimate art form. Along with participating in Mac's jazz and concert band, Sharp is a saxophone soloist during marching season, while also doubling as a keyboardist in the front ensemble.
"I vaguely remember deciding to play saxophone at Lamar because my friend was doing it," Sharp said. "But then they didn't end up wanting to play the saxophone. Still, I ended up really liking it and continued to pursue it."
Sharp's persistence over the past six years led him to audition for the saxophone solo in the band's 2021 performance, "Mirage." Their solo takes place in the middle of the show, and lasts a little over 40 seconds out of the seven-and-a-half-minute total time frame.
Sharp describes the solo as surreal. "I never really thought I was that good," Sharp said. "I am very critical of myself because I think that really just helps me a lot. Having this solo proves that all of the hard work that I have put in is really paying off. It's a really good feeling."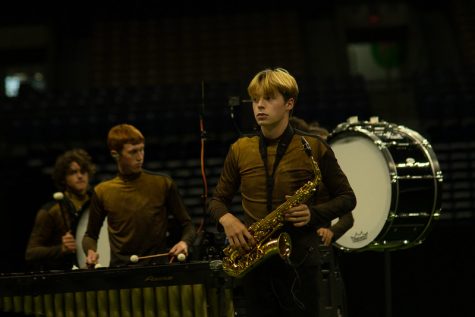 Sharp's band colleagues expressed admiration for the senior's craft.
"Will makes me want to be a better musician," freshman vibraphonist Smith Humphrey said. "Seeing him playing his solo— if I could do that? That would be so awesome. If I could get to the point where I could play an amazing saxophone solo for a crowd of 1,000 people the way Will does like it's nothing, and strut back to my synthesizer like I'm the coolest person ever, like, wow."
At the end of Sharp's solo, the pit cuts out, allowing his final note to ring through the stadium. This is Humphrey's favorite part.
"Will says it's super hard to play," Humphrey said. "And if Will says it's hard to play, it must be. It's definitely the best part."
Another leader figure for underclassmen, senior drum major Scarlet Frese feels that Sharp is "the definition of a consistent soloist."
"Oh my goodness, Will's solo gives me chills every time," Frese said. "It gives such an appealing effect to the audience, drawing them in where you get sucked into the technical and lyrical skills of his solo. I think it adds such a cool feature to our show and is extremely impressive."
"
I never really thought I was that good, … but having this solo proves that all of the hard work that I have put in is really paying off. It's a really good feeling.
— senior Will Sharp
Frese also started out with Sharp at Lamar Middle School, but their friendship began in high school.
"I feel like I've gotten the privilege from freshman to senior year to watch him evolve into an absolutely amazing musician and person," Frese said. "Over the course of the time I've known him, he's gotten so much more confident in himself and his passions. His musicianship has had a beautiful improvement and being able to play beside him makes me so happy."
Besides his musical abilities, Sharp has also proven to be a role model for underclassmen in band, especially those in the pit.
"I think I had some sort of mentality that I would have to prove myself to everybody when I first joined the band, but that's not true at all," Humphrey said. "Since he was so nice, it was a lot easier to fit in and find your little niche. I feel a lot more comfortable where I am because of Will."
Sharp was once in Humphery's position. In his freshman and sophomore years, Sharp recalls an upperclassman who inspired them in the same ways.
"There was this one guy named Dan that was just insanely good at everything," Sharp said. "I just thought, 'I want to be him.'"
Now a senior themselves, becoming the new "Dan" is not a role that Sharp expected to play.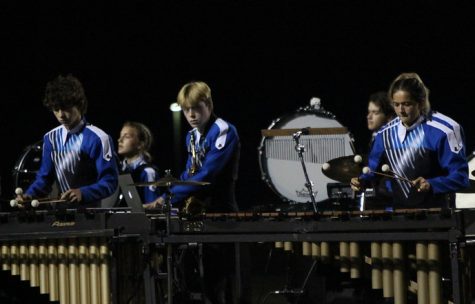 "I don't really like to think that the freshmen and sophomores are looking up to me because it feels weird," Sharp said. "But given what they have said, I think that they do. All of the saxophones are very complimentary. Every time I play, they're all like 'Oh my God, it's Will's solo!' and I think it's just kind of cute."
While Sharp is seen by others as an inspiration, his love for music comes from a casual origin and a personal connection to the art form. Their talent has proven to be valuable not only to their career within the band, but in their personal life as well.
Music makes me feel things that other art forms don't," Sharp said. "Art evokes a response from some people. Whether it be poetry, or looking at paintings, or physical art, it may make them feel something. For me, it's music that truly resonates with me."
During every performance of "Mirage," including this performance at the finals of the 5A State Marching Competition, Will Sharp left his front ensemble role as a keyboardist to play his saxophone solo. You can listen to at the 4:14 mark of this video from the Mac Band YouTube Channel.
A Sharp Soundtrack
Shield EIC Madelynn Niles asked Sharp to share what albums he has been listening to lately and why each album stands out. Here's what he said.
View Comments(1)