Martinez marches to Mac Band
Junior saxophone player moves to America from German military base, cherishes new community he's found in Austin
Junior Nico Martinez has moved around his whole life, but he's never experienced anything like American high school marching band. Until recently, he could only imagine the quintessential American high school experience of marching with the band during halftime of the biggest football game of the year.
As a member of a military family, Martinez bounced between bases his entire childhood. Two months ago, he transitioned back to Austin after living and attending school on military bases in Ramstein and Stuttgart, Germany, for five years. Countries, schools and friends may not have been constants for Martinez, but one thing has always stuck around: his passion for music.
"
Music is something I've always loved."
— junior Nico Martinez
"Music is something I've always loved," Martinez said. "I'm a musical person."
Martinez had a musical upbringing. He first picked up music in fifth grade when he attended a small school in Washington, D.C., and began playing alto saxophone soon after.
"As a toddler, he drummed on paint cans, strummed on a toy guitar and sang all the time," said Laura Martinez, Nico's mom.
Going to school on a military base is a bit different than the McCallum experience. The school Martinez attended last year was similar in size to McCallum and "basically an American school, but on a military base"—minus the fact that one-third of the students turned over each year and no one expected to attend the school for more than two years. Because the residents on the base were transient and from diverse backgrounds, Martinez believes there wasn't as much interest in elaborate marching band routines, a glammed-up cheer squad or the fanfare of high school football—all staples of American Friday Night Lights. With so much turnover in the military base band, Martinez also struggled to develop a feeling of community and stability.
"
Everyone in the marching band has shared goals, whereas in the past years I haven't been in places where people have the same goals because people are going to move in the next few years."
— junior Nico Martinez
"There's not really enough money or budget or interest really to do a marching band," Martinez said.
While the distinctive energy and grit surrounding American high school football were not present on the military base, Martinez was able to play in a small pep band during his freshman year and was a dedicated member of the jazz band.
"Football is definitely a big thing," Martinez said regarding the military bases. "But marching band is never really a part of it."
As a native Austinite who moved away at a young age, the prospect of coming back to Austin at the expiration of his dad's contract with the military appealed to Martinez. He knew this move meant getting to join the marching band, something he knew he missed out on in Germany, but Martinez was forced to leave behind a tightly knit community that he had cultivated over the years.
Despite the challenges of the move, Martinez has found the consistency he has long sought after in the band environment at McCallum. He also feels he has grown personally by joining the tight-knit band community and from acculturating to the competitive but healthy attitude fostered by the program. As a section leader in the marching band this year, Martinez feels inspired by his role to keep everyone excited, engaged and having fun.
"I've never been this motivated to learn and practice and play," Martinez said. "There's a part of me that wishes I could have been here longer to be able to get even better than I am now, but I'm also really excited to just have this experience and to get better and to learn more."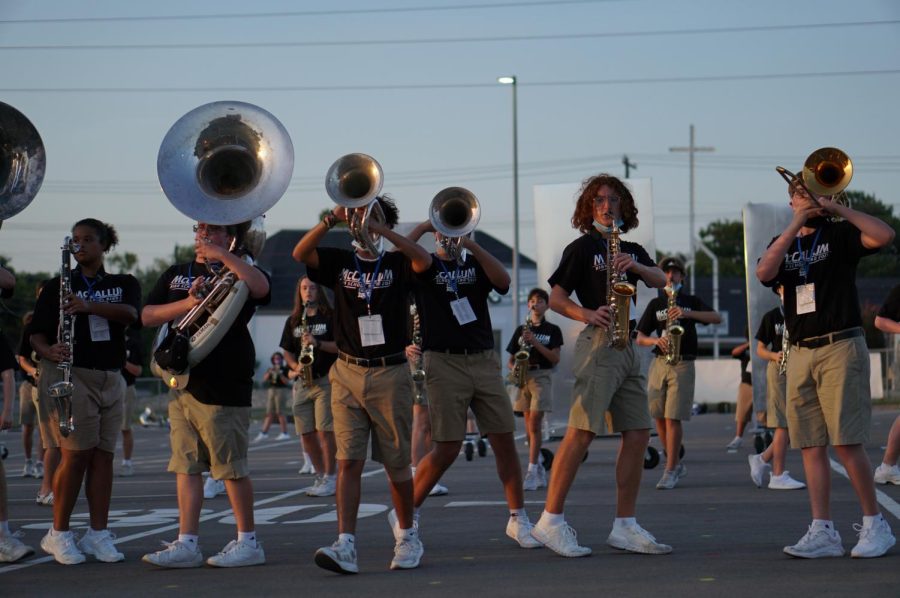 Additionally, Martinez finds that the McCallum band is unique because it forms strong bonds between peers, creating a community with shared goals. As a Fine Arts Academy institution, the reach of that community extends beyond just the band to embody the energy and soul of the school.
"Everyone is so talented, like I've never been specifically in a place with so much concentrated talent," Martinez said.
This year, Martinez's brother Ben is a freshman at McCallum and a member of the marching band alongside Nico.
"Being in band with Nico is fun because I can insult his playing," Ben said with a smirk. "I've never been in a band before, and it's fun to be in a band with him and to hear him yell at people."
At the Taco Shack Bowl, Nico Martinez got to experience the biggest game of the season and step under the stadium lights and hear the roar of a real crowd.
"That's just not a thing that I've experienced before." Martinez said. "It's just really intense and really cool."
When the game ended, it felt especially good to take home the win, especially when thinking of the journey he took to get to that moment.
As the son of a military man and a social worker, he has called many places home, but Martinez believes his experience at McCallum has been his favorite of all.