Grandstand: NFT-WFL's cousin?
Back in 1975, our intrepid sports editor likened the battle of the big three TV networks to a football game where hit shows were the MVPs
Two very prominent American traditions arrive on the scene in the fall football and television seasons.
Combine the two and what's left? Network Football Teams (NFT).
ABC has a slight edge over CBS and NBC in the offensive department, especially at quarterback. Arthur Fonzarelli, better known as "Fonzie," will be the starting field general for ABC. Although his playing qualifications are hazy, his charisma will at least get the American Broadcasting Company to the playoffs. Another asset for Fonzie is that he won't have to worry about quarterback sacks. Not that his offensive line is that good, but if anyone gets within 10 yards of his motorcycle jacket (also ABC's team uniform) he will yell "Heeeeeeey! Anyone of you nurds get close to the Fonz' threads and he'll make your face part of Arnold's parking lot!"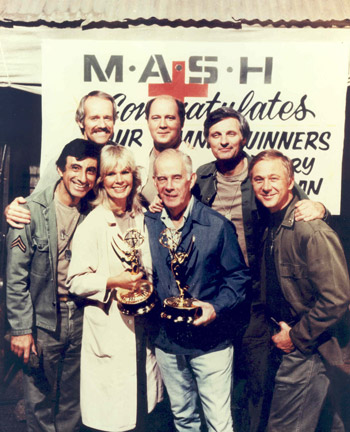 While the Columbia Broadcasting System's backfield vows to M*A*S*H opposition, ABC plans to SWAT the defense away. Inexperience may pose a problem, however, as The Rookies will fill the positions. NBC will pick their backfield by looking through The Rockford Files.
Defensively, the broadcasting studios, hoping for a greater unity among the team, will start whole families in hopes of shutting off the opposition's offense. ABC will start the Swiss Family Robinson, CBS will depend on The Waltons, and NBC will try out the zany Montefuscos.
While the teams appear to be solid as a unit, their front offices are shaky. CBS again leads in that department, with their management setting up shop on Beacon Hill. ABC and NBC's businessmen are presently Moving On.
Whenever network players are dissatisfied with salaries, they also have the legal power to arbitrate. CBS players will have Kate McShane to talk over their problems with, and if by chance they are really off their rocker they can turn to Bob Newhart. The NBC team will have Ellery Queen to look into their problems, while ABC's players will have to talk with their mamas. Those whose lawyers cannot get them off will be On the Rocks.
Playing facilities will be no problem. ABC will play on the Barbary Coast, CBS will battle over in Hawaii, and the National Broadcasting Company will work out near The Little House on the Prairie.
Which brings us to the coaches. CBS has a large staff, headed by Theo Kojak and his assistants Crocker and Starbross. He has whipped the team into shape faster than two slurps of his lollipop. Signs over at ABC read Welcome Back Kotter in favor of Coach Gabe Kotter. NBC is scrounging The Streets of San Francisco for a leader.
In conclusion, CBS will be going through Good Times, likewise will ABC with Happy Days. NBC may look back on these times as When Things were Rotten.
This article was published in The Shield's issues of Oct. 29, 1975.
Leave a Comment