A très compliqué year for advanced French students
Mixed-level classes force Favrin to teach three levels simultaneously
C'est la vie, or "that's life" is one of the best ways to describe how French teacher Charlotte Favrin and her students are feeling about this school year. Due to an unexpected increase in French students and limited scheduling options, the administration formed mixed-level classes with all three upper level French classes combined. 
"I was surprised about it," Favrin said. "I've never done that before, I've never had that mix before, so I felt it was a challenge for sure."
McCallum offers up to five levels of French, each with varying curriculas and difficulty. Since Favrin is the singular French teacher, the responsibility falls to her to teach every level, three of which during the same class period. 
"I'm hoping we can have a culture in the class of independent practice," Favrin said. "You get a task, you work by yourself and then at the end of class or at the beginning or next class I will work with you specifically. I cannot cut myself in three and work with everybody at the same time."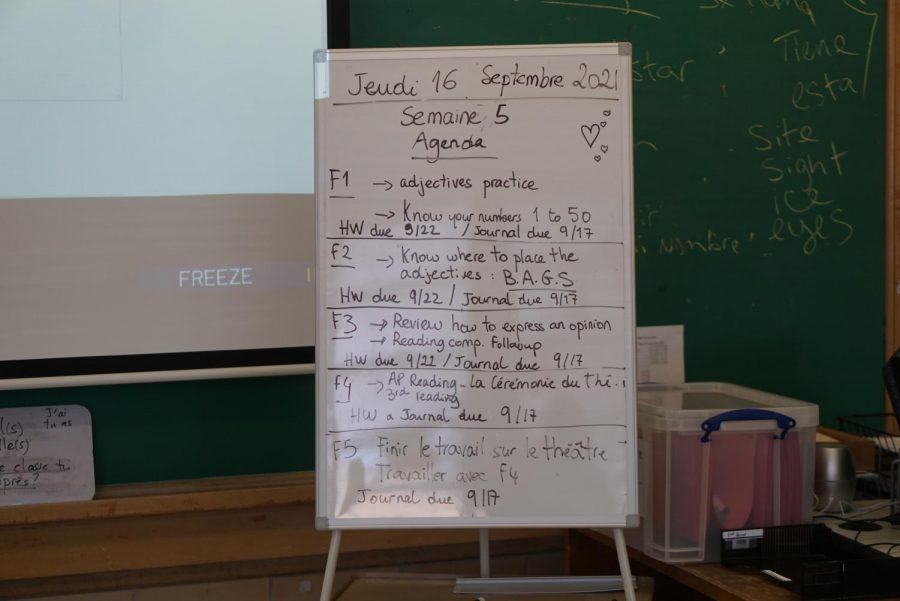 The three upper levels each have extremely different curriculums. French 3 is a transition year from base-level French to more advanced learning, focusing on deeper themes but still touching on basic mechanics such as verb conjugation. French 4 follows the AP curriculum to prepare for the exam, with students focusing more on debate and developing ideas one hundred percent  in French. French 5 studies French history and literature, with focus on summary and analysis. 
For Favrin, the challenge is making sure the students of each level of French learn what they need to without the class being too challenging, or, for the advanced students, not challenging enough. 
"I'm not freaking out, I have a plan, but I can see it's gonna take some adjustment and maybe some frustration," Favrin said. "So this is what I'm always worried about: my students being frustrated, like the advanced students being frustrated because it doesn't move fast enough and then the lower students being frustrated because it's too hard. So I really want to make sure that everybody has their needs met at their level."
"
I cannot cut myself in three and work with everybody at the same time."
— French teacher Charlotte Favrin
The required amount of time to earn language credits is two years, so there is generally a large dropoff in numbers after French 2. Stacked classes, or classes with multiple levels of a similar curriculum combined to make a larger class, was the result of an unexpectedly large French 3 enrollment for the 21-22 school year. French as a whole has shown growth: Favrin taught around 80 students last year, while this year the number is closer to 130.
"This year, we'll credit Ms. Favrin for that," Assistant Principal Andy Baxa said. "Ms. Favrin has brought a new passion to French, and students are more engaged and interested in the class. And so that's resulting in higher numbers within French."
As native Parisian and French speaker, Favin is one of the most experienced French teachers McCallum students could learn from. According to her students, this authenticity is part of what makes her so valuable as a teacher. 
"It's good that she's from France," Sophomore and French 4 student Edie Birkholz said. "and has a good accent."
"
I'm always very excited when you guys want to learn my language, because it's my language, my culture. I feel proud that you guys had those options and you're like, 'No, no, français! I want to learn French.'"
— Charlotte Favrin
Only truly motivated students follow French through to the end, so there are less than twenty total French 4 and 5 students. Stacking classes also gives more students a chance to take the class; without it, there would have been only one period of French 5, which would have limited the opportunity for students at that level to continue French. 
While Ms. Favrin feels up to the challenge, students have mixed opinions. Birkholz was apprehensive about being in a mixed-level class.
"It's hard because French 4 is supposed to be all in," Birkholz said. "You're immersed in the language but when you're sharing a classroom with French 3, it's impossible to be immersed in the language, because French 3 uses English. And I feel like a lot of the lessons are just gonna be teaching the same thing as French 3. So it feels like I'm not gonna be prepared for the AP test."
But while three simultaneous classes is certainly a challenge, other students are more optimistic.
"I saw the students from French 4 and 5 and they were speaking fluently," Freshman and French 3 student Finley Dixon said. "And I was like, 'Oh, I cannot do that.' I think there will be a little bit of a higher expectation than if we were just in French 3. But… It's actually been really good. And I enjoy hearing the French 5 students and Ms. Favrin talk to each other. It's really cool."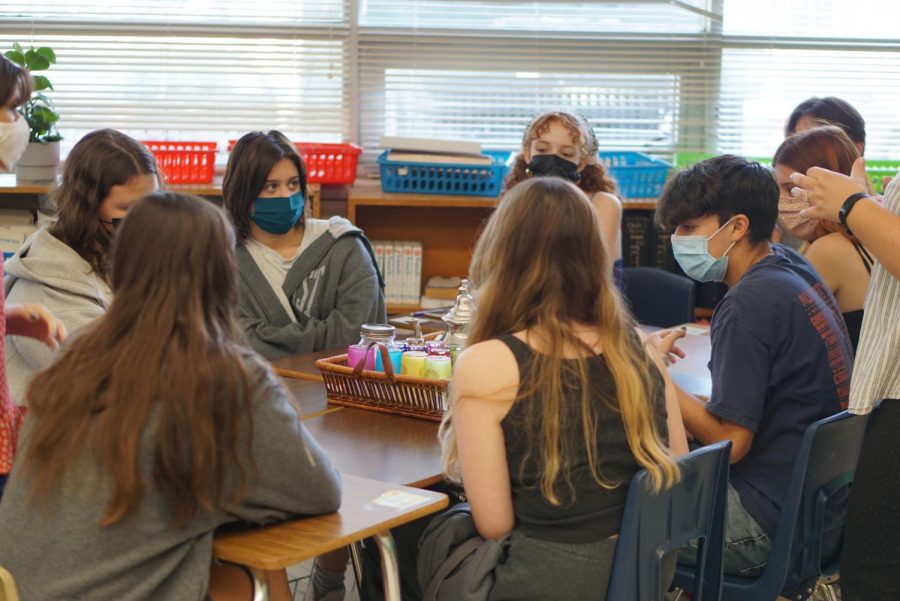 Senior and French 5 student Kenta Asazu also sees the benefits.
"I think a positive thing would be… we could help with other people's work as well," Asazu said. "There's no challenges whatsoever from my point of view for being in a French 3, 4, 5 class. You get to see yourself two years ago, which is pretty cool. And if it was just French 5, it would only be three people, which would be lonely, so I'm glad it's a mixed level class."
Mixed-level classes are only a temporary solution to a possibly long-term problem. If French continues to grow, the administration may have to examine other options, such as having a second French teacher. This would make life easier for Favrin. Despite the difficulties, however, she is excited to have so many people interested in French.
"I'm always very excited when you guys want to learn my language, because it's my language, my culture," Favrin said. "It makes me feel good. I feel proud that you guys had those options and you're like, 'No, no, français! I want to learn French.' This is kind of the best part of my job because I'm teaching something that people want to learn, I'm not forcing it."