Songs in their hearts (and on their Zooms)
Choir, piano students competed last month in UIL Solo and Ensemble contest, a culmination of their year-long efforts
In a pandemic school year, the unprecedented events taking place affect almost every aspect of students' lives. In the case of the UIL solo contest for choir and piano students, this trend was no different. The contest was switched from an in-person format that usually takes place on the McCallum campus to a Zoom room with a judge. In addition, the snow storm that brought life to a screeching halt in many parts of the South delayed the contest for some students. 
While the contest was originally scheduled for March 6, students were given an alternate date, March 27, in case they needed extra time to prepare after the week lost to the snow and ice. Despite all of these challenges, students were able to continue to hone their craft safely and learn from experienced musicians about how to grow.
Senior piano student Kyle Davis was relieved to hear that an alternative date would be available for the UIL solo contest. For one thing, he lost a week of practicing due to the stress of the snow storm, and for another, he had another audition scheduled for the same day.
"I chose a solo that I was working on for mostly my first semester because I used it for my first recital, so it just gave me more time to perfect it and work on it, and so I just thought it was extremely relieving," Davis said. "And also… I had had my Texas State clarinet audition at the same time. It was a little mix-up, so I was very glad that it got moved."
In addition to playing clarinet and piano, Davis is learning flute in hopes of being accepted into the orchestra for the AISD summer musical. He plans to incorporate music heavily into his future, and this drove him to sign up for the UIL solo contest when he otherwise might not have.
"
I've had my song for a few months now, but I was not mentally prepared for Solo and Ensemble, so I was super happy about the later date.
— sophomore Caytie Brown
"I'm going into music for college, and since I was like, 'It's my third year playing piano, why don't I just try it out?'" Davis said. "Because I was going to do it last year, then I chickened out, so I was like, 'You know what, I'm not going to chicken out this time.' So I was really glad that I ended up going through with it."
Sophomore Caytie Brown, who competed in the choir contest on March 27, also felt a sense of relief when she learned that she would be able to have more time with her solo.
"I've had my song for a few months now, but I was not mentally prepared for Solo and Ensemble, so I was super happy about the later date," Brown said. "I feel like less people went on the second date, too. I know for the first date, Bowie was there, Mac was there, there were a lot of people there. It was pretty small [on] the second date, so even if it was behind, it wasn't behind by much, so that was really nice."
Because Brown scored a 1 on a Class 1 solo, she will be advancing to the state-level round of the contest.
"We are doing a totally different song for the state level, and I think the biggest challenge is going to be the recording itself," Brown said. "Because the state [level] is recorded, and I just think that is going to be a big challenge. You've got to get everything right… state is a big deal."
Sophomore piano major Malia Walewski, who performed on March 6, is moving onto the state round as well.
"
"[I was] less nervous just because a large part of what makes me feel comfortable is my environment, and being able to do that in my own home is just excellent,
— junior Reece Tao
"I am excited to go to state because, I think performing–because we're on Zoom and all of that–I think still being able to do stuff that we got to do last year is super cool," Walewski said. "State is so much harder, and I'm playing a piece that everyone knows, so it's a little more challenging because you have to make it super good because everyone will know when you mess up."
Junior Reece Tao competed in the choir contest in person last year and noticed some key differences between virtual and in-person auditions.
"It was a lot less waiting," Tao said. "You could just kind of go in, go out, and it was really easy because you didn't have to arrange travel times or anything, you just signed in from home."
Tao preferred the in-person contest because of the social aspect of it. Tao also noted some in-person perks that really put the "glaze on top," so to speak.
"I do like the in-person contest a lot just because it's with people," Tao said. "You get to kind of hang out, you get to actually talk with people a lot more, and the online contest is very limited in communication. And I'm not sure how well this translates, but in the in-person one you get donuts, because we run it."
Tao was surprised by the extra technical considerations that go into preparing for a Zoom performance.
"Your camera set up is actually a lot more rigorous than I thought it would be because you have to have a certain distance and height," Tao said. "And there were a lot of technical things, like, your audio, how far your accompaniment is from the microphone, how far you are, and a lot of that is very different."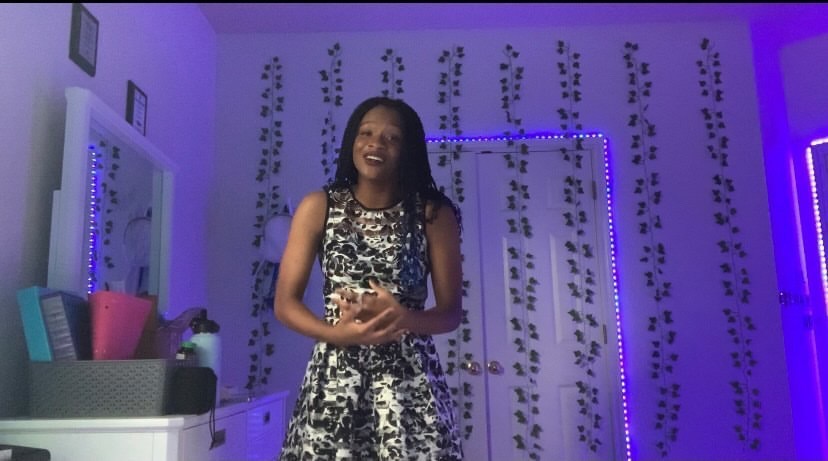 Tao did say that although a virtual performance is more involved, he was less nervous because he could perform from the comfort of his own home.
"[I was] less nervous just because a large part of what makes me feel comfortable is my environment, and being able to do that in my own home is just excellent," Tao said. "Other things like difficulty of the song don't really affect me as much, but the environment does. Because in person, at McCallum, it's usually in one of the music rooms that I don't use, like the guitar room or the band hall, so it's just slightly frightening."
Junior Veronica Britton, a Piano 3 student, agreed that doing the contest from her home helped her to lower the stakes and relax. She said that because she was put in a Zoom breakout room with her fellow piano classmates, that familiarity was helpful, but overall it comes down to her environment.
"
I'm able to get past a lot of stuff because I can still rely on music.
— senior Kyle Davis
"It's definitely calming to be around people you know," Britton said. "But because you're not in person with them, the thing that's the most calming for me was just being in my house, with my dog walking by, being like, 'This is really not that big of a deal.'"
Davis found solace in his playing rather than his environment when he needed to calm his nerves.
"I played my solo, and I was really nervous beforehand, and when I got into the room, I was nervous," Davis said. "But once I started to play, the nerves started to go away, thankfully, and I powered through my solo, which I'm very happy about."
Piano students in levels 3 and 4 use their fall recital pieces for the UIL contest, so Britton felt very prepared by March.
"I've been preparing since early fall," Britton said. "That's just the way we have it worked out, because you do it for UIL, but you also do it for class grades and recital grades. So it's nice because, by the time UIL gets around–unless you've forgotten your piece and have to relearn it, which I did do a bit of–it's a lot less stressful than having to compete with a piece that you just got in your hands."
Throughout this year, Britton has used piano practice as a way to fill the lulls in her days full of Zooms. She is thankful to have something productive to keep her occupied.
"It's very easy, being in this weird Zoom school, for your class to end early and for you to just watch TV or go on your phone for the 10 minutes until your next class," Britton said. "Because you're not forced to do your work, but it's been really nice having piano and my other outlets to just do in all that free time, because I know it's way better for me than being on my phone."
Davis also found an outlet in piano during the stresses brought on by the pandemic.
"The pandemic has made everyone kind of depressed, kind of sad," Davis said. "But being able to continue something you love like music, it still warms your heart and it makes a lot of stuff easier. I'm able to get past a lot of stuff because I can still rely on music."