Peer feedback is 'central' to success
Students use Writing Center, FAAT Club to hone their crafts
It's no secret that the pandemic has drastically affected school, like everything else, over the past year. In response to this upheaval, several teachers and administrators are striving to make the school experience as normal as possible and to find virtual ways to provide support that would traditionally take place in an actual classroom. Two examples of this effort are the Fine Arts Academy Tutoring Club and the Writing Center.
The Fine Arts Academy Tutoring Club, also known as the FAAT Club, is dedicated to assisting students with their work in fine arts classes.
"The FAAT Club is not only a great place to get tutored on your major but also a great environment to make friends," said Henry Rodgers, the founder of the club.
"I started the FAAT Club in hopes of connecting with my fellow seniors, but it soon became a hub for all fine arts students to meet and perform pieces for one another. I've performed many guitar and piano pieces in Zoom for my peers."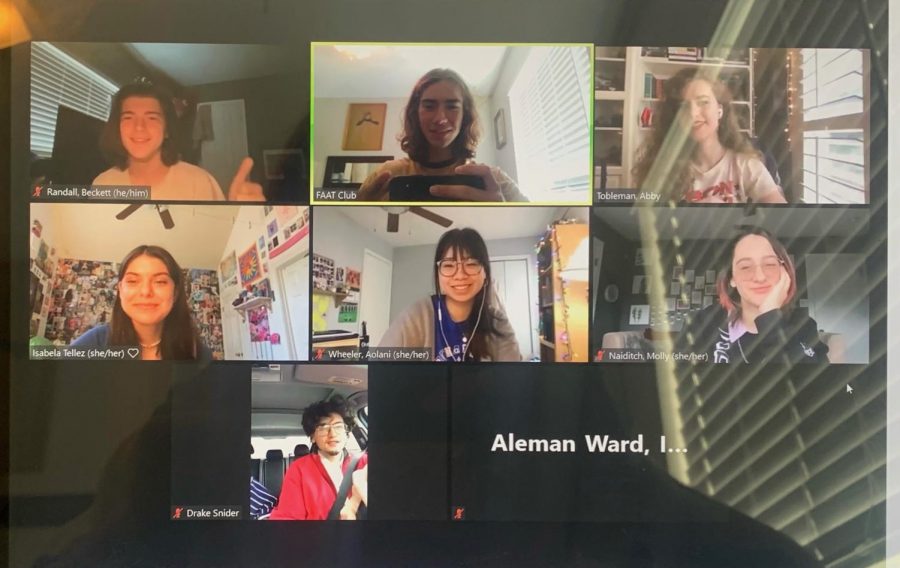 Not only has the FAAT Club helped many students brush up on pieces, it also has encouraged them to seek new audiences for their work. The FAAT Club gives students useful and honest feedback so that each student can continue to improve in their major.
"It's really helped me get out of my comfort zone," said sophomore Malia Walewski, a member of the club. "I used to be so intimidated by the thought of having to perform a piano piece in public, but FAAT has pushed me to perform in front of people that I know are only there to help."
The FAAT Club is all peer reviews. Students from all majors volunteer to view and critique everything. They utilize peer review so that the environment is more comfortable.
"I think it's extremely important for students to have a place they can go to for advice, especially when that advice is peer-given," Rodgers said.
"
It's extremely important for students to have a place they can go to for advice, especially when that advice is peer-given.
— Henry Rodgers, Fine Arts Academy Tutoring Club founder
Both Rodgers and Walewski agree that peers advice can be more meaningful and less stressful than advice from a teacher.
"It's just a lot more comfortable, hearing critiques from your friends," Walewski said.
Not only is the FAAT Club welcoming, it is very accessible. All majors, or even non majors that want to showcase a piece, can do so.
"The sign-up process is super easy," Rodgers said. "All you have to do is go to the Google sheet located in the Fine Arts Academy section in Blend. There is a tile for FAAT Club where you just put down your email and what you need help with. There are a ton of great tutors, including myself, who are ecstatic to hear and critique whatever you need help on."
Another peer-review resource for helping students, one that existed long before the pandemic, is the Writing Center.
"The Writing Center is a place where students can get help and feedback on their writing from trained, vetted peer tutors," said Nikki Northcutt, English teacher and one of the Writing Center's teacher coordinators. The other coordinator is English teacher James Hutcheson.
Student tutors help students improve their writing, from correcting small grammar mistakes to making their writing more engaging.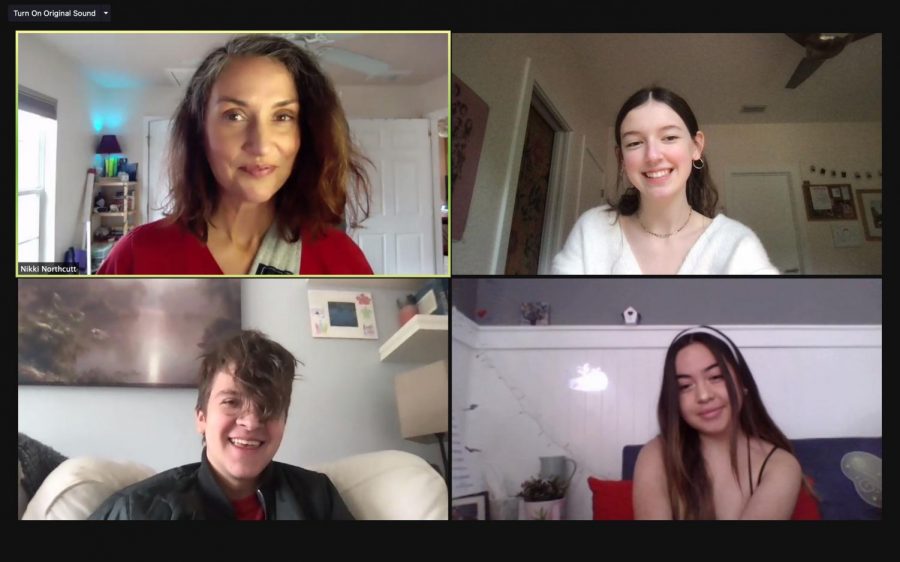 "I'd recommend the Writing Center to any writer, student or professional to have someone else look at their writing before 'publishing' it," Northcutt said. "Writing is recursive; it's never 'done' or 'perfect,' so utilizing the Writing Center is a great way to really engage in the writing process."
Sophomore Amethyst Skwarek is a satisfied Writing Center customer.
"They actually help," Skwarek said. "My first time I expected it to be super awkward, but it's not at all. The tutors are super nice and really know what they're doing. " 
Not only is the writing center student approved, it's also teacher approved. Teachers of all grades encourage their students to go to the writing center to ensure they're writing to the best of their ability. 
"Some teachers also use the writing center as an extra-credit technique," Skwarek said. "My teacher Ms. Padron was the one who recommended the Writing Center to me, and I'm very grateful. I have submitted multiple STAAR paragraphs and essays, and they always come back looking much more polished." 
"
The [Writing Center] tutors are super nice and really know what they're doing. … They actually help.
— sophomore Amethyst Skwarek
The students meet synchronously or asynchronously with peer vetted tutors that are eager to help. These tutors are picked specifically for their excellent writing skills and their ability to assist other students. 
"As a tutor, my role is to assist clients with any writing assignment they need help with," said senior Sophia Olivares, a Writing Center tutor. "The Writing Center can really enhance your learning by simply gaining some outside perspective. It's super flexible and we accept clients during our shifts either before school, during lunch, or after school everyday."
All you have to do to sign up by making a request  here. You can do so synchronously on Zoom, or asynchronously through google drive comments. You can also learn more about the Writing Center by visiting the @macwritingcenter on Instagram. 
"Our goal is not only to correct writing errors, but to help each person grow as a writer as well," Northcutt said. "Each of our peer vetted tutors are there to assist you and encourage you. Writing can seem incredibly daunting and strenuous at times, so having someone to guide you through it can make a world of a difference."