McCallum qualifies 12 swimmers for regional meet
They felt fortunate just to have a district meet, but Knights didn't let gratitude stop them from excelling at district meet
At the District 25-5A Swim Meet, McCallum swimmers won medals, and district titles and qualified for the next round: the regionals this weekend.
The meet was a successful one by those timeless standards that apply to any year and any swim meet.
But when one of those district champions, junior Zoe Lynch, was asked what the best part of the meet was, she didn't mention her medals or her 100-yard breaststroke title. 
What was her highlight then?
"Probably just getting to race," Lynch said matter-of-factly. "I was happy that it was in an environment that felt safe and [that] everyone was wearing their masks and that all of the girls made it into regionals."
In addition to trying to beat their opponents in the pool, the swimmers had to fend off COVID-19 by following a strict set of safety protocols required in order for the competition to happen at all.
CONTENDING WITH COVID
Those protocols added an element of strangeness into the mix. 
"For the COVID aspect, they were pretty strict about regulations like masks, six feet [of social distance], and checking temperatures," senior girls captain Madi Baylor said. "The main difference was the emphasis on wearing masks, and they split up the boys and girls this year into two different sessions." 
There were also no spectators allowed, senior Izak Zaplatar said. "COVID had a huge effect on the energy of the swim meet. [It was] kind of like watching sports without an audience."
"
My swim kids have lost so much this year, yet they continue to work hard and remain focused on improving and keeping a sense of 'normal.'"
— head coach Jeff Rudy
COVID made this season different from the previous year in many other ways as well. The swim team had to deal with many new obstacles, including moving to an outdoor pool, moving to a new UIL district, and practicing a lot less frequently than the previous year.
"With safety guidelines in place, we are only getting to swim one third of the amount of time we normally would during the season," head swim coach Jeff Rudy said. "Coupled with weather cancellations, it's been difficult to keep any consistent practice schedule. Despite the setbacks, we've done well.
Another big change was that districts wasn't held at the UT pool. Instead the meet took place at the Highland Lakes YMCA in Burnet. This change in venue, along with the lack of an audience, just added to the contrast of this year and the previous year's district competitions. 
"It felt different because it wasn't at the UT pool," sophomore Luke Gordon said, "but it was still a lot of fun."
THE DECORATED DOZEN AT DISTRICT
Winning is fun after all, and for the Mac swimmers there was plenty of winning. 
Of the 19 swimmers who competed at the district meet, 12 and two alternates are moving on to regional this week in San Antonio. Mac swimmers won district titles in four individual events and one relay race. The boys and girls team each placed third in the team competition. The feat was impressive for both teams. The boys brought only 13 swimmers to the meet while the girls traveled with only six yet still managed to finish third out of the eight district teams competing.
Zaplatar won first in two individual events, capturing the district title in the 200-yard individual medley and the 100-yard breaststroke. His victories in both races were decisive. He won the 200-yard IM in 1:59.65, more than seven seconds ahead of second-place Chase Hays of Anderson at 2:07.29. Zaplatar also won the 100-yard breaststroke convincingly at 59.68, almost four seconds ahead of second place Diego Rivas Cordona's 1:03.58. Senior Ian Wetherold also qualified for regionals in the 100-yard breast with a third-place finish at 1:04.92.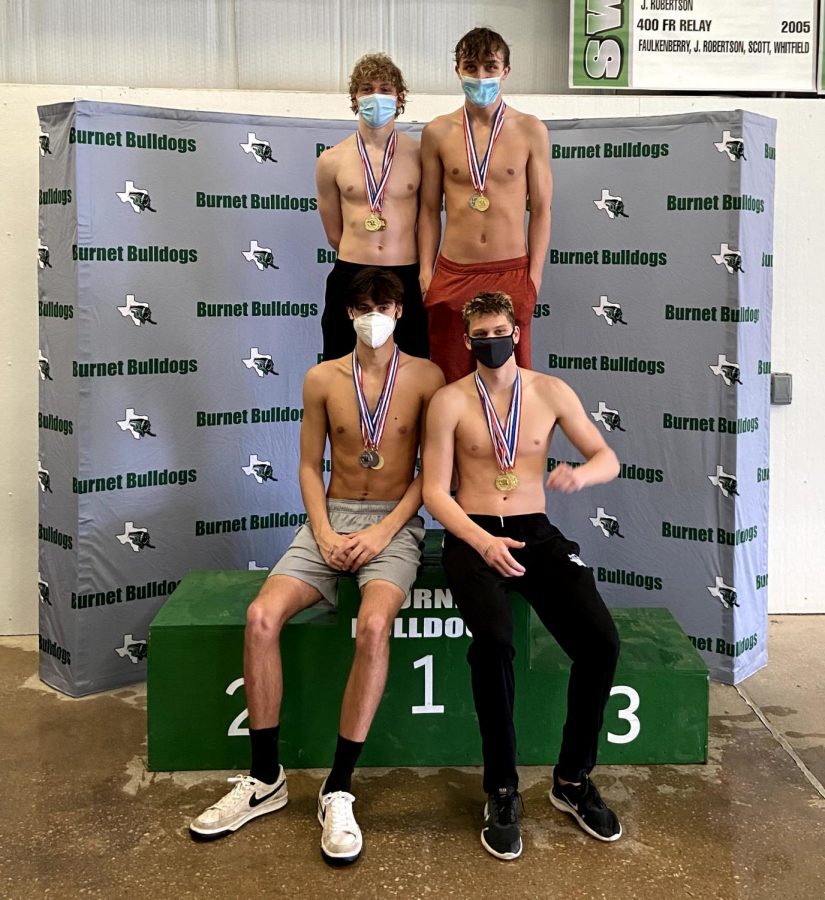 Even though Zaplatar won district titles in two individual events, he said the 200 medley relay title was the top moment of the event for him. The relay team of Zaplatar, Gordon and seniors Jack Hester and Kyle Larson set the pool record for the event at 1:39.61.
Two other Mac boys relay teams also qualified for regions. The 200-yard freestyle relay of Gordon, Hester, Zaplatar and senior Marco Emami finished second behind Anderson's relay, and the 400-yard freestyle relay of Emami, Wetherold, and juniors Noah Cirkiel and Keegan Langley placed third behind first-place Anderson and second-place LASA.
"I think the highlight of the meet for me was getting a pool record on our boys medley relay," Zaplatar said. "It was also nice to see a lot of best times on the team. Just overall everyone swam really well."
"
Although there's still that competitiveness, I know that above all I have friends on other teams that want to see me succeed."
— senior Madi Baylor
Lynch certainly did. She won the 100-yard breaststroke in 1:06.6, almost three seconds ahead of second-place Helen Singletary of LASA whose time was 1:09.49. Lynch also qualified in the 200-yard IM with a third-place finish.
Hester also won a district title in the 50-yard freestyle in 22.10, edging second-place Dylan England of Anderson by 0.27.  Gordon earned a trip to regionals in the same event with a fourth-place finish in 23.15. Hester also qualified in the 100-yard freestyle, finishing second in 47.52, only 0.33 off the pace set by first-place winner Jasper Davis of Anderson. 
Hester said he was pleased with the result of the meet because he was able to shave time off his 100-yard freestyle time and because his teammates performed well and had fun.
Baylor had a similar attitude about the finality of the meet and enjoyed similar results with two second-place finishes in her individual events: the 50-yard and 100-yard freestyle. She was narrowly edged out of first in both races by Anderson's Elizabeth Stromberger.
Baylor said the pressure was a bit higher because only the top four finishers advanced to regionals unlike last year when the top six advanced.
"I was seeded pretty high in both events and knew that my primary competition was one of my super good friends from Anderson that I swim club with [Stromberger], so I knew that if the two of us just pushed each other we would be just fine. It was more exciting than nerves for districts, but also super bittersweet because it made me really realize that these are my last couple meets swimming for Mac."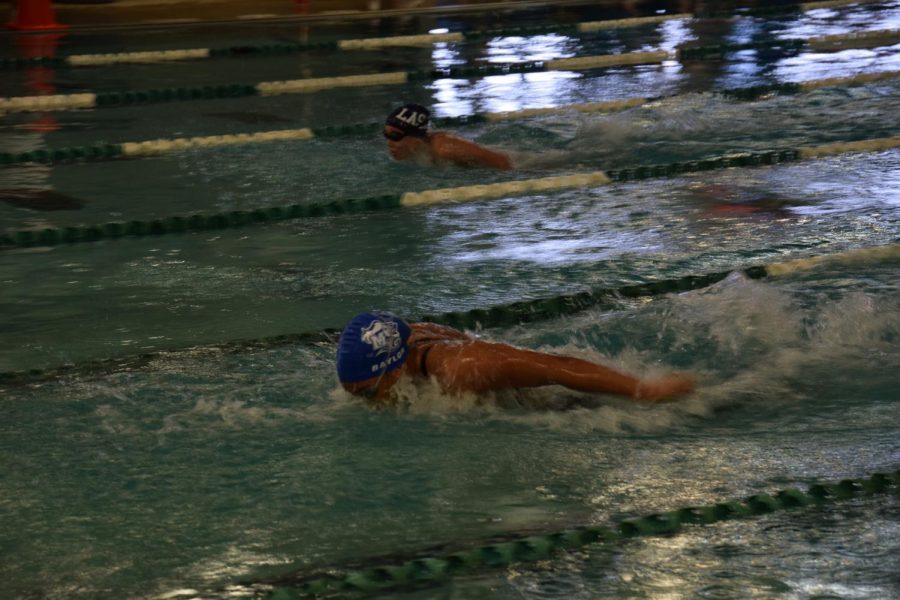 Like Zaplatar, Baylor said her meet highlight came with her team's second-place finish in the 200-yard medley and 200-yard freestyle relays.
"Everyone really stepped up and came together for the relay so that was a super great way to end the meet," Baylor said.
The girls relay teams in both races consisted of Baylor, Lynch, senior Ellen Fox and junior Hannah Gates.
Fox said she also was proud of her showing and the team's in the relay races.
"In my 50, it was one of those things where you go in, put your head down, and just burn it out, so I was really proud of that," Fox said. "I'm really proud of the team too; we only had six girls there and they all did really well."
In addition to the two relay qualifications, Gates also qualified for regions individually in the 100-yard backstroke with the third-place finish in 1:04.29 behind first-place finisher Rachel L. Simonds of Pflugerville Hendrickson (1:00.55) and Phoebe Jaggers of Anderson (1:02.79). 
A FITTING FAREWELL
For the team's seniors Saturday's meet was their last district competition. Within the team, there were some differing perspectives on the pressure that that entailed.
Hester said he wanted his last district meet to be his best district meet.
"I'm a senior now," Hester said, "and it puts you in a different perspective knowing this is your last year and you wanna perform your best."
"
I just decided 'OK, whatever time I get, I don't care. I'm just going to enjoy it.'"
— senior Ellen Fox
Fox, however, said she simply wanted to have fun during her final 500-yard freestyle race, an event she has been swimming since her freshman year.
"For that one, I went into it knowing that it would be my last one, and I just decided 'OK, whatever time I get, I don't care. I'm just going to enjoy it.' So, I dove in and kept my space steady and put a little smile on my face while I swam. And it was actually really good."
Baylor, one of the senior captains, said the finality of parting with Mac swim at the end of this week made her sentimental. 
"For the last four years, I've swam for Mac and the team has evolved and changed in so many ways in just the short time that I've been lucky to be a part of it," she said. "I'm so grateful for all of the memories and friends I've made because of Mac swim, but I know it's time to move on, graduate and join a new team. If this ends up being my last time swimming for Mac, the only word to describe my feeling is bittersweet." 
But the swimmers aren't the only ones with strong emotions surrounding this unusual season. Coach Jeff Rudy told MacJournalism he is proud of his team's resilience and will to succeed despite the extra obstacles that the pandemic put it the way.
"My swim kids have lost so much this year, yet they continue to work hard and remain focused on improving and keeping a sense of 'normal.' I feel very blessed to be able to work with such great students.  If they are tomorrow's leaders, the future does indeed look bright!"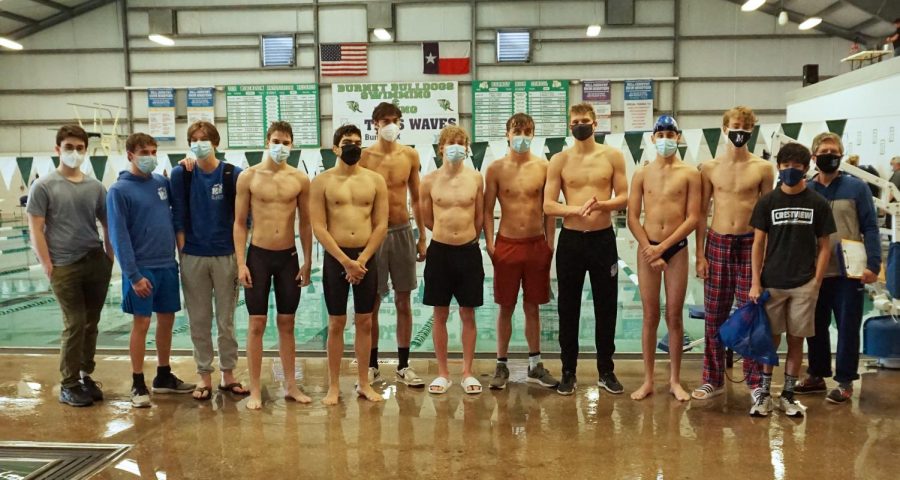 — with reporting by Zazie Bryant, Lucy Marco, Alysa Spiro and Dave Winter