Trio of elders save their best for Senior Night
Full-court pressure flips switch for host Knights as they overcome a slow start to cruise to a 24-point victory
Seven different Knights landed in the scoring column Friday night as the home team overcame a cold start, warming up to score 42 points over three quarters and an even 20 points in the fourth quarter to run away from the Navarro Vikings by a 24-point margin on Senior Night.
The game pivoted in the second quarter when Coach Lorie Campbell dialed up some full-court pressure that created Viking turnovers that led to Knight scoring opportunities. Trailing by two at the start of the second quarter, McCallum (5-7, 3-7) outscored Navarro, 12-4 in the quarter to build a lead that only grew larger in the second half. The Knights scored 30 points in the second half to salt the game away.
Appropriately, senior forward Abby "Big Red" Robison led the way for the Knights with nine points, seven deflections, five rebounds, four steals and two assists. Her co-captain, shooting guard Makayla Mason was also stellar on both ends, scoring eight points while also recording three deflections and a pair of steals. Senior point guard Abby Soto tied with Mason for the team-high assist total with four as all three seniors produced some shining moments in their senior spotlight. After the game, Coach Campbell awarded all three MaxPreps Player of the Game honors.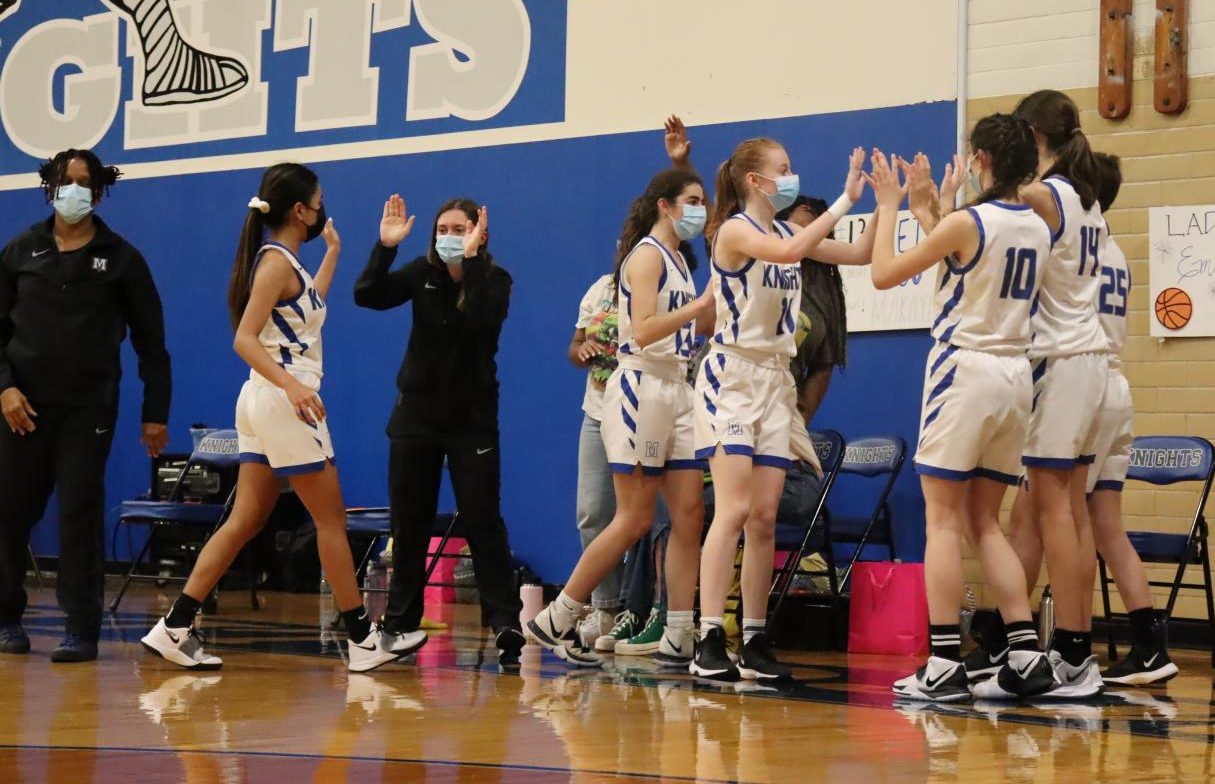 Coach Kehn said after the game that the team showed it had the potential to score more than 60 points in a game. In honor of that post-game comment, we present 60 of our favorite photos from the game, pregame and postgame festivities. Photos by Makenzie Mason and Dave Winter.
Freshman forward Sam Cowles led an impressive rebounding effort grabbing 10 of McCallum's 28 rebounds, and fellow freshman Esme Barraz was a force on the floor, scoring eight points to go with four rebounds. Cowles scored six points, sophomore guard Olivia Allen, five; and freshman Lily Hobbs made both of her shots in the fourth quarter to finish the game with four points.
After the game, Hobbs gave a shout out to the Knight bench, which rose to its feet and cheered loudly at every opportunity and there were many. The other vocal cheering section, located in the middle sections of an otherwise empty bleachers included senior parents, interim principal Nicole Griffith and athletic director Tom Gammerdinger.
Coach Campbell showed some love for her three seniors by substituting for all three of them simultaneously midway through the fourth quarter so everyone in attendance could give them one more round of applause.
The Knights face Northeast and Lockhart at home next week.