Knights resist Raiders to improve to 2-0 in district
Rob Wade scores 21 to lead Knights; Ed Johnson's efficient 17 overshadowed by his work on defense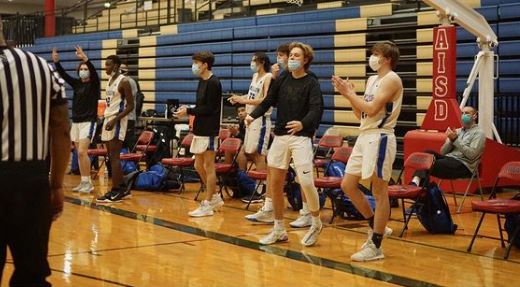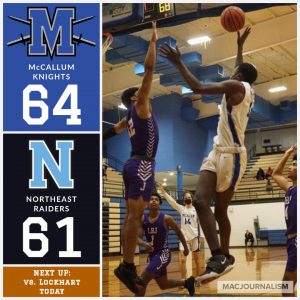 The box score doesn't always tell the whole story. And that certainly was the case on Saturday as the varsity basketball team looked to get to 2-0 in district play at the Delco Center against the Northeast Raiders.
Rob Wade led the visitors' efforts with 21 points and six rebounds, and Hudson Spradling was strong in a supporting role with 10 points on only six shots, but Knight opponents might be concerned that Saturday was the first game that senior Ed Johnson was all the way back in basketball mode after finishing his gig as a wide receiver and defensive back on the football team.
Johnson's stat line was impressive for its efficiency: 17 points on four of six shooting, eight of 10 at the free-throw line and a team-high seven rebounds.
But when we asked him what he remembers about the game, he mentioned none of those things.
Rather, he mentioned his role defending the top offensive player in the Raider lineup.
"
Rob [Wade] always plays well, but a person who stepped up a lot is Hudson Spradling. He's been balling."
— senior forward Ed Johnson
It's a role he's comfortable playing, and Johnson said he and his teammates he didn't shut down his opponent but rather made him earn his points. During the game, Johnson twisted his ankle after making a layup and had to go to the bench. He walked it off and re-entered the game and the challenge of playing top-flight defense.
Any doubt that he is a stout defender might be dispelled by a funny moment from the game.
Having already blocked a couple of shots in the game, Johnson pursued a Raider player driving to the basket on a fast break. When the Raider coach saw Johnson was going to get back to defend, he called timeout.
Both teams were short-handed in the game. The Knights were without a few players among them junior Noah Arnold. The Raiders were without two players who got into a scuffle right before the game started and were ejected. The Knights had a lead before the tip-off after Albert Garza shot the technical free throws. Despite being undermanned, the Raiders battled the Knights closely the entire game. The Knights led by three after one quarter, were tied at halftime and led by only four heading into the fourth quarter.
The Knights host Lockhart at 6 p.m. tonight at DCG.