Celebrating the season despite COVID-19
The pandemic may have forced us to be physically separated or to take some extra precautions, but the holidays are not canceled in 2020. They're just different.
Sophi Beardslee, Josie Bradsby, Lissa Castro, Amaya Collier, Maggie Coulbourn, Naomi Di-Capua, Meredith Grotevant, Ari Miller-Fortman, Madelynn Niles, Lanie Sepehri, and Dave Winter
December 22, 2020
The pandemic may have changed the way that we have celebrated the holiday season in Austin, but whether the celebration was in our homes or at some of our favorite Austin places, the theme of the 2020 holiday season was more about holiday adaptability that it was about holiday apathy. We are illustrate the resilience of our collective holiday spirit in this week's special holiday edition Tuesday Top 10.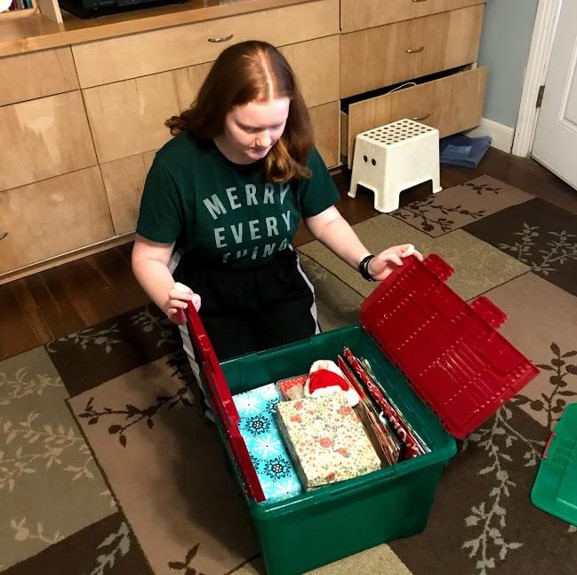 THE PRESENTS MEET THE PAST: Freshman Maggie Coulbourn opens a box filled with Christmas decorations. Her family has a collection of these boxes full of decorations that live in the attic until December rolls around each year. "I love decorating for Christmas," Coulbourn said. " It's always so fun, and it's a cool mix of old traditions and new ones every year." Photo courtesy of Maggie Coulbourn.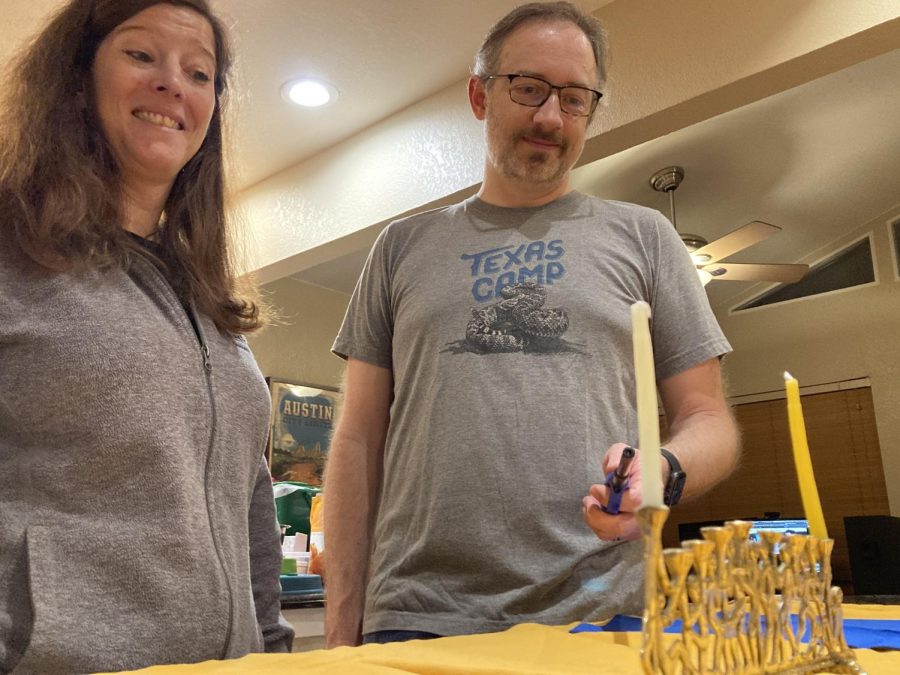 THE FESTIVAL OF LIGHTS: Preparing to light the candles on the first night of Hanukkah, Paul Grotevant holds a lighter as he and Carolyn Schwarz look on at their menorah. The Schwarz/Grotevant family have used the same menorah for many years, and it has become an important part of their Hanukkah celebrations. "Every year, when we pull out the menorah a special feeling enters the house" Schwarz said. "The festive spirit of past Hanukkahs return and it is impossible not to feel happy and excited for the holiday season." Photo by Meredith Grotevant.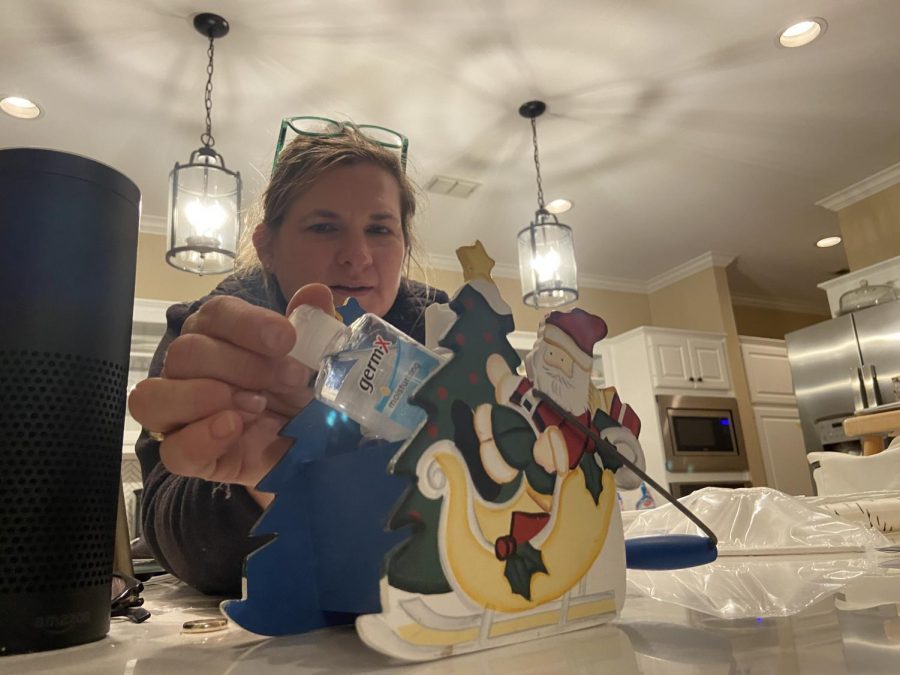 SPREAD CHEER NOT GERMS: Leaning over the counter, Meredith Sepehri adds some hand sanitizer to a container decorated with Santa's sleigh. With the COVID-19 pandemic continuing through Christmas, many families were forced to re-evaluate their holiday plans. "I just feel like it's a chance for us to create some new memories and make lemons out of lemonade," Sepehri said. "We just have to find new and creative things to do rather than stick to our old traditions. And that's hard for me because I really dislike change." Photo by Lanie Sepehri.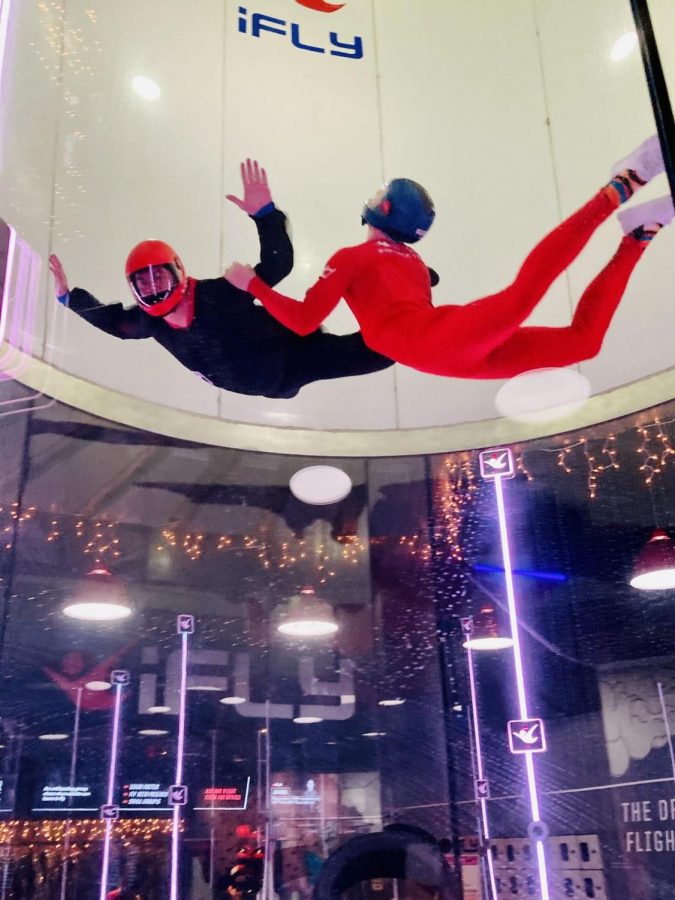 THE PRESENT OF FLIGHT: As a December adventure, the Collier family headed to iFly. Maura Collier, 8, and her uncle David Zacek chose iFly as their gift to experience the freedom of flight amidst COVID restrictions. In this image, Zacek and iFly instructor, Dusty Shaw, spin up high into the flying tube together at iFly. Zacek paid for the full experience package, "high fly," where the instructor launches himself, guiding his passenger into the top of the tube instead of the basic package where the fliers stay on the bottom. Both Shaw and Zacek spin to build up momentum, the air beneath increases, and they are propelled up high in the tube. "That was awesome," Zacek said about his high flight. If you look closely, you can see the holiday lights decorating the waiting and viewing area beyond the flight zone. Reporting and caption by Amaya Collier.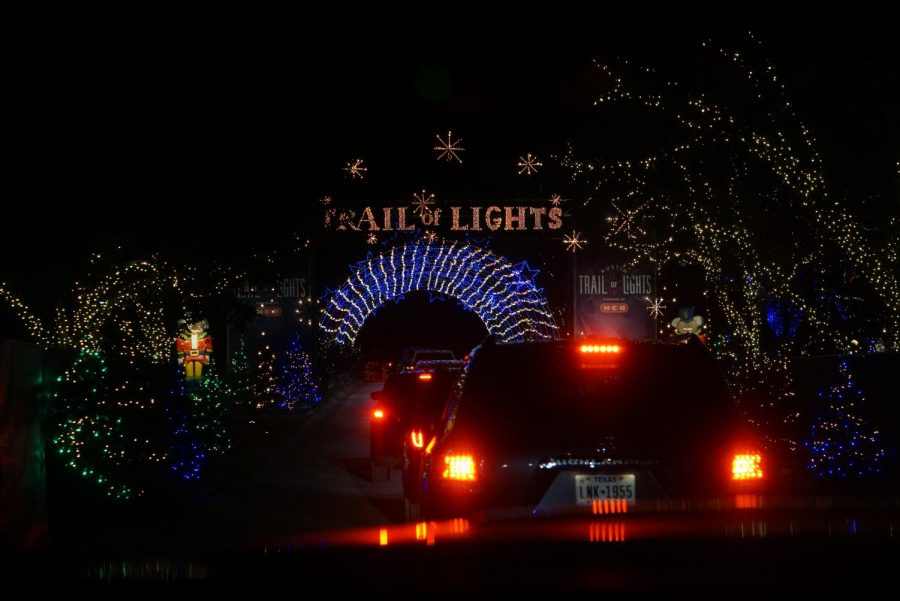 A BLAZING TRAIL: A line of visitors file into the Trail of Lights entrance, with twinkling trees filling the sky and over a dozen attractions ahead of them. As they pass beneath the archway, visitors immediately drive through a tunnel completely covered in sparkling blue lights. Photo by Madelynn Niles.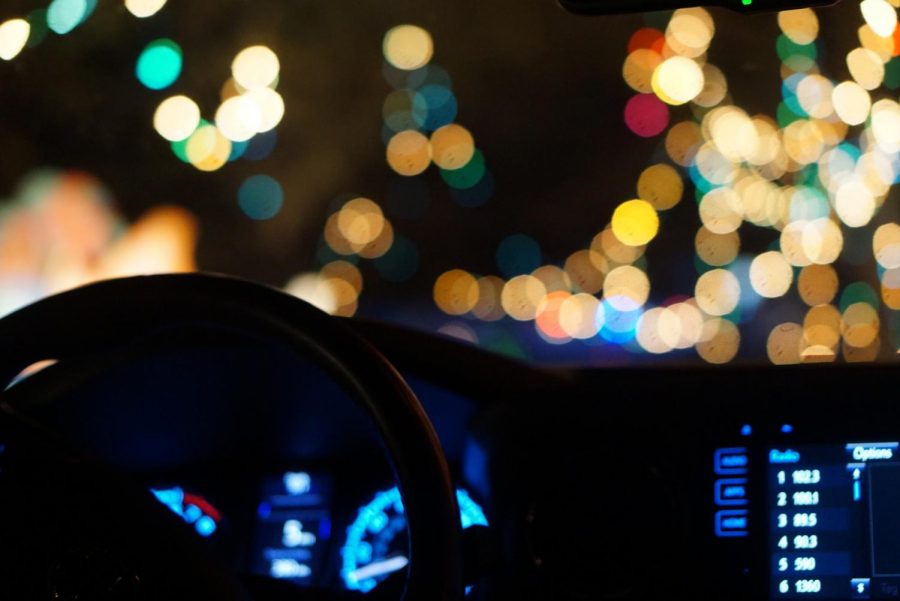 MERRY AND BRIGHT: With almost the entire trail complete, visitors witness the blurred glow of the Christmas lights through their car windows. The music, too, begins to wind down, and visitors approach the final attraction of the night: the illuminated exit tunnel. Photo by Madelynn Niles.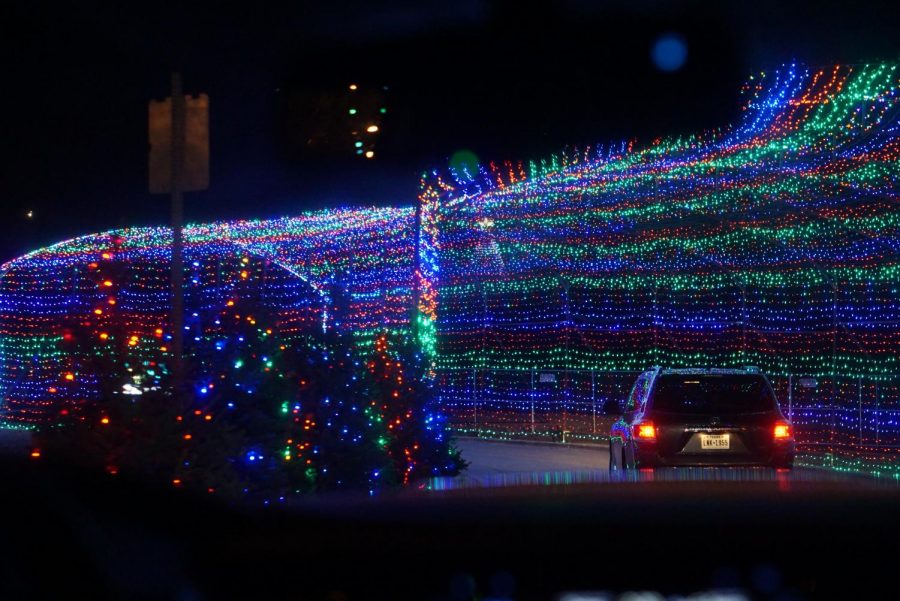 OUT LIKE A LIGHT: Visitors' cars exit the trail through a final lit tunnel, finished with this year's Trail of Lights drive-through, COVID-safe experience. The attraction serves as a reminder that, despite different circumstances this holiday season, there isn't just light at the end of the tunnel: there is light all throughout it, too. Photo by Madelynn Niles.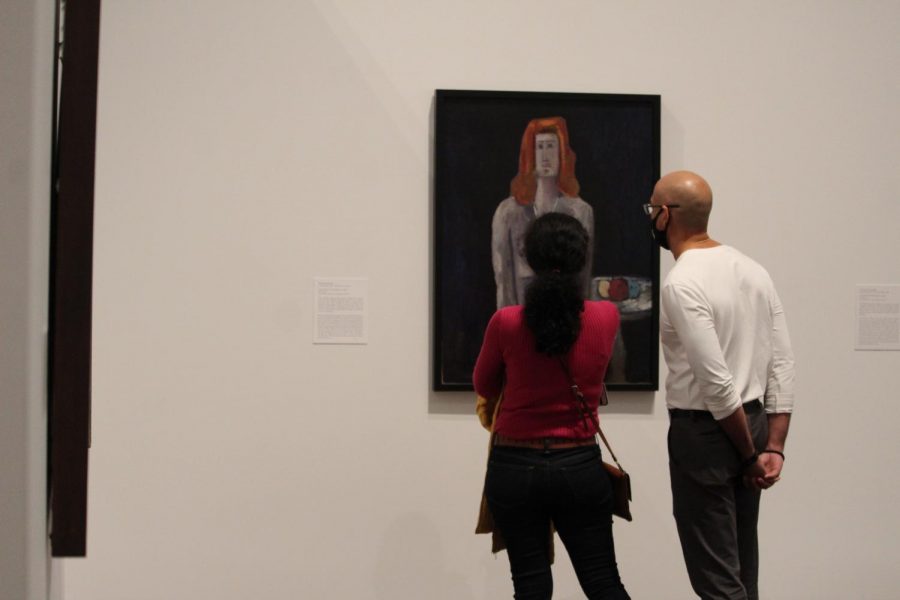 PAINTINGS IN A PANDEMIC: Another December destination in Austin is the Blanton Museum of Art. In this photo, taken the morning of Saturday Dec. 12, a pair of visitors look at paintings. Being a visitor at the Blanton is a good way to keep art in people's lives while following COVID guidelines to stay safe. The Blanton Museum is currently open for morning or afternoon sessions with a break from 1 p.m. until 2 p.m. in the middle for cleaning. The Blanton website discourages patrons from arriving at noon or at 4 p.m. because those arrival times allow only for a 60-minute visit to the museum. Photo by Lissa Castro.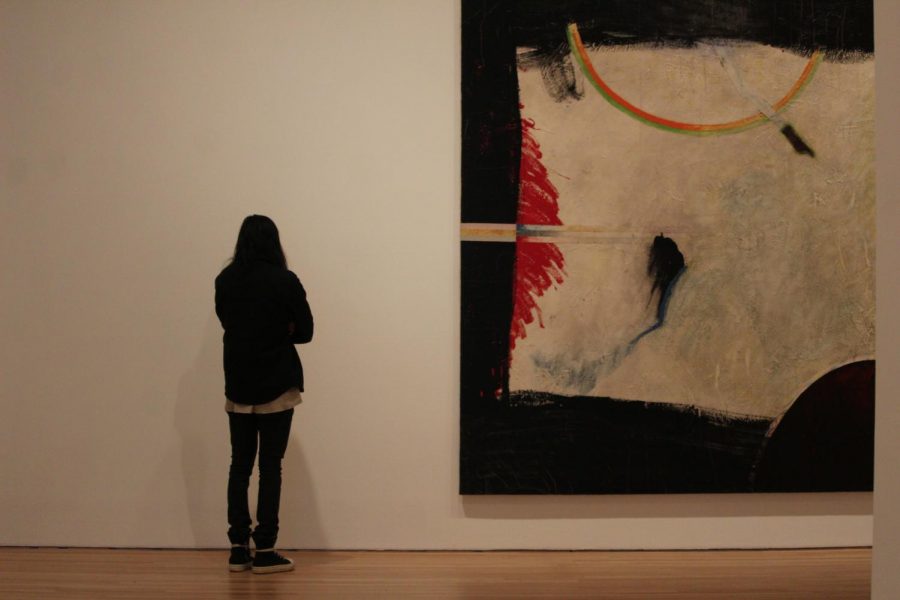 LOST ABSTRACT: A museum visitor stands and admires an abstract painting that few will see. The photo was taken on the second weekend of December, at the exhibition, "Expanding Abstraction: Pushing the Boundaries of Painting in the Americas, 1958–1983." The exhibition closes on Jan. 10 and will have had a very small turnout due to covid. "Many of the works are large scale and have rarely been shown before," reads a statement on Blanton website. Photo by Lissa Castro.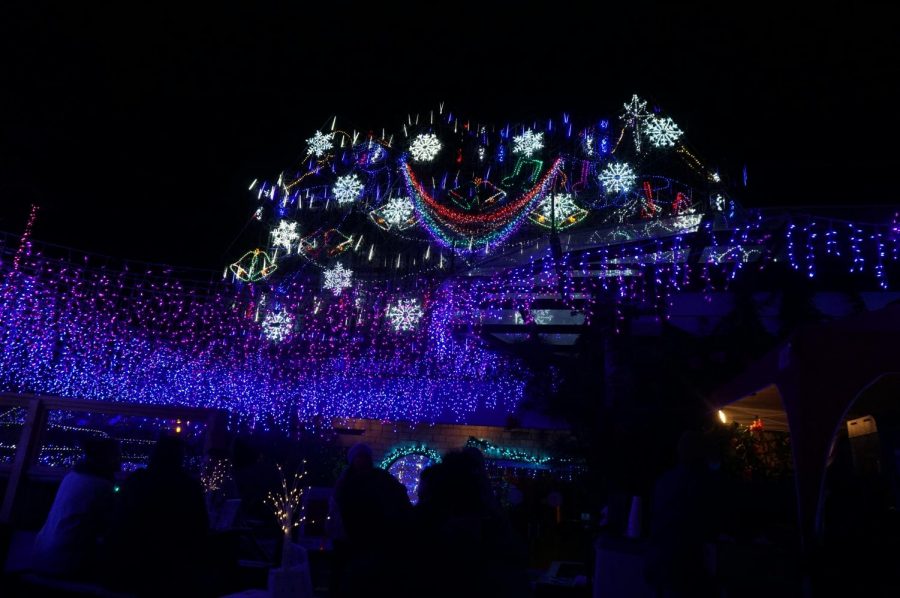 A COVID CAUTIOUS CELEBRATION: The pandemic did not shut down the Mozart's Coffee Roasters holiday lights show, but it did lead to some fundamental changes beginning with the event's title. The 2020 edition is referred to as the Mozart's 2020 COVID Cautious Christmas Light Show. Advance registration is required, and tables are limited to four-seat and six-seat reservations. Patrons are also required to wear masks while traveling to their tables. Photo by Dave Winter.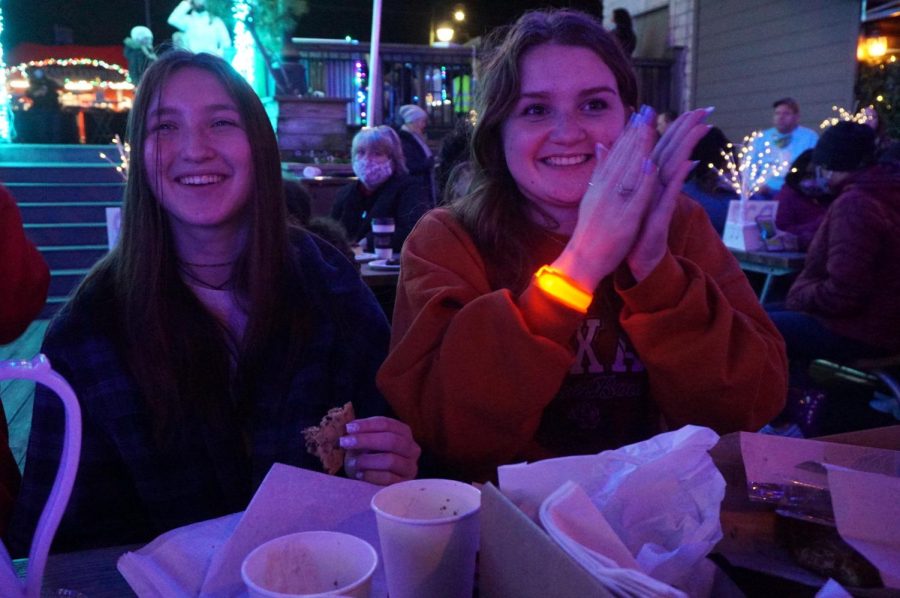 PRAISE FOR THE PIANO MAN: Juniors Georgia Gordon and Annabel Winter cheer for pianist Nik Parr, who provided the live music the night of their visit to the Mozart's light show. They had hoped that Mac piano major Luke Lozano would be on the keys on this night, but despite that disappointment, they enthusiastically cheered for Parr's performance. As another pandemic provision, they also pre-ordered a Mozart's At Your Table tray of goodies that came upon arrival and included bottomless hot chocolate, brownies, cookies and pretzels. Photo by Dave Winter.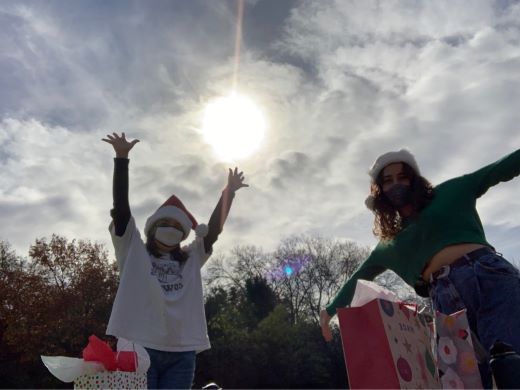 PICNIC OVER PANDEMIC: Continuing a tradition that began back when they were in the sixth grade, sophomores Lydia Reedy and Josie Bradsby gather for their annual gift exchange. This year, because of the pandemic, their picnic consisted of masks and social distancing. The pair ate their picnic meal on separate blankets and left their gifts on the ground for each other to pick up. The COVID accommodations changed their routine, but it did not stop them from having a great time together. The two sophomores met in kindergarten at Highland Park, became best friends in fourth grade and grew even closer in middle school. Photo by Bradsby.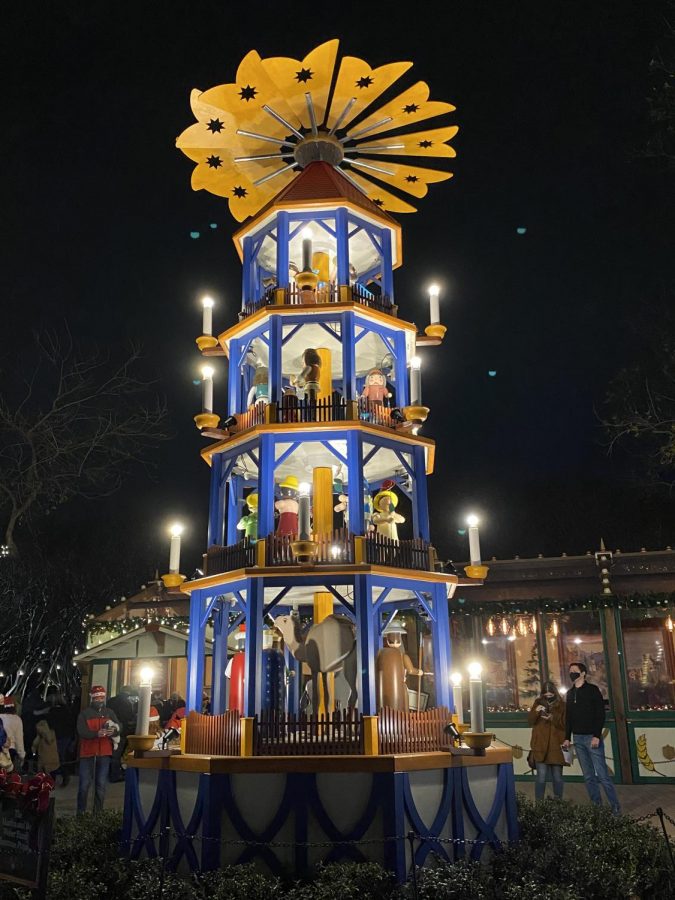 LIGHTS AND FRIGHTS: Early in December, Sophi Beardslee and her mother decided to take a weekend trip to Dallas to get out of Austin and explore the city. After walking around the Bishop Arts District, Sophi and her mom decided to tour the Dallas Arboretum Light Show and made a pit stop through the beautiful display village.. While walking through the lightshow, a raccoon jumped out at them but luckily no human (or raccoon) was hurt. "The light show was so pretty," Beardslee said. "My favorite part was the village we walked through and probably when we saw the baby raccoon." Photo by Sophi Beardslee.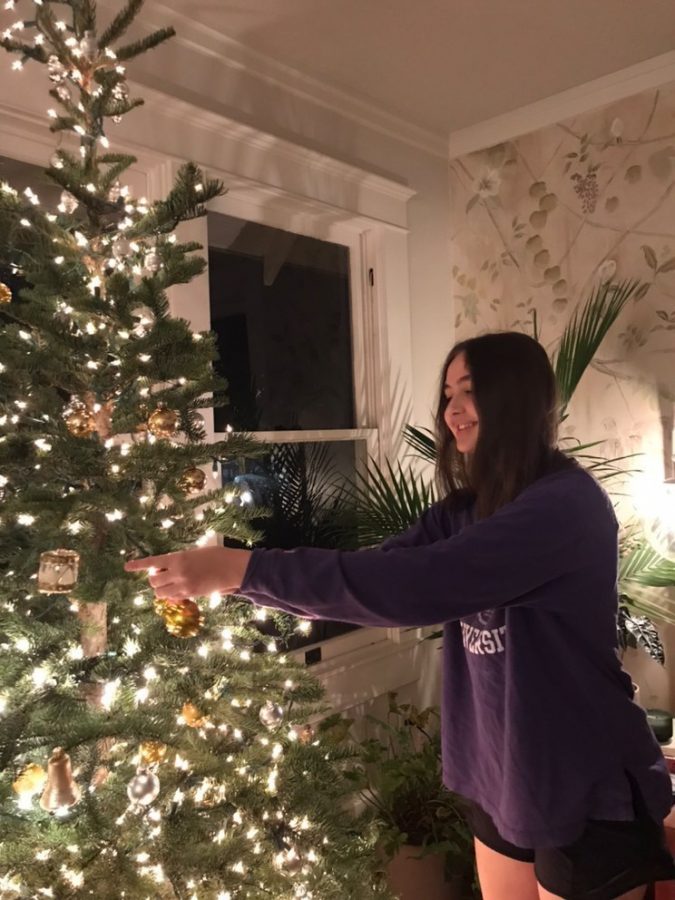 A NUCLEAR FAMILY AFFAIR: Naomi Di-Capua follows her family's traditional Christmas tree decorating strategies, despite not being able to celebrate with extended relatives. Her family opted out of group celebration this year due to the pandemic. Photo courtesy of Di-Capua.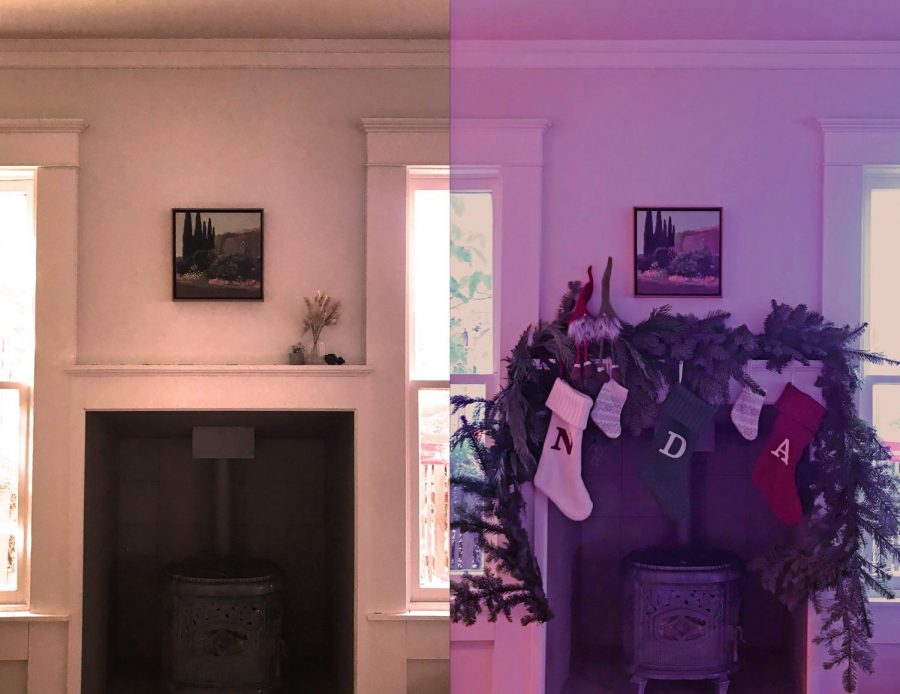 A MERRY MANTLE MAKEOVER: The photo on the left shows the mantle in the Di-Capua house before the magnificent Christmas transformation. "Normally we like to keep the mantle pretty empty with not much decoration so it doesn't draw too much attention away from the dining table that sits right by it" Daniela Di-Capua said. The decorations include stocking, garland and two miniature elf decorations. "We switched out the stockings last year," Naomi Di-Capua said. "Our other ones were getting old and we decided it was time for a change." There are five stockings, two for the pets and three for the kids. "I think we need to trim the garland a bit because It looks like it's kind of sticking out." Stephennie Mulder said, "but overall I think it turned out really nice." Photos by Naomi Di-Capua.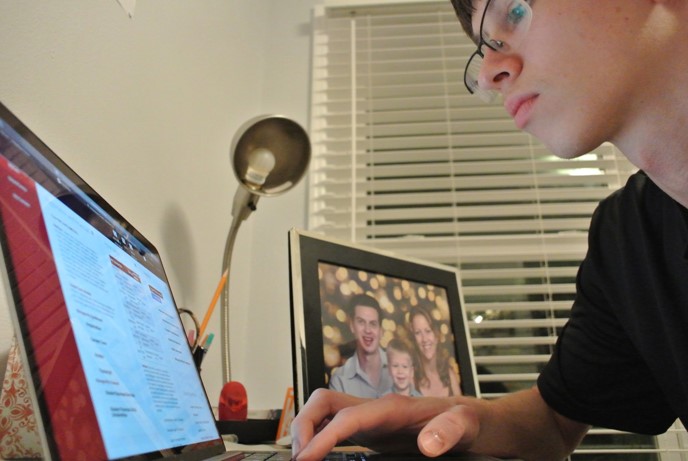 SNOW AND TELL: Now that the fall semester is over, college freshman Desmond Roldan (a Class of 2020 Mac alum) is using his winter break to register for new classes and hope for a better experience next semester. Due to the rising rate of COVID-19 cases in the U.S.,Texas Tech University required nearly all classes to be online and gave students the option of taking their finals at home after Thanksgiving break. "COVID-19 has affected my college experience pretty negatively because I got sick with COVID a few months ago, and I still had to worry about finishing my school work," said Roldan. "It made this semester incredibly difficult in many ways."  Roldan was accepted to Texas Tech University last winter and accepted his admission last spring, unknowing of what circumstances would affect his experience. "I hope that we will be able to have in-person classes and social events again," Roldan said. "I didn't get to have the initial freshman experience everyone else gets during their first semester." Photo by Ari Miller-Fortman.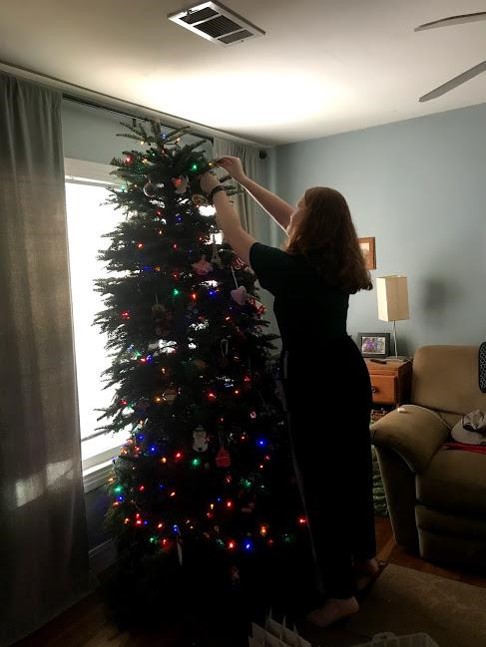 IN LIVING COLOR: Freshman Maggie Coulbourn hangs ornaments on her tree. She and her sister each have their own box of Christmas ornaments, made up of a collection of ornaments made at craft fairs, ornaments gifted from friends and family, and a few passed down from grandparents. "Putting up my ornaments is always super fun because I get to remember all these ornaments I have and the stories behind them" Maggie said. Even the lights on the tree have a good story behind them. "When my parents were first married my mom wanted to decorate with white lights, and my dad preferred brightly colored lights. They decided to take turns each year, but 20 years later we are still using colorful lights, and my mom has long since been won over to the side of the colorful lights." Photo courtesy of Coulbourn.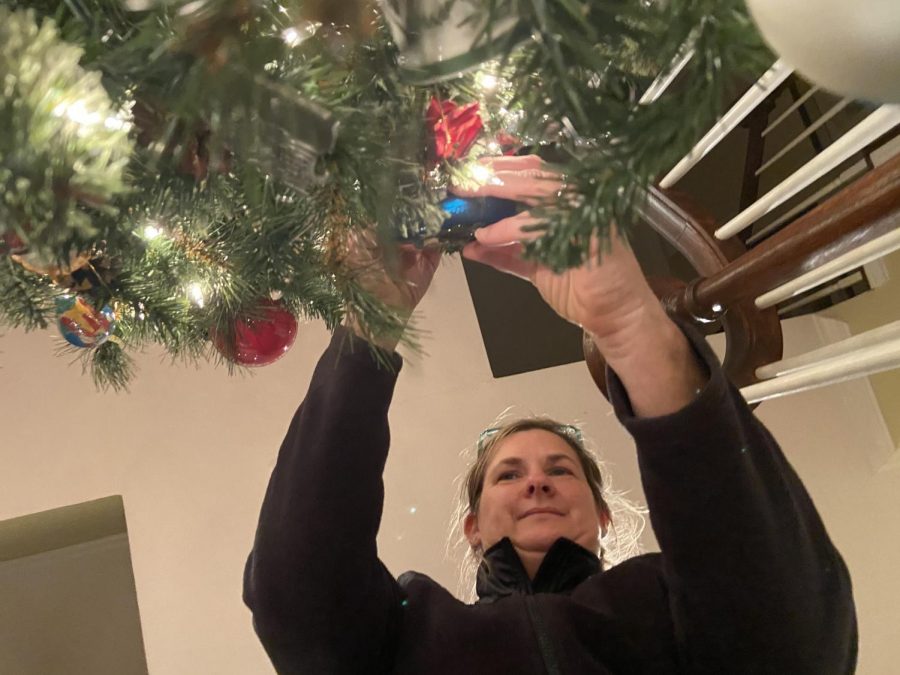 FINISHING TOUCHES: Putting the last ornament on, Meredith Sepehri finishes up the Christmas tree. Many ornaments tell stories of Sepehri's family or were created by her or her daughter. "It's really important to me to have my favorite ornaments where I can see them," said Sepehri. "When I pass by, I can smile. It just makes me very happy." Each ornament had a special story behind it that determined its prominence on the tree. "The ones that right now are my favorites are all the ones we've bought since [my daughter] has been born," Sepehri said. "We have an Elmo from when she was 2. We have a poodle because that's her nickname. We have a green VW bug that is a punch bug because she and I play the 'punch bug' game. Things like that right now are my favorites because my daughter enjoys them too." Photo by Lanie Sepehri.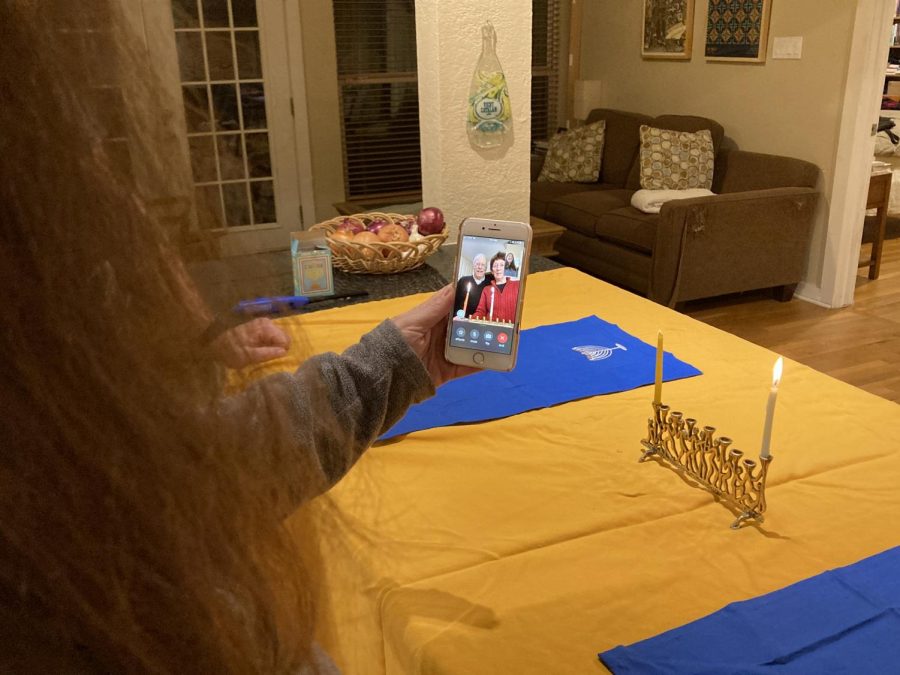 FESTIVE FACETIME: After reciting the Hanukkah prayers and lighting her menorah the first night of Hanukkah, Carolyn Schwarz talks with her parents, John and Rhoda Schwarz over Facetime. Usually the Schwarzes would gather in-person to celebrate Hanukkah, but due to the safety concerns of coronavirus they decided to take part in the festivities virtually this year. "Having older parents and knowing the health risks the virus could have on them made our holiday plans very clear" Carolyn said. "We knew that physically getting together would not be a safe option this year." Carolyn celebrated the holiday at home with her husband and children while her parents celebrated with their dog, Winston. "So much is different this year," Rhoda said. "It is a blessing that we can still celebrate with each other in some way." Photo by Meredith Grotevant.