Winning on court starts with bond off it
Even though she's a fierce competitor, team co-captain Brienna Martinez cherishes moments with senior teammates most of all
The Shield: What got you into volleyball?
Brienna Martinez: I have always been around the sport because my older sister played too. I would watch her practices and games, and when I was old enough, I started to play myself. I first played in a league at the YMCA and did some camps. Then I started playing on my club team, Total City Sports, in sixth grade and am still playing volleyball there. I also played my seventh and eighth grade years at Kealing Middle School.
TS: What has volleyball taught you over the years?
BM: Volleyball has taught me good teamwork skills because that's an essential part of the game. We each have roles to fill on the court, and when we do our part, we can come together as a team and be successful.
TS: How has volleyball shaped your high school career?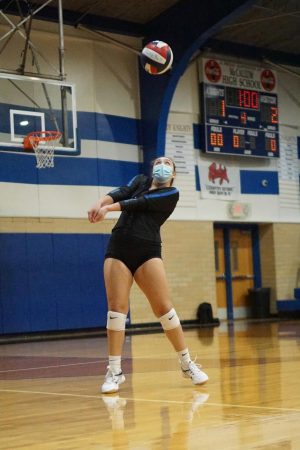 BM: Volleyball is a big part of my high school career. During the school season, I would play volleyball Monday through Friday and had weekend tournaments in preseason. When high school volleyball was over, I would practice twice a week for club volleyball, with tournaments on the weekends. I love the sport, and I never felt as if I was missing out.
TS: Do you like being a captain?
BM: Yes, I like being a captain, and I love being co-captains with my favorite teammates. It is an honor to be one.
TS: How is being a captain different from just being a player on the team?
BM: Being a captain is extra responsibility and puts us in a leadership position, especially for the underclassmen. Our coach comes to us for input on some things, and we make some decisions for the team, like what jersey we wear for home games, etc.
TS: What is challenging about being a team captain?
BM: I wouldn't say it is challenging, but coach expects a lot from the captains, like working extra hard at practice and being a leader to the other players.
TS: What have you learned from playing at a varsity level?
BM: Playing at the varsity level has way higher expectations compared to the freshman and JV teams. I have learned to have better commitment, discipline and patience.
TS: What is challenging for you about the team's current situation (regarding COVID-19)?
BM: One of the most challenging things is that we don't have fans at our games. Some parents get to come, but only at home games. Everyone on the team can agree that fans help keep the energy and excitement up, which helps us play better, so we have to make up for that on our own.
TS: How is the team's atmosphere different from past years?
BM: We have a lot of new varsity members with different personalities, mixed with the returning players. We haven't got to bond as much as previous seasons, so we're still trying to learn to play together.
TS: What are some of your expectations for this season?
BM: I think we have a strong team this year. I want to get first in district and make it past the first round in playoffs.
"
We each have roles to fill on the court, and when we do our part, we can come together as a team and be successful."
— senior Brienna Martinez
TS: What are some of your coach's expectations for this season?
BM: I think coach [Brodbeck] has the same expectations: getting first in district and winning our first playoff game. I also believe she wants to prepare the underclassmen for future seasons since we have nine seniors this year.
TS: Do you think that it is important to have a strong team bond in order to be successful on the court? Why/Why not?
BM: A good team bond is one of the most important aspects because volleyball is a big team sport. If we have good team dynamics, we're more comfortable with each other when playing, and it builds our trust.
TS: If so, how do you build that team bond, especially with all of the restrictions from COVID?
BM: We haven't gotten to do any out-of-practice team bonding, so we try to utilize practice to get closer to each other. We also have a group chat where we can bond out of volleyball.
TS: How is the team making the best out of the team's situation, given the circumstances?
BM: We are keeping our attitudes positive and focusing on winning our games. Even though our season was cut in half, we are grateful that we get one.
TS: How has playing at McCallum changed you as a player?
BM: It has given me new experiences and new challenges I have had to overcome. It made me more versatile in my skills, I came in as a setter, and now I'm a libero/ defensive specialist.
TS: What do you like about the Mac volleyball program?
BM: My teammates, especially my fellow seniors, have made this a delightful experience. I'll miss them the most when we all go to college.
TS: What is your favorite memory from playing at McCallum?
BM: I've had so many great memories. One of my favorite memories would be in junior year when we went to an overnight tournament in Kerrville. That was when our team truly bonded, and my favorite part of the trip was our inside jokes. [That junior season team] is my favorite team I have ever played with.
TS: What is your proudest moment from playing at McCallum?
BM: My proudest individual moment was getting District Defensive MVP junior year. My proudest team moments are winning first place in the silver bracket at a tournament junior year and winning a challenging game against Anderson sophomore year.
TS: What are you most excited about this season?
BM: I am excited to play with my team for one last season and have fun. I'm also excited about making playoffs, and hopefully, this year will be when we make it to the second round.