Percussionists come together to go 'Solo'
Ehlers devises friendly virtual competition to bring his students together so they can bond, learn from each other
Alice Scott with Madelynn Niles
McCallum percussionists took center stage for their first performance of the year. A competitive showcase of student work — Solo Idol Night — was held virtually, but not without a little stage fright.
"I was a little worried about how I would be compared to the seniors, but I really enjoyed it," freshman Cate Thoden said. "It was really cool seeing everyone's different skills."
At the Zoom event, percussionists of all grades shared solo pieces but also gained something that they had been lacking — the chance to interact with and learn from their peers.
"One of the things that I really like about the fall semester is that this freshman will stand next to this senior and get to hear that senior or that junior play all the time," percussion director Matt Ehlers said. "That motivated me more to think about a creative way to make sure that our younger students are watching our older students play and learning from them."
The performance inspired a sense of normalcy for those new to the program — a crucial step in student learning and to carrying out the McCallum tradition of rigorous fine arts.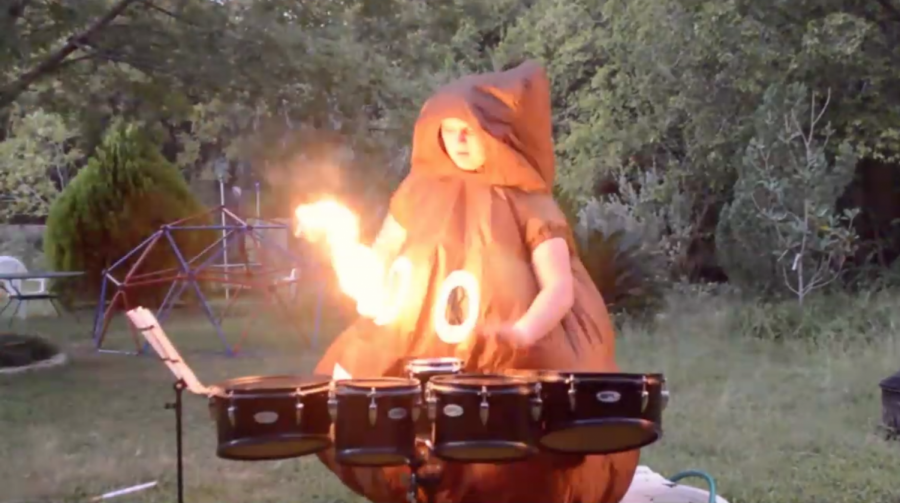 "This is a really good way to get that competitive spirit and that friendly camaraderie happening again, and I think it worked," class of 2020 alum Paolo Zambarano said. "I saw so many young players and so many freshmen just absolutely killing it."
"
When we come back and are able to just be in person and rehearse together, we're going to hit the ground running and be unstoppable."
— percussion director Matt Ehlers
Each student had an original musicality and production style. Things really heated up when Milo Donmoyer finished an unforgettable solo performance with sticks that were set on fire, much to the entertainment of his audience.
Those in attendance at the Zoom event voted for their picks from each category. The winners were Huck Langford for best drum solo, EJ Leach and Evan Bookout for best keyboard solo, Oliver Harrington for best video production and Donmoyer for most entertaining. The most improved, as voted on by the teachers, were Jack Strub, Thomas Ross and Cate Thoden.
In a year where much has changed, these players remain upbeat about the possibilities to come, especially veteran students who can step up as role models and inspire new performers to improve their craft.
"That's really a thing that really drives you to get better in music," Langford said. "When you have someone and you think 'when I'm their age I want to be better or as good as them,' and I know that that was really a big thing for me. I hope that I can sort of embody that for someone else as I know what it was for me."
with reporting by Samantha Powers