Knights grieve, celebrate Ginsburg
Passing of trailblazing Supreme Court justice prompts local, national examination of her life, legacy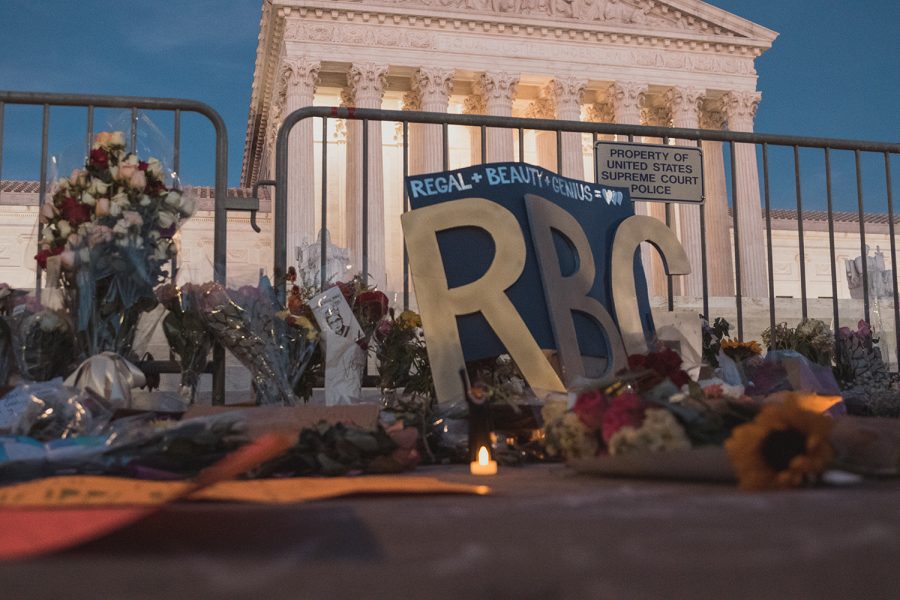 She may be known in the history books as the breaker of glass ceilings, an advocate for LBGTQ marriage equality and a trailblazer for women's rights, but Supreme Court Justice Ruth Bader Ginsburg was more than that, especially to McCallum students. Despite her small stature and appearance, the justice had a larger-than-life personality, influencing movies, books and a Kate McKinnon SNL impression.
It's worth noting that she was a terrible cook and that she failed her driver's test five times before finally passing. While these may seem insignificant when remembering someone, it's not always the great accomplishments that bring joy, but the small details that portray a person. In the words of RBG herself, "you can't have it all, all at once."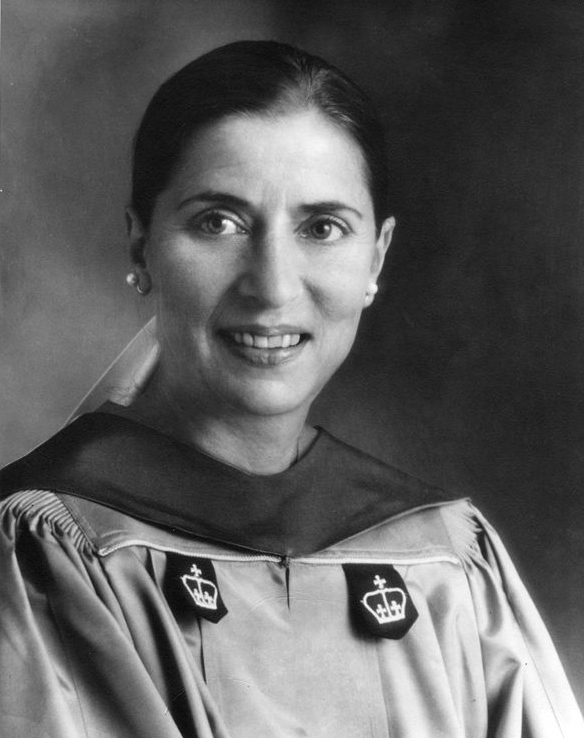 The 87-year-old feminist icon and cultural phenomenon died surrounded by her family due to complications of metastatic pancreatic cancer. Ginsburg had been battling multiple ailments since beating colon cancer in 1999 and its reoccurrence a mere 10 years later. In August of this year, she underwent a three-week radiation treatment for pancreatic cancer. In December of 2018, she had two small tumors removed from her lungs that were discovered after she suffered broken ribs from a fall the previous November. On Friday Sept. 18, the cancer took her life.
Through her career on the Supreme Court, Justice Ginsburg served for 27 years, taking her Supreme Court oath on Aug. 10, 1993 after being nominated to the high court by President Bill Clinton.
But she was breaking barriers long before that. Ginsburg graduated top of her class from Cornell University in 1954, the same year she married Martin Ginsburg. Martin was already enrolled at Harvard Law when he was drafted for military service and upon his return, the two continued their studies together at Harvard.
"
She fought so hard for people to have equal rights. She never gave up, even when people told her she wasn't good enough or couldn't pursue law because of her gender."
— freshman Francesca Dietz
The couple's adventures and hardships while at Harvard and beyond can be seen in the Mimi Leder-directed 2018 movie, On the Basis of Sex, starring Felicity Jones and Armie Hammer as Ruth and Martin respectively.
While at Harvard Law, Martin was diagnosed with testicular cancer, and Ginsburg took on the challenge of helping her husband with his schooling while also attending to her studies and navigating motherhood. Her challenges at Harvard didn't stop there as she also had to deal with a male-dominated environment.
In Ginsburg's first year she was one of only nine women in her law school class. She and her female peers were even asked by the dean to state a good enough reason for taking a spot that could have been filled by a man.
"I went to law school when women were less than three percent of lawyers in the country; today, they are 50 percent," Ginsburg said in a 2019 interview with NPR. "I never had a woman teacher in college or law school."
Ginsburg became the first female member of the Harvard Law review, and after Martin's graduation from law school, Ginsburg and her family moved to New York where she finished her schooling at Columbia. Despite an exceptional academic record, Ginsburg struggled to find a job due to the gender-based discrimination rampant in the '60s. She was finally hired by U.S District Judge Edmund L. Palmieri, and later joined the Columbia Project on International Civil Procedure. There she made a name for herself by becoming a professor at Columbia University, directing the influential Women's Rights Project of the American Civil Liberties Union during the '70s, and fighting not only for women's equality but also to end gender-based discrimination for all.
Her story has inspired many McCallum students, and her death has only amplified student's belief in Ginsburg and what she stood for.
"I think everything she's done throughout her career has been revolutionary," junior Mia Gomez said. "She's helped women gain rights that were initially thought of as ludicrous. She had a passion for helping people and made such a big impact on America."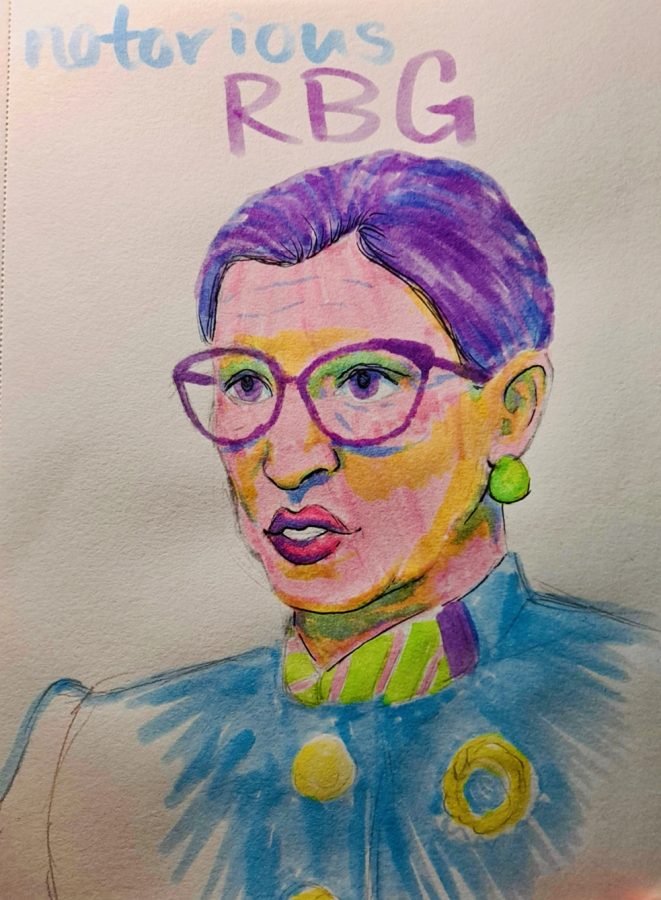 Ruth Bader Ginsburg, or the Notorious RBG as she is so affectionately known, has become a cultural icon and a trailblazer, not only for McCallum students but also for women and people all over the world.
"Ruth Ginsberg taught me that you should never stop fighting for what is right," junior Elle McRae said. "She went from a lawyer for ACLU women's rights to bringing justice [to those] who had been discriminated against by the law for ages on the Supreme Court."
"
I hope that every member of society, especially young women and members of the LBGTQ community will be inspired to continue fighting for equal rights and continuing her legacy. "
— junior Elle McRae
Other Knights expressed similar sentiments about the late justice.
"She has been an inspiration to me because she fought so hard for people to have equal rights," freshman Francesca Dietz said. "She never gave up, even when people told her she wasn't good enough or couldn't pursue law because of her gender."
Marches and memorials, Instagram tribute posts and salutes via Twitter have all been used as vehicles to commemorate the life and legacy of Ruth Bader Ginsburg.
French President Emmanuel Macron turned to Twitter to call Ginsburg a "truly exceptional woman," who "fought for justice, gender equality and the respect for fundamental rights."
Pete Buttigieg, the former mayor of South Bend, Ind., and a former presidential candidate praised Ginsburg, referring to her as "a titan of justice" whose "example now shines within the history of our country, there to inspire generations."
Her loss was not just felt in the tumultuous world of politics. USWNT star Megan Rapinoe and tennis legend Billie Jean King praised the justice on her fight for equality. SNL cast member Kate McKinnon, who portrayed Ginsburg paid tribute to her during the season premiere of SNL on Oct. 10.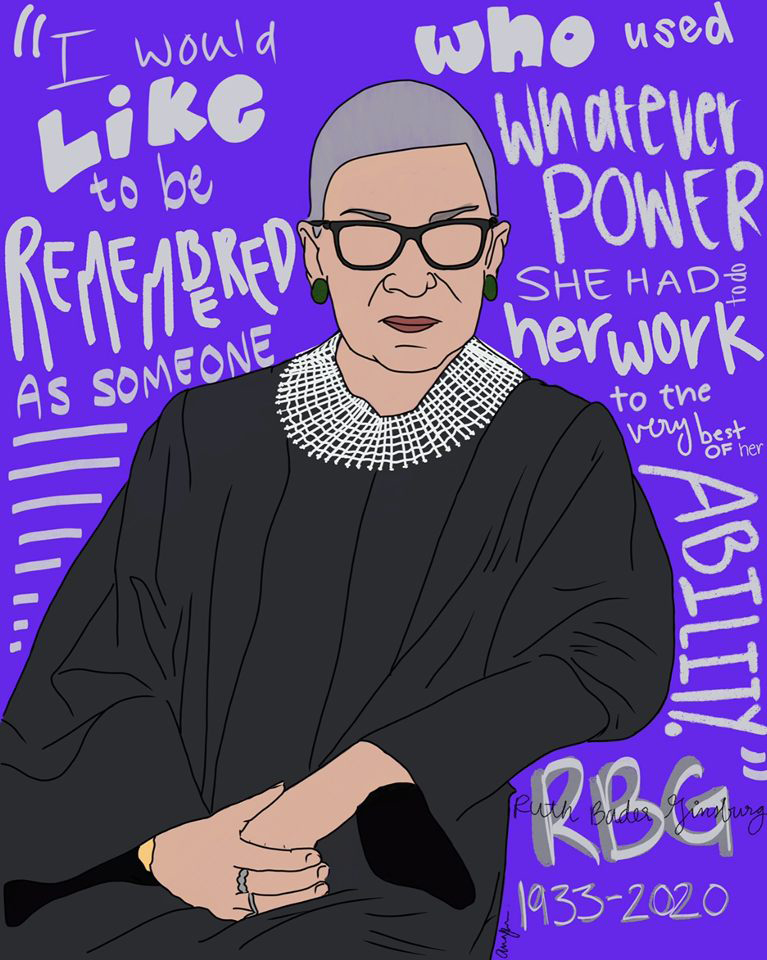 The outpouring of social media support included many within the Mac community, and we reached out to those students like senior Caitlin Mitchell for interviews for this story.
"As a woman in 21st century America, she has had such a profound impact in the last 30 years on women's rights in the workplace and our right to both be family builders and working women," Mitchell said. "When I think of RBG I think of perseverance and change for the better, so her image gives me a lot of hope and pride in my gender and what we've fought to accomplish as far as equality goes in the last few decades."
"
Everything she's done throughout her career has been revolutionary. She's helped women gain rights that were initially thought of as ludicrous."
— junior Mia Gomez said. "
Mitchell also said that RBG helped break the stigma around the societal dilemma of the "housewife or working woman." Through her work as a lawyer and a judge, RGB changed the landscape of gender expectations so that both women and men can have a healthy balance of family and work experiences.
Senior Ari Miller-Fortman agreed regarding the importance of women's rights in society and RBG's pivotal role in the fight for equality and women in politics.
"My rights mean a lot to me," Miller-Fortman said. "With the time and circumstances we live in now, I'd say women's rights should be important to everyone. Seeing women, or people in general, who support politicians that don't reflect support for women's rights is disappointing. It's sad how often we see those kinds of people in the U.S. alone."
While the loss of the 5-foot-1 justice will be felt by many, her legacy will live on in history books, in the words and minds of those dedicated to preserving her memory and the lives of everyday highschoolers who felt the impact of her political activism.
"Her legacy will live on forever," McRae said, "I hope that every member of society, especially young women and members of the LBGTQ community will be inspired to continue fighting for equal rights and continuing her legacy. She is a champion and an American hero."