While on a break from Mac, Tita works on his 'steezy kayaking' with 'the best people'
Junior learns major life lessons at the World Class Kayak Academy in Banks, Idaho, in and out of the river
If you take a trip to Alex Tita's Instagram, you will find a multitude of videos of the former McCallum student kayaking through white water rapids. In one clip, Tita is thrown off a cliff by the rapids and hits the water perpendicularly. For a moment, he is completely submerged, with only the tail end of his bright orange kayak visible. Then, the kayak emerges belly up, with Tita underneath. In the final second, Tita rolls up, triumphant.
"
"I wasn't looking forward to Mac online school, and while we can't leave the campus here, I'm always busy."
— junior Alex Tita on why he left Mac for the World Class Kayak Academy
Ten weeks ago, Tita decided to enroll in World Class Kayak Academy. Now he spends his days in Banks, Idaho, where the school is based. He sleeps in "an old shutdown high school," takes his classes outside, and spends the afternoon kayaking in the local river. The boarding school allows 16 committed young kayakers to improve their paddling skills by learning from professionals, all while working towards their high school diploma.
As daunting as nine months living in the woods of a new state sounds, it's normal for Tita. In fact, he spent last summer living in Washington and working at a kayaking company.
"It's weird. It's like having a lifetime of summer camp," Tita said.
A day in Tita's perpetual summer camp currently consists of waking up at 6:30 a.m., an hour of early morning workout that consists of "anything from yoga to CrossFit," breakfast, academics, kayaking, homework and finally, retiring back to his room, which he shares with four other students.
"I only get six hours of sleep most nights," Tita said. "It's a lot of structure, and there's no free time. It can be brutal. You have to love kayaking."
On the weekends, the physics and history lessons are carried away by the currents as the students of the World Class Kayak Academy take to the river rapids. Excursions like the group's six day overnight trip on the "gnarly" White Salmon River provide extra opportunities for the kayakers to improve their craft. Tita says his goals are "mainly to run bigger rivers … and getting [his] skills better."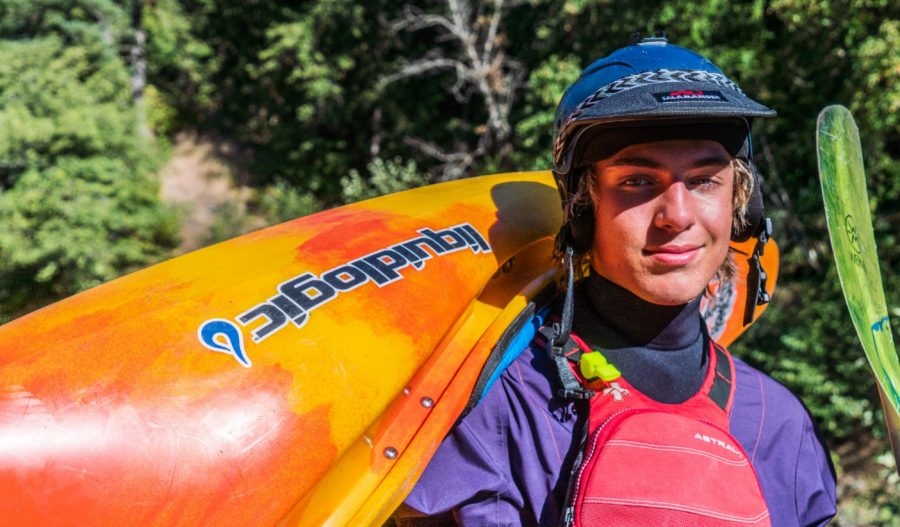 For Tita, it hasn't been all smooth sailing. So far, his nearest brush with death has been on a rapid called Bob's Falls.
"I was held in a hydraulic for over a minute," Tita said, describing a dangerous current that sucks water under a rock ledge. "It traps you just below the water and drowns you."
Tita's friend and fellow student at the Kayak Academy, Gavin Jostad, captured the moment on video. In the video, Jostad spots Tita caught underneath the water and paddles to shore, where he pulls a rope out of his kayak. As Jostad readies the rope, Tita loses the kayak to the current and begins to swim. While ditching the kayak makes it easier to fight the hydraulic, it can be more dangerous.
"In most situations you try as hard as humanly possible to stay in the boat because it's not usually the hole that kills you, it's the rapid after it," Tita said. "I knew that the deeper the hydraulic pushed me under the more likely I wasn't going to pop up alive."
"
In most situations you try as hard as humanly possible to stay in the boat because it's not usually the hole that kills you, it's the rapid after it."
— junior Alex Tita
Jostad throws the rope a few times, but Tita never successfully catches it, and the video ends before he escapes the hole. Fortunately, with a little bit of luck and a lot of effort, Tita was able to escape the hydraulic and make it to shore.
Thankfully, not every second in the Kayak Academy is an extreme sport, even if the days are stacked with AP classes. Each of Tita's classes, which are taught by professional kayakers who tend to have a degree in environmental science or engineering or sometimes both, have about two to five students.
"It's easier to learn [at the Kayak Academy]," Tita said. "I love the teachers, they're all super stoked and fired up about what they teach. We get to focus more on what the students want to learn."
Perhaps surprising to the average high school student, Tita's favorite class is physics. Another lesson the school teaches is life skills, although not directly. At the Kayak Academy, the students are responsible for keeping the school running just as much as the teachers are.
"All the kids cook and clean here. I cook two days a week," Tita said, who claims his specialty dish is "whatever comes from Costco."
"It's a community school. If the team doesn't work, the school doesn't work."
"
It's a community school. If the team doesn't work, the school doesn't work."
— junior Alex Tita on the World Class Kayak Academy
The World Class Kayak Academy also lives up to its name by incorporating world travel into the structure of the school year. This year, Canada, Chile, Ecuador and the U.S. West Coast are Tita's classrooms. The goal for these destinations is to "take advantage of some unique field trips and learning opportunities … with a place-based education few schools can offer," according to the Academy's website.
Tita is most excited to travel to Chile, but assures that "Ecuador is definitely going to be sick too." Specifically, Tita is looking forward to the Futaleufú River, which crosses the Chile-Argentina border.
"It's a super awesome spot in the southern mountains of Chile, with amazing class 5 whitewater," Tita said. "It's a great opportunity."
Unfortunately, COVID-19 has dampened some of their plans. The school still plans to travel, but they won't be able to experience the local culture as much.
"Usually we would be connecting with the community, but corona makes it hard," Tita said. "We're trying to keep our bubble of 28 people close this year."
The pandemic was also part of the reason Tita decided to attend the World Class Kayak Academy.
"I wasn't looking forward to Mac online school," Tita said, "and while we can't leave the campus here, I'm always busy."
Tita plans to return to McCallum for his senior year, and then continue on to college, but he's "taking it as it comes." Until then, Tita will continue working on his "steezy kayaking" with "the best people."