Spiritual summer, strenuous school
Senior Zach Steiner's reentry struggles after coming back from his time in the mountains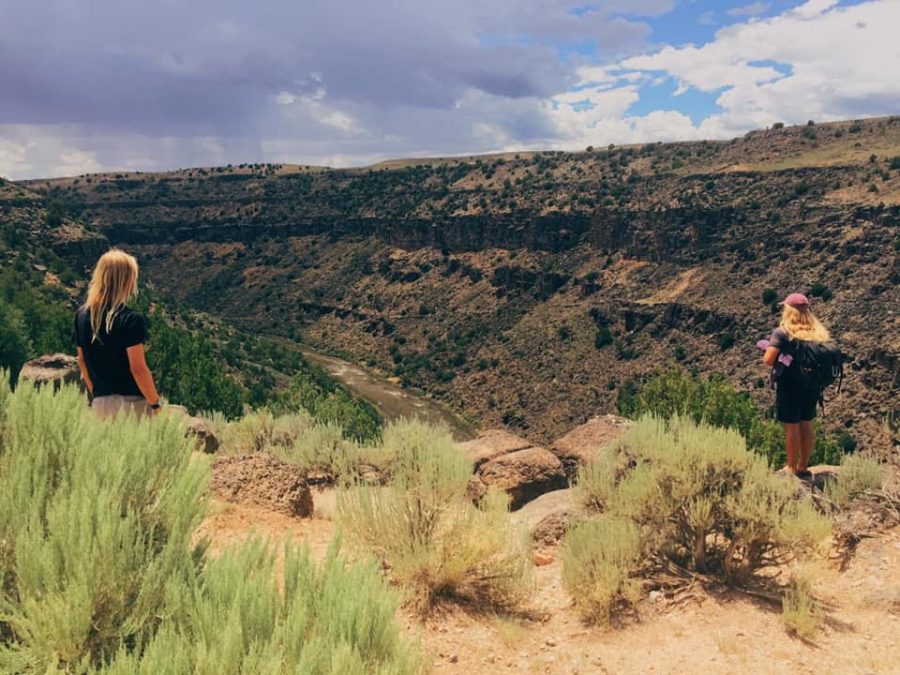 While other students spent their summer break at a job or simply enjoying some time off of school, Zach Steiner was doing something different. The McCallum senior spent two months participating in stewardship at the Lama Foundation in Taos, New Mexico, an interspiritual community in the mountains.
The Foundation has just over a dozen year-round residents, but opens their doors to visitors and retreaters in the summer. The center was built to be a community and educational space that embraces all spiritual and religious practices. The Lama Foundation respects and practices traditions from many different religions, such as Judaism, Hinduism, Islam, Buddhism, Christianity, and Native American religions. Another core practice is sustainability, which Steiner experienced first-hand by growing and preparing food, chopping trees, cleaning the residential areas and serving the youth groups that came for camp throughout the summer.
This was not Steiner's first stay at the Lama Foundation. If fact, he has attended summer camp there for the past five years.
"Ever since I was little I've gone to a non-denominational Christian church, which is kind of hippy," he said. "The church was actually inspired by the [Lama Foundation], so for the past five years I've gone on five-day stays there with my church."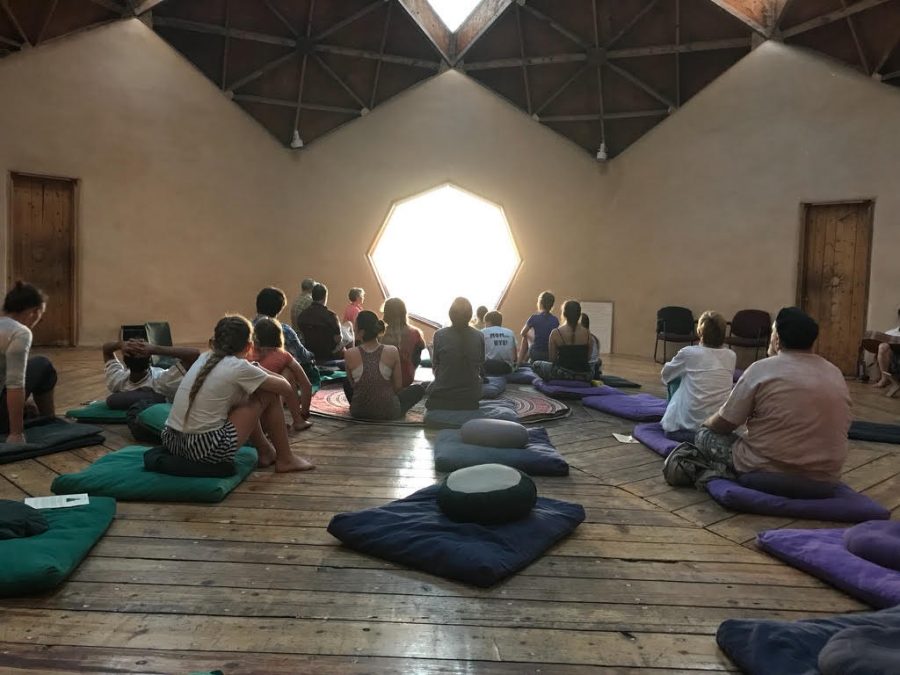 Steiner explained that the main purpose of the community is to experience multitudes of world cultures and spiritualties, allowing the camp to be a safe place of understanding and independence.
"I think the independence [was] a shock," he said. "Being surrounded by my parents and family has been a little stressful, whereas at the foundation, living [there] I was able to enjoy all that I was doing."
"
The biggest thing I've brought back with me is the importance of community—looking out for one another instead of trudging along with an individualistic mentality."
— senior Zach Steiner
After coming back to McCallum, Steiner found it difficult to reenter his daily life, especially when it came to preparing for college. He immediately began to feel pressure to follow a "perfect" path to college and a secure career, something that he did not experience at the Lama Foundation. The stresses of "normal life" pressure him to use others around him for self-gain. Like many seniors, Steiner feels the pressure to finish his college applications and to make everything in his academic life perfect. After his educational experience this summer, however, he has a different vision of an ideal schooling system. When asked to describe this system, Steiner paused for about a minute. He took a deep breath and then began to explain:
"The first thing that comes to mind is smaller classrooms," he said. "I feel like the best learning opportunities I've had are when I've interacted one-on-one with a teacher. Being able to thoroughly communicate ideas [is] where I feel I learn the best, [and] small classrooms also take out a lot of the pressure."
To take off even more of the pressure that Steiner felt returning to school, he would eliminate standardized testing and traditional grades.
"Putting names to numbers and rankings to people decreases so much morale," he said. "If you see that you don't do well on one assignment, it can impact how you're going to interact with other people."
He then went into more detail about why he feels ranking systems drive a wedge between students and could even be detrimental to one's high school experience. He explained that certain social groups may feel forced to act a certain way because of where they stand academically compared to other students.
Steiner credits the McCallum PALS program for his ability to move past both academic and social pressure that comes along with school.
"PALS is probably my favorite class because it brings so many different people together toward one focus of service," he said.
He also mentioned that if it was up to him, he would add an extra social support system into the schooling system. Whether it be in-depth counseling or classes focused on strengthening students' social skills and comfort, Steiner believes in the importance of building community.
"When you serve the community, it serves everyone, not just a single person," Steiner said. "We're all at a volatile point in our lives and extra support can do nothing but help us as a whole."
While he has many ideas for a more smooth and sustainable school system, Steiner admits that his experiences at the Lama Foundation did not immediately make him an expert on the subject.
"Of course, I don't have a perfect plan because nobody really does," he said. "But I think the biggest thing I've brought back with me is the importance of community—looking out for one another instead of trudging along with an individualistic mentality."
To read more about students' summer adventures, check out the @MacJournalism Instagram feed or scroll through the hashtag #MacSummerKnights2019.