Petition in support of Myers goes viral
After being featured on KXAN News Friday night, petition will soon earn more than 10,000 signatures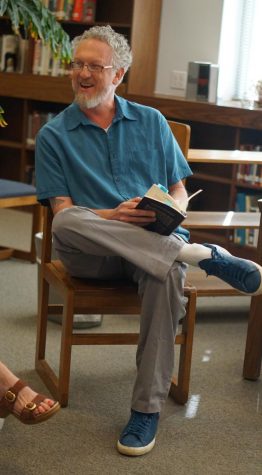 Ever since AISD teachers were told they would have to return to school on Oct. 5, many teachers have resisted the mandate that they return to campus. The Statesman reported on Oct. 1 that about 850 district teachers pledged not to report to campus for in-person duties because they wished to continue teaching remotely. On Thursday afternoon, McCallum students Marina Garfield and Olivia Navarro started a petition on change.org asserting that teachers should be allowed to choose between in-person teaching and virtual teaching just as students are able to choose.
"Our teachers and their families are NOT expendable," the petition reads, "and they should be given the option to return just as students and their families are."
The petition specifically addresses Mac English teacher and Excalibur literary magazine adviser Daniel Myers who has not reported to campus but has continued to teach his classes remotely because, according to the petition, he wants to reduce the risk of his family contracting COVID-19. The petition, which asserts that Myers should be allowed to teach from home, attracted 700 signatures in its first two hours online. After four hours, it had attracted 2,000 signatures. As of 2 p.m. today, the petition had more than 4,300 signatures. After being featured on KXAN News Friday night, the petition will soon earn more than 10,000 signatures. At the time of this posting, it has received 9,663.
The petition states that while "teachers are allowed to apply for accommodations for themselves … the district does not take into consideration the teacher's families." Myers has a wife and young daughter at home, and has been using up his sick days so he doesn't have to go in person and risk exposure to COVID-19. As evidence of the risk that teachers face on campus, the petition cites AISD COVID-19 tracker statistics that reveal that McCallum has had three cases and 93 exposures. In total, the tracker reports that the district has had 32 cases and 374 exposures.
"Teachers deserve protection," Myers wrote in a comment on the petition.  "I stand with teachers."  He also said he was touched by the support from his current and former students. "You guys are my heart. I feel so strong after reading your words."